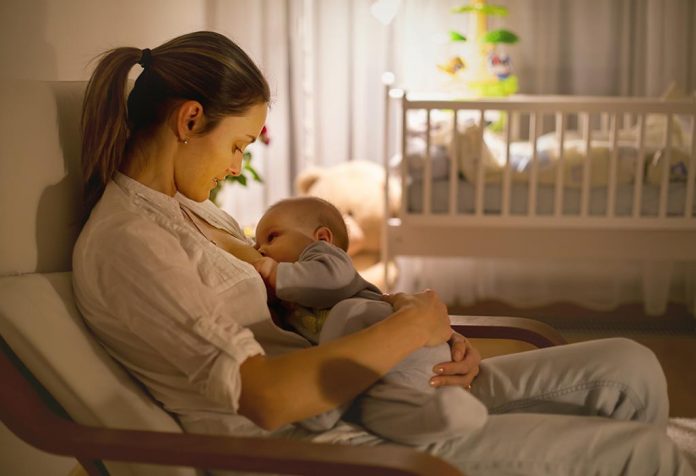 Last Updated on
Breastfeeding permits skin to skin contact with your baby. It has all the nutrients which a newborn baby needs for proper growth and development. Breastfeeding is the best thing a mother can give to her child after giving birth. Some mothers prefer to breastfeed their baby, whereas some mothers opt to give formula milk or some are unable to breastfeed. Breastfeeding and formula milk both have pros and cons. But there are many benefits of breastfeeding for mother and the baby.
For the Mother
1. Reduces the Risk of Ovarian and Breast Cancer
Studies show that women who give birth after the age of 25 are at risk of ovarian and breast cancer, but in those women who exclusively breastfeed for six months, the rate of risk of these cancers and other health diseases, may reduce.
2. Helps in Weight Loss
During pregnancy, a woman gains weight, and her biggest worry is how to lose this weight. The best simple way is breastfeeding. It reduces the risk of obesity and hypertension. During the first three months of breastfeeding, you may or may not see results, but if you are breastfeeding for at least six months after delivery, the chances are that you may return to your pre-pregnancy weight.
3. Fights Depression
Research shows that some women feel depressed after delivery, PPD (Postpartum Depression) affects 10 to 15 % of new mothers. Tiredness, sadness, difficulty in sleeping are the signs of PPD. But breastfeeding releases some hormones such as Oxytocin also called as mothering hormone and Cholecystokinin in mothers which help to fight postpartum depression(PPD) and helps relieve stress.
4. Helps Uterus Return to Original Size Faster
Studies show that in women who breastfeed, it takes just six weeks for the uterus to return to its original size or pre-pregnancy size.
5. Facilitates Bonding With the Baby
Formula milk-fed babies also bond well with their parents, without a doubt. But skin to skin contact, cuddling and talking to your little one while breastfeeding, will strengthen the bond with your baby. Mother's milk has Oxytocin also called a love hormone which helps in bonding.
For the Baby
1. Promotes Good Health
Mother's milk has lots of nutrients as compared to formula milk which is easily digested by infants. Mother's milk produces antibodies which keep the baby away from viruses, bacteria and other infection. It has colostrum and more protein. Giving breastmilk to babies lessens the chances of stomach upset, constipation and protects against respiratory illnesses.
2. Brainy Baby
Studies show that babies who were exclusively breastfed for three months, and babies who continued breastfeeding for six months have more developed brains. Mother's milk contains fatty acid such as DHA which develops a sharper mind and high IQ level in babies.
3. Less Risk of Obesity
Mother's milk has beneficial gut bacteria which help reduce the risk of obesity by 20 to 30% as compared to formula-fed babies in childhood. Breastmilk also reduces the risk of obesity by 6% in future for babies if breastfed for six months.
4. SIDS (Sudden Infant Death Syndrome)
As of now, it is not confirmed, but breastfed babies account for less than half the cases of SIDS registered, as compared to formula-fed babies. Exclusive breastfeeding for the first one month reduces sudden infant death risk by 50%.
5. Benefit in Sleeping
It is said that formula-fed babies sleep longer, but some studies show that breastfed babies get back to sleep sooner. The Oxytocin produced in mothers milk make babies get sound sleep.
Other Benefits
Mother's milk saves money and time. You need not spend your money on buying formula milk powder. Babies wake up at night too as they feel hungry. In such cases, it takes time to warm the bottle and mix the exact amount of formula and water in the middle of the night. Hence breastfeeding is an excellent way to calm hunger. In formula feeding, it takes time for sterilisation and cleaning bottle to feed the baby during the night.
These were the benefits of breastfeeding. However, at the end of the day, it's the personal choice of the mother. Some may choose to formula feed, or some may not be able to breastfeed, and their decisions should be respected.
Disclaimer: The views, opinions and positions (including content in any form) expressed within this post are those of the author alone. The accuracy, completeness and validity of any statements made within this article are not guaranteed. We accept no liability for any errors, omissions or representations. The responsibility for intellectual property rights of this content rests with the author and any liability with regards to infringement of intellectual property rights remains with him/her.