Save Tender Eyes – Get Your Newborn's Eyes Examined by an Opthalmologist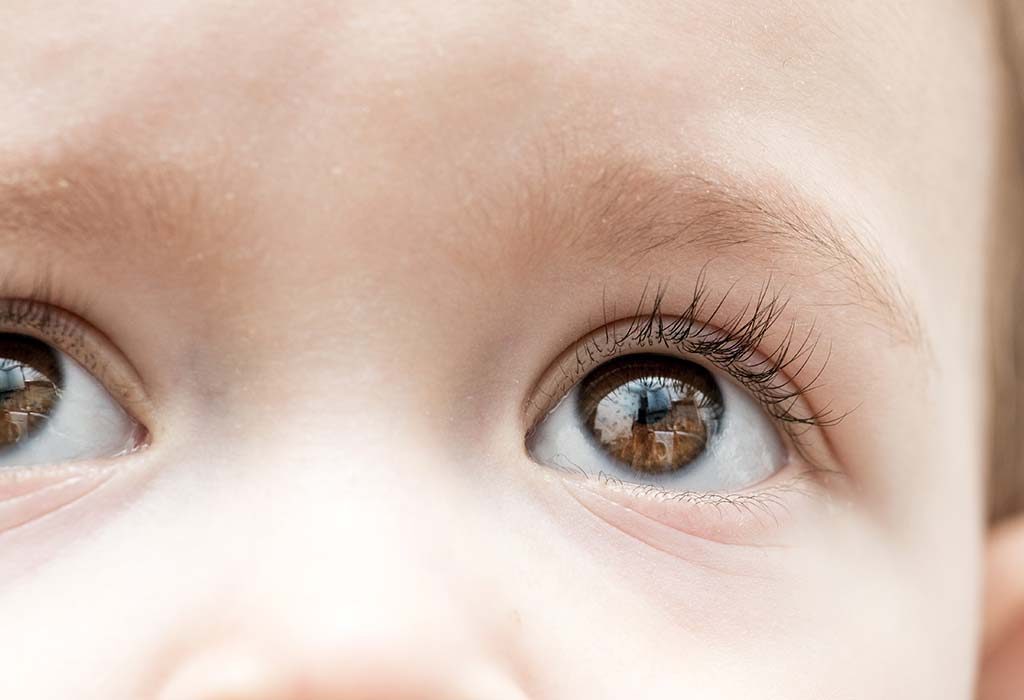 Eye screening/checkup for newborns is still not mandatory in India. Many parents know about problems with their baby's vision only when they themselves see visible abnormalities in the eyes. This delay usually means the baby loses a little eyesight or has eyesight at all.
During the crucial first year of a baby, the brain needs to process visual information clearly. If proper signals don't reach the brain through the eye, the brain may stop interpreting those signals. That is what is called blindness. Most of the time, this type of blindness are avoidable if babies are checked early. Usually, paediatricians don't have entire know-how or equipments to detect these anomalies. Hence it is the responsibility of a parent to take the first step towards an opthalmologist on their own. (Till a firm rule is established by Ministry of Heath and Family Welfare and other State Departments, making it mandatory for all hospitals undertaking delivery).
This blog is based on my experience where my newborn daughter was diagnosed with 'Congenital Cataract' which means cataract since birth. This can happen because of n number of reasons (most of them not in our control). It can happen to anyone. We have observed that hospitals in North India don't get a complete diagnosis done for newborns by specialists. Mostly it could be because parents themselves aren't aware of things that need early diagnosis and may think that hospitals prescribe unnecessary tests to mint money.
Because of all these reasons issues like Congenital Cataract often go unnoticed. In our case, from the beginning itself, I had in my mind that a checkup of all sensory organs should be done for my child. But soon after birth, no such checkup was done. After a few weeks, we asked our paediatrician if everything is alright with the baby (sight and hearing) and he said yes. When we asked if we could get a proper eye check-up done, he told, you can get it done anytime after she is a month old. So we waited for a month and then went to an eye hospital fora normal checkup. And that's when the opthalmologists told us our baby has Congenital Cataract. They asked us with curiosity, how we knew that there was something wrong (since nothing was visible tothe untrained eye). That's when we told them that it was just a routine eye examination that we wanted to have.
We did our internet research, asked family and friends across the globe to know what's the best treatment possible. And we came to know that operation is the only way to remove the cataract, as it's done in adults through keyhole surgery. We started shortlisting hospitals in India and selected one. When we reached there, we met many parents of babies and kids with this same condition. It was then we realized how lucky we were to get the diagnosis done so early. Most other parents had realised this only when they had seen clouding or white patches in the eyeballs of their babies.
The biology to be remembered here is pretty simple –
The first year of a baby is very crucial for his/her development. Their brain learns to process different information from the outside world (including sight, sound, touch, taste etc). If this information is not properly received, the brain diverts it's attention to other senses and stops interpreting data from the sensory organ which is not funtioning properly.
In the case of eyes – That is when a baby turns blind (when the brain stops interpreting data from the eyes because vision is blocked by cloudiness of natural lens in the eye called Cataract).
Removing the Cataract affected lens is the only way vision can be cleared. And instead of the affected lens, a new artificial lens is implanted (called an IOL – Intra Ocular Lens).
This process usually takes only a few minutes under general anaesthesia for a baby. (And local anaesthesia for adults).
Unlike adults who have very little chances of complications, babies have a hard time. As their eyeballs are not fully developed until the age of 2 or 5 in some cases. So extra care is required. At times babies can't be given the IOL implant because of their eye being small. In that case, babies have to be provided with Contact Lenses and Spectacles. This might seem weird in the first instance. How can babies wear contact lenses? But yes, they have to. Parents are given extensive training on how to put and take them off from their kids eyes daily. Yes, that's right- 'daily'. ( Until IOL is implanted).
So we are at that stage where we are waiting for our daughters' contact lens as of now that is being built to order.
Readers, by now you might have understood how important it is to get vision tested for your babies.
So my humble request is wake up and take an appointment with a paediatric opthalmologist or a general opthalmologist for your newborn. Because they can't tell you how they see.
Thanks, if you read till here.
I'll keep posting more information about this.
Disclaimer: The views, opinions and positions (including content in any form) expressed within this post are those of the author alone. The accuracy, completeness and validity of any statements made within this article are not guaranteed. We accept no liability for any errors, omissions or representations. The responsibility for intellectual property rights of this content rests with the author and any liability with regards to infringement of intellectual property rights remains with him/her.