Silly Things I Did As a New Freakish Mom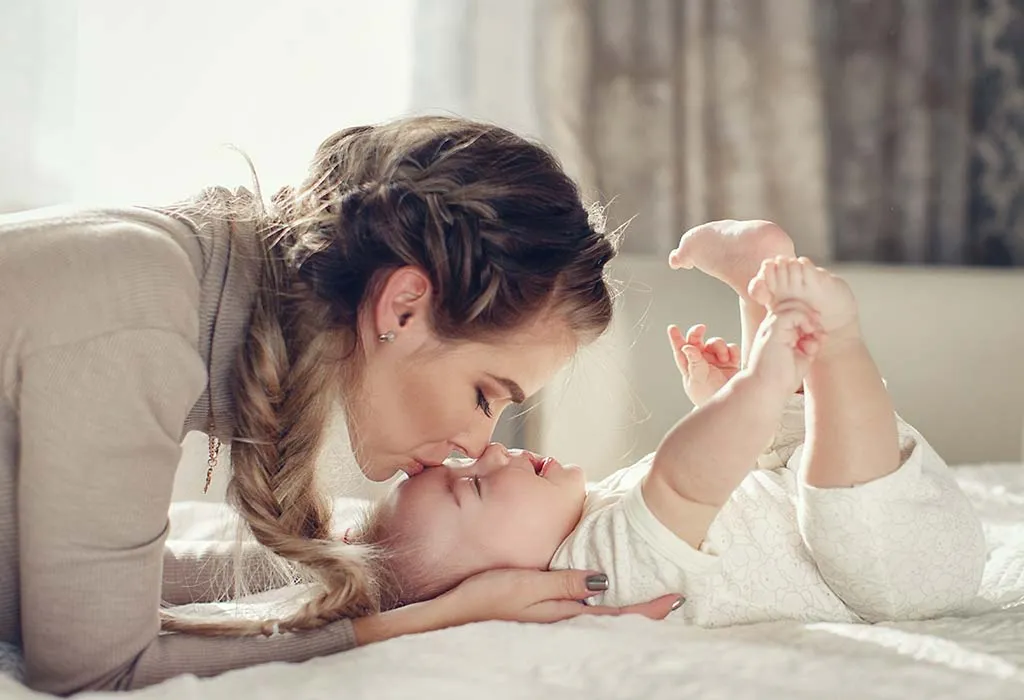 A casual look at the old pics of Liya at two months got me carried away to some regretful memories. How silly and stupid I had been back then! If I ever write a book sharing my new experiences as a new mother, I would have its title – "The mom who googled baby's pee count and poop color every day."
As a new mother, did you hear statements like: "Have you ever heard that the baby's weight double in 4 months and triple in 9 months? Nah? Then you are either a school kid or from Mars." I was a victim of that statement. It just sank too much into my heart that I kept chanting it like a mantra as a newborn mother.
Biologically, I became a mother, but I did not know anything about having babies. I just thought babies are cute; they eat and sleep and pee and repeat. Being a google jerk, I should have looked up the internet on what to expect after a baby is born. But being the naïve I was, I was busy adoring my pregnancy period and treasuring my special moments. I did not even know how to hold a baby when she arrived. "Hold the neck first!" everyone would shout from all sides. It was terrifying, and I had to do it a dozen times before getting the hang of it.
Ah! And all the episodes of feeding. Never before had I dreamt of being trained to feed a baby by a panel of nurses. I believed babies knew how to breastfeed right from birth; it took exactly a week to master the art. Honestly, I was more scared than happy when the baby arrived.
After Liya grew up to be 2 months, I almost freaked out before the doctor visit because Liya hadn't gained enough weight for a 2-month-old. I feared the doctor would blame me for being an irresponsible mother for not feeding my baby enough. I believed it naturally came to mothers to tell when their little one is hungry and needs breastfeeding. I felt sorry that I did not understand her hunger cues. I believed myself irresponsible and careless toward the tiny human who came to this world trusting me and the breastmilk only I could give to her, but I failed to understand her needs. And I call myself a mother!
Then you see you have people staring at you, scrutinizing Liya's weight and thinking in their mind, "Look at that baby. She's not chubby. I guess her mother doesn't feed her enough." As a mother, you prepare all answers in your head to the series of questions you may be bombarded with: "Oh, she's so thin. Is your milk sufficient?" "Are you not feeding her once every 2 hours?" "Why haven't you tried formula feed?" You also get suggestions like, "Don't drink too much water," "Eat more fish, garlic, almonds," "Drink a jar of milk twice a day."
All I had to say is: "I think she's fine. She looks lean, but her weight is on track." "Research claims that breastmilk is the best for babies." The truth is I copied these statements from some mom-article I had read recently and spilled it off on their faces. But inside, I would shrink and wrap like a snail in its shell. Whenever I encountered such questions, I would go back to online forums to reassure and convince myself that weight is not all-important; being active and happy is a good sign for a healthy baby.
After a few days, the guilt feeling within me triggered me to maintain a routine. I maintained a notebook to jot down every hour – the duration of feed, last feed, pee counts, poop color, sleep schedule, and the list is endless. I did that countless times and days until I finally gave up. I would google every little big thing on earth about nurturing a baby: "Why is the baby poop not yellowish?" "Is it okay if the baby had not pooped for 3 days?" "Why is my baby not breastfeeding enough?" After endless googling up, I ended up with just one answer for everything – "Oh, It's just the baby milestones!" Honestly, I should have looked up how to stop googling for everything!
Though those were bizarre days, somewhere deep down, I kept myself motivated and figured that I was not all wrong. My family has always been a big support system; they kept me sane, and eventually, everything fell into place. Despite all doubts and fears, nothing kept me from celebrating life's happiest and precious moments – enjoying the giggles, yawns, farts, burps of little Liya was worth every trouble. Liya completely filled my heart and the phone gallery (phone memory too. Sigh!)
Now, when I look back at the schedules, the hours of online searching and reading up, worrying for the smallest things, were totally crazy, insane, and absurd. I don't know if I should laugh at my stupidity or blame myself for being so ignorant.
From my experience, I would say one thing to all new mothers – Trust your body. It's just wonderful the way God has made it. It will not abandon you. Please do not give up on it; do not be so hard on yourself. Trust your abilities as a mother and enjoy every little moment with your child; they grow up just too soon.
Disclaimer: The views, opinions and positions (including content in any form) expressed within this post are those of the author alone. The accuracy, completeness and validity of any statements made within this article are not guaranteed. We accept no liability for any errors, omissions or representations. The responsibility for intellectual property rights of this content rests with the author and any liability with regards to infringement of intellectual property rights remains with him/her.