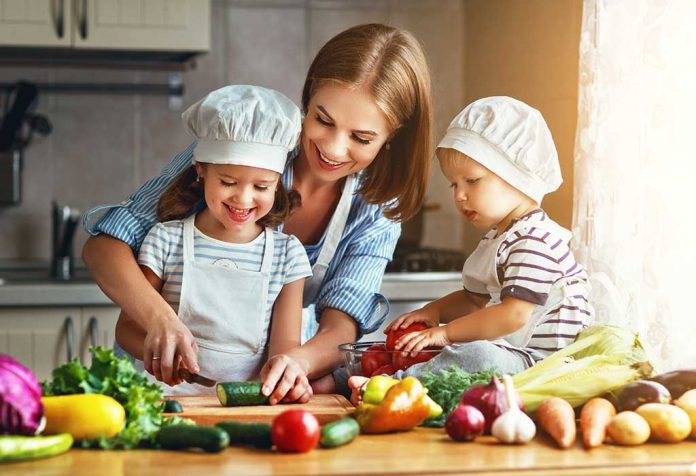 As parents, we are often anxious about our children's diet and nutrition. We, as mothers, constantly question ourselves on whether we are feeding them the right food and they are getting enough nutrition, as per their age and activities. In India, we are loaded with information of all kinds and emerge totally confused. Our ancestors have somewhat rightly said that ignorance is bliss. Our ancestors are actually brilliant. They fed their children properly with the readily available produce they had, and so our elders are much healthier than we are today. Here are some myths we need to break as modern parents and stick to the basics for out children's health and overall well being
1. Breakfast
The first meal of the day for your child should be healthy, fuelled with a balance of carbohydrates, proteins and all essential nutrients. Breakfast out of a carton or packet is a big NO-NO. I don't remember ever having breakfast cereals, processed bread, biscuits, or even tetra pack juices for breakfast as a kid. With a little planning, you can quickly make idli, dosa, cheela, paratha, upma or even whisk up a pancake with homemade batter. The same thing can be packed in their meal boxes as well. Ditch the sugar-laden cornflakes, muesli, and processed bread for breakfast. You can cut any fruit and quickly pack it as a snack. Breakfast biscuits and Energy Bars ?? , No, Thanks! I am happy with my homemade laddoos and khakras.
2. Multivitamins and Health Drinks
Your children can become sharper, smarter, taller and healthier, by simply avoiding multivitamins or health drinks. The marketing world has the power to trap us all and make us dance to their tunes. Our organic stores have opened a zillion healthy, desi alternatives. You can make your own stock of dry fruit powder, which lasts up to a month, and these powders make a great health drink. As we all know, sunlight is great source of Vitamin D, so why drive to your nearest supermarket? Walk down with your children and make them pick up stuff and help you carry it home.
3. Milk
" Mera baccha doodh nahi peeta hai". No problem, set him free. It's not a ritual or compulsion to drink milk for healthy bones and teeth. What about calcium and protein?? Here come our native grains and seeds- ragi and numerous variety of native millets, til, khus-khus( poppy seeds) almonds, and jaggery are powerhouses of calcium. Dates are also rich in calcium and iron. Protein does not come only from dal, eggs and meat. Again our little ancient friends; millets like bajra, rajgira, nachani etc., are packed with protein and fibre. How to include millets in your child's diet? You can make staple items like khichdi, roti, dosa. If your child is lactose intolerant or allergic to gluten, then a millet and rice-based diet is the way to go.
4. Food Fad and Lifestyle Choices
Not all expensive foods are healthy and inexpensive ones unhealthy. Indian ber is as good as blueberries or goji berries.Amla and nimbu also have enough Vitamin C as grapefruits, kiwis or strawberries. I always prefer millets over quinoa or oats because I have grown up eating only native foods. We must plan our diet and buy groceries that are as Indian as we are. Our Indian taste buds have globalised from desi to Italian, Mexican, Oriental, Middle Eastern. It's great to try world cuisine, but not at the cost of our children's health. Pair homemade hummus or guacamole with khakra, papad or even paratha and sweetened yogurt with seasonal fruits.
5. Quantity of food and Meal Disciplines for Good Health
These are the most important factors, not only for our children's health but also ours as adults. We brood when our children have less food than usual. " He had just one roti today or he had just fruits for breakfast " and so on. Children have days when they feel like eating less and they will surely come back when they are hungry. Please don't shove down food into your child's throat. Food forcefully fed is not going to be accepted by the body. At the same time, don't give child unhealthy alternatives when he does not eat his meal. When he is famished, he will certainly gobble up all the dal chawal.
Your child can squat and sit on a mat and eat with his hands the traditional way. But he must not have his gadgets around or sit in front of the TV to eat his food. Eating at the same time everyday is important for the biological clock of the body. Also, strictly no screen time after dinner till the child goes to bed really makes a difference in the digestion process and signals the body and brain to call it a day. So let's stop worrying and get back to our grandmother's basics for our little one's budding well being.
Disclaimer: The views, opinions and positions (including content in any form) expressed within this post are those of the author alone. The accuracy, completeness and validity of any statements made within this article are not guaranteed. We accept no liability for any errors, omissions or representations. The responsibility for intellectual property rights of this content rests with the author and any liability with regards to infringement of intellectual property rights remains with him/her.