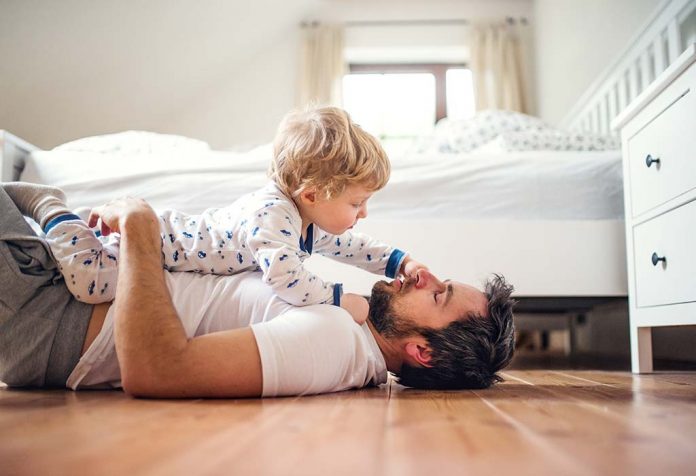 "What yaar! Again khichdi! I am tired of eating khichdi every day." Akash looked at his plate with disgust.
Seema was busy feeding Guddu. As she directed the spoon towards him, the naughty toddler pushed it away thereby spilling the food on the floor. That was the last straw. She screamed at Akash, "See what he has done. I have been trying to feed him for one hour. It's so frustrating."
She saw him listening to her with indifference. "Look at yourself! Sitting there like a king and complaining about the food. Why don't you take my place for a day and see how it feels?" Seema raged at him.
Akash looked at her angry face and replied, " If it's a challenge then I'll gladly accept it." He thought for a moment and added " Tomorrow is Valentine's Day. You spend the day as you wish. I will take care of Guddu. Consider it as my Valentine's day gift!" He smiled haughtily at her and said, "You are lucky to have got a loving and caring husband like me."
Seema was an intelligent woman and she recognised an opportunity when she saw one. Her anger evaporated and she agreed immediately. "Thank you, my dear husband. I am indeed very lucky!"
"Ab pata chalega Bacchu!' she laughed silently.
The next morning, Seema asked Akash, "Are you sure? Will you be able to manage him? You have never done this before." The mother in Seema was suddenly apprehensive about the whole idea.
Akash pressed her shoulder lightly. "Jaanu, trust me. I am his father. Who can take care of him better than me? Maybe it's my first time but I can guarantee you that this is just first of the innumerable breaks that you will get in the future."
"OK. Then let me show you where his things are kept."
"No need. I will find out. You are acting as if it's a treasure hunt!"
"Fine. But I have cooked Guddu's lunch and kept it beside the microwave. Just heat it before serving. Ok, I guess I'll leave now. Have a great day both of you."
Seema smiled gratefully at Akash, kissed her munchkin and left the house.
'Since it's Valentine's Day, I'll buy something for myself. It's been ages since I shopped in peace. Oh, I can't wait to start my day!' Seema sang to herself.
The shopping mall was crowded but that only added to Seema's excitement. She felt free and happy after a long time. As she entered the women's apparel section, her phone rang. It was Akash.
"Hi Akash. Wh…"
"Why didn't you tell me that Guddu is not wearing a diaper?" Akash screamed through the phone.
"Well, he gets diaper rashes easily. I use the diaper only when he goes to sleep. But what happened?"
"What happened? He pooped on my pants. That's what happened! Initially, I didn't realise. But the stickiness and the nauseating odour confirmed it."
"Well, your pant can be washed. And I wanted to tell you about it before leaving but you chose not to listen!"
"Guduuu! Stop it! Seema, he is throwing his toys outside the window! Haven't you taught him any manners? Is this the way you are raising my son?"
"How can you blame me, Akash? Well if you don't like my style of parenting, then do it your way. He is all yours. All the best!" Seema angrily put back the phone in her bag.
Seema took a bite of her favourite pizza and closed her eyes in pleasure. Yumm!
The pleasure, however, didn't last long as she quickly opened her eyes to the loud ringing of her phone.
"Yes, Akash ? " She asked warily.
"Just tell me where you have kept the garam masala. I won't disturb you again."
"Why do you need the masala?" Seema was instantly suspicious.
"The lunch you prepared is totally tasteless and my son refuses to touch it. I'll add some garam masala to spice it up and.."
"Are you mad, Akash? He is only 15 months old. Don't you dare give him any spices. Just add a dollop of ghee, sing, tell him stories and he'll surely eat."
Seema's head started aching now. So much for her break! She forcibly calmed herself down and went back to her half finished pizza.
Seema put on her sunglasses as she came out of the shopping mall with her purchases. Spending the rest of the day at her mom's place seemed like a good idea. She stood waiting for an auto and to her utter dismay, the wretched phone started ringing again.
"Now what?" asked Seema irritatingly.
"Your son has pooped thrice on my pants. Now I don't even have a pant to wear. I am wearing one of my formal pants. I didn't even get a chance to take a shower. The little devil refuses to go to sleep and I am dying of hunger!" Akash was literally shouting now.
"Well, you'll have to prepare your own lunch, daddy," Seema replied sweetly.
"But how can I when..??"
Seema didn't let him finish. "Well, you'll have to manage in the same way I manage every day. Bye Akash! And please don't call me again."
Seema was in a foul mood by now. She felt like throwing away her mobile. As she got onto the auto she thought, 'God knows what both of them are up to! I'd better get back.'
Half an hour later, she stood in front of her house door ringing the bell. No one answered and she used her spare key to unlock the door.
As she entered the house, she felt faint at the sight that greeted her. The house was in a state of complete disarray. Toys and clothes were strewn all over the place. A half finished plate of rice and curry lay on the table with smears of it painting the nearby fridge and wall. A stinky smell of poop mixed with that of curry filled the air. Holding her nose with one hand she walked towards the bedroom. Halfway she stumbled upon her son's soiled pant and a half broken toy car.
Two hours later, Seema lay down exhausted on the sofa.
Just then the door opened. A disgruntled Akash entered with a super excited Guddu.
Seema took Guddu in her arms and lashed out at Akash, " Where have you been? And what have you done to the house? It took me two hours to clean it!"
Akash looked bone-tired and shouted, "Have you any idea what I have been through? I thought of going to a restaurant to have lunch. But the little guy wanted a ride in the car. So after aimlessly driving on an empty stomach, I finally pulled outside a cafeteria to grab a quick sandwich. However, he (pointing at his son) refused to sit in one place and wanted to roam around. So instead of eating in peace, I had to run after him."
"As if this was not enough, he saw a little girl with a balloon. A tug of war ensued for that balloon and I just couldn't manage him. Finally, I left my half-eaten sandwich and went to pay the bill with the screaming monster in tow. And do you know what he did next? He broke the Ganesha idol that was kept on the counter. God! Why do people keep such delicate items in front of kids? So you see, I had to pay a hefty sum for the broken piece as well. And…."
Akash suddenly went silent and turned his head to avoid Seema's probing eyes.
Seema folded her hands across her chest and said in a stern voice " What are you hiding Akash? Out with it!"
"Don't look at me like that. You know I get scared." Akash muttered.
"Akash?" Seema insisted.
"OK fine. I'll tell you." Taking a deep breath, he said slowly "A young woman was standing in front of us at the bill counter. The monster pinched her from behind and she thought that I did it. Can you imagine it? She looked at me as if I was the most despicable creature on Earth!"
Seema stared at him for a moment and then burst into laughter. It irritated Akash all the more and he glared at her.
Finally, she wiped away her tears of mirth and went to her subdued husband who was sitting silently in a corner. She hugged him and pulled at his cheeks mischievously. "Now do you understand what I go through every day?" She asked him gently.
"Yes, I do. I have learned that raising a kid is the toughest job on Earth and you are an awesome mother. But from now on you can count on my help." The sincerity in Akash's voice tugged at her heart.
Seema smiled and whispered in his ears " Happy Valentine's Day my dear!"
Akash grumbled "Happy? It's been a dreadful Valentine's Day for me!"
Disclaimer: The views, opinions and positions (including content in any form) expressed within this post are those of the author alone. The accuracy, completeness and validity of any statements made within this article are not guaranteed. We accept no liability for any errors, omissions or representations. The responsibility for intellectual property rights of this content rests with the author and any liability with regards to infringement of intellectual property rights remains with him/her.