Coconut Rice Recipe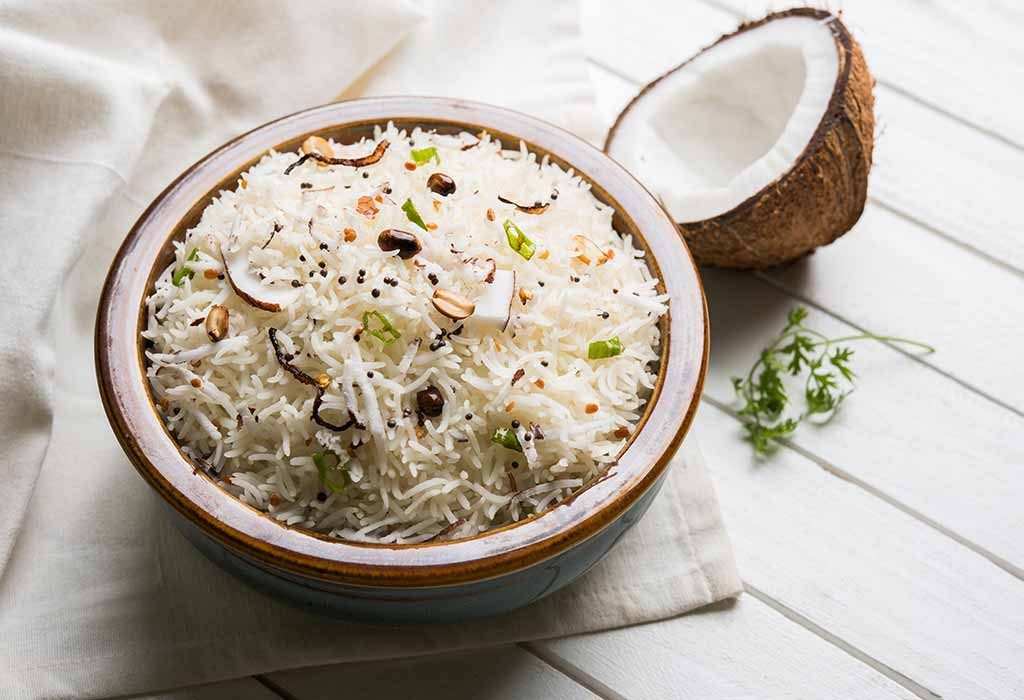 In this Article
Coconut milk, oil, and coconut rice are great food options for babies as coconut rice is highly nutritious. Easy to make and super delicious wholesome meal option for your baby, when you cook it with grains, brown rice, and use minimal spices and salt. Easy to digest, this coconut rice is going to be your little munchkin's favourite dish. Not sure how to make Coconut Rice? Read on and learn how you can make this super easy and yummy recipe in no time!
Cooking Time
| | |
| --- | --- |
| Type | Time (hh:mm:ss) |
| Preparation Time | 00:15:00 |
| Cook Time | 00:15:00 |
| Total Time | 00:30:00 |
Cooking Method
Gas Stove
Type of Meal
Vegetarian
Suitable For
For Toddlers over 13 months of age
Meal Schedule
Breakfast, Mid Morning Snack, Lunch, or Evening Snack.
Recipe Type
Main Dish
Ingredients
| | |
| --- | --- |
| Ingredient | Quantity |
| Rice | 1 cup |
| Freshly grated coconut | 3/4 cup |
| Turmeric powder (optional) | a pinch |
| Cashews | 1.5 tbsp |
| Water | 2 cups |
| Salt | as required |
| Mustard seeds | 1/4 tsp |
| Urad dal | 1/4 tsp |
| Curry leaves | 3 to 4 |
| Red chilly | 1 |
| Coconut oil | 1 to 2 tsp |
Instructions
Here are the step by step directions for easy Coconut Rice recipe:
Soak Urad dal in the water for around 15 minutes.
Cook the rice in a separate container and let it cool in a bowl so that it does not stick.
Heat the oil and add mustard seeds and urad dal in a pan.
When they are done spluttering, add some cashews, curry leaves and red chilly.
Add Bengal gram to the pan after straining the water from it.
Let it fry, till it turns golden brown.
Add the grated coconut and saute for 3-5 minutes on medium flame till the coconut loses its raw smell and starts giving out a nice aroma.
Now you can add the cooked rice in the pan, and make sure that all the ingredients are mixed well.
Stir till the rice is heated through.
Switch off the flame once done. Give 15 minutes to let it cool down and serve.
Recipe Tips
Homemade Coconut Rice baby food recipe is a simple one. However, it is best to keep these tips in mind while preparing it:
Use jasmine or basmati rice. They both have a nice flavor that works well with the coconut.
Make sure that the temperature of the stove doesn't get too high to avoid the rice from sticking to the bottom of the pan.
For babies younger than 12 months, cook the rice all the way through to ensure it's soft. You can always add a little water if needed to cook it to softness.
For older babies (more than 1 year), choose optional flavorings like 1 tablespoon maple syrup, 1/2 teaspoon cinnamon, and/or 1/2 teaspoon turmeric (optional) as desired.
You can add powdered nuts instead of whole cashews for small babies.
Nutrition Information (Per 100 Grams)
| | |
| --- | --- |
| Nutrition | Value |
| Carbohydrates | 120 g |
| Calcium | 26.3 mg |
| Iron | 2.9 mg |
| Protein | 22 g |
| Sodium | 21.9 mg |
| Dietary fibre | 1.7 g |
Health Benefits
Wondering how healthy these tasty delights are for your baby? Here are some health benefits of homemade coconut rice for babies:
Highly nutritious, coconuts are rich in fibre, vitamins C, E, B1, B3, B5 and B6 along with few minerals like iron, selenium, sodium, calcium, magnesium, and phosphorous.
Coconut rice is high in Magnesium, which is required for the formation of the baby's bones and teeth which also helps in the metabolism of calcium and potassium.
It is rich in Phosphorus, which is also good for your growing baby's bones and teeth.
Rich in fiber and MCTs, it offers several benefits, including improved heart health and digestion.
Rich in polyphenols, phytosterols as well as Vitamins A and E, coconut helps in improving vision in babies.
Coconut oil also has lauric acid that helps to form HDL cholesterol. Lauric acid breaks down in the body in monolaurin, which acts as an antiviral, and antibacterial that helps to kill disease-causing organisms in babies.
Buying Guide
Here are buying tips that you should keep in mind while picking up ingredients for coconut rice for your baby:
Pick up a fresh coconut. The color of the coconut husk will also give you a good indication of its ripeness. Immature coconuts that are mostly filled with coconut water are usually bright green.
As much as possible, buy organic fruits, vegetables, and cereals for your baby as these products do not have harmful chemicals like pesticides and insecticides. Such products are safer for your little one.
Go for organically grown rice especially brown rice as a whole grain is part of a nutritious diet for babies and has protective effects for health.
Make these super-easy and delicious coconut rice for babies.They can be made in a jiffy and will surely add a big smile to your munchkin's face!