Kids Shoe Size Chart By Age For Boys & Girls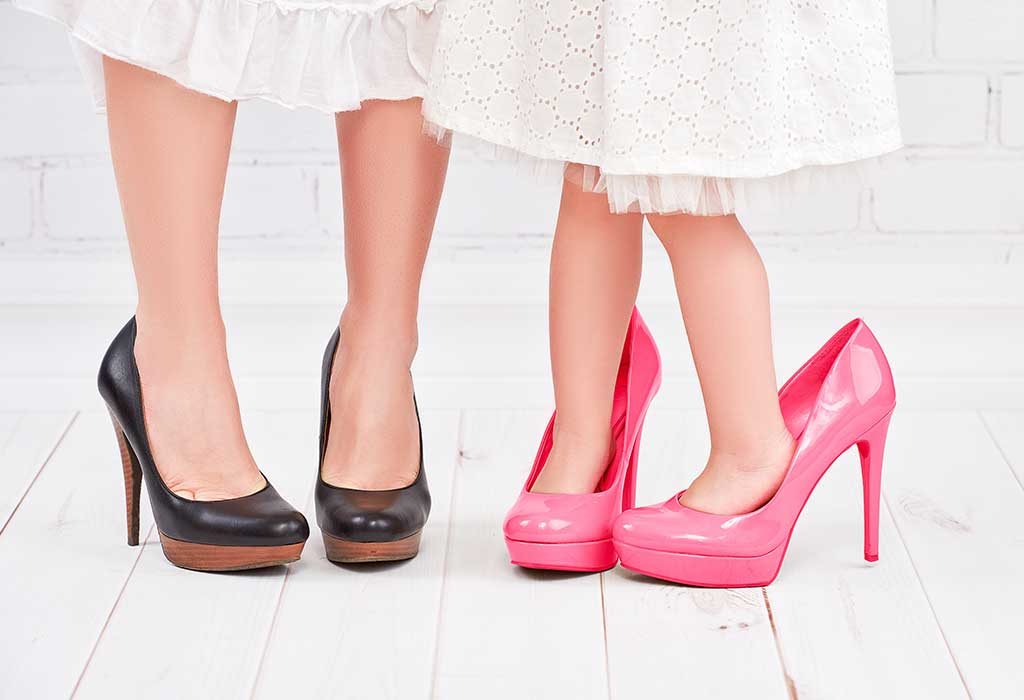 From sporty sneakers to luxury designer shoes, kids have plenty of options these days when it comes to comfortable footwear. If you can't take your kid to the store and are wondering how to measure your child's feet, we've got good news – you can do it at home. And it's not very hard, either. To measure your child's perfect shoe size, you can take the help of children shoe size chart. Now children depending on their age and weight may also differ in their shoe sizes. Also, the size varies from brand to brand. From euro shoe size to US shoe size, there are different charts. To lessen your burden, we have tried our level best to present you with a standard chart.
Here are some of our favourite ways.
Ways to Measure Your Child's Foot Size
There are two main ways to measure your child's foot size. For this first one which is popularly called the 'tracing method' or the 'brand method', all you need is a printout of a child shoe size measuring chart, a ruler and paper. The second one is also straightforward but needs a bit of extra help.
Take a look at them below.
1. The Brand Method
Most brands manufacture shoes based on their sizing standards. You'll find a printable chart on their website, in many cases. Download that, print it out and let's get started.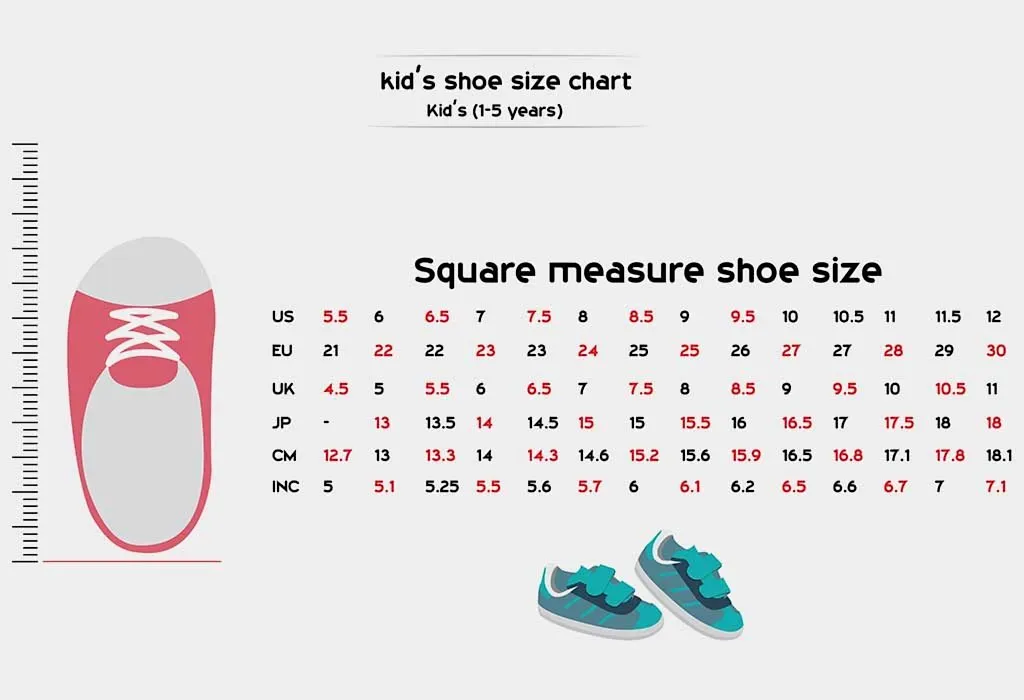 What You Will Need
Step-by-Step Procedure
Tape the piece of paper on the floor and place your child's foot on it.
Make sure the foot is flat and the toes aren't curled up.
Start by drawing an outline from the heel to their longest toe.
Remove the toe and measure the space drawn in inches using a ruler.
Add 1/4″ to your measurement for legroom and you're done.
If you plan to make your child wear socks, repeat this process while wearing socks to get accurate measurements.
Print out the brand's chart and find the measurement according to the one you recorded for comparison.
When you're printing out the chart, make sure to uncheck "page scaling" in the print preferences and set the scale to a 100%
2. The Tape Measure Method
This is a bit old school but it works like a charm. You'll need someone's help to hold your child's feet still due to the squirming and fidgeting.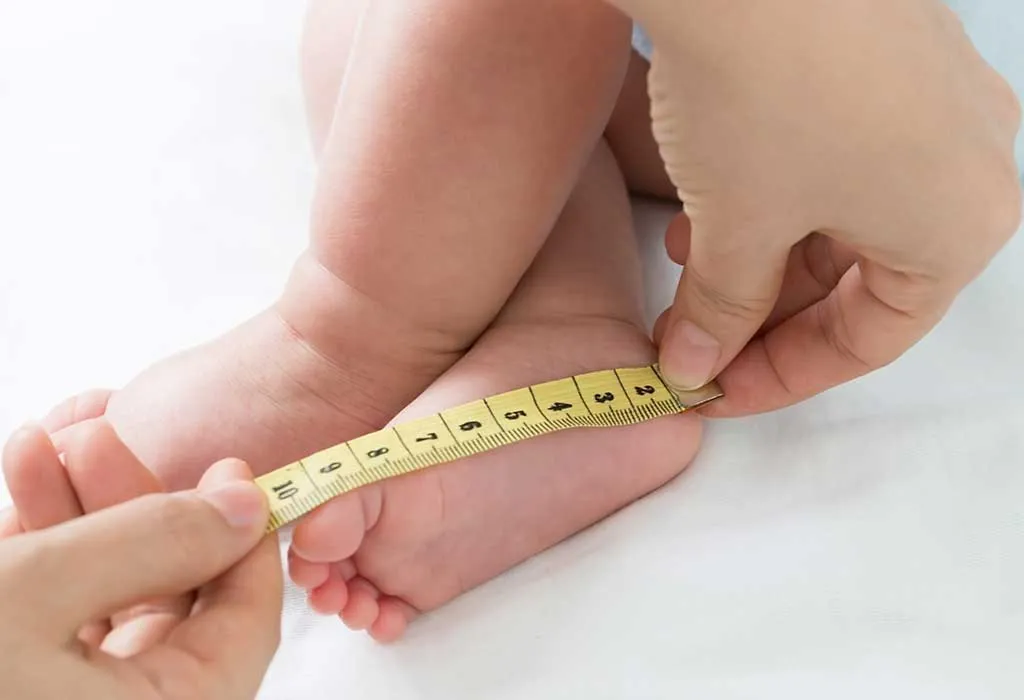 What You Will Need
A measuring tape
Paper
Pen
Step-by-Step Procedure
Position your child up against the wall with the measuring tape on the floor.
Place your child's foot on the 1″ mark and make sure it's flat.
Get someone to hold your child during this so that they don't move or wiggle.
Note the measurement by recording from the 1″ mark to the back of the heel, get out a piece of paper and convert it to centimetres and other units for reference.
Visit your nearest store and shop for shoes by handing them over that size or select the measurements online for home delivery.
Boy's Shoe Size Guide by Age Chart
You can't tell a boy's shoe size by just looking at their feet! And that's exactly why we have this handy sizing measurement chart for your reference.
| | | | |
| --- | --- | --- | --- |
| Age of Boy | U.S. Measurement | U.K. Measurement | E.U. Measurement |
| 3 years | 8 to 10 (C) | 7 to 9 | 23 to 26 |
| 4 years | 10 to 11 (C) | 9 to 10 | 26 to 27.5 |
| 5 years | 11 to 11.5 (C) | 10 to 10.5 | 27.5 to 28 |
| 6 years | 12 to 13 (C) | 11 to 12 | 29 to 30.5 |
| 7 years | 13 (C) to 1 (Y) | 12 to 13 | 30.5 to 31 |
| 8 years | 2 to 3 (Y) | 1 to 2 (Y) | 33 to 34 |
Source: https://www.shoesize.com/children/sizechart/
Girl's Shoe Size Guide by Age Chart
Just like before, you don't have to visit your nearest store for a measurement chart. Take note of this reference sheet and you'll be good to go at the time of your baby girl's shoe-shopping.
| | | | |
| --- | --- | --- | --- |
| Age of Boy | U.S. Measurement | U.K. Measurement | E.U. Measurement |
| 3 years | 8 to 9 (C) | 7 to 8 | 23 to 25 |
| 4 years | 10 (C) | 9 | 26 |
| 5 years | 11 to 11.5 (C) | 10 to 10.5 | 27.5 to 28 |
| 6 years | 12 to 13 (C) | 11 | 29 |
| 7 years | 12 to 13 (C) | 11 to 12 | 29 to 30.5 |
| 8 years | 1 to 2 (Y) | 13 to 1(Y) | 31 to 32 |
Source: https://www.shoesize.com/children/sizechart/
FAQs
Parents often ask how often to measure kids' feet or what to do if the fit isn't too comfy. We answer some of the most commonly asked questions below.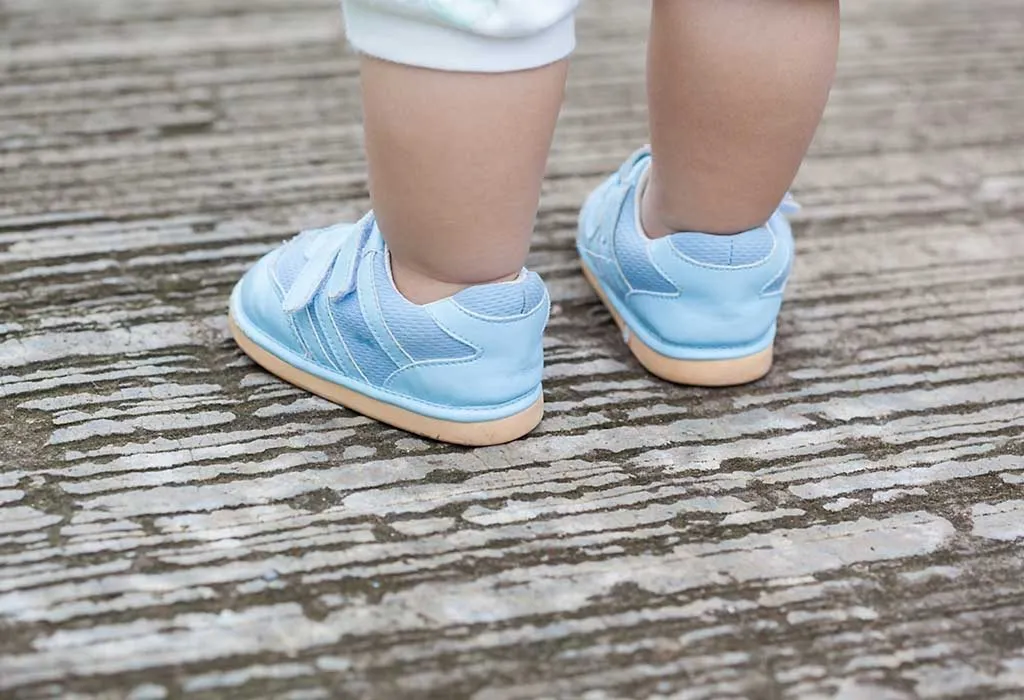 1. How Often Should I Measure My Kid's Feet?
You should measure your kids' feet every two to three months during the first 2 years and once every six months after that. When you do measure your kids' feet, make sure to record the measurements and use a bigger size. That way, you ensure a smooth and comfortable fit.
2. What Can I Do if My Kid is Between Sizes?
If your kid is between sizes, go for a snug fit instead of a loose one. Or simply change the shoe style or go for another brand if you don't find something that's working for them.
3. How Fast Do My Child's Feet Grow?
Kids' feet grow half their current size every three months. Their feet are at their biggest during the afternoons after they spend a day of standing tall. Measure it during that time and be sure to triple-check the measurements after you take them for best results. If your kid plans to wear socks, take the measurements with the socks on (unless you want a tight fit).
Are Girl's and Boy's Shoe Sizes the Same?
Yes. A girl's and boy's shoe sizes are the same. The reason is age. Kids in their childhood do not have the same shoe sizes based on their gender but on their age. Suppose a 5-year-old boy's shoe size is 8 inches. Then a 5-year-old girl's shoe size will be 8 inches, too. However, it can be the case where boys' and girls' shoe sizes are different despite the same age.
Although it's nice to eyeball measurements and ask your relative to do your kids' shoe shopping for you, you'll realize that doing some researching and taking them yourself pays off. This way, every time your kids' feet grow bigger, you know what to do and are not at the mercy of going to the store.
Plus, taking measurements at home is also time-saving and doesn't involve a lot of running around. And the fun part is in the shopping once you take care of the number crunching stuff.
Also Read:
Causes of Toe Walking in Kids
How to Teach Your Child to Tie Shoelaces
Effective Tips for Buying Rain Boots for Kids