9 Life-Long Benefits Your Toddler Is Gaining Through Colouring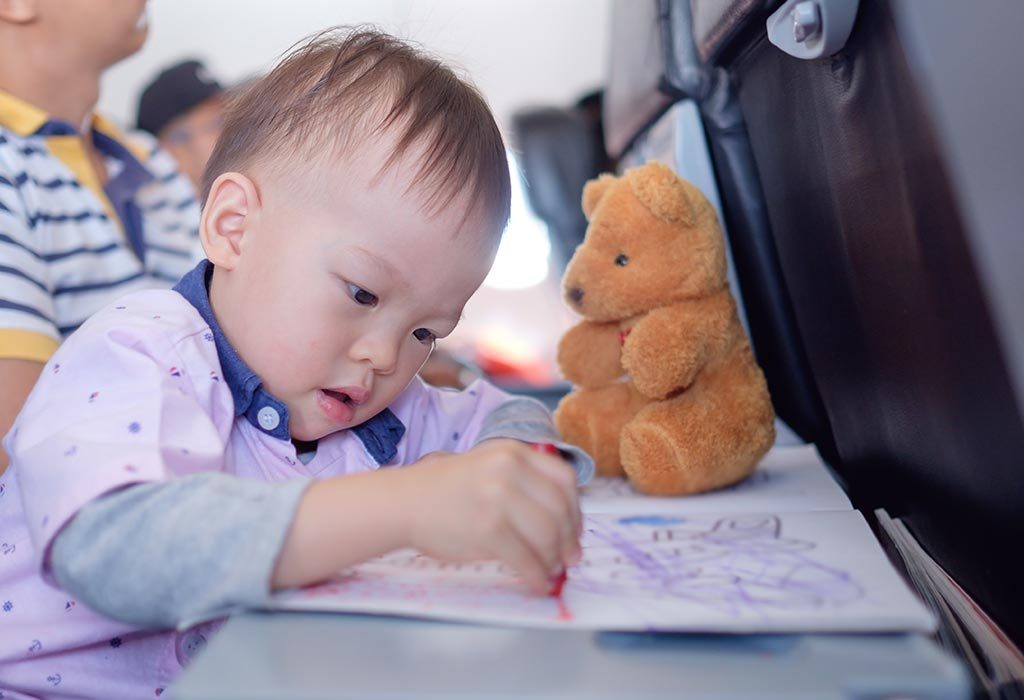 In this Article
There are some sure-fire signs that show that you have a toddler in your house – toys strewn all over the room, plenty of noise, locked cupboards and cabinets, and so on. Of course, none of these are as telltale as the sight of most surfaces of your home decorated (or destroyed, rather!) with your child's artistic ventures – colourful scribbles on the walls, squiggles on the table, faces on newspapers and magazines, the works! You may be mourning the loss of your plain white walls and furniture, but fret not. All that colouring is benefitting your child in various ways, and providing him benefits that will enrich his life from an early age. And we're here to enlighten you on just that!
Benefits of Colouring for Toddlers
Let your little one unleash his creativity, even if they are just meaningless scrawls and doodles for the time being. Be it filling in plain pages, an entire colouring book, or the walls of his room, the following are the different ways colouring is helping your child.
1. It helps him improve his fine motor skills.
Fine motor skills involve the smaller, more focused movements of body parts like the hands and fingers. Exercises focused on improving these movements help build the muscles in these parts. Adults have been writing or typing for so long that we aren't conscious of how helpful our hands truly are. But the same cannot be said for toddlers – it is at this age that the strength in their hands needs to be built. And colouring is an excellent exercise for this – you can be sure your kid will love it! Make sure to equip him with a space to practise and Camlin Child Grip Crayons, which are designed to improve hand-eye coordination and enhance his fine motor skills. The rounded design of these crayons makes it easy for your little one to hold and colour with them, and strengthens his grip too!
2. It gives him a head-start on improving his handwriting.
The stronger his fine motor skills and his pencil grip, the easier it will be for your child to develop good handwriting. It helps him figure out how to work writing tools at an early age, and thus, helps improve his penmanship quicker.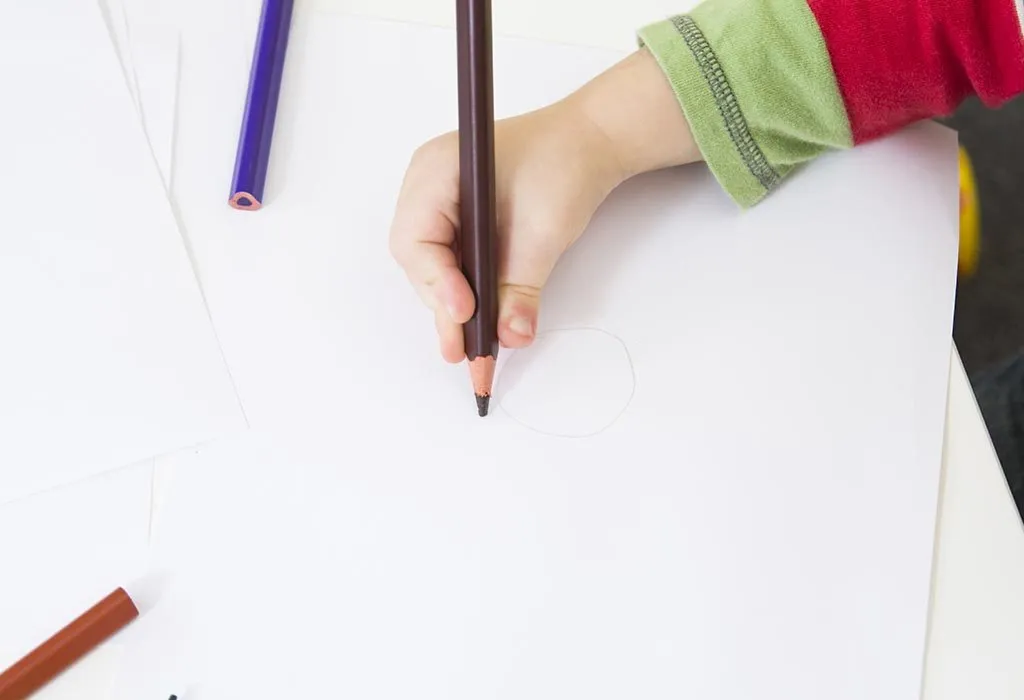 3. It helps spur his imagination.
This is a no-brainer – give your toddler colours and a blank space, and watch his imagination take over! You can let him practise with a free hand, or provide him with a theme so that he can decide what elements he wants to draw and colour. This is the time when he isn't bogged down by logic and structure, so let him colour as he pleases. You'll see his imagination taking him to great heights as he grows up!
4. It helps with self-expression.
The best thing about art is how it is personal and limitless. This is especially helpful for kids who haven't yet developed the vocabulary to express all their thoughts and ideas – their art can speak for them. They can draw faces and objects and colour them in however they want – the sky needn't be blue, a tree needn't be green, and there can definitely be a purple smiley-faced sun! The more the freedom and space he gets, the more expressive he can be. Camlin Child Grip Crayons can be used on most non-porous surfaces since they're washable; so if your child wants to take to the walls and furniture to express himself, it's safe to let him! Trust us, freedom of self-expression in childhood contributes to self-confidence as an adult.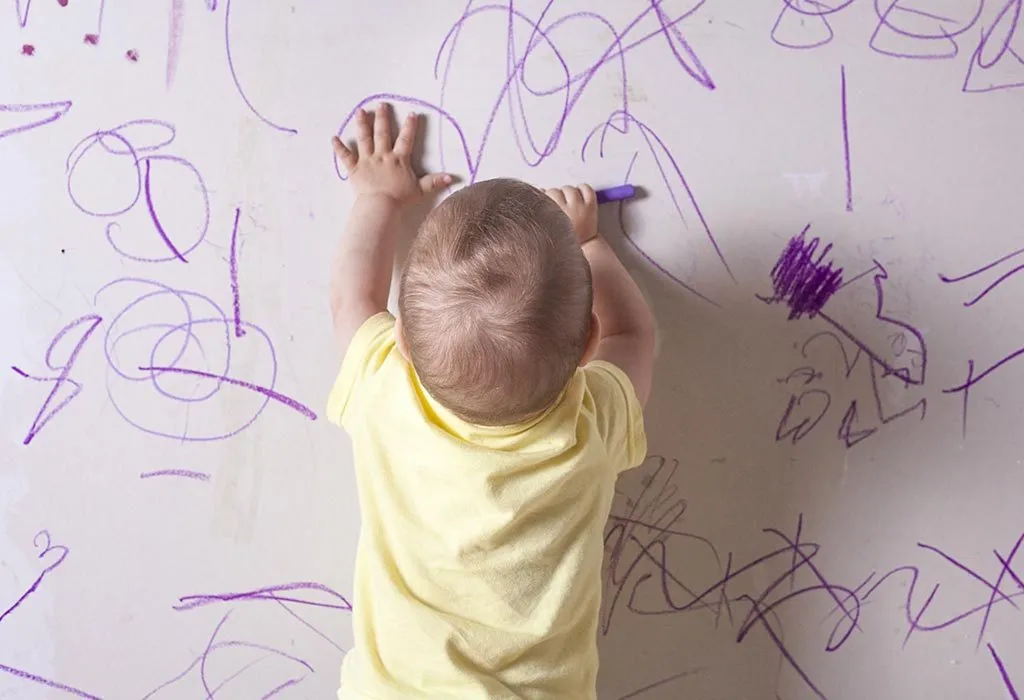 5. It helps improve his focus.
Toddlers can be a feisty lot; holding their attention for a prolonged period of time is an incredible challenge. Enter colouring – an activity that will interest them, while keeping them focused too. It teaches your child that some level of commitment and patience is required to complete a task. So, not only will colouring keep your child engaged, but the time he spends in colouring can be useful for you to get some downtime too!
6. It's therapeutic in nature and can relax him.
Some kids may experience anxiety and stress at an early age, and the signs will be quite visible. If you've noticed your little one exhibiting any signs of anxiety, like having trouble falling asleep or getting startled too much and too quickly, for example, try to get him to focus on colouring. This activity will make him more aware of the present and the task at hand, and the different colours, lines, and designs on a page have an almost meditative property that can help relax him. While it's important that you get your child professional help for any anxiety and stress-related issues, this activity can work wonders for his mental health too.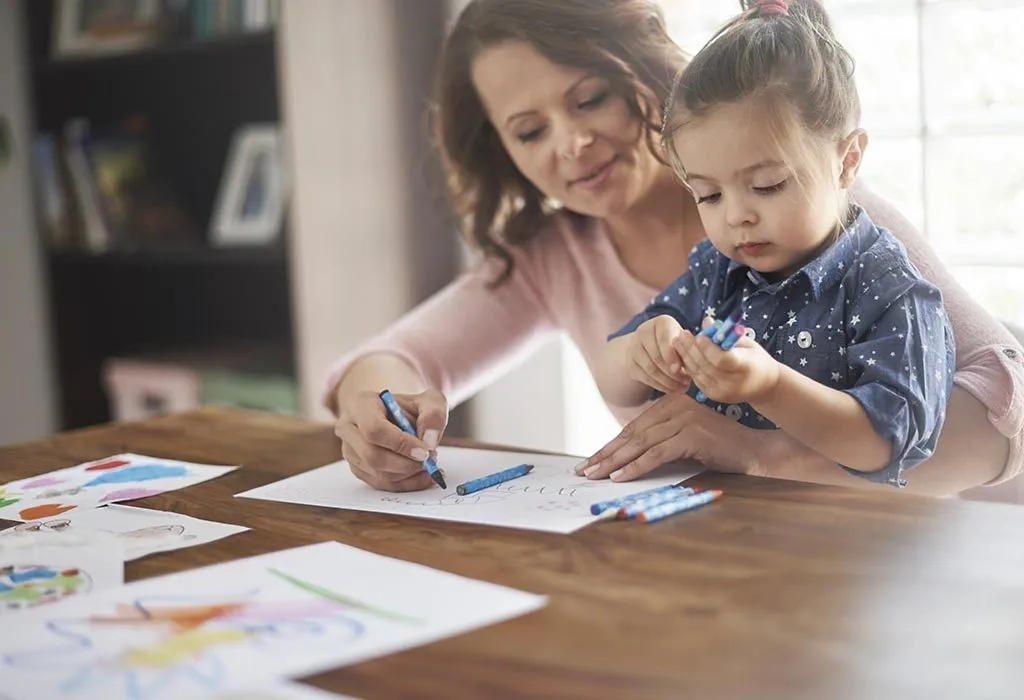 7. It helps with spatial awareness.
As your child graduates from blank spaces to more defined boundaries and lines in the form of colouring books, you'll see that his focus and spatial awareness improves further. He'll get to learn about different shapes, sizes, patterns, and objects. Apart from this, learning how to colour within the lines will help enforce a sense of structure and following rules in him. You will see this reflected in his penmanship when he starts writing as well, as he will have to stick to writing within the lines in his notebook.
8. It teaches him about different colours and helps boost his language skills too.
Different crayons expose him to a world of different colour combinations! You can give him an early start on the concept of the colour wheel. First, introduce him to the primary colours (red, blue, and yellow), then move on to teach him about how mixing these colours with each other gives rise to new shades. This also helps improve his vocabulary; he will learn about the names of different colours, and in conversation with you about colouring the picture or space in front of him, he'll learn many new words as well! Boost his knowledge and language skills by teaching him the basics of colours, and let his imagination run wild!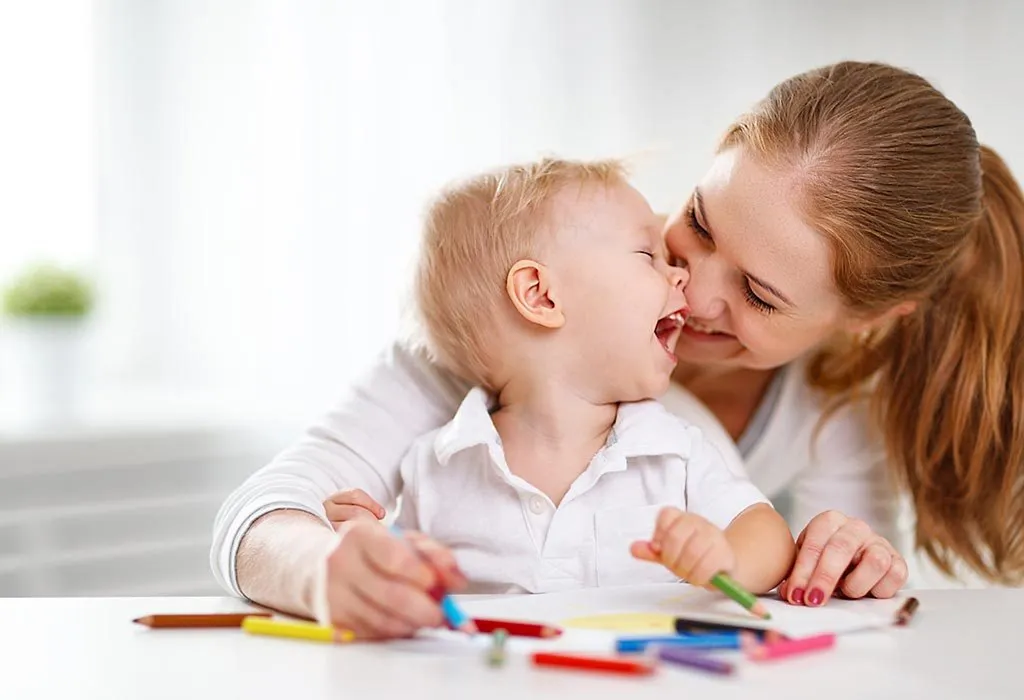 9. It makes for a great bonding activity.
The best part about colouring is that it isn't age-restrictive – plenty of adults are taking to this activity because of its multiple benefits for mental health. You can easily grab a colouring book and indulge in some quality time with your little one. Not only is your bond with your child going to grow stronger because of the time you will spend together, but this can be your go-to activity to relax as well – a total win-win!
We bet you didn't realise that your child's consistent scribbling and doodling was helping him out in so many different ways! So the next time you see your munchkin brandishing a crayon with a bright smile, simply direct him to a space where he can colour to his heart's content. After all, the benefits he will gain are totally worth the colourful mess he'll create, don't you agree?
Also Browse:
Free Colouring Pages for Kids
Birds Colouring Pages for Toddlers
Cartoons Colouring Pages for Pre-schoolers
Flowers Colouring Pages for Children
Also Read:
Activities to Boost Language Development in Toddlers
Fun Activities to Keep Your Toddler Busy