8 Indoor Activities That Will Stimulate Your Toddler's Brain Development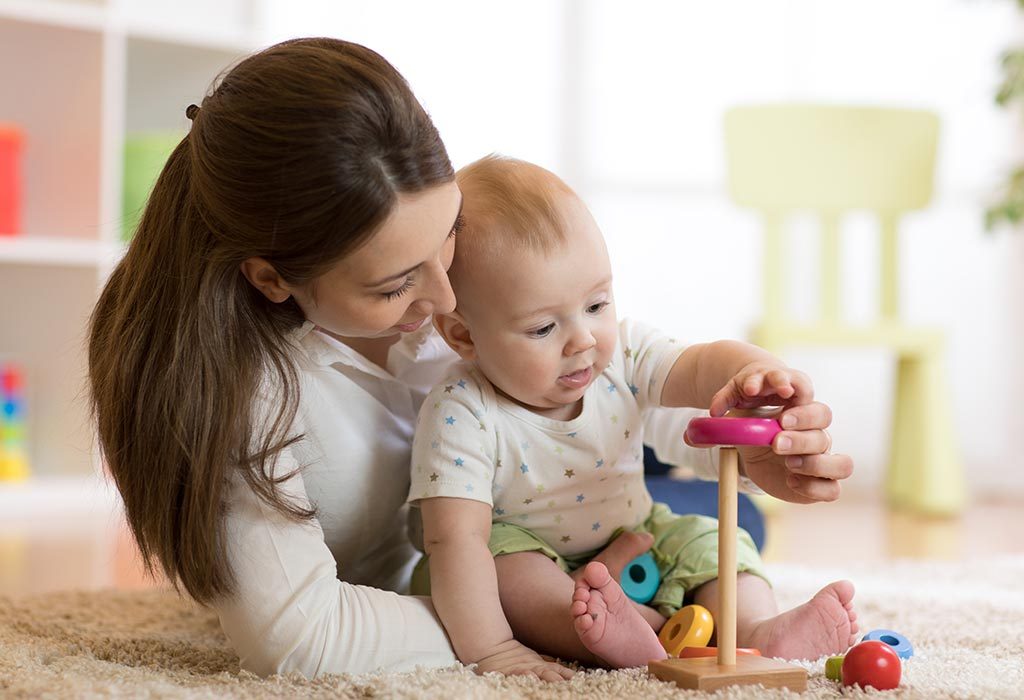 In this Article
Toddlers are big energy balls, what a struggle it can be for parents to get them to sit down at one place and focus on a single task. The first three years of a child's life are crucial for learning and development, and almost 90% of a child's brain development happens by the age of 5. What your munchkin learns in the initial years of his life can shape his future. Needless to say that as parents, you should try to engage your child in activities that support his cognitive development. We have listed down some fun indoor activities that will keep your child focused and won't discount on the fun factor.
8 Indoor Activities to Develop Your Toddler's Brain
Indulge your child in these fun learning activities to stimulate his cognitive and linguistic development. These simple games are nothing but brain exercises that will develop his memory and problem-solving skills while preparing him for school too.
1. Reading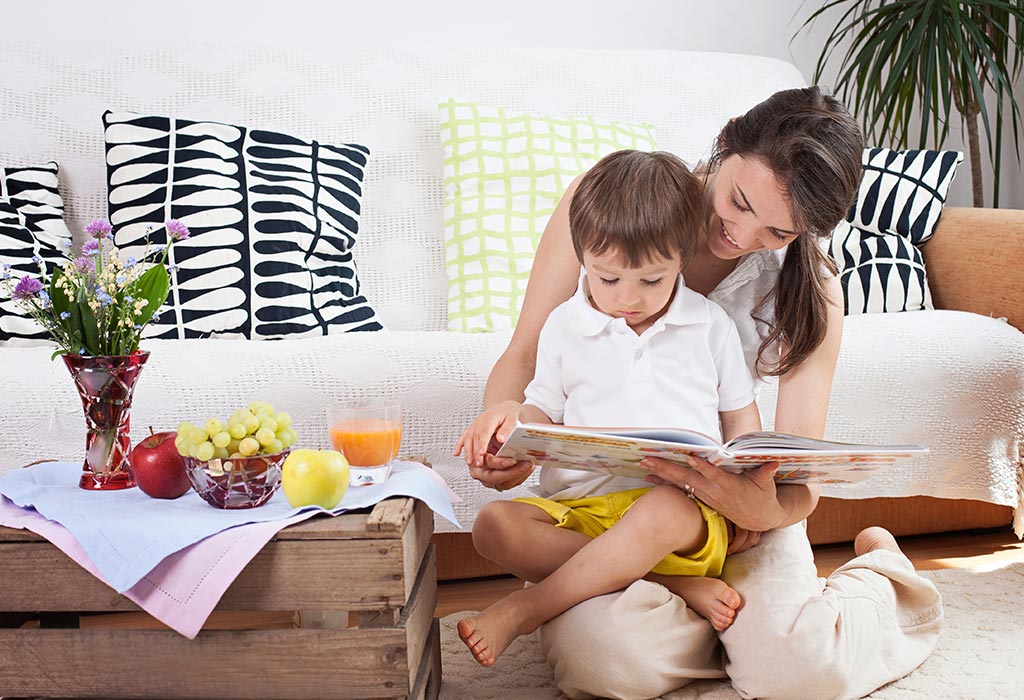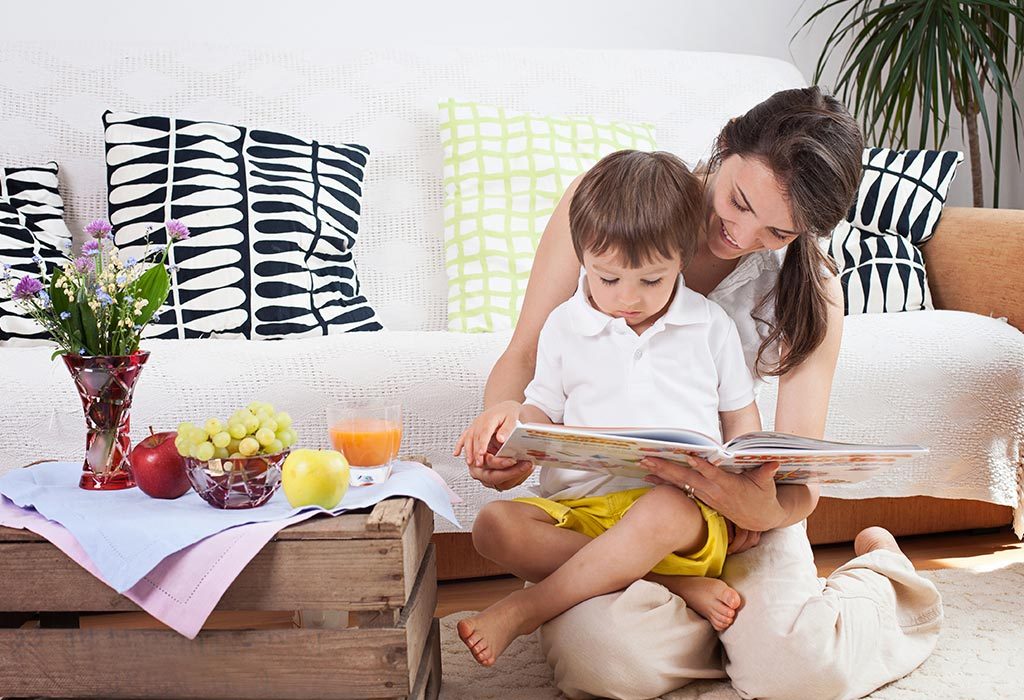 We know your little one is perhaps too young to read, so you will have to read to him instead. Select a storybook, appropriate for your toddler, perhaps a book with a simple plot and tons of images and place that in front of your child. Then read out the story by changing the tone of your voice for different characters and by using animated gestures. Hearing new words and sounds, and observing images and colours will stimulate different parts of his brain.
As he listens to you intently and tries to understand the story, his imagination power, vocabulary, concentration, and listening skills will get a boost. Kids, especially toddlers, are impressionable, and they learn primarily by observing and imitating their parents. So by reading to your little one, you'll also be instilling the habit of reading; a habit that has innumerable benefits!
2. Colouring
Your child doesn't have to be an artist to colour or paint. Colouring will keep him engrossed for long, and if he enjoys it, it might become a hobby that sticks for life. You can get a colouring book with pictures of different animals or flowers in it and give him crayons. Get your little one Camlin Child Grip Crayons, which are made with special non-toxic materials. These colours are completely safe for a toddler's use; they come in five shades. Their shape is such that it makes them easy to hold and can help better your child's grasp, which later on will ensure that he has a proper grip. Colouring can improve his fine motor skills and hand-eye coordination while giving a boost to his imagination, concentration power, and ultimately, his cognitive skills. Let him colour to his heart's content!
3. Sorting Out Things by Colour or Shape
For this activity, place blocks, colourful pom poms, or colourful buttons in a box and teach your tot to sort them by colour, shape, and size. As your child gets the hang of this activity, you can take it a level upward and ask him to pick the utensils like stainless steel bowls and glasses from the dishwasher and put them in the right drawers (though keep the knives and utensils with sharp edges away). Your little one will soon learn to sort and group things on his own—it's a brain churning activity indeed!
4. Stacking Cups or Blocks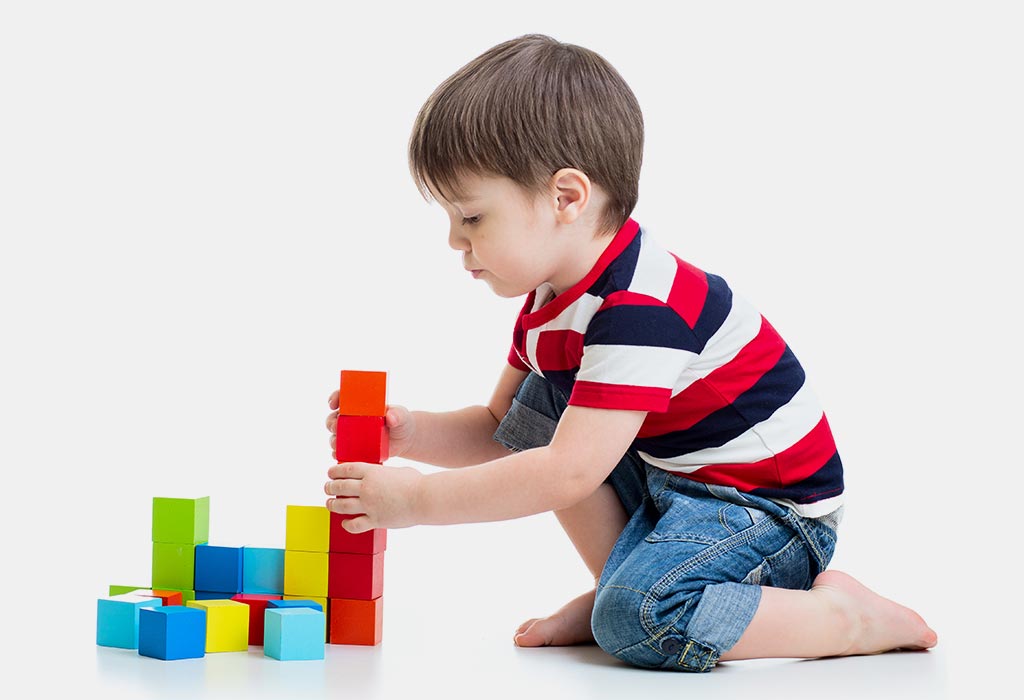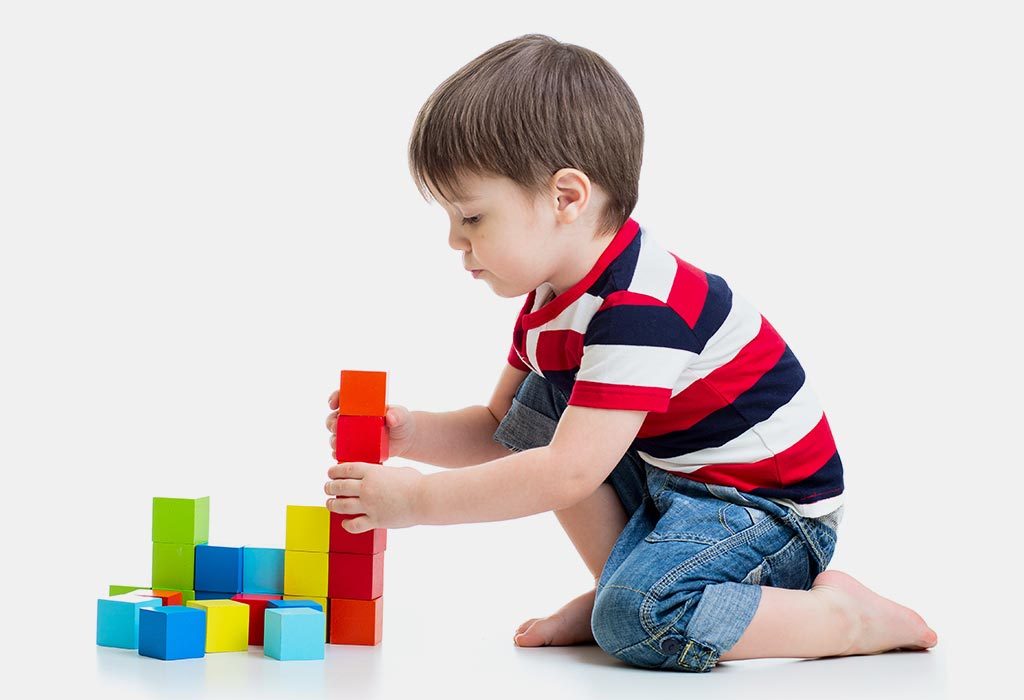 Toddlers love stacking things! And while they're at it, their fine motor skills, hand-eye coordination, and concentration skills are getting sharpened. You can get stacking cups, stacking rings, or even building blocks for your tot, and show him how to stack things together. Let him stack toys as high as he can or one inside the other (if he has stacking cups). This activity can even help him with shape identification, colour recognition, counting, and sorting, to say the least.
5. Trying Out Textures
Little tots are sensory learners; when they use their senses of touch, taste, and smell, it boosts their cognitive function. You can make your child touch items of varied textures like cotton balls, sandpaper, beans, soap, etc., and let him try to hold them one by one and describe the texture. This will improve his grasp and trigger his senses. Working on your child's grasp (and grip) from early on is also important as good grasp is the key to good handwriting. Camlin Child Grip Crayons are easy to hold and are specially designed for kids to improve their grip. Hand him a crayon and let him draw or colour on any surface. These colours are washable off porous surfaces, so you don't have to worry about hiding the colour marks on your walls when the guests come in uninvited.
6. Scavenger Hunt
Children love to explore, and we are sure that your little bundle of joy will love this challenging game. Hide his favourite toys or objects of a particular colour and let him hunt for them. He will have fun searching for those toys and bringing them to you. It will also give him a sense of accomplishment while improving his problem-solving skills.
7. Singing Vocabulary Words or Action Songs
To improve your child's vocabulary, sing popular songs like the 'Alphabet song', 'Twinkle twinkle little star', or 'Row, row, row your boat' with actions. Encourage him to sing along with you. While trying to imitate you and sing in his gibberish, he will learn new words every day and will also try to associate words with actions. He will also get a good understanding of rhyming words.
8. Cooking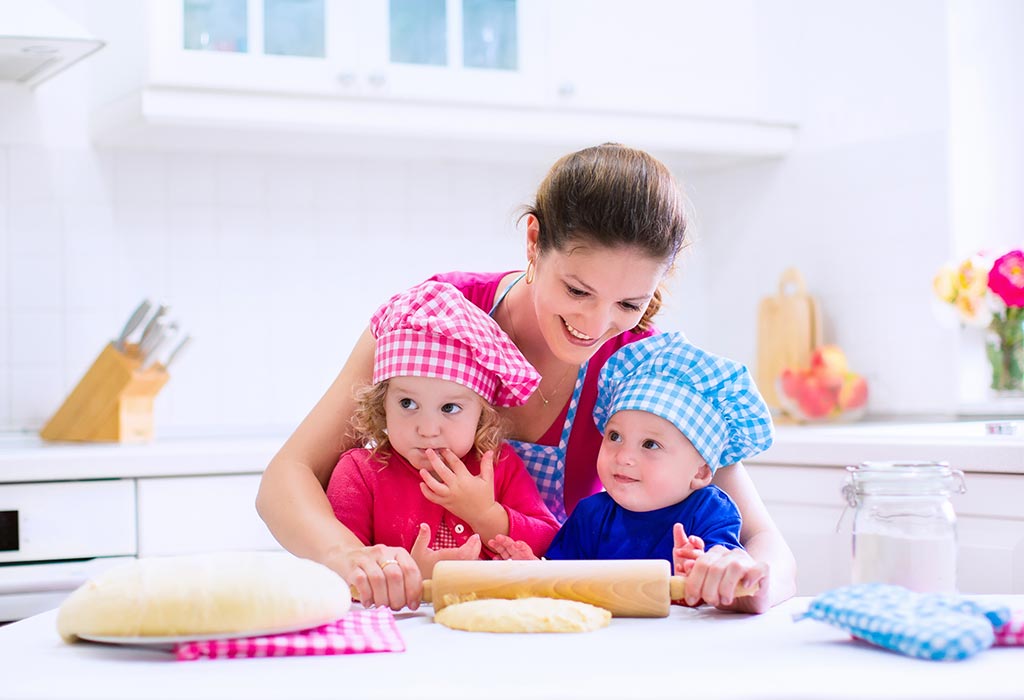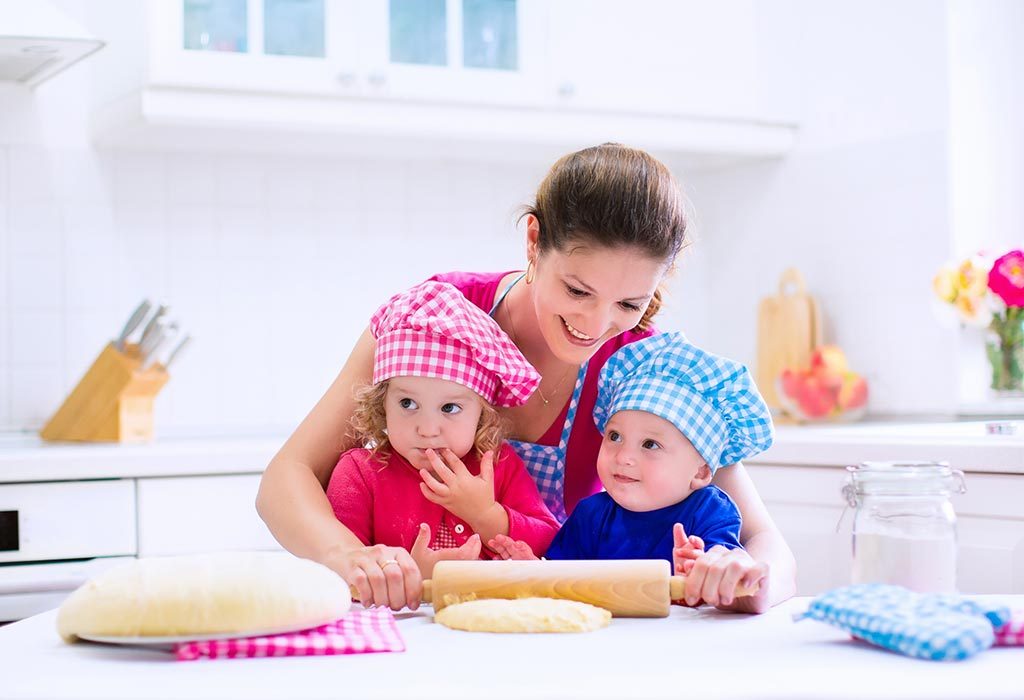 You don't have to ask your little one to join you while cooking something that involves knives and fire. But you can involve him in the prep (like helping clean peas). Alternately, you can introduce him to flameless cooking. Something as simple as a peanut butter sandwich can work as a great activity and keep him entertained for a while. Plus, he gets to eat it when he's done! Moreover, it will also enable him to understand the different textures and tastes of different food items.
These are some activities that will stimulate your child's brain and help in his overall development. Make your child practice one to two activities daily – it's never too early to get his brain churning!
Also Read:
Activities to Boost Language Development in Toddlers
How to Teach Toddlers About Everyday Household Objects
Interesting Summer Craft Ideas for Toddlers
Fun Activities to Keep Your Toddler Busy