Boiled Carrot And Sweet Potato Chaat Recipe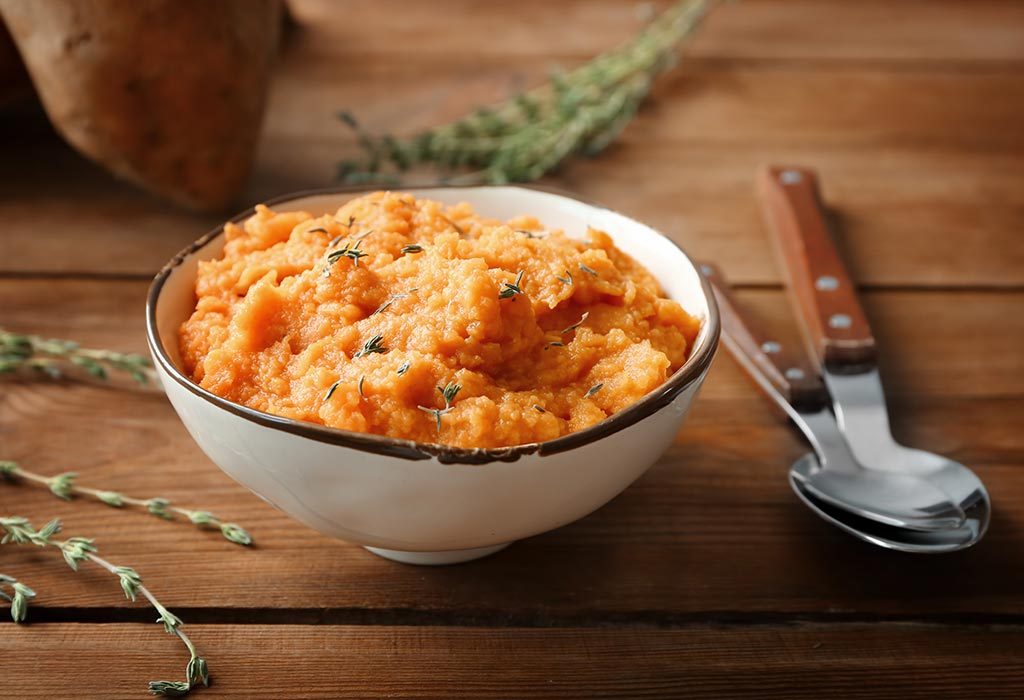 In this Article
Sweet potatoes and carrots are rich in vitamins, potassium, calcium and beta carotene. Carrot's and Sweet Potatoes are the first choices for infants. Boiled Carrot and Sweet Potato Chaat for babies is easy to digest and easy to prepare. Babies do not have to chew and also these items are packed with nutrients. It is an old and traditional dish that is super healthy and is delicious to eat.
Cooking Time
| | |
| --- | --- |
| Type | Time (hh:mm:ss) |
| Preparation Time | 00:05:00 |
| Cook Time | 00:20:00 |
| Total Time | 00:25:00 |
Cooking Method
Gas Stove
Type of Meal
Vegetarian
Suitable For
Any baby from 14 months onwards
Meal Schedule
Breakfast or evening meal
Recipe Type
Main Dish
Ingredients
| | |
| --- | --- |
| Ingredients | Quantity and Volume |
| Carrot | 1 |
| Sweet Potato | 1 |
| Brown sugar | 2-3 Tsp |
| Ghee | 2 Tsp |
Instructions
You don't have to wonder about how to make Boiled Carrot and Sweet Potato Chaat! Preparing this dish is very easy and simple. Here are the step by step directions to prepare Carrot and Sweet Potato Chaat.
First, wash the Carrots and Sweet Potatoes properly.
Peel the carrots and sweet potato and place them in a large saucepan.
Add water in the saucepan so that they are well soaked and add a teaspoon of salt in it.
Bring to a boil over high heat then lower heat to medium-low cover for about 20 minutes.
Drain the water and allow to steam dry for about a minute or two.
In the meantime, melt the ghee over medium heat in a non-stick pan.
Using clean hands, mash the Carrot and Sweet Potatoes pieces as much as possible.
Add the brown sugar in the melted ghee and roast it nicely until the sugar melts.
Then add the mashed carrot and sweet potatoes and stir it continuously under medium heat until it is mixed properly.
The Chaat is ready to serve.
Recipe Tips
Remember the below-mentioned points before you start preparing the healthy and simple Boiled Carrot and Sweet Potato Chaat recipe for your baby.
Remember to de-seed and Chop the date before adding it to the Chaat (optional to use dates)
Soak the dates in warm water.
Make a puree of the soaked dates to avoid choking the baby.
Use filtered clean water for boiling the Carrot and Sweet Potatoes.
Peel off the Carrot and cut the edges of the carrots.
Peel of the Sweet potatoes also properly.
Clean your hands properly before cooking and make sure the utensils used should also be properly cleaned.
Half boiled Carrots and Sweet Potatoes will be difficult to swallow for babies.
Properly mash the Carrots and Sweet potatoes.
Nutrition Information (Per 100 Grams)
| | |
| --- | --- |
| Nutrient | Value |
| Energy | 520 kCal |
| Protein | 1.9 g |
| Carbohydrates | 37.5 g |
| Fibre | 7 g |
| Fat | 7.9 g |
| Cholesterol | 20 mg |
| Vitamin A | 16 mg |
| Vitamin B3 (Niacin) | 2 mg |
| Vitamin C | 6 mg |
| Vitamin E | 8 mg |
| Folic Acid (Vitamin B9) | 21 mcg |
| Calcium | 55 mg |
| Iron | 1 mg |
| Magnesium | 26 mg |
| Omega 6 | 10 mg |
| Sodium | 136 mg |
| Potassium | 519 mg |
Health Benefits
Below are the health benefits of home-made Boiled Carrot and Sweet Potato Chaat baby food recipe.
Sweet Potato is filled with calcium and iron which are both essential for baby and child development. Iron is also very useful in anaemia prevention.
Carrot and Sweet Potato contain Beta- Carotene and Vitamin A which is good for eyesight and it's the most important source for vegetarian household babies.
Calcium in Carrot also helps in proper growth of babies' bones and teeth.
Sweet potatoes have plenty of vitamin C and E to help reinforce your baby's immune system, helping her fight common cold or diseases that infants can easily attract.
Both the ingredients are very good for babies' skin too.
Sweet Potato is a good source of fibre, and it prevents constipation and helps keep your baby's digestive tract healthy.
It gets digested easily and your baby won't feel hungry for 2-3 hours.
It is a healthy food that will help children gain weight because of its high levels of good calories.
Ghee is also a good source of nutrition. It is filled with saturated fatty acids, providing energy and stamina. Also helps in children's brain development.
Buying Guide
Buy organic and fresh Carrots and Sweet Potatoes.
Buy good quality of brown sugar and Ghee for this recipe.
Make sure the packaging of the Ghee is sealed well.
The carrots and sweet potatoes used in the recipe should be not be dried, soft, spotted or holed. It is better to get red or orange coloured carrots and pink or red coloured sweet potatoes.
Check the expiry date of the brown sugar and Ghee before buying it.
Our babies' growth and development is of paramount importance, and hence, we always want the best for them. So, instead of depending on commercially sold baby food, give your baby a bowl of homemade tasty and nutritious Carrots and Sweet Potatoes Chaat.
?>