Best Toys for 2 Months Old Baby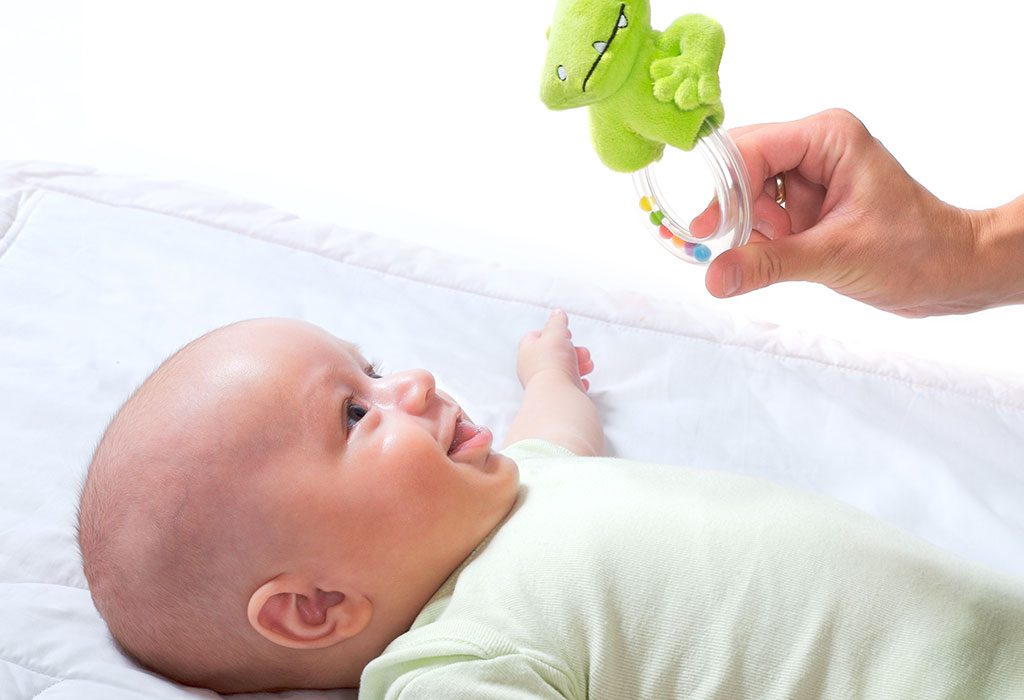 Babies tend to learn better by doing. Toys can shape a baby's all-round development in many key ways. Parents can provide their babies with the ideal opportunity to foster and practice new skills by offering age-appropriate toys which may meet their unique interests.
But selecting the apt toy for your baby can be a bit of a challenge with the kind of options available today. It is easy to get overwhelmed trying to decipher the age recommendation labels and sorting through the array of toys to choose the best toy for your cute bundle. Parents may like to go in for toys that can both challenge their baby's abilities and nurture healthy growth and development as well.
Cloth Toys
At this age, babies usually start to develop their senses and learn primarily via touch. Cloth toys come in adorable designs and a variety of materials and textures like smooth, squishy, rubbery, bumpy.
1. Skills Development
2. Recommended Toys
Soft block toys
Textured rings
Coloured sponges
Baby paper crinkle
Soft taggies
Rattle Toys
Rattle toys are easily a baby's favourite toy with the noise they make. Rattles with clips can be attached to a car seat which makes them a handy toy.
1. Skills Development
Rattles may help discover your baby the use of his eyes, hands, feet and auditory senses.
These toys can initiate the learning of cause and effect as babies slowly gain control over their actions and receive a response they like.
The sound of a familiar shaking rattle may make your baby turn in that direction thereby helping in the progression of vision tracking skills.
Rattle toys may promote grip management and object manipulation skills in babies.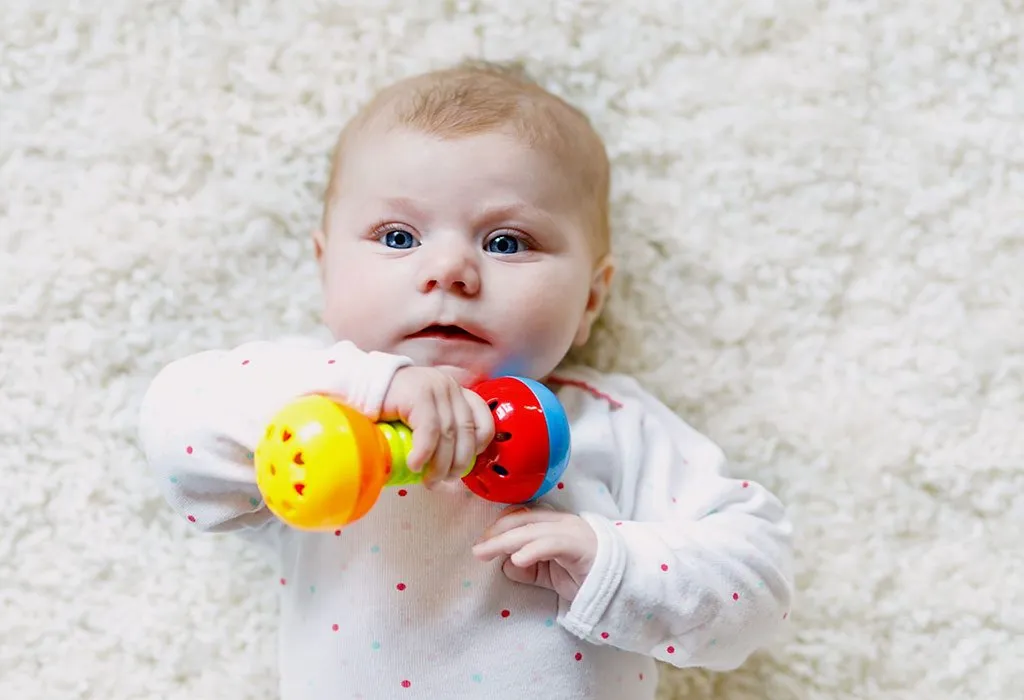 2. Recommended Toys
Rattle and rock toys
Beads wood rattle
Oball shaker
Grab and spin rattle
Baby loop bee rattle
Music Toys
Your baby may enjoy music toys immensely as hearing is among the earlier senses to develop.
1. Skills Development
2. Recommended Toys
Baby play piano
Musical caterpillar with a ring-bell
Storybook rhymes musical toy
Musical dancing frog
Moon musical box
Baby Play Gym
Baby play gym may give your baby a wonderful space and time to stretch, wriggle and build up his body.
1. Skills Development
Baby play gym may help your baby exercise and increase his muscle tone.
It can prepare him for future tummy time by enabling him to turn his head to the side or look cheek-down even though raising his head to see ahead won't be possible at this stage.
Baby gym with dangling coloured toys may help awaken visual interest in babies.
It may help promote a baby's motor skills and social-emotional skills.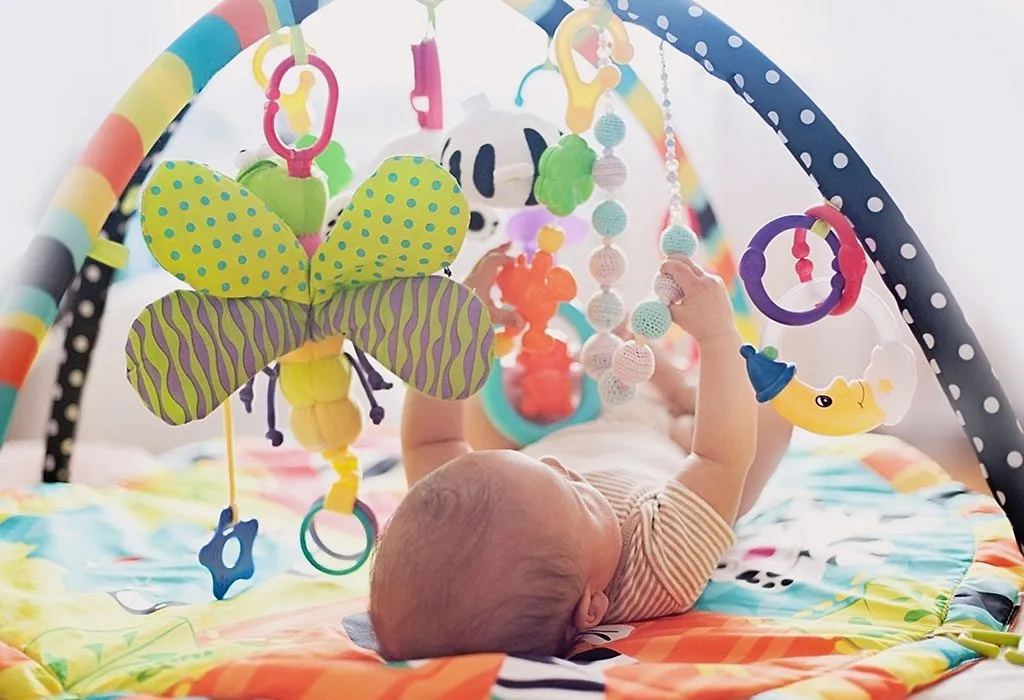 2. Recommended Toys
Activity play mats
Overhead play gym
Infant stim mobile
Colour fun play gym
Multi-function baby activity spiral
Calming Toys
Calming toys with music and humming sounds may prove beneficial in soothing your baby and helping him fall asleep.
1. Skills Development
Calming toys may support the development of gross motor skills and introduction to the idea of cause and effect.
They may further sensory perception through touch and taste.
Musical calming soother and teethers may foster auditory stimulation and jaw strength.
2. Recommended Toys
Teething relief toys
Melodies soother lamb
Soothe and glow seahorse
Snugapuppy calming soother
O ball loops teething toy
Colourful Toys
Your baby cannot see colour till he turns 3. However, he may be fascinated with high contrast colours and patterns like black and white objects, chessboard-like patterns.
1. Skills Development
Colourful toys may promote auditory and visual perception.
These toys act as a great basic colour stimulus.
They may help incite pattern recognition in babies.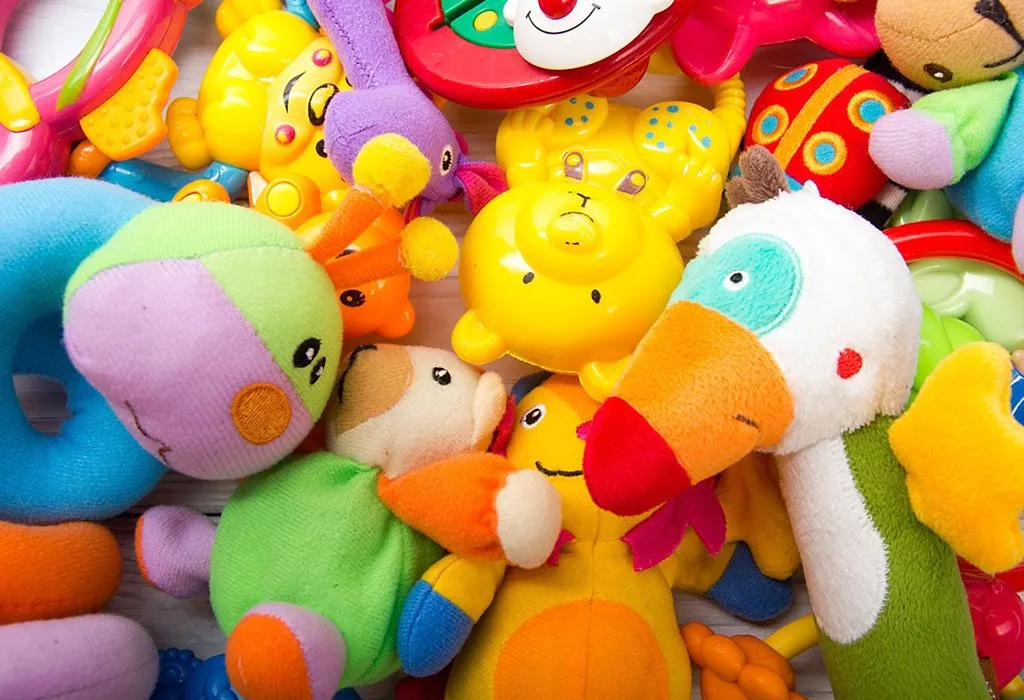 2. Recommended Toys
Musical dreams mobile
Soft coloured balls
Multicolour striped cat
Soft picture book
Horse shaped roly-poly
Portable Toys
Portable toys can help create an exciting play area for your baby just about anywhere. They can be attached to car seats or baby strollers when on the move.
1. Skills Development
Portable toys may promote constant tactile feel and visual attention.
They may serve as a wonderful auditory
Plastic mirrors can help introduce your baby to the notion of self-awareness.
2. Recommended Toys
Multi-activity toy pack with plastic loops
Unbreakable plastic mirrors
Stroller bar activity toy
My nature stroll along toy
Merry go round cot mobile
What Does Age Recommendation Labels on Toys Mean
It is essential to carefully read the age recommendation labels on toys before buying them. They usually indicate:
If the toy is safe for babies in the intended age group and does not pose any choking or ingestion hazard during normal use and abuse
If the different characteristics of the toy match the mental and physical abilities of the proposed age group of kids
If the toy caters to the needs and interests of children in the envisioned age group
If the toy contain harmful chemicals that are used to make plastics softer like phthalates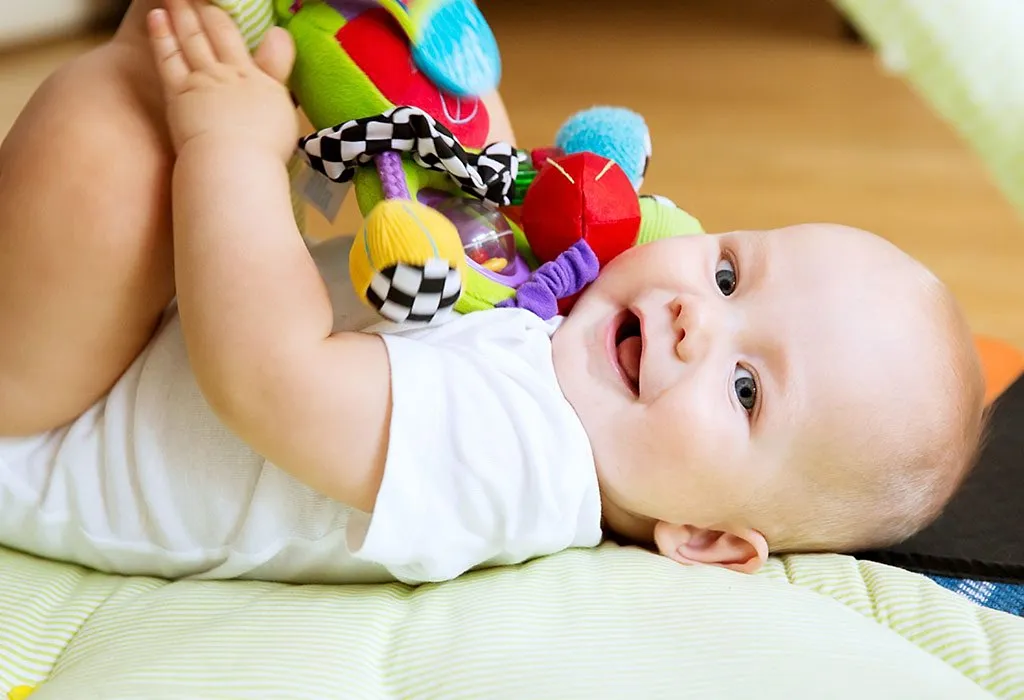 Safety Tips for Babies
Some useful safety tips that you may like to keep in mind can be:
Choose toys that are soft, light and can be easily managed by your baby lest he ends up hurting himself.
Settle for toys that can be cleaned easily from drool and spit-up to prevent any likely infections.
Always keep an eye on your baby while he is playing. It is not advisable to leave him unattended.
Regularly inspect your baby's toys for any broken components, chipped paint or tiny parts that may come loose to avert possible choking risks.
How to Choose Best Toys for Your Two-month-old Baby
Some helpful tips to enable you to choose the best 2-month baby toys can be:
You may like to look for toys that grow with your baby and last for a while like musical instruments, learning blocks.
Toys which boost a baby's physical, cognitive, social-emotional and language skills may be the right choice like toys for 2 months baby girl can be a music box, soft books and toys for 2 months baby boy can include toy mobile, soft blocks.
Toys that stimulate the maximum senses and demands the total involvement of a baby may prove beneficial like unbreakable mirrors, sensory toys which squeak.
Brightly coloured or high contrast coloured toys which can move slowly may easily capture your baby's attention like wind chimes, crib mobile.
Toys like softballs, stacking toys, push and pull toys that provide a chance for interactive activity, promote tummy time may make the best choice.
The onus for selecting suitable toys for babies falls on their parents who may provide such experiences, materials and opportunities which can set the stage for early learning and development.