Best Dance Quotes for Kids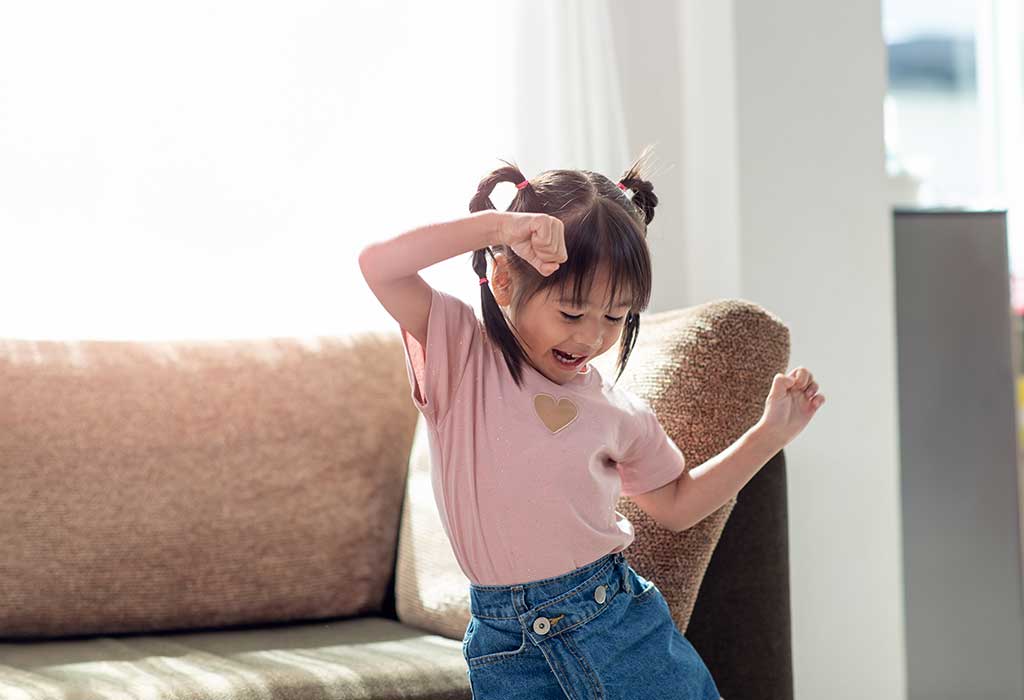 In this Article
Dancing has the power to bring people together, whether it's seen as a fun celebration or a beautiful art that even little children can appreciate. This is perhaps why it is regarded as a standard step towards socialization as youngsters grow up. Many prominent people from many areas of life have advocated for youngsters to tap their feet to the music instead of dancing. The following collection of quotes for kids on dance feature the best of the best!
Positive Dance Quotes for Children
Unlike other talents, dancing is a natural ability not influenced by outside factors such as the environment. On the other hand, everyone has those moments when an extra dose of motivation is required to go the extra distance. In the following collection of 50 positive dancing quotes for children, we'll find the inspiration we need to keep dancing no matter what life throws at us.
We're confident that these heartfelt and inspirational best baby girl dancing quotes will do wonders for lifting her spirits in no time. It is possible that using these words and phrases will assist you in drawing the attention of a particular young lady in your life! These best baby girl dance quotes will make your child smile no matter how old she is, whether you're planning a big surprise for her or simply want to convey a message. So, what exactly are you putting it off until now? Start right away!
1. If you can walk you can dance, and if you can talk you can sing – Zimbabwe
2. To me, the body says what words cannot. I believe that dance was the first art – Martha Graham
3. Even if you can't dance, you can shake your body. Even if you can't sing, you can make some noise – Ernest Agyemang Yeboah
4. Dancing is the rhythm of the soul expressed in movement, beauty, art, and creativity – Adrienne Posey
5. Learning ballet is wonderful for children even if they never become dancers. It is wonderful because it teaches discipline, grace, and manners – Anna Paskevska
6. I do not try to dance better than anyone else. I only try to dance better than myself – Mikhail Baryshnikov
7. I don't want people who want to dance. I want people who have to dance – George Balanchine
8. We do not dance to reach a certain point on the floor, but simply to dance – Alan Watts
9. I've always loved dancing. As soon as there is good music, I've got to get up and dance. I was passionate about ballet as a little girl – Cherie Lunghi
10. I've studied dance since I was very young, and I continue to study ballet – Sarah Gadon
11. A gracefully effortless floating, flowing and flying are the essentials of the ballet's image of man – Ayn Rand
12. All kids, when they go to school, are pretty good artists and dancers and singers and poets. All that gets buried, basically through being educated or brainwashed – William Wiley
13. People have asked me why I chose to be a dancer. I did not choose. I was selected to be a dancer, and with that, you live all your life – Martha Graham
14. You see, dancers are quite mature people because they start performing so early. They become professionals when they begin to take everyday classes – Mikhail Baryshnikov
15. Talk about dance? Dance is not something to talk about. Dance is to dance – Peter Saint James
Quotes about dancing can encourage your child to get active and enjoy the little things in life. Early exposure to the world of dance is critical for parents who want to keep their children interested. You can use dance quotes for toddlers to pique your children's interest in the art form of dance. Consider the following for your next dance session with your child:
16. Dance like the whole world is your stage and every day is your debut – Emilyann Allen
17. Dancing faces you towards Heaven, whichever direction you turn – Terri Guillemets
18. Nobody cares if you can't dance well. Just get up and dance. Great dancers are great because of their passion – Martha Graham
19. Every day brings a chance for you to draw in a breath, kick off your shoes, and dance – Oprah Winfrey
20. You have to dance barefoot if you want to feel the earth move – Edward R Hackemer
21. We dance for laughter, and we dance for tears, we dance for madness, we dance for fears, we dance for hopes, we dance for screams, we are the dancers, we create the dreams – Albert Einstein
22. There are things that the heart thinks of that only the body understands; that is why I dance – Paul Bamikole
23. They say silence is the language of God, but so is music. This is why we dance. We become loud in our silence – Aleksandra Ninkovic
24. If life is good, don't just sit there dance! If life's not so good dance even more – Terri Guillemets
25. You've got to dance, dance, dance like nobody's watching. It's got to come from the heart if you want it to work – Glenda Jackson
26. Dance and sing to your music. Embrace your blessings. Make today worth remembering – Steve Maraboli
27. Dance till the stars come down from the rafters. Dance, Dance, Dance till you drop – H. Auden
28. Make dance the mission every moment seeks to accomplish – Shah Asad Rizvi
29. I was afraid of the dance once, too. But I learned to embrace it and the mistakes I would make. Do not turn away from your fear. Turn toward love instead – Holly Lynn Payne
30. If you dance daily, you will find strength within thy soul – Lailah Gifty Akita
31. To dance is to be out of yourself. Larger, more beautiful, more powerful. This is power, it is glory on earth, and it is yours for the taking – Agnes De Mille
32. I think there's something about dancers, they never forget where they come from. They never get grand, no matter what success they have – Ruthie Henshall
33. Let us read, and let us dance; these two amusements will never do any harm to the world – Voltaire
The use of short dancing sayings for children is an excellent way to encourage them to have a good time. They are perfect ice breakers to pull out of your bag if the party is getting stale or if you want your children to start interacting with one another. They will appreciate the dance even more if they can speak the phrases, making them feel they have truly grown up.
34. Dance it off – Jennifer Lynn Barnes
35. Dancers are the athletes of God – Albert Einstein
36. Dancers are made, not born – Mikhail Baryshnikov
37. Movement is the song of the body – Vanda Scaravelli
38. Dance is moving sculpture – Pablito Greco
39. Dancing is the poetry of the foot – John Dryden
40. Dancing unplugs the world – Kat Stone
Getting your kids interested in dancing is never too early, and it may be thrilling to watch them hold a flier reading, "Dancing for joy is all we desire." When they're little, kids may choose to attend a child-oriented event, such as a birthday party or a special activity. What a fantastic method to demonstrate to your children the joy of dancing, with these cute dance quotes for kids:
41. Dancing makes your soul grow its own pair of wings – Dahi Tamara Koch
42. There are short-cuts to happiness, and dancing is one of them – Vicki Baum
43. Dancers create magic, so that makes me magical – Stephanie Lahart
44. The dance is a poem of which each movement is a word – Mata Hari
45. Let us dance in the sun, wearing wild flowers in our hair – Susan Polis Shutz
46. Dancers are a work of art – they are the canvas on which their work is painted – Patrick Duffy
47. Dancing can reveal all the mystery that music conceals – Charles Baudelaire
48. How they dance in the courtyard, sweet summer sweat. Some dance to remember, some dance to forget – Aaron Fresh
49. The light within us dances when we smile – Jay Woodman
50. If you look at a dancer in silence, his or her body will be the music. If you turn the music on, that body will become an extension of what you're hearing – Judith Jamison
Dance is an integral part of life, and children need to learn how to do so. They need to have these positive dance quotes available for kids while in their dance classes. As long as you have the resources, you can assist your child in developing their dancing abilities from a young age. On the other hand, many young people do not have such advantages, which is where these quotations come in handy. There is a lot of power behind these simple sayings, and they may help you guide your children down the right path so that they can eventually progress to more complex dance routines in the future. When you begin teaching your child how to perform these procedures, be prepared to become more advanced and start performing things you have never seen them do before.
Also Read:
Art Quotes for Children
Kindness Quotes for Children
Educational Quotes for Children