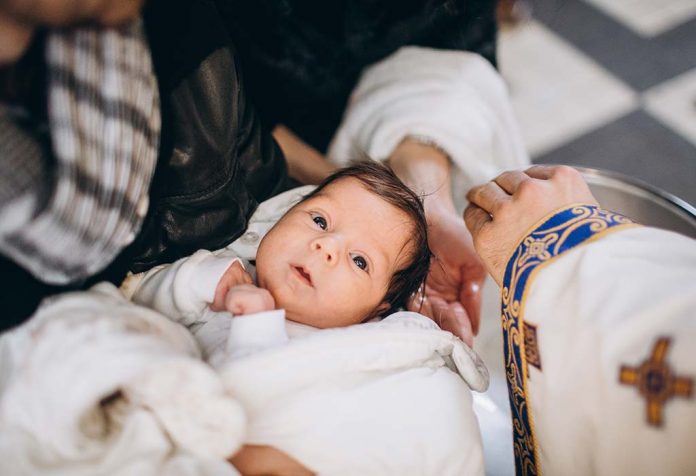 Baptism and christening are used interchangeably, although both are different ceremonies. Baptism is the official initiation of a person into the Christian faith. It is considered a fundamental religious sacrament in Christianity, and many choose to invite their guests with a formal invitation. Many families merge christening and baptism ceremonies into one for their child. A child is normally christened and baptized at the same time to bring them into the Christian faith. A baptism invite must resonate with the hosts' sentiments- parents, grandparents, or even godparents. If you are looking for baptism announcement wording ideas for the card, check out the below comprehensive guide from simple messages, funny quotes to heartfelt sayings, and poems that will reaffirm people's beliefs.
What Should Be Written in a Baptism Invitation
Whether you are sending out baptism invitations baby for a girl or a baby boy, a few pointers need to be borne in mind whilst drafting. Apart from being stylish and stunning, they need to be worded well and informative. It is important to send out vital information and also any special details that guests need to know.
A few things that one must include in the baptism invite are:
Full name of the child being baptized
Full name of parents, grandparents, godparents of the child
Name of the hosts of the baptism if it is not the parents
Date and time of the event
Details of the venue and a map to reach the venue of the event
Details about reception if you are holding one with the details of time and location
Any specific dress code that you intend to follow
RSVP cards or a section for invitees to respond to the invite
There is no strict way to write the invitation. The focus must be on the event, and it is up to you to decide what to include.
Sample Baptism Invitation Wording Ideas
A joyous occasion, baptism is when you want to celebrate your baby's birth and their inclusion in the faith with family members and closest friends. Word choice is important when it comes to drafting the invitation card. Words are chosen for a wedding invite; the birthday party will be different from a baptism invite. Baptism invitations revolve around religious references, themes, and icons to celebrate the child's initiation into the church.
References to heaven and Christ are the perfect example of invitation card for christening. If one belongs to a family that loves humor, then a funny baptism invitation could be a suitable option. One could personalize christening invitation wording by choosing a bible verse or poem. Wordings chosen must clearly express one's sentiments for the occasion and give guests the information needed apart from a powerful message about the importance of baptizing and christening.
Baptism invitation wording can differ in style, and parents can choose those that suit their family culture, the nature of the church, and the kind of festivities. A few ideas to choose from
1. Our precious gift from heaven will be welcomed into God's family.
Please celebrate our child (name)'s baptism
on (date) and (time) at (location).
A luncheon will follow at (location).
Parents (Names)
Grandparents (Names)
Godparents (Names)
2. You are invited to the Christening
of our Daughter, (name)
Date:
Time:
Place:
And afterward for a little bite to eat at ours.
We hope you can make it!
Name of hosts
3. Finally, he is part of our lives
And he wants you to know
He is enjoying every second of it
Join our beautiful child
(name)
In his Christening ceremony
On date
At Venue
Name of hosts
4. We're joyfully bringing our son/daughter
into the love and grace of God's family.
We invite you to celebrate the Baptism of
name of child
On (date) at (time)
Venue:
We look forward to seeing you there!
Name of hosts
5. On this day, we place our child in Christ's care forever.
Please join us for the Christening of our son/daughter (name)
on (date) at (time)
at (location)
Parent's names
RSVP number
6. "…every perfect gift is from above." James 1:17
Name of hosts
Invite you to share their joy and witness
as their son/daughter (name)
receives the Sacrament of Holy Baptism
on (date) and (time)
at (location)
Luncheon to follow.
RSVP number
7. I hate baths, so my parents (parents' names), asked a priest to do it!
They say it takes a village,
so please join my family in cleansing me (child's name)
on (date) at (time) in (location)
Thoughtful Messages & Quotes to Write Inside a Baptism Invitation Card
Considering the sanctimonious and sacred nature of the baptism ceremony, a message for christening card is a powerful way of conveying one's faith and obeisance to religion and belief in Christ. From quotes, sayings to a verse for baptism card, we have you covered with our cohesive list below:
1. "Without the blessings of our Lord, it is impossible to achieve anything in life, and hence our son/daughter is going to be baptized in the presence of your wonderful company. I hope you can make it."
2. "A baby's christening brings a very special prayer that God will keep your little one forever in his care."
3. 'Perhaps this is the moment for which you have been created.' Esther 4:14
A baby will make love stronger, days shorter, nights longer, bankroll smaller, clothes shabbier. The past is forgotten, and the future worth living for.
4. "Through the holy affair of Baptism, our child will be graced with God's counsel and love he possesses for us."
5. "For all of you who were baptized into Christ have clothed yourselves with Christ.' Galatians 3:27
Precious one, so small, So sweet, dancing in on angel feet. Straight from heaven's brightest star. What a miracle you are."
6. "Praise the Lord as he is going to cleanse our baby from all the bad things in the world on the eve of the baptism ceremony of our child. Your presence is requested to witness another miracle from the Lord."
7. "Our child hates to bathe to we have decided to let the priest do it on the holy affair of our child's baptism ceremony. Join us in this auspicious ceremony."
8. "We bring the Lord, in thankful hands. And yielding up to Thee; Joyful that we ourselves are Thine. Thine let our offspring be."
9. "On this very joyous day, my God, who loves us all, smile down upon this baby of yours; so precious and so small. May he guide your new-born baby through the years that lie ahead."
10. "Our baby's christening brings a prayer for God's loving guidance and everlasting care; for blessings and happiness all your life through, not only for baby but also for you."
11. "Therefore we are buried with him by baptism into death: that like as Christ was raised from the dead by the glory of the Father, even so, we also should walk in newness of life."
12. "My past was made clean by my king."
13. "Baptism is an outward testimony of an inward transformation. It's the first step of obedience for a disciple of Christ."
14. "The most beautiful things in the world cannot be seen or touched; they are felt with the heart."
15. "Lord, cleanse me of anything that breaks your heart."
16. "On this day of baptism, may God, who loves us all, smile lovingly upon this child, so innocent and small… and may he guide this girl/boy throughout the years ahead as blessings light the pathway where those tiny feet are led."
17. "Baptism is an outward testimony of an inward transformation. It's the first step of obedience for a disciple of Christ."
18. "There is something incredibly hopeful about a fresh start."
19. "The Lord is my strength and my shield." –Psalms 28:7
20. "God sometimes takes us into troubled waters not to drown us but to cleanse us."
21. "You are sealed by the Holy Spirit in baptism and marked as Christ's own forever."
22. "Because you are His child, you not only need him, but he needs you."
23. "I can do all things through Christ who strengthens me."-Philippians 4:13
24. "Don't shine so others can see you. Shine so that through you, others can see him."
25. "For I know the plans I have for you, declares the Lord, plans to prosper you and not to harm you, plans to give you hope and a future."
26. "I want my life to be as clean as earth right after the rain."
27. "For you are God's masterpiece created in Christ to do good works which God prepared in advance for you to do."
"This is the part where you find out who you are."
28. "There are times when we have to step into the darkness in faith, confident that God will place solid ground beneath our feet once we do."
29. "Every good and perfect gift is from above…" James 1:17
30. "Your baptism is a step of obedience, a leap of faith, and the beginning of a walk with the Lord that will last forever."
Welcoming a child into the church is a momentous occasion. The date, location, and time are chosen. You have decided on the décor, and the final guest list is also ready. With the guest list in hand, all that remains is the invites to go out for the special day. One of the first ceremonies of your child, you want to get it right. With several invitation design ideas, messages, and quotes to include, wordings to add to the invite, there is no way you can go wrong. It is definite to be a success, and most of all, you are sure to be blessed with the choicest blessings of all and the Lord.
Also Read:
Amazing Ideas of Baptism Favors
Wonderful Baptism Gift Ideas
Baptism Decoration Ideas for Baby