15 Best Birthday Poems for Kids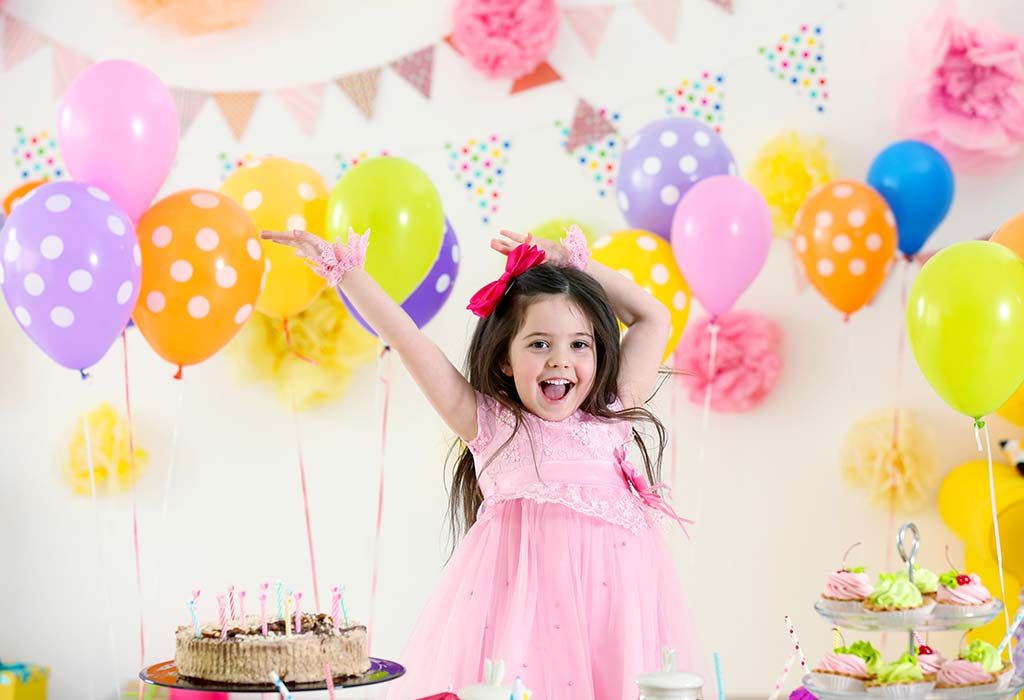 In this Article
A child's birthday is special for every parent. Every year, parents would want to do something unique to make their little one's birthday memorable. Even kids want something special on every birthday, something that is different from previous birthday celebrations. Every year, they would like that their birthday cake, decorations, and gifts are different from the previous year. So, why don't we change up the birthday song, too? Instead of the same old happy birthday rhyme, this year, make your child's birthday special by singing a birthday poem for him. A cute birthday poem for your little one is sure to make his birthday special! Your child will appreciate your extra efforts, and feel special listening to the birthday poem dedicated to him at his birthday party. You can also write the birthday poem on his birthday card, or tag it for him to cherish for many years. Your child will always treasure this poem, even when he grows old. Read on to find cute happy birthday poems for kids to brighten up your kid's special day!
Sweet Poems to Dedicate to a Child on His Birthday
Irrespective of how old your child is, he will always want something unique to be done on his birthday. Make your child's birthday a fun and individualistic celebration with these special birthday rhymes for kids. In case you don't want a sentimental poem, you can go for any of the funny birthday poems for kids to make your little one happy. Find below some sweet birthday poems to brighten up your kid's birthday:
1. 'One Chance to Turn One' by Kelly Roper
"One is a very special age,
a milestone to be sure.
No longer a baby, but not quite a kid,
still precious and incredibly pure.
Although you'll have birthdays
for many years to come,
you only get one chance
to turn one, so have fun!"
2. 'Your Birthday Again?' by Michele Meleen
"It's your birthday again?
Already?
Can't be!
Soon you'll be
even older than me!
I guess we can celebrate
one more year
just for you.
Out to the store
for a card and gift
I will shop,
until you decide
you're tired of birthdays
and say "Stop!"
3. 'How Quickly You Turned Two' by Kelly Roper
"Turning two must be easy to do;
I just blinked my eyes, and it happened to you.
Seems like the days just go speeding right by –
why, you'll probably turn three in the wink of an eye.
So, let's take time to celebrate your birthday today,
and cherish this moment before it slips fast away."
4. 'Celebrating Six' by Kelly Roper
"It's not every day that you get to turn six!
We'll light your candles; you blow out the wicks.
Everyone's gathered to sing your birthday song;
you'll be opening your presents before too long.
So, enjoy all the attention that's coming your way,
it'll be another year before you see your next birthday!"
5. 'Birthday Poems for Kids 1' by Jon Bratton
"Today is your birthday,
and you're extra specially nice,
so one wish is not enough
so here's me wishing it twice…
I hope your Birthday is twoderful
in every double way
and may next year bring happiness
day after day after day."
6. 'Birthday Poems for Kids 2' by Jon Bratton
"How much you mean to me
you probably know
here's a Birthday greeting
especially to show
that without a doubt
there's no-one betterer than you
or anyone more scrumdacious
to wish Happy Birthday to (Name of the Kid)"
7. 'Birthday Poems for Kids 3' by Jon Bratton
"Ice Cream and Jello,
whistles and balloons,
shouting and singing,
rhymes and tunes,
gifts and surprises –
fun things to do!
It's time now to wish
HAPPY BIRTHDAY TO YOU!"
8. 'Happy Birthday-ness' by Jon Bratton
"I hope Happy Birthday-ness
comes your way
'coz you're very nice;
you deserve a special day!
So here's wishing happy birthday-ness
today, especially for you,
with lots of your very favorite things
in the year ahead, too!
Happy Birthday!"
9. 'Fun Birthday' by Tree.Cards
"It's your birthday,
let's have some fun.
We'll play some tag,
and laugh as we run.
There are so many games,
we may simply choose.
It doesn't matter,
if we win or we lose.
Your birthday will be
fantastically funny.
I hope your cake
tastes just like honey.
Enjoy your balloons,
and all of that noise.
You must be thinking
about gifts that are toys.
So, happy birthday,
it's yours and it's cool.
It's time to party,
and not think of school."
10. 'Your Birthday' by Tree.Cards
"It's your birthday, let's go crazy,
it's not time to be lazy.
Let's play games and jump around,
where's the music, where's the sound?
It's your party, you choose the theme,
it's so much fun, is this a dream?
Let's have pizza, it tastes real yummy,
two small slices will fill your tummy.
What about a funny clown?
Is there one in this old town?
Whatever you do, make sure to have fun,
it's your birthday, enjoy the sun."
11. 'For the Birthday Boy' by Michele Meleen
"For the birthday boy,
we wish nothing more
than a day filled with love,
and everything you wish you had.
Happy Birthday, son,
from Mom and Dad."
12. 'Happy Birthday from Us' by Kelly Roper
"Happy birthday to you,
on this, your special day.
We're so glad to share it with you,
to bring gifts, eat cake, and play.
We hope you have a great time,
and that all your wishes come true,
because we don't know anyone who deserves
a happier birthday than you!"
13. 'Happy Birthday, Girl' by Michele Meleen
"Happy Birthday, Girl!
You deserve only the best
on this day that gave us you
and made our life blessed.
Your birthday is shared
with your parents, dear daughter
because when you were born our child,
we were born in a way as Mother and Father."
14. 'Bigger Is Better' by Michele Meleen
"When it comes to birthdays,
bigger is better!
Bigger cake,
more ice cream,
bigger gifts,
more guests,
bigger wishes,
more happy.
On your birthday, I only have one wish,
that your celebration is the biggest!"
15. 'Happy Birthday' by Tree.Cards
"Happy birthday, beautiful child!
Sometimes you're normal, sometimes you're wild.
You may need to move to the zoo,
live with monkeys, and clean up their pooh.
Happy birthday! Hope you like toys!
We all know, you're a big fan of noise.
Hope you enjoy your delicious cake;
deep inside, there might be a snake.
Your birthday celebration, we're all here to share;
we love you dearly, and very much care.
One more thing we'd like to say,
Get off your butt, and go and play."
As parents, you always want to make your kid's birthday special. So, make the birthdays memorable with a special birthday poem. You can sing the poem at the birthday party, or add it to the birthday card or tag, and your child will cherish these beautiful poetic birthday wishes for years!
Also Read:
Short English Poems for Children
Amazing Funny Poems for Kids
Lovely Friendship Poems for Kids