BBQ Baby Shower Theme to Honor the New Mommy and Daddy-to-Be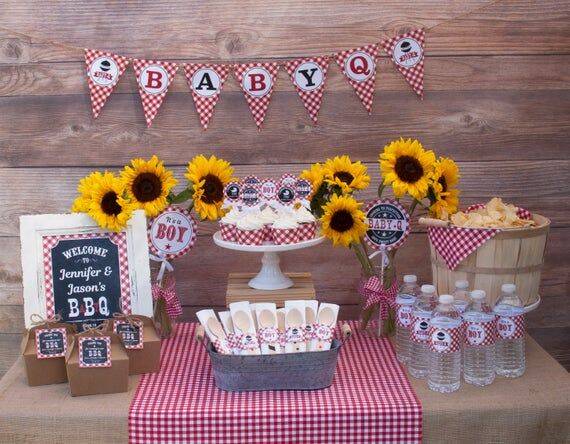 In this Article
Every couple becomes excited when they hear the good news of their promotion to soon-to-be parents. Their family and friends are also happy with their good news. As the arrival of their baby approaches, the would-be parents or their friends throw a baby shower for them. Baby showers are an excellent opportunity for the family and friends to give a head start to soon to be parents with their blessings, good wishes, advice and baby items. Earlier the baby shower used to be a mommy focused event with would-be mother, her female relatives and friends joining in to rejoice the upcoming arrival of the baby. However, with changing times baby shower has become popular as a co-ed event which celebrates both mommy and daddy-to-be. With the involvement of daddy-to-be other daddies are also invited making it more of a family and friend get-together celebrating the coming arrival of the newest family member. A unique baby shower theme which is gaining huge popularity is BBQ Baby Shower theme or the Baby-Q. This adorable baby shower theme is loved by the host and the guests as it is hassle-free and provides ample opportunity for enjoyment for everyone.
Unique BBQ-themed Baby Shower Ideas
BBQ themed baby showers are unique and easy to plan. They require no major planning or decorations. So the hosts are spared the headache of detailed planning and taking care of hundreds of things. The casual BBQ themed baby shower keeps the event easy for guests as well, as they get the flexibility of arriving as per their schedule and stay as long as they like. This outdoor baby shower can be planned in the backyard or any local park as per the convenience of the host. A few tables, chairs/folding chairs, blankets and lots of barbeque food is all needed to host a BBQ themed baby shower. Add the festive touch with red or blue gingham tablecloths, runners and few decorations. This co-ed baby shower is good to meet all the friends and family at the same time. Add the unique touch to your BBQ themed baby shower starting from invitations to the party favours.
Baby Q Invitation Ideas
Choose the perfect Baby Q party invitation from the below invitation ideas.
1. Chalkboard Baby Shower Invitation Idea: This adorable baby shower invitation idea looks like chalkboard display in any restaurant or institute used to inform about the day's special. With calligraphy font inviting the guests to the baby shower with the menu mentioned, along with the date and special request like bring diapers. This cute invitation is ideal to honour the new dad-to-be with the rustic and minimalistic design giving the macho edge.
2. BBQ Mason Jar Invitation Ideas: This cute invitation is ideal for a BBQ themed baby shower. The Mason jar with a background of a gingham tablecloth/blanket depicts the outdoor party idea. The party invite printed on the adorable Mason jar is sure to woo everyone. The flowers add the perfect festive touch.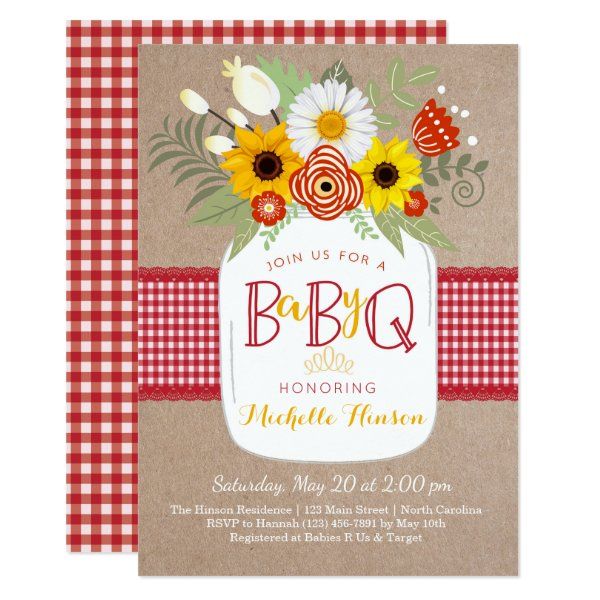 Source: Pinterest
3. Baby Q Baby Shower Invite Ideas for Twins: Having one kid brings a lot of happiness to the parents but having twins is just an out of the world feeling. This cute Baby Q shower invite with an oven and grill aptly describes the party for twins. Two buns in the oven tell the guests that the would-be parents are having twins and the grill tells the theme of the party.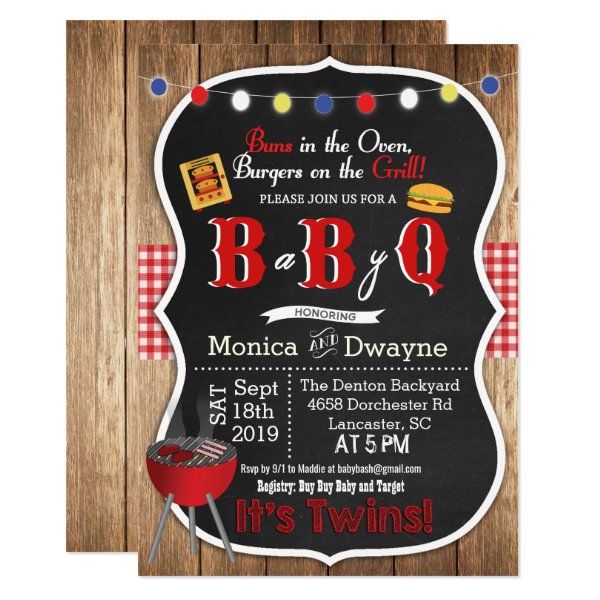 Source: Pinterest
4. Co-ed BBQ Baby Shower Invite Idea: This baby shower invite is ideal to invite family and friends for a co-ed Baby Q party. The subtle festive invite background with the barbeque print tells the guests the theme of the party and the feeding bottle reminds them it's a baby shower.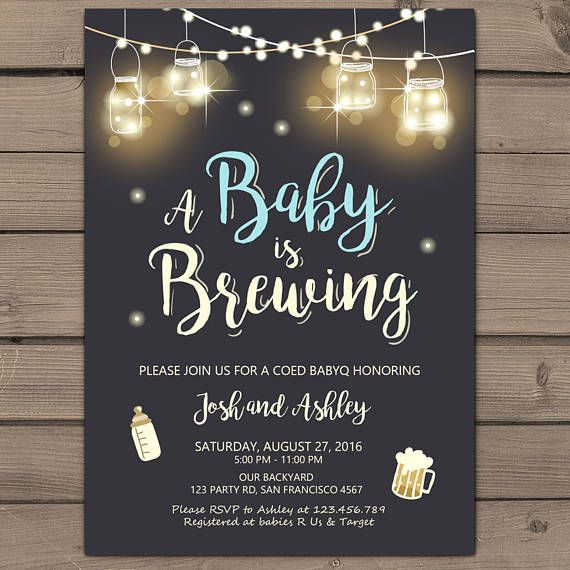 Source: Pinterest
5. BBQ Themed Girl Baby Shower Invitation Idea: This BBQ themed baby shower invite is cute and casual. The BBQ highlighted in dark colour stands out from the Baby Q telling the guests it's a BBQ party. The picnic table and grill showcase the outdoor party venue, preparing the guests for a fun-filled casual baby shower.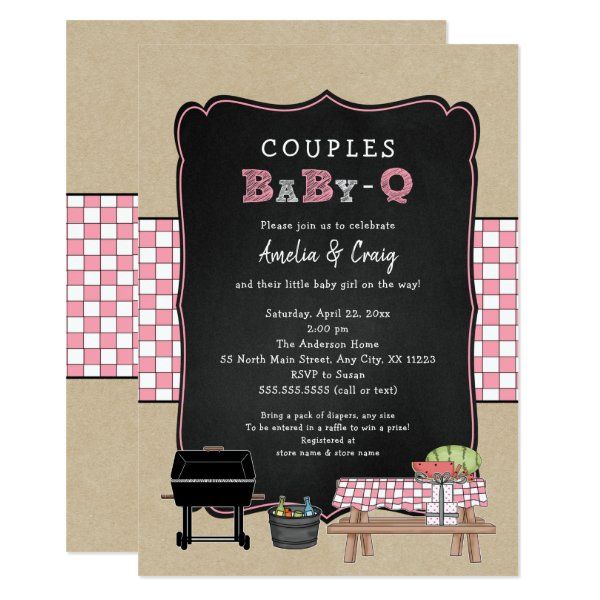 Source: Pinterest
6. BBQ Themed Boy Baby Shower Invitation Idea: This BBQ theme baby shower invite is ideal for parents who are about to be blessed with a baby boy. The blue gingham tablemat background design signifies the forthcoming arrival of a baby boy. The bold and different font BBY highlighted in the Baby Q tells the theme of the baby shower. Casual and elegant choose this BBY baby shower invite to tell the gender of your coming baby as well as the theme of the party.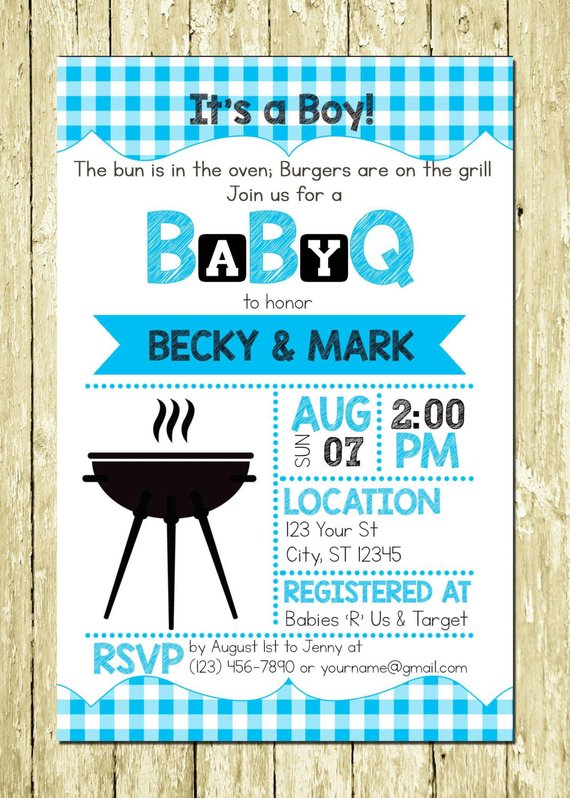 Source: Pinterest
Baby Q Decoration Ideas
Baby Q Decoration has to be consistent with the BBQ baby shower invite. This will ensure to give a professional looking decoration without any extra effort at an affordable cost. Try to use a maximum of two to three colours in the decorations as it will make the decorations more cohesive and easy to adopt in everything from cutlery, tablecloth, decorative ribbon, flowers, etc. An easy trick to mimic the invitation design is by using mason jars with burlap and gingham ribbons. This inexpensive decoration idea is perfect for BBQ theme. You can also use burlap and gingham cloth to decorate other items such as tablecloths, wrap tableware, blankets etc. Use plastic tableware, straws and other cutlery in similar colours or in a gingham pattern. To add some freshness in your Baby Q decoration, place some fresh flowers on the tables. Try to use flowers in the colours syncing with the invitation colours and other decoration colours.
If don't want to go for invitation colour scheme and keep a fresh and casual baby shower decoration, then just use red gingham tablecloths with burlap runners. Add in some bright yellow sunflowers in glass vases as BBQ baby shower centrepieces to get a cute and casual colour scheme perfect for an outdoor barbeque party. Add in a cute Baby Q banner to complete the party look. In case the party will go on till late in the evening, add strings of multi-coloured bulbs. Add in colourful balloons and tissue paper pom-poms as chandeliers to the entry or arches to add bit more of festive decorations.
BBQ Baby Shower Food Menu Ideas
Any party is incomplete with mouth-watering food and refreshing drinks. As the baby shower theme is barbeque, so the food and drinks have to follow the same theme. Some BBQ baby shower food menu ideas are:
Burgers and hot dogs are easy to grill food options. The guests can also help by choosing their own fillings. Keep vegan and gluten-free options too.
Prepare sides such as hummus, salads, salsa and other assorted vegetables beforehand to save time.
Brisket with macaroni and cheese, puller pork, coleslaw, baked beans, and chocolate chip cookies makes for an easy food menu with few options of mocktails along with barbeque food items.
Set up a sidebar with a designated server who will serve fresh lemonade or fresh juices in mason jar mugs to the guests. You can also add root beers or beers if you want.
In case you don't have time for preparation, take the help of your nearby stores. They keep ready to be barbequed frozen food items. Just get the quantity as per the number of guests and toss in the barbeque.
Though it is a barbeque party, still keep a few finger food options such as cutlets, fries, sandwiches, etc. for guests who may not like barbeque food or to go along with the drinks.
To reduce the headache of serving each guest, keep the food buffet style. The guests can help themselves. You can also keep a large batch of few mocktails.
Fresh cut seasonal fruits are a good option to keep along with assorted toppings.
In case you have planned a long duration baby shower, then it would be a good idea to add a few regular party dishes for the evening menu.
As both men and women are invited to the Baby Q shower, so there will be kids too. Add in pizza, French fries, popcorns, ice creams, etc for the kids.
Don't forget the cake. To go with the barbeque theme, get the cake decorated with gingham design with few barbeque themed decoration items.
In case you have just invited a few close couples and planned a small gathering, then you can also opt for a potluck barbeque party. Every couple can get one dish and you prepare the barbeque food, sort of picnic-style.
Game Ideas for Baby Q Themed Baby Shower
As the baby shower theme is a barbeque party, so there will be relaxed and casual party atmosphere for guests to interact with each other. However, by adding a few games you will ensure every guest is involved in the party and is not left out. Games also ensure the guests are entertained without much effort. Few easy games ideas for baby Q themed baby shower are:
Treasure hunt- Though an old game stills it garners enough enthusiasm from both adults and kids whenever it is played. Divide the guests into a few groups and give each group few clues to find the hidden treasures. Keep the clues easy and funny, to keep the guests involved. As it is an outdoor party, hide the treasure items in all sorts of places like treetops, behind the plants or in a hole dug in the ground. The guests will enjoy doing some hard work and later will enjoy their winning presents.
Feeding bottle beer/mocktail chug- Take few feeding bottles and fill them up with beer or any mocktail. The guests have to suck the drink in the bottle till the last drop. The first man and woman to finish will be the winners.
Spin the bottle- Think out of the box and play this teenage school game. As the party is outside, you have enough space to make the guests sit and play this game. The guests can ask hilarious questions or ask to do silly things when the bottle faces them. Choose a winner with majority votes.
Play any outdoor game- You can also skip the usual baby shower games and opt for an outdoor game like volleyball or even football if there is enough space.
Baby Q Baby Shower Party Favors
Source: Pinterest
As the guests bought in gifts for the parents-to-be and the coming baby, so giving them party favours or return gifts is mandatory. Give a thoughtful party favour which reminds them of the enjoying baby shower they attended. You can go for a fresh herb plant with the pot decorated with burlap and gingham ribbons as per the party theme. You can also opt for fragrant and edible keepsakes which are easily available or you can make them by yourself. Another option is to give gingham printed boxes filled with savoury items or chocolates. Another option of cute Baby Q shower party favour is a photo frame in gingham design. As the theme is barbecue baby shower then giving a BBQ rub or barbeque sauce bottle of a good brand with a cute bow made of gingham ribbon is also a good option.
Baby showers are all about family and friends getting together to give their blessings and best wishes to the parents to be. Using the Barbeque baby shower theme is a great idea to ensure that the baby shower is organised without many efforts and everyone at the shower including the host has an enjoyable time. The barbeque theme is perfect for an outdoor get-together with everyone interacting over grilled food and enjoying the sunshine in a relaxed ambience.
Also Read:
Bohemian Baby Shower Ideas
Winnie the Pooh Baby Shower Ideas
Harry Potter Themed Baby Shower Ideas