Banana Vanilla Milkshake Recipe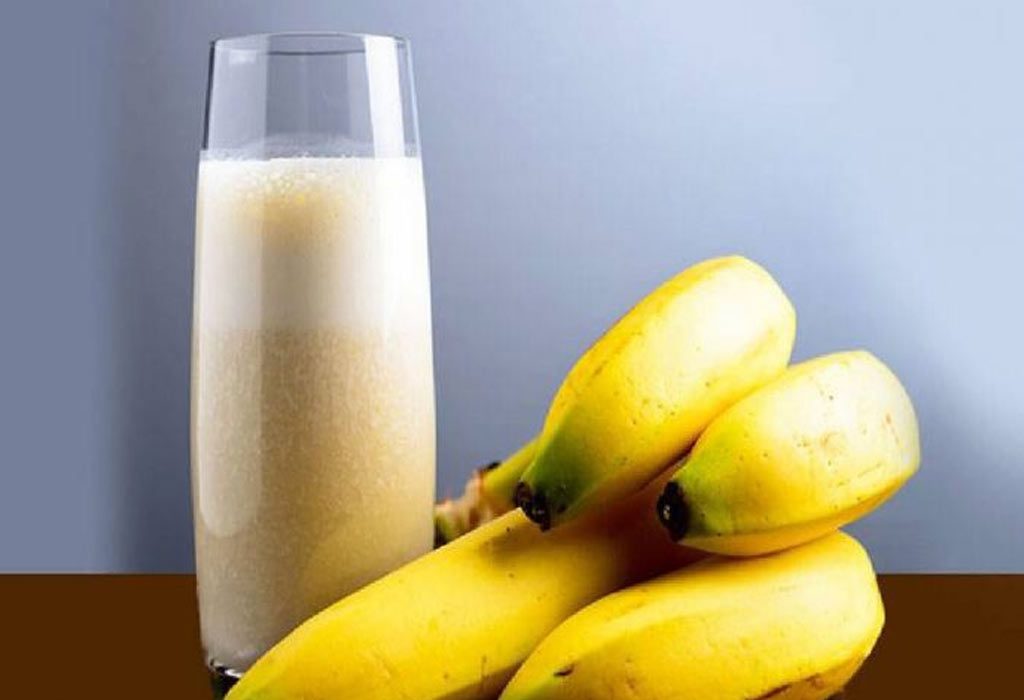 In this Article
Banana is one of the best fruits to give to babies above 6 months old as it is easy to digest and is full of nutrients and fibre. It is sweet in taste so it does not need any further addition of sugar or other ingredients to feed to baby. But babies like to relish different flavors so this easy Banana Milkshake recipe brings some relief to the new mommies. It is quick and easy to make and is full of health too.
Cooking Time
| | |
| --- | --- |
| Type | Time (hh:mm:ss) |
| Preparation Time | 00:05:00 |
| Cook Time | 00:05:00 |
| Total Time | 00:10:00 |
Cooking Method
Blending
Type of Meal
Vegetarian
Suitable For
Any toddlers above 14 months of age
Meal Schedule
Mid-Morning Snack, Evening, Snack
Recipe Type
Beverages
Ingredients
| | |
| --- | --- |
| Ingredients | Quantity/ Volume |
| Baby Banana (mashed) | 2 |
| Vanilla extract | 1/2 Tsp. |
| Milk | 1 cup |
Instructions
Banana is one of the fruits that are easily available throughout the year and has high nutrient values. It is a rich source of proteins, carbohydrates, minerals, fibre and provides instant energy. So, what are you waiting for? Just grab the ingredients and start preparing this easy dish following the step by step procedure:
Pick ripe bananas, peel and make small pieces.
Put these slices of bananas into the mixer jar or in a bowl if using a blender.
Add milk, vanilla extract and then blend the ingredients to make a smoothie.
Add more milk if the consistency is too thick.
Add few drops of honey only if your baby is above one year and wants some sweeter milkshake.
Feed this drink to your baby as soon as you prepare as its taste and color gets changed if kept for long.
Why wait, prepare this simple and tasty recipe to give your child to relish on.
Recipe Tips
Now, you know how to make Banana Vanilla Milkshake but there are some important points to remember while preparing this healthy milkshake, which include:
Peel and mash the banana just before you start making this milkshake.
You can garnish the milkshake with banana slices only if the babies can chew the slices properly.
Do not make the milkshake too thick as small kids do not like thick drinks.
Use only good quality and fully ripe bananas for making this drink.
The quantity of banana can be adjusted as per the appetite of the baby.
If you are preparing this recipe for the babies less than a year old, use formula milk or breast milk instead of buffalo/cow milk, as it is advisable to not use cow/buffalo milk till baby turns one.
Always wash your hands well before cooking any meal for babies. All of the utensils should also be properly washed and cleaned before using them for babies.
Though there is no need to add sugar to this dish as banana itself adds sweetness, but if your kid demands and likes the taste of honey you can add a little amount of honey after preparation.
When using vanilla as a flavoring for your baby's food, ensure that you are using either the vanilla bean or essence of vanilla that is labeled as "pure".
Nutrition Information (Per 100 Grams)
| | |
| --- | --- |
| Nutrient | Value |
| Energy | 0.11 kCal |
| Protein | 2.58 g |
| Carbohydrates | 15.9 g |
| Fibre | 2.33 g |
| Fat | 3.46 g |
| Calcium | 5 mg |
| Potassium | 100 mg |
Health Benefits
Are you still wondering what health values this delightful Banana Vanilla Milkshake for toddlers contains? Here are some health benefits of this yummy recipe:
Bananas are a high source of fiber and keep baby full for a longer duration and help in digestion too.
The presence of essential nutrients like calcium and potassium in banana makes it good for weaning babies.
Bananas are complete with essential vitamins and minerals that help babies in gaining weight.
Bananas and milk make a very good combination as baby food and offers a complete diet solution to mommies.
This drink has vanilla which is considered to be helpful in soothing teething babies.
Buying Guide
Take bananas that are completely ripe, yellow in color.
Always choose (if possible) organic fruits and vegetables for your little babies as these products are free from any harmful chemicals, pesticides, and insecticides. Such products are tastier, healthier and also safe for your little one.
So, now you need not worry about what to feed your little babies in between lunch and dinner times, this homemade Banana Milkshake baby food recipe is one of the best options to go for.