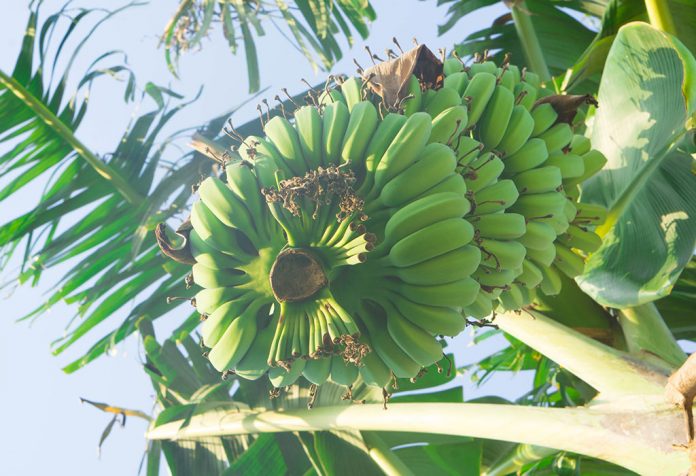 Last Updated on
India is filled with diversity and traditions. People eat different kinds of food and give their babies different kinds of food to eat too. Banana powder is one such food that is very popular in the southern regions of the country. Does this option sound interesting enough? If yes, you may like to know more about this powder, its health benefits, recipes and more in the following article.
When Can You Introduce Raw Banana Powder to Babies?
The ideal age to introduce any kind of solid food is once your baby is over six months of age. Therefore, this nutritious powder can be given to babies after 6 months of age or when your baby is ready for solid foods.
Benefits of Raw Banana Powder for Babies
Are you wondering why you should give this powder to your baby? Well, here we have some reasons listed for you:
It helps in building immunity in babies.
It is power-packed with potassium and other vital nutrients.
It is easy to digest and may not cause a cough and cold like normal bananas.
It helps in the development of the healthy brain in babies.
How to Make Raw Banana Powder at Home for Babies?
Here's how you can make Kerala banana powder for babies at home for your baby:
1. Ingredients
Firm and raw bananas.
2. How to Prepare
Get rid of both the ends by chopping them off.
Peel the bananas.
Take a slicer and slice the bananas into thin slices.
Spread these slices on a sheet and sun dry them for 2 to 3 days or until crisp.
Grind the dried slices and sieve to get rid of any coarse pieces.
3. Note
Ensure that you make fresh baby food every time.
Also, sterilise your baby's utensils before serving food in them.
Things to Keep in Mind Before Making Raw Banana Powder
You should keep the following things in mind before making this powder:
It is important that you choose unripe or raw bananas.
You must clean the bananas properly.
Make sure you slice the bananas properly.
It is also important to place the slices nicely on the sheet so that they can dry properly.
You must sieve the powder to get rid of any banana seeds. This is because banana seeds may be difficult for a baby to digest.
You should keep the powder in an airtight jar.
You should make the powder in smaller batches so that you use it fresh.
This powder may not cause constipation in babies.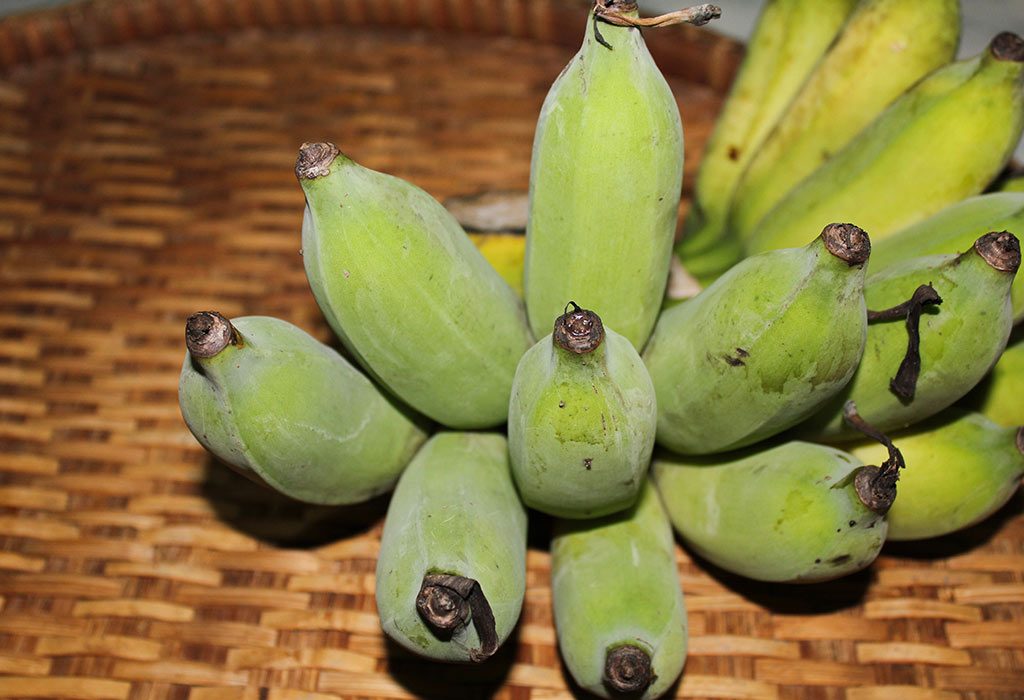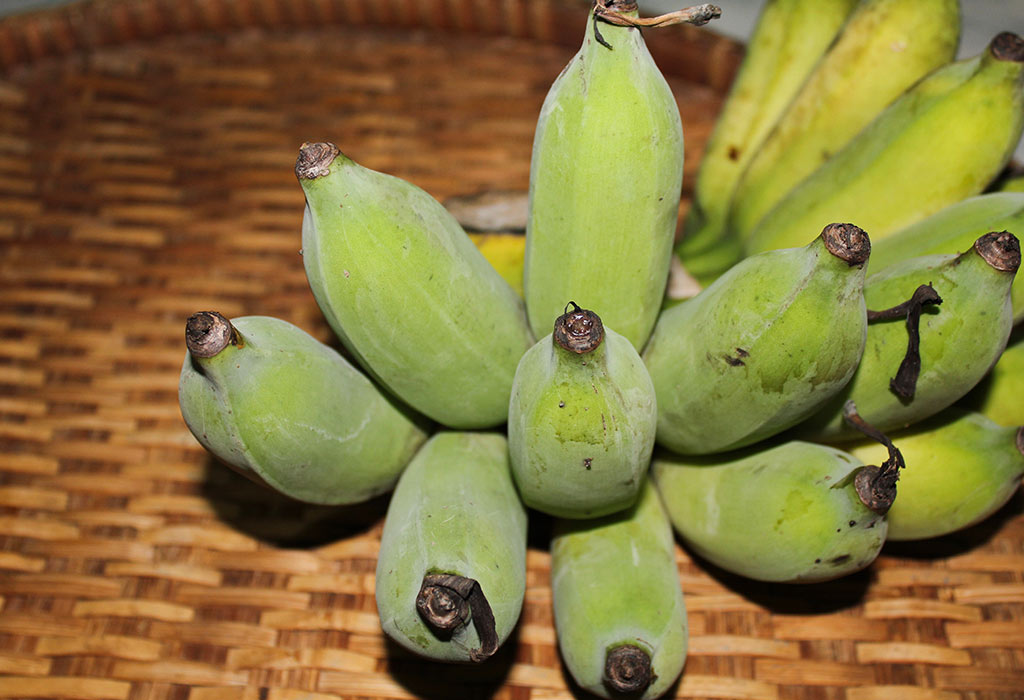 Raw Banana Powder Recipes for Infants
Here are some easy to make nutritious banana powder recipes for infants:
1. Banana Powder Porridge
This delectable recipe may be an ideal first food for your little munchkin. If you are wondering how to make banana powder for babies, well, here we have the recipe for you.
Ingredients
1 tablespoon of raw banana powder
1 cup water/milk
Sugar
How To Prepare
Take a pan and put powder and water together and mix well.
Turn on the heat and cook the mixture for 10 minutes.
Add sugar and serve lukewarm.
2. Banana Powder Halwa
This is a sweet recipe for your baby.
Ingredients
1 tablespoon raw banana powder
½ tablespoon clarified butter or ghee
½ cup organic jaggery syrup
How To Prepare
Cook banana powder in the jaggery syrup while mixing it constantly.
As the mixture thickens, you may remove it from the heat.
You may give this halwa to your baby.
Alternatively, you may cook the mixture for some more time and spread it on a plate. Once it cools down, you may cut it into pieces. It can be given to toddlers and older kids.
3. Banana Powder Khichdi
You may add some banana powder to the usual khichdi to give it a softer and gooier texture.
Ingredients
1 tablespoon raw banana powder
½ cup moong daal
½ cup rice
2 cups water
Salt to taste
How To Prepare
Mix banana powder in the water and keep aside.
Wash rice and daal and put them in the pressure cooker.
Add the water mixture and salt.
Cook at medium heat for 7-10 minutes.
FAQs
Here are some frequently asked questions regarding banana powder:
1. How do I know if the banana porridge is well cooked or not?
It is easy to establish whether or not the porridge is cooked or not. Once the porridge gets cooked, it will leave the sides of the pan or starts coming off from the sides.
2. What else can I make using raw banana?
The raw banana powder is very versatile and can be used in making various kinds of delicious recipes for your baby. You can use halwa, milkshake and many other recipes using raw banana powder.
3. Why is raw banana more beneficial for babies than normal yellow bananas?
Raw banana is considered better than normal yellow bananas because it may not cause any a cough and cold in babies, even when consumed during the winter months. Raw banana is a rich source of carotids and thus can be consumed in the winter months also.
The raw banana powder is very beneficial for your baby's health, and you may safely add this powder into your baby's diet after your baby is ready to eat solid food. However, every baby is different, and it is important that you discuss it with your baby's doctor before incorporating any solid food. Also, start with smaller quantities, and once your baby shows no signs of allergies, you may slowly begin increasing the quantity.
Also read: Is Banana Good for Babies or Not?