Chikoo (Sapota) for Babies – Health Benefits and Recipes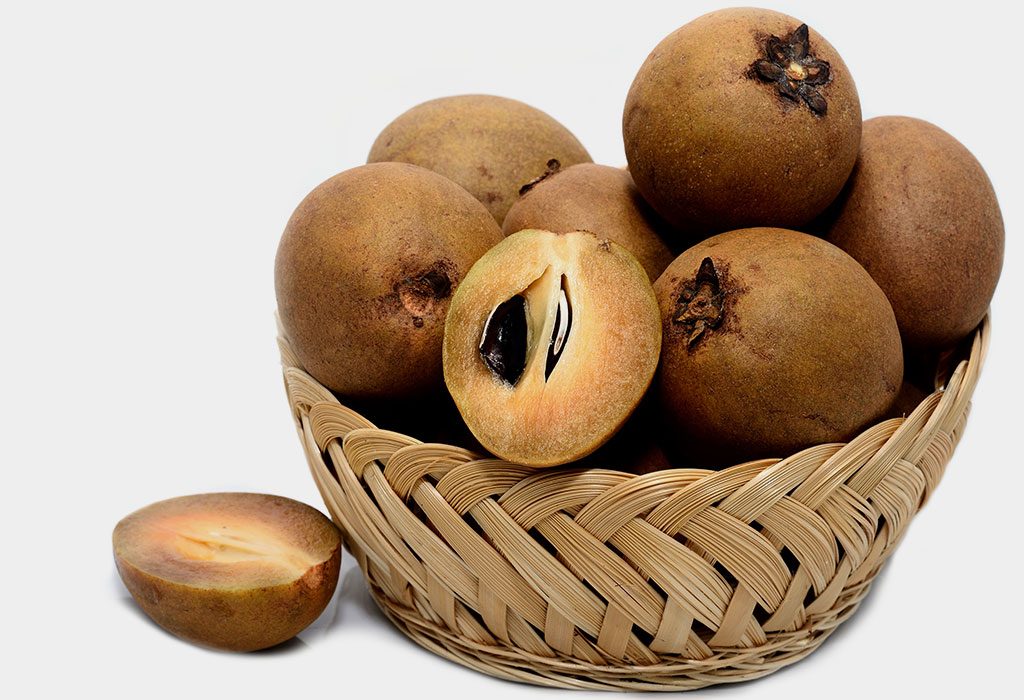 Chikoo, a delicious pulpy fruit, is widely popular and enjoyed by everyone. It is also known as sapodilla or sapota, but the name "chikoo" is more popular in the Indian subcontinent. The fruit is yellow or brown in colour, soft, sweet, and has a grainy texture. It consists of simple sugars such as fructose and sucrose, and considerable amounts of immunity-boosting nutrients. Chikoo, therefore, is also known as a super fruit.
Although the fruit has been popular since time immemorial, one question bothers many parents, and that is whether their children can eat it, especially if they are infants. If this question has been on your mind, you will find this article pretty useful. Here, we have put together information about the fruit, when it can be fed to a baby, along with its health benefits and side effects. Read on to know more.
Is Chikoo Good for Infants?
Yes, chikoo is safe for infants. It has many health benefits, such as strengthening the immune system and easing bowel movement. You can include this fruit in your baby's diet along with other solid foods once he is ready to be weaned on to solids.
When Can You Introduce Chikoo to Your Baby's Diet?
You can introduce chikoo in your baby's' diet once he turns 6-months-old. This fruit is usually recommended for its rich nutritional value, which we shall talk about in the next section, its taste and texture. Start with a soft chikoo mash and slowly proceed to a pulpy mash before your little one is ready to relish the fruit as is.
Nutritional Value of Chikoo
Chikoo is a highly nutritional fruit. Here is the nutritional value per 100 grams of fruit.
Nutrition Constituent
Nutritional Value
Energy
73 Kcal
Fat
1.26 g
Carbohydrates
13.9 g
Dietary Fibre
9.6 g
Protein
0.92 g
Cholesterol
0 mg
Vitamins
Niacin
0.200 mg
Riboflavin
0.03 mg
Thiamin
0.01 mg
Vitamin A
13.45 MCG
Vitamin C
20.96 mg
Vitamin B6
0.12
Folate
10.83 µg
Electrolytes
Sodium
4.61 mg
Potassium
280 mg
Minerals
Calcium
17.87 mg
Magnesium
16.19 mg
Copper
0.07 mg
Zinc
0.18 mg
Selenium
0.39 µg
Phosphorous
22.26 mg
Iron
0.49 mg
Source: The values in the chart above are based on a study conducted by the IFCT, Indian Council of Medical Research.
Health Benefits of Chikoo Fruit for Babies
Babies love anything that tastes sweet. Chikoo is one of them, but along with its rich taste, there are some amazing sapota benefits for babies that make it a good choice of food for them. Read on to find out how chikoo is beneficial for babies:
1. Improved Digestion
Chikoo is highly recommended for babies as it has a rich in fibre content. Eating the fruit helps improve digestion and relieve constipation. Pureed chikoo can be an excellent home remedy for your baby if he is suffering from constipation.
2. Improved Physical and Mental Growth
Chikoo is a rich source of Vitamin A and C. Vitamin C boosts immunity, Vitamin A improves eyesight, while Vitamin B6 helps in the development of the baby's brain and controls the haemoglobin levels. It even helps in the production of RBCs. Including chikoo in the baby's diet while he is transitioning to solid foods will ensure he gets the nourishment he requires for his physical and mental growth.
3. Cures Cold and Cough
Chikoo contains expectorant properties which, from a medicinal point of view, makes it a useful fruit to feed your baby if he is suffering from cough and cold. It can provide relief from congestion in the chest too.
4. Provides Energy
Chikoo is a good source of minerals like potassium, iron, calcium, and copper. It is also a great source of folate and niacin. The combination of all these minerals and vitamins help provide enough energy and strength required by your baby.
5. Helps the Body Fight Free Radicals
Chikoo is a good source of antioxidants, which are necessary for infants as they help prevent cell damage. The free radicals that are produced during metabolism are counteracted effectively with the help of antioxidants.
6. Stronger Bones
Chikoo is rich in calcium, potassium, and iron. Calcium helps in building stronger bones, while iron and potassium provide babies with energy required during development and growth.
7. Strengthens the Immune System
Chikoo is rich in Vitamin C, which helps in maintaining stronger immunity and enhancing the iron absorption process in the body. Feeding your baby chikoo regularly will help in building a strong immune system.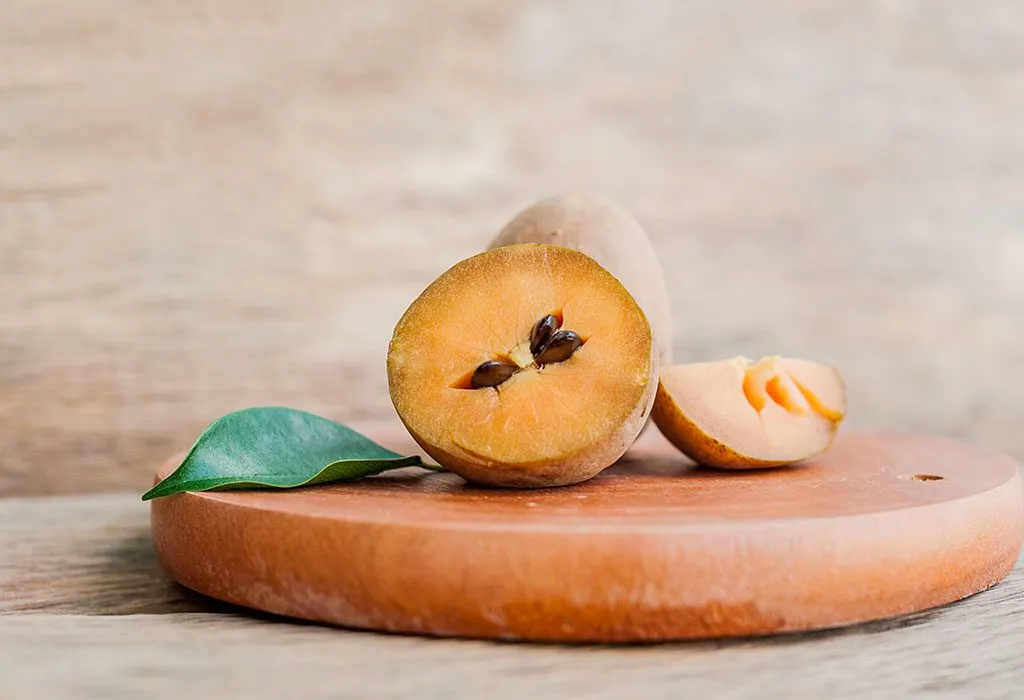 Now that you know that chikoo can be included in your baby's diet if he is over 6 months old, you must also be aware of the precautions you need to take before you feed the fruit to your little one. Read on to know more.
Precautions to Take While Feeding Chikoo to Infants
Although chikoo is found to be beneficial for infants, certain precautions should be taken while feeding them this delicious and nutritious fruit.
Serve peeled chikoo to your infants and ensure you remove all the seeds.
If your baby doesn't have teeth yet, it is better to puree the fruit and then feed it to him. This will also ensure better digestion.
Only feed ripe chikoo to your little one as it will be easy for him to swallow and digest. Eating raw chikoo could also lead to irritation in the throat, choking or breathing problems.
Do not feed rotten chikoo to your baby. If the fruit looks smashed or has a foul odour, it is rotten. Choose only the fruits that have a firm outer surface and smell fragrant. The fragrance denotes the fruit is ripe.
It is recommended that you store the fruit in a cool and dry place.
Ensure you feed chikoo to your baby in limited quantities, as excessive consumption could lead to digestive problems.
Although healthy, chikoo has some side effects, which can be prevented with a little care. Let's take a look at them too.
Side Effects of Chikoo in Infants
Chikoo is rich in nutrients, but it can also cause side effects in certain cases. Here are some of them:
Overeating the fruit can also lead to indigestion, diarrhoea, and abdominal pain.
Eating raw chikoo can lead to throat irritation.
When not removed properly, chikoo seeds may lead to choking in infants.
When it comes to babies, you'd find yourself thinking and wondering about how to feed them different foods. If you have the same concerns about feeding chikoo to your little one, here are some recipes that can make your life simple.
Easy to Make Chikoo Recipes for Babies
The recipes given below are not only delicious but also very healthy for your baby.
1. Chikoo Milkshake for Babies
This delicious protein drink is highly recommended for babies older than a year who have been introduced to cow's milk. This recipe is also a great addition to your toddler's diet. You may choose to add or skip some ingredient if your baby is too young to have them or is allergic to them.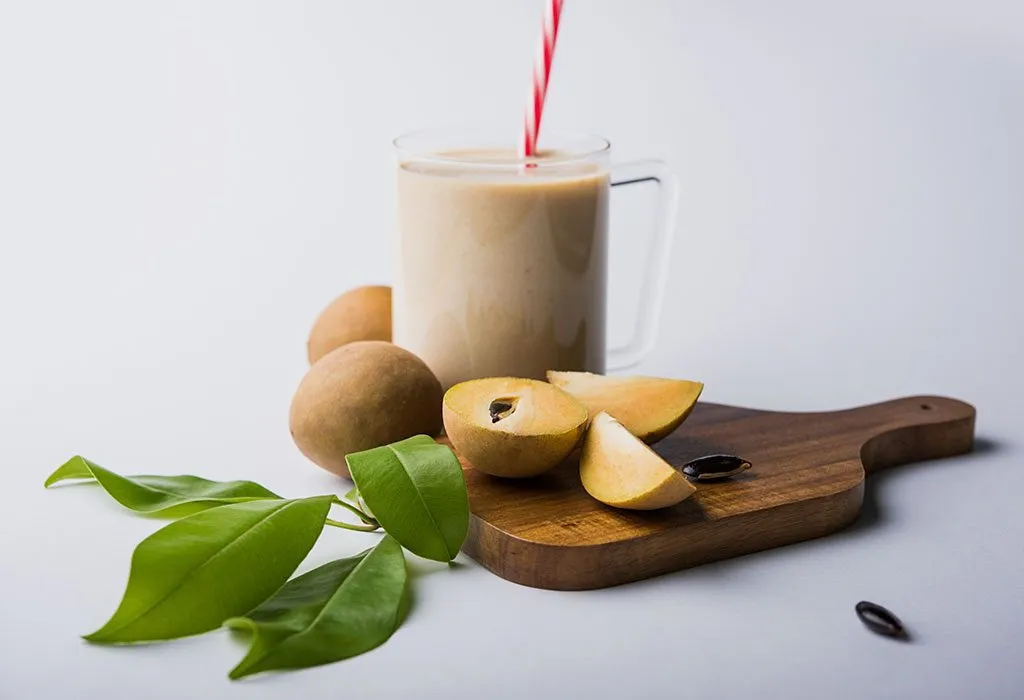 Ingredients
Milk – 1 ½ cup
Chikoo Fruit – 2, fresh and ripe
Sugar – 1 tablespoon
Soaked Dry Fruit – 3 to 4 tablespoons, finely chopped cashew (optional, can be excluded if your baby is allergic to nuts)
Ice cubes – 2 cubes (optional)
How to Prepare
Mix all the ingredients, except the ice, and blend them till it forms a smooth paste.
Pour in a glass and add the ice cubes.
Feed it fresh.
2. Chikoo Puree for Infants
Chikoo puree is extremely easy to prepare and highly recommended if your baby's teeth have not developed yet.
Ingredients
How to Prepare
Cut the chikoo into two equal parts.
Take out the seeds.
Mash the fruit in a bowl with the help of a fork. You can also blend it in a blender to make a smooth paste.
3. Chikoo Porridge for Babies
Chikoo enhances the taste of regular porridge for babies and is highly nutritious.
Ingredients
1 Chikoo
50 grams porridge powder
Water – 1 cup
How to Prepare
Cut the chikoo in half and scoop out the pulp.
Mash the pulp using a fork.
Pour water in a pan and bring to a boil.
Add the porridge powder to it and cook.
Add the mashed chikoo to the porridge and mix well.
Simmer for 2 minutes. The porridge should be cooked thoroughly.
Cool and feed to your baby.
4. Chikoo Halwa for Toddlers
This halwa is easy to prepare, and sure to become a favourite for your toddler.
Ingredients
1 Chikoo
Ghee – 1 tablespoon
Milk – 1/4 cup
Sugar – 1.5 tablespoons
Soaked Dry Fruit – 3 to 4 tablespoons, finely chopped cashew (optional, can be excluded if your baby is allergic to nuts)
How to Prepare
Wash the chikoo, and remove the skin and seeds. Mash well.
Heat ghee in a pan, and add cashews. Fry until golden, and keep aside.
Add the mashed chikoo to the pan and cook for a minute.
Pour milk to the pan and mix well. Cook on medium flame, stirring occasionally until it becomes thick.
Add sugar and cook further for a few minutes.
Pour the remaining ghee and cook until everything comes together and ghee oozes out on the sides.
Garnish with the fried cashews and serve warm.
How to Prepare Chikoo for Baby-Led Weaning?
Weaning is a bitter-sweet moment in every mother's life. However, watching your little one grow up and explore different textures and flavours makes it worth the while. Chikoo is a great option, as it has a mild and sweet flavour that goes with different ingredients. Here is how you can use chikoo for baby-led weaning.
1. For 6 to 9 Months
When it comes to babies between 6-9 months, the best way to start off is with chikoo puree. All you need to do is cut and blend chikoo to make a puree, and feed it to your baby.
2. For 9 to 12 Months
You can easily feed your child chikoo porridge at this age, as porridge would already have been introduced in his meal plan. Simply add mashed chikoo to porridge, and your simple chikoo porridge is ready to be devoured.
3. For 12-24 Months
A great option for this age group is chikoo milkshake, as your baby would be acquainted with the taste of cow's milk by now. All you need to do is blend mashed chikoo, sugar, milk, and dry fruits in a blender, and your chikoo milkshake is ready.
4. For 24 Months and Up
Chikoo halwa is a great option for this age group, as they will love the sweet taste and soft consistency. This is also a great way to experiment with flavours like cashews and coconut, as it is versatile. Make sure you check for any allergies before feeding to your child.
FAQs
1. Can Chikoo Cause Choking Issue in Babies?
Chikoo has a rough skin on the exterior, and seeds on the interior. If these are not removed properly, it could become a choking hazard. Hence, ensure that you remove the skin and seeds, and mash the chikoo well before feeding it to your baby, to avoid any choking hazards.
2. Can Babies Be Allergic to Chikoo?
Chikoo isn't found to pose any allergic reactions to babies, so it is safe to feed it to your child. However, just to be sure, follow all the precautions and check for an allergy before you start feeding chikoo regularly to your baby.
Chikoo is one of the tastiest and most nutritious fruits that you can feed your baby. Now that you know almost everything about it, you can either cut slices of the fruit, puree it, or prepare a milkshake to suit your baby's requirement. This magical fruit can be fed without hesitation as long as you ensure it is ripe and edible.
References/Resources:
1. Singh. P, Rathore. M , Prakash. H; Studies on Nutritional, Pharmacological and Health Importance of "Chikoo" (Manilkara Zapota L.); International Journal of Science and Research (IJSR); https://www.ijsr.net/archive/v10i3/SR21319173103.pdf; March 2021
2. Bangar. S, Sharma. N, Kaur. H, et al.; A review of Sapodilla (Manilkara zapota) in human nutrition, health, and industrial applications; ScienceDirect; https://www.sciencedirect.com/science/article/abs/pii/S0924224422001844; September 2022
3. What to feed your baby; NHS; https://www.nhs.uk/start4life/weaning/what-to-feed-your-baby/around-6-months/
4. Baby-Led Weaning: What You Need to Know; Cleveland Clinic; https://health.clevelandclinic.org/baby-led-weaning/; October 2021
5. Healthy Eating for 6 to 24 month old children (1) Getting Started; The Government of the Hong Kong Special Administrative Region; https://www.fhs.gov.hk/english/health_info/child/14727.html; March 2023
Also Read:
Green Beans for Babies
Are Bananas Good for Infants
Introducing Grapes to Babies
?>