Bajri Roti Recipe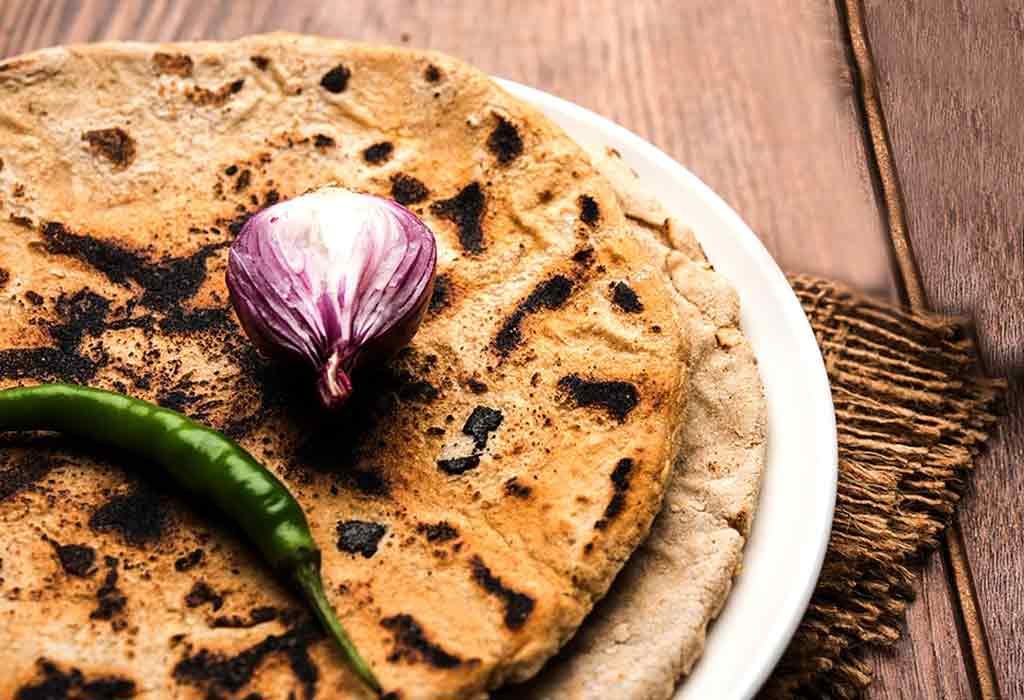 In this Article
Bajri roti is a traditional North Indian flatbread, usually made during the winter months. If your kids are bored of eating same thing every day, try serving them bajri roti with 'baigan ka bharta' or 'sarso ka saag'. Bajra or pearl millet is a rich source of protein, iron, calcium and potassium which are essential for your growing children. In fact, pearl millet flour is one of the most protein-rich ingredients which makes bajri roti vital for vegetarian kids. Continue reading to learn how to make bajri roti.
Cooking Time
| | |
| --- | --- |
| Type | Time (hh:mm:ss) |
| Preparation Time | 00:30:00 |
| Cook Time | 00:20:00 |
| Total Time | 00:50:00 |
Cooking Method
Gas Stove
Type of Meal
Vegetarian, Gluten Free
Suitable For: Babies above 11 months of age.
Meal Schedule
Bajri roti can be served as lunch or dinner
Recipe Type
Main Dishes
Ingredients
| | |
| --- | --- |
| Type | Quantity/Volume |
| Bajara Atta/Pearl Millet Flour | 2 cups |
| Salt | 1/2 teaspoon |
| Hot water | as needed to knead the flour |
| Oil | 1 tablespoon |
| Ghee | 1-2 tablespoon |
Instructions:
Step by step recipe Instructions:
Heat water in a large vessel and add oil to it.
In a large bowl add 2 cups of pearl millet flour.
Add salt to the pearl millet and mix it well.
Gradually add the hot water to the pearl millet flour and start kneading it.
Continue kneading the flour and turn it into a soft dough. Add water as needed.
Once a soft dough is formed, knead it for few more minutes. Bajara flour cannot form gluten hence, it should be kneaded for few extra minutes.
Cover the dough with a damp cloth or lid and let rest.
After 15-20 minutes, divide the dough in small balls.
Heat the pan on medium flame.
Take a small dough ball and knead it once again individually in your hands.
Dust some bajara flour in your palms and flatten the dough ball in your palms.
Pat the flattened dough ball gently in your hands and increase it in size.
Once the dough is about 1-2 centimetres thick, gently put it on the hot pan.
Gently press it and let it cook partly on one side.
Then turn it and cook it completely on the other side.
Once the bajri roti is cooked completely on the second side, flip the first side on open flame and cook until done.
Serve it in a plate after adding some ghee on top.
Bajri ki roti tastes best with home made butter, ghee jaggery, began ka bharta or sarson ka saag.
Recipe Tips:
If your children are not gluten intolerant, you can add 1/2 cup of whole wheat flour to the dough. This eases the process of flattening the dough.
When adding whole wheat four, you can easily roll the dough with a rolling pin on a plain surface. Rolling bajri roti on a plastic sheet can make the rolling process easier.
The temperature of water should be just above the body temperature, i.e. between 40-45 degrees Celsius.
Adding ajwain (carom seeds) will instantly enhance the flavours of this simple bajri roti recipe and make it easy to digest by the little ones.
Nutrition Information ( Serving Per 100 Grams):
| | |
| --- | --- |
| Type | Value |
| Energy | 348 kCal |
| Fat | 5.43 g |
| Carbohydrates | 61.78 g |
| Protein | 10.96 g |
| Iron | 6.42 mg |
| Calcium | 27.35 mg |
| Sodium | 4.11 mg |
| Magnesium | 124 mg |
| Potassium | 365 mg |
| Zinc | 2.76 mg |
| Vitamin B1 (Thiamine) | 0.25 mg |
| Vitamin B2 (Riboflavin) | 0.20 mg |
| Vitamin B9 | 36.11 μg |
Health Benefits:
Being low in fats and carbohydrates, this bajri roti recipe for toddlers makes it easy to digest.
Owing to a rich source of protein pearl millets keep the kids active and help in their muscle development and overall growth.
Higher dietary fibres minimize constipation in kids.
Pearl millet is a rich source of calcium, that is why eating bajri ki roti enhances bone and teeth growth in kids.
Bajra is warm in nature which provides natural warmth to kids in winter season, thus increasing their immunity against fighting cough and cold.
Buying Guide:
Millet flour should be fresh. Buy it fresh from a flour mill or check the expiration date on the pack.
If buying at a grocery store, try to find an organic brand and quality product.
If your kid has recently started chewing food, this Bajri roti recipe makes it the perfect food for him. It will easily teach him to properly chew his food thus developing the jaw muscles. It is easier to digest hence lighter on the stomach and extremely fulling in taste and nutrition.