Ragi Turdal Puree Recipe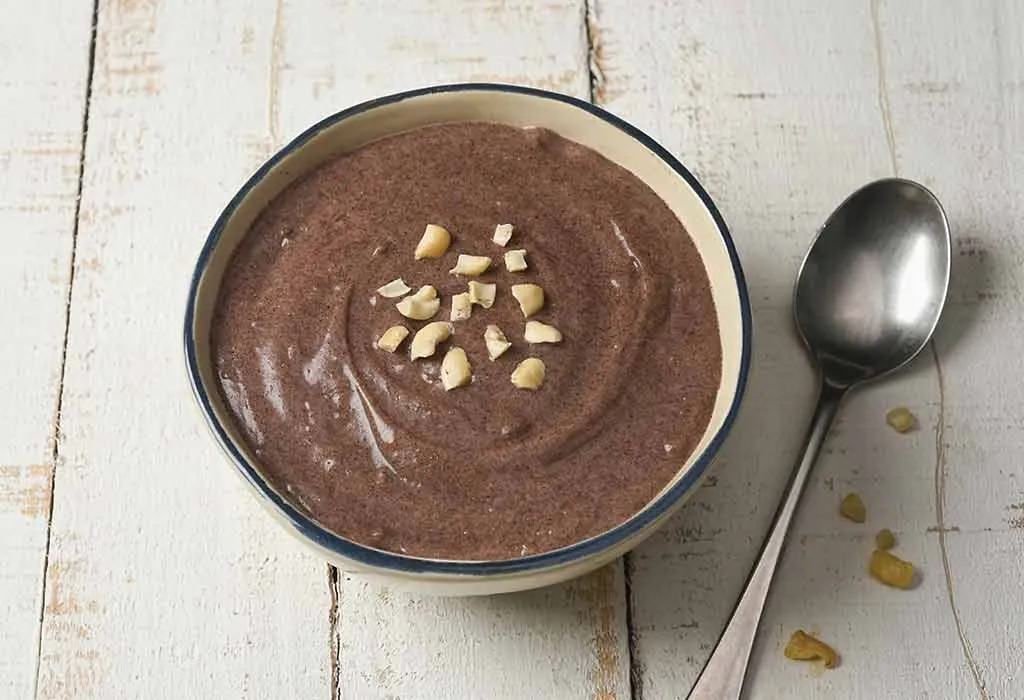 In this Article
Porridge or puree foods are the first introductory solids in a weaning baby's diet chart. Most Indian households prefer to follow age-old traditions of serving their toddlers with homemade porridge or purees. This Ragi Turdal Puree for toddlers is a healthy alternative to the store-bought instant porridge powders.
Cooking Time
| | |
| --- | --- |
| Type | Time (hh:mm:ss) |
| Preparation Time | 00:10:00 |
| Cook Time | 00:15:00 |
| Total Time | 00:25:00 |
Cooking Method
Gas Stove
Type of Meal
Vegetarian
Suitable For
Weaning babies older than 7 months of age
Meal Schedule
Breakfast, Lunch or Dinner.
Recipe Type
Main Dish
Ingredients
| | |
| --- | --- |
| Type | Quantity |
| Ragi or Finger Millet flour | One tablespoon |
| Turdal Powder | One tablespoon |
| Palm Sugar, Jaggery or Dates Syrup | One teaspoon |
| Ghee | ½ tablespoon |
| Water | ½ cup |
Instructions
Read below to find step-by-step instructions for homemade Ragi Turdal Puree baby food recipe. You will need to keep all the ingredients ready before preparing (especially the ragi flour and turdal powder):
Add one tablespoon of ragi flour and one tablespoon of turdal powder in a pan. Add ½ cup of water to it.
Add ½ teaspoon of ghee. Mix it all well and give it a good whisk so that no lumps are left.
Cook the ragi turdal powder on low flame for 5-10 minutes. It will take about 15 minutes for the ragi to cook well. Stir continuously while cooking so that the mixture does not stick to the sides of the pan.
Once cooked, add the palm sugar, jaggery or dates syrup.
Cook for another 2-3 minutes until completely done.
Switch off the flame once done.
Recipe Tips
A few tips on how to make Ragi Turdal Puree a delicious dish for your baby:
You can add formula milk to the porridge mixture once it is warm.
For babies over one year of age, you can use cows milk.
Cook the ragi thoroughly. It does not matter if you cook it for an additional two minutes.
Add ghee to the mixture as it will enhance the taste of the porridge.
To make ragi flour, you could soak the ragi seeds overnight and then dry them on a towel. Once dry you can grind them in a mixer jar to a fine powder and store in an airtight container.
For the tur dal powder, dry roast the tur dal finely in a deep bottomed pan on a low flame. Once it turns golden brown, turn off the gas. Grind to a smooth powder once the mixture cools down completely.
Nutrition Information (Per 100 Grams)
| | |
| --- | --- |
| Type | Value |
| Calories | 350 kCal |
| Carbohydrates | 70 gm |
| Protein | 15 gm |
| Fat | 15 gm |
| Fibre | Three gm |
| Iron | 3.8 mg |
| Sodium | 17 mg |
Health Benefits
This easy Ragi Turdal Puree recipe comes with its range of health benefits. Read on to find out more about them:
Turdal is rich in nutrients, protein and fibre. It is rich in folic acid and an excellent source of carbohydrates.
Turdal is also a good source of dietary fibre.
Ragi flour is rich in calcium and iron. Both are instrumental in the excellent development of bones and also the overall development of the baby.
Ragi also promotes digestion.
The iron content in ragi helps in preventing anaemia.
The presence of significant amounts of antioxidants in ragi act as a natural relaxant and prevent insomnia and anxiety in kids.
The amino acids and methionine help to improve the quality of skin and hair in your child.
The fibre in ragi flour aids digestion and also helps your baby stay full for longer.
Buying Guide
When buying ingredients for Ragi Turdal Puree, just bear in mind the following to get the best out of the recipe:
If using store-bought ragi powder, buy sealed packets. Check the expiry date on the packaging.
If grinding ragi flour at home, make sure to buy ragi seeds in sealed form.
Tur dal should also be bought in sealed form and check the expiry date on the packaging.
If possible, buy organic ragi flour and tur dal as they are free from chemicals and pesticides.
Ragi Turdal Puree is a healthy weight gaining porridge recipe. This homemade mix is an excellent alternative to the ready mixes available in the market. The combination of ragi and turdal is a filling and wholesome food for your baby and can be introduced at the age of six months.