Baby Milestone – Creeping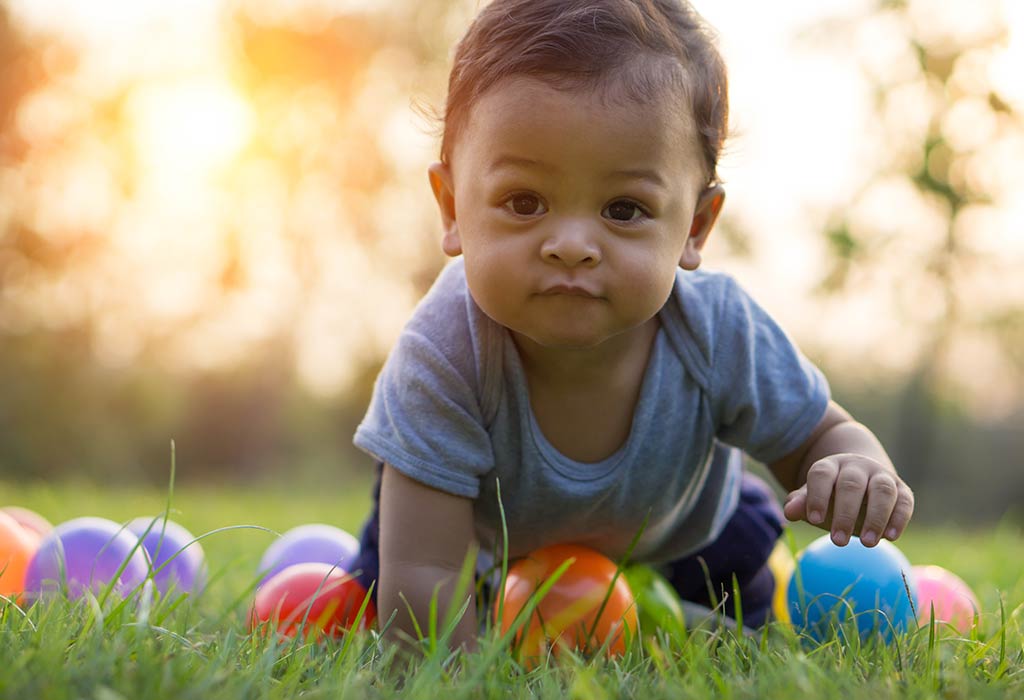 Your little one will achieve many milestones in their first year after birth, and creeping will be one of them. Being able to move around is not only exciting for the baby, but parents also take great pride when they see their baby moving around without any assistance. As soon as your baby begins creeping, you will notice that standing and walking will be followed soon. If you wish to gain more insight into this developmental baby milestone, we recommend browsing the following post!
Video :
Creeping : Your Baby's Important Developmental Milestone
https://www.youtube.com/watch?v=PRXGZWxzOGw
At What Age Do Infants Start Creeping?
As parents, we are always excited about our baby's developmental milestones, and we keep looking forward to them. So, if you are wondering when does a baby start creeping – well, as soon as your baby is able to sit on her own without any kind of support, she may try to be more mobile than before. You will notice that for the next two months, your baby will make great progress in her pre-crawling stage and may begin with movements, such as creeping, scooting, rocking, rolling, and squirming.
Once your baby shows the readiness to creep, you should offer a lot of free space to your little munchkin to move freely. You can also lure your kid to move by placing her favourite toys at a distance. Sometimes babies may also creep backwards, but there is no need to worry or hit the panic button. This is because it is easier to move the legs backwards than to move forward, but soon your baby will be on the right track.
Why Is Creeping an Important Milestone for Babies?
Creeping is an essential developmental milestone for your baby as it helps achieve various other milestones. Here is why creeping is an important aspect of a baby's life:
Creeping helps the baby learn various concepts, such as up/down, far/near, under/over, etc. These skills acquired at a young age benefit the baby with advanced

movement skills

and mathematical concepts.

Baby's vision gets better tuned, which is also advantageous in attaining better focus as the baby grows.

Creeping is a great way of getting the hang of primitive

reflexes

that proves practical for learning and coordination in the later stages of your baby's life.

Baby learns about the timing and rhythm of the body, which aids them in

walk

ing and running later.

It helps

strengthen the muscles

, which, in turn, improves the

baby's fine motor skills

.
What If the Baby Doesn't Creep?
If you notice that your baby is not creeping, you can involve your little one in various activities and games that involve creeping and crawling. Activities, such as tumbling, rocking, spinning, and rolling, stimulate the cerebellum, thus, proving helpful in inhibiting primitive reflexes and muscle tone development of your little one.
Do Premature Babies Creep?
Yes, premature babies creep, too. However, the only difference would be the time. For instance, if a baby is born after a full term, they may start creeping at around 6 months of age. On the other hand, if a baby is born approximately 7 to 8 weeks before the due date, they may start creeping at around eight months of age. However, by the time your baby is around 2 years of age, they will be at par with other kids, and there may not be any delays.
Your baby is unique and develops at their own pace; make sure you do not compare your baby with others and let them achieve the milestones when they are ready.

References/Resources:
1. TABLE 3: Developmental Milestones; Pediatrics in Review; https://depts.washington.edu/dbpeds/Screening%20Tools/Devt%20Milestones%20Table%20(B-6y)%20PIR%20(Jan2016).msg.pdf
2. Lagerspetz. K., Nygåkd. M, Strandvik. C; The effects of training in crawling on the motor and mental development of infants; Scand. J. Psychol; Wiley Online Library; https://onlinelibrary.wiley.com/doi/abs/10.1111/j.1467-9450.1971.tb00623.x, September 1971
Also Read:
Baby Eating Milestone
Baby Cruising Milestone
Baby Clapping Milestone
Baby Speaking Milestone
?>