Amazing Sports Themed Baby Shower Ideas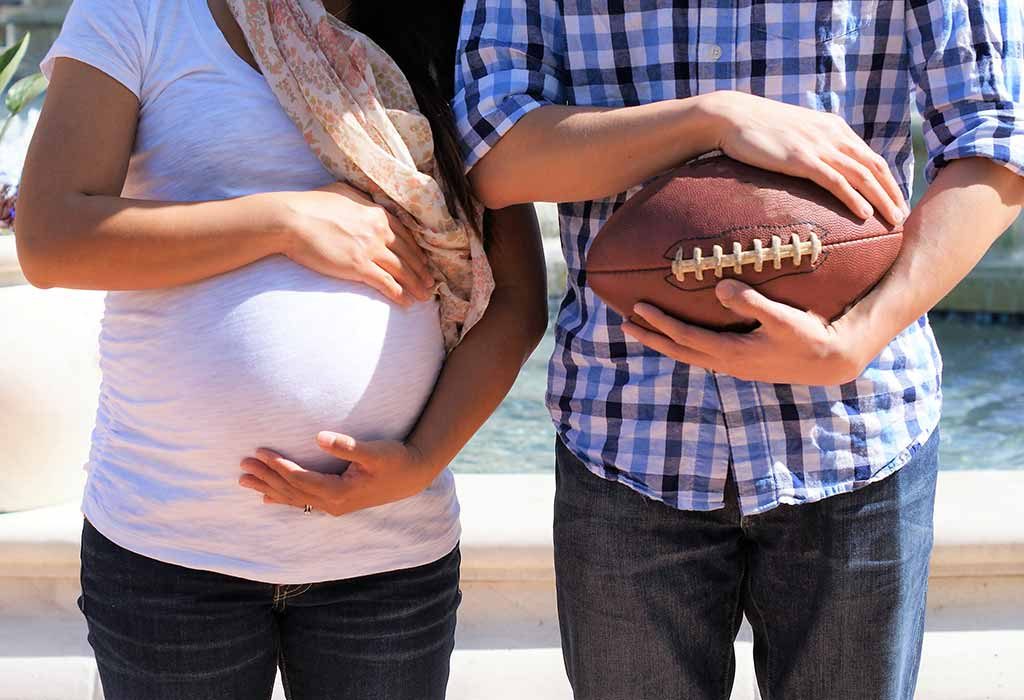 If the parents-to-be are sports enthusiasts and a little sports star is one the way, then a sport-themed baby shower is the obvious choice. You could either choose the favourite sport of the family or go for a generic sports theme, but no matter what you go for, it would be perfect for hosting a wonderful baby shower. Use a few of these baby shower ideas for planning the best baby shower ever!
Sports Baby Shower Invitation Ideas
The invitations are the first things you should design and send out since you would want all your guests to plan accordingly. Here are a few sports-themed invitation ideas:
1. All Sports Invitations
This idea is perfect when your theme is sports in general. The invitation could feature the details of the baby shower along with a message at the top saying "a little ALL-STAR is on the way!" The invitations could contain pictures of little onesies in decorations of popular sports.
2. Baseball
The baseball sports invitations can have baseball-themed, onesie-shaped invitations with all the details. You can also include some baseball glove-shaped invitations. This is a wonderful sports-themed baby shower invitation idea for boys.
3. Football
Football invitations could be in the shape of a football or a rectangle with football field designs.
4. Soccer
Create onesie-shaped soccer balls to reflect your soccer-themed baby shower perfectly!
5. Basketball
Basketball-themed, onesie-shaped invitations are simply too beautiful and perfect for a sports-themed baby shower!
6. Tennis
For a tennis-themed baby shower, you could opt for a tennis tournament ticket-shaped invitation with blue, green, and white colours!
Sports Baby Shower Decoration Ideas
You can never go wrong when you choose a sports-themed baby shower. However, Here are some ideas you can consider when in doubt:
1. Hanging Decorations
One of the best decoration ideas is to string a clothesline across the party room ceiling using some clothespins to hang up decorations, such as sports onesies, baby-sized jerseys, little toy footballs, baby-sized ball caps, and other sports baby gear. All of these accessories could be based on popular teams or your favourite team!
2. Balloon Table Decorations
Purchase a few sports-related balloon bouquets and tie them to a piece of sporting equipment, such as a bat, ball, or even a trophy. The equipment can also be small so that your guests can see each other while sitting at the table.
4. Flower Bouquet Centrepiece
For a pretty, fresh sports baby shower centrepiece, you could go for a flower bouquet decorated in the sports theme. Choose flowers in the colour scheme, and you are good to go!
5. Stuffed Animal Centrepieces
Another great centrepiece idea is stuffed animals. These can make adorable additions to the table decorations for the baby shower and also a good addition to the little one's stuffed animal collection later. No matter which stuffed animal you go for, it will soften the theme and make it a perfect piece for a baby shower.
6. Sports Accessory Centrepiece
You could use a hockey helmet or a football for the centrepiece, and you could spell the word "Baby" using alphabet stickers, on one or both sides.
7. Scoreboard Decorations
A scoreboard is a wonderful addition to your sports-themed decorations. Hang it on the wall or the table in the party room. All you have to do is buy a black poster board, some red and white coloured paper, cut the numbers and the words, and stick them on the board.
Sports Baby Shower Dood and Drink Ideas
You could get the kind of food that people love to eat at sporting events, such as:
Hot dogs
Fries
Hamburgers
Snow cones
Corn dogs
Gatorade
Sports Baby Shower Cake Ideas
Who would not love a piece of dessert at a party? In addition to the regular sports-themed cake, cupcakes, and football cakes, you could check out the following recipes that would make your baby shower even cuter!
1. Frosted Peanut Butter Football Cookies
Game-time sweets are ideal for a sports-themed baby shower. Add a few of these cookies to the table, and they will be gone in no time!
Ingredients:
Peanut butter cookie mix
Oil
Water
Eggs
Chocolate frosting
Creamy peanut butter (1/4 cup)
White decorating cookie icing
Instructions:
Make the cookie dough as per the package instructions.
Shape the cookie dough into 1½- inch balls. Place the balls on ungreased cookie sheets and then press each dough balls into ovals that are around ¼ inch thick.
Bake the dough at 375° F for about 10 minutes or until the cookies have become light golden brown around the edges.
Place the cookies on cooling racks and allow them to cool completely.
Take a small bowl, mix peanut butter and chocolate frosting in it.
Spread the frosting over the cookies and draw football designs using white frosting.
2. Football Cupcakes
Arrange these football cupcakes on a beautiful tray, and they can be a wonderful addition to your decorations.
Ingredients:
All-purpose flour (1½ cups)
Granulated sugar (1½ cups)
Cocoa powder (3/4 cup)
Baking soda (1½ teaspoon)
Baking powder (3/4 teaspoon)
Coarse salt (1/2 teaspoon)
Large eggs (2, lightly beaten)
Warm water (3/4 cup)
Milk (1/2 cup)
Sour cream (1/4 cup)
Unsalted butter (1/3 cup, melted)
Pure vanilla extract (3/4 teaspoon)
Mints (18)
Peppermint buttercream
White jimmies (1 cup)
Dark green nonpareil sprinkles (1 cup)
Instructions:
Preheat the oven to 325° F.
Then, using paper liners, line about 18 cups in two standard muffin tins.
In a large bowl, whisk together cocoa powder, sugar, flour, baking powder, baking soda, and ½ teaspoon salt.
Take another bowl and whisk together warm water, eggs, sour cream, milk, vanilla, and butter. Add this to the dry ingredients in the other bowl and whisk until smooth.
Inside each of the muffin cups, pour 1/3 cup batter, and bake for about 25 minutes until the tester comes out clean. Let the cupcakes cool completely.
Cut corners off the mints using a paring knife and run the knife along the edge to make a rounded football shape. Arrange five jimmies on the mint using the frosting as an adhesive to decorate the football.
On each cupcake, spread a thin layer of buttercream.
Take the nonpareils in a small bowl and dip the top of each frosted cupcake to coat. From the centre of each cupcake, scoop off nonpareils and place the football-shaped mint in there.
Sports Baby Shower Games Ideas
A baby shower would not be complete without baby shower games. Here are a few fun sports-themed game ideas to keep your guests entertained:
1. Famous Sports Trivia Game
This free, printable game provides the names of some of the most popular sports figures. Your guests will have to name the sport they are known for. The guest that gets the most answers right will win the game!
2. Playstation or Wii Sports Tournament
If your guests love gaming, then you must definitely have a Wii or Playstation Tournament at the baby shower. The sports tournament could be football, boxing, bowling, baseball, etc.
3. Water Balloon Volleyball
If you have an outdoor party, then the game is perfect! Make two teams, and form pairs in each team. Hand each pair a towel. Keep a water balloon on a beach towel and let the game begin. The pair with a balloon on their beach towel volley it over a net and the other team must catch it with their beach towels. The team with the highest points wins the game.
4. Outdoor Football Toss
This is another fun outdoor game that features some hula hoops and footballs. Hang some hula hoops on the branches of a large tree. Mark a line on the ground for the participants to stay beyond while throwing the balls through the hoops. The guest with the highest point wins.
5. Basketball
You could either use an existing outdoor basketball court or set up one of the Fisher Prices indoor basketball nets. Split the guests into two teams and let them shoot standing at a certain distance. The team that gets the most points in a minute wins the game.
6. Bottle Bowling
Bottle bowling is just like normal bowling, but all the things you use for the game would be a bit different. You could use tennis or other small balls and a few bottles for the pins.
Sports Baby Shower Favours
A party favour is the best way to thank your guests for being a part of a wonderful occasion. For a sports-themed party, you could consider the following party favours:
Miniature soft sports balls
Whistles
Bubble gum tape
Nachos
There are so many sports baby shower ideas out there, and you could go for the best according to your specific theme or colour scheme. These ideas will surely take your guests into a whole new sports universe!
Also Read:
Harry Potter Themed Baby Shower Ideas
Winter Wonderland Themed Baby Shower Ideas
Amazing Unicorn Themed Baby Shower Ideas