Ragi for Babies – Amazing Health Benefits and Recipes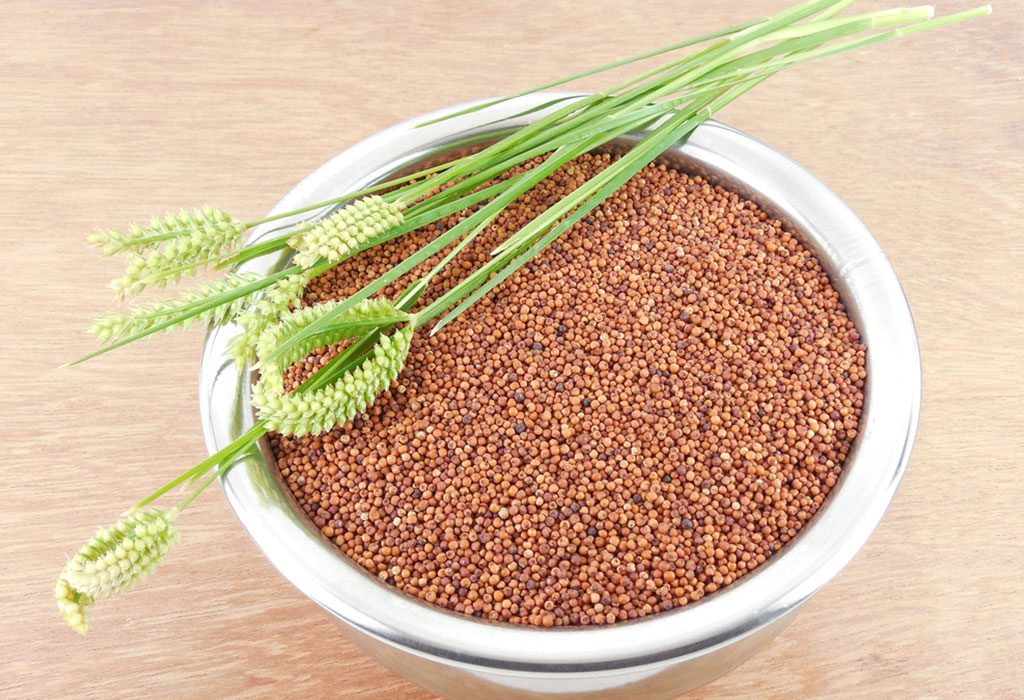 A wholesome diet is the key to a baby's healthy growth and development. It is never too early to start eating healthy, and by setting your baby on this path, you are laying the foundation for a fit lifestyle. One of the healthiest grains that you must incorporate into your child's diet is ragi, which is known as a super-food for its numerous benefits.
Video: Benefits of Finger Millet (Ragi) for Babies (Plus Healthy Ragi Recipes)
What Is Ragi?
Ragi, also known as finger millet or nachani, contains proteins, iron, and calcium in high amounts. India is a leading producer of ragi in the world. This whole grain contains important amino acids like phenylalanine, methionine, isoleucine, and leucine. Ragi can be cultivated even when there is a drought.
Health Benefits of Ragi for Infants
One question that often comes to a parent's mind is—Is ragi good for babies? The answer to this is, yes. Ragi is packed with essential nutrients and is a healthy addition to the diet of babies, right from the age of six months. Here are some of the health benefits your child can derive from this super cereal:
The calcium content of ragi is extremely high, and hence, is beneficial for your child's developing bones. It helps mitigate the risk of bone fractures and eliminate the need for calcium supplements. Apart from that, ragi also improves the production of blood in the human body.
Fibre Aids Digestion and Makes Babies Feel Full
The amount of dietary fibre in ragi promotes digestion and helps your child stay full for a longer time. The amino acids present in ragi do away with the excess fat around the liver and reduce cholesterol levels in a child's body, thus, keeping obesity at bay.
Rich Source of Natural Iron
Natural iron present in ragi can help prevent anaemia in children. Sprouted ragi contains a good amount of Vitamin C, which aids in better absorption of iron. Ragi, due to its high nutritional content, prevents malnutrition in babies.
The presence of a significant amount of antioxidants in ragi helps relax the body and prevent problems, such as insomnia, anxiety, and headaches in children.
The presence of the amino acid methionine helps promote healthy skin and hair in your child.
Video: How to Make Ragi Porridge for Babies
Ragi Recipes for Your Baby
Nothing beats making some nutritious food for your little one. Always clean ragi by washing it well with water.
1. Homemade Ragi Porridge Recipe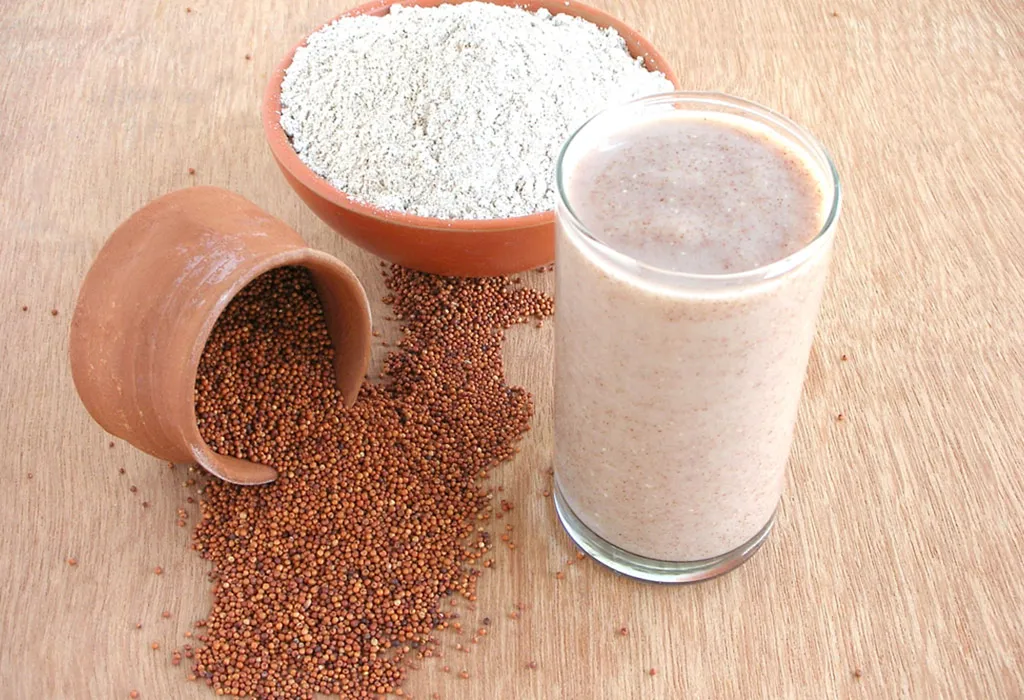 Here is a ragi porridge recipe for babies, as well as the method of making ragi malt.
Ingredients:
1 cup of water
1 tsp of ghee
½ cup of milk
2 tsp of ragi powder
A pinch of grated jaggery
Preparing Porridge Powder:
Drain the ragi grains and dry them in the sun by spreading them out on a clean cloth.
After the ragi is fully dry, roast it on a medium flame till there is an aroma.
Place the roasted ragi on a plate and let it cool.
Grind the cooled ragi to a fine powder.
Store the powder in an airtight container.
Use as per your requirement.
How to Make Ragi Porridge:
Place a pan on the flame and heat the ghee in it.
Then, add two teaspoons of ragi powder and sauté it lightly.
Mix in one cup of water and half a cup of milk.
Keep stirring, until the flour blends well with the milk and ensure there are no lumps.
Sprinkle the grated jaggery, and mix till it dissolves completely.
Switch off the heat when the desired consistency is obtained.
2. Ragi Malt Recipe
Soak a cup of ragi in two cups of water for a few hours. Drain and grind the soaked ragi by adding a little water, as required, to extract the juice. This juice can then be mixed with milk and cooked with a little jaggery or sugar, added for taste. Adjust the consistency as required by adding more milk.
3. Ragi Idli Recipe
This wholesome ragi idli recipe is ideal for babies above seven months of age.
Ingredients:
1/2 cup of ragi
1/4 cup of urad dal
1/4 cup of poha (flattened rice)
1 grated carrot
How to Make Ragi Idli:
Thoroughly wash and soak the urad dal in water for eight to nine hours.
Thoroughly wash and soak the poha in water for three to four hours.
Grind/ blend the soaked urad dal until you get a smooth paste. Add water if required.
Add the soaked poha and grind/blend until smooth.
In a separate bowl, take some ragi flour, add water as required, and mix until you get a smooth paste.
Pour the urad dal and poha batter into this and mix well.
Cover the mixture and let it ferment overnight.
The next morning, add a grated carrot to the batter and mix. The idli batter is now ready to be used.
Coat the idli moulds with a drop of oil and pour a spoonful of the batter in each one.
Steam for 10-15 minutes in an idli cooker.
Precautions to Take
As with all things related to your child, hygiene and cleanliness assume importance when you make and feed your child homemade ragi porridge. Ensure that all the utensils used for feeding are thoroughly sterilised before you start feeding. Also, make sure your hands are scrubbed with soap before you begin.
No other cereal can even come close to the type of health benefits that ragi offers a growing child. The sooner you make ragi a part of your child's daily diet, the sooner he will start reaping these advantages. Ragi powder, whole ragi, sprouted ragi, and ragi flour are just some of the options you can choose from, depending on the recipe you want to try out.
Disclaimer: This information is just a guide and not a substitute for medical advice from a qualified professional.