Baby Skin Rashes & Conditions – Types & Treatment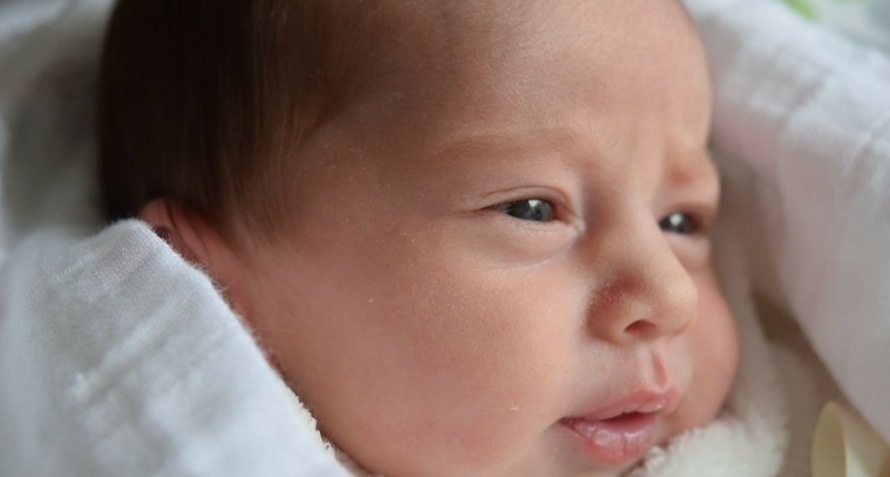 Babies are delicate and require a lot of care in their initial months and even years. This covers everything, right from the clothes they wear, to their food and their skincare. A baby's skin is delicate and susceptible to irritation, which often leads to skin conditions like rashes. It's very difficult to see these rashes on the baby. Most of them aren't harmful and go away on their own. But sometimes, a strange spot could be the indicator of something more serious. There are many different causes of rashes, and they all show different symptoms. Knowing what these rashes are, what are the symptoms and ways to treat them will save you from a lot of unnecessary stress. Read on to understand all about baby rashes and how to keep your baby at ease at such times.
8 Different Types of Rashes
Your precious little bundle of joy spent nine months in your womb before she came out and said hello. This is a drastic change, and your baby – like a lot of other babies – needs time to adjust to this change. Many skin problems in newborns are caused as a result of this. Here are 8 common baby skin rashes and conditions that your newborn may suffer from.
1. Pimples and White Spots
What Does It Look Like?
During the first few weeks, your newborn might develop tiny pimples on her nose, cheeks, and forehead. You might also see tiny white spots on her face (called milia) or on her gums and/or palate (called Epstein pearls).
What Causes It?
Also known as 'baby acne', the pimples you see on a newborn are not related to hormonal changes of oil imbalance (as in the case of older children). The most likely cause of baby acne is yeast, a type of fungus. On the other hand, milia is caused by clogged oil glands.
How to Treat It
Newborn baby acne is self-limiting. This means that the condition does not need medication or medical attention, and will improve and clear out on its own. Similarly, as your newborn grows older, her oil glands will open up, and the milia will disappear, too.
2. Red Dots
What Does It Look Like?
Sometimes, babies get red dots called petechiae on the skin. The red dots look like small dots made with a fine-point pen.
What Causes It?
Petechiae is caused by the rupturing of blood capillaries. When the baby squeezes herself out of your birth canal, some of her capillaries may get ruptured, causing petechiae.
How to Treat It
Petechiae does not require medical assistance or attention. The condition will improve on its own in time.
3. Baby Eczema
What Does It Look Like?
Eczema makes the skin dry, scaly, and itchy. Sometimes, there might be tiny red bumps that ooze when scratched.
What Causes It?
Eczema is usually seen as a result of an allergic reaction. It is most common in babies whose parents have a history of allergies in the family. Eczema is not infectious, but can cause your newborn a lot of discomfort.
How to Treat It
The best solution for eczema is to avoid the triggers: dry air, soaps and detergents, etc. Dress your baby in light clothes, and use soft sheets for her. Consult the doctor for the frequency of bathing, the use of proper soaps and moisturisers, and if the condition does not improve.
4. Diaper Rash
What Does It Look Like?
A diaper rash causes the skin around your newborn's genitals to turn red and sensitive. Your baby may cry if contact is made with the affected area.
What Causes It?
Moisture is the biggest enemy of baby skin, and diaper rashes are typically caused by trapped moisture. They may also be caused if there is a considerable delay before the newborn's soiled diaper is changed.
How to Treat It
Prevention is the best cure for diaper rash. Make sure you keep your baby diaper-free for at least a couple of hours every day. Do not use highly absorbent diapers, as one tends to leave them on longer, thereby predisposing the little one to a diaper rash. Buy the correct size of diapers, too (as tight diapers will not allow the skin to breathe).
5. Heat Rash
What Does It Look Like?
It is also called as prickly heat or 'miliaria'. It appears as a red or pink rash all over the covered area of the body. It is itchy and might result in a burning sensation.
What Causes It?
Trapped heat is what causes miliaria in most babies. Moms tend to overdress their babies at times, keeping them covered even in warm or hot weather. This causes the skin to turn red and develop a heat rash.
How to Treat It
A cool bath and loose, cool, cotton clothes are a good way to provide relief. Make sure you air your newborn's skin well enough to allow it to cool down completely, before you dress her, especially after bathing in summers.
6. Perioral dermatitis
What Does It Look Like?
A rash can be observed around the baby's mouth and on her chin, causing the skin around the mouth to turn red.
What Causes It?
This rash is caused if the baby's spit and drool is allowed to sit without being cleaned properly and in a timely manner.
How to Treat It
This rash is not a grave condition, and does not require medication. Make sure you wipe your baby's spit off her mouth and chin (irrespective of whether it is plain drool, or drool produced during feeding).
7. Erythema toxicum
What Does It Look Like?
During the first few days after birth, some newborns get this condition. It is characterised by tiny red pus-filled bumps all over the newborn's body.
What Causes It?
This rash might sometimes be due to extreme cold weather. Some connection between erythema toxicum and harsh detergents has also been drawn, but remains unproven. The most commonly accepted cause of erythema toxicum is the activation of the immune system, when the baby comes out of the mother's womb and is exposed to the environment.
How to Treat It
There is no specific treatment required, as it is a self-limiting condition and will typically resolve within a couple of weeks.
8. Scaly Scalp
What Does It Look Like?
Also known as cradle cap, a scaly scalp is characterised by oily, yellowish scales on the crown of the baby's head.
What Causes It?
The surge of hormones experienced by a mother in the last few weeks of her pregnancy cause cradle cap in some babies. These hormones sometimes trigger oil production in the baby, leading to cradle cap.
How to Treat It
Cradle cap can be treated by applying oil or shea butter and scrubbing before shampooing with a mild baby shampoo. Breastfeeding is also thought to ease the condition.
WATCH: Paediatrician Jennifer Shu Explains Common Types of Baby Skin Rashes
Key Takeaway: This video shows several examples of babies suffering from some of the common baby skin rashes that plague newborns. Watch paediatrician Jennifer Shu as she explains each condition.
Tips to Avoid Skin Rashes in Babies
Most of the conditions mentioned above are benign. They do not require medical attention or assistance. There are several things you can do to avoid your newborn's sensitive, delicate, and soft skin from getting damaged. Here are some general tips regarding the same.
Make sure you keep your baby clean at all times! While a bath may not be recommended for newborns, make liberal use of medicated baby wipes.
Moisture is the main culprit for most baby skin conditions. Ensure you never let moisture get trapped between the skin folds of your baby's body.
Neither under-dress your baby, nor over-dress her. An under-dressed baby is more likely to lose skin moisture, while an over-dressed baby is susceptible to excess heat.
Do not be afraid to 'air' your baby's skin. Leave her free of clothing for a while, especially between changes and after a bath (for older babies).
As unbelievable as it sounds, baby skin does not require to be powdered! In fact, powder can cause the baby's sinuses to be inflamed, or can even give the poor one a cough.
Babies need sunscreen, too, as they are susceptible to sunburns. Consult your paediatrician about the same.
Buy paediatrician-approved baby products.
While babies never come in direct contact with detergents, indirect contact is established through the baby's belongings – her clothes, toys, bath-wear, napkins, etc. Make sure you use a very mild detergent for washing your baby's belongings (including her toys).
Always wash your own hands thoroughly (with a mild hand wash) before handling your baby. Also, make sure you yourself maintain good personal hygiene so as to never become the source of the infection!
Give your baby enough and quality nourishment to strengthen her body from within.
When to See a Doctor
Most rashes subside on their own. It can take anywhere between 2 and 6 weeks for a skin condition to disappear. However, if your baby's skin condition is accompanied by other symptoms, it is definitely a cause for worry! Watch out for the following:
Fever
Pain
Crankiness
Fluid-filled bumps
If the condition does not subside within a month's time
Baby skin rashes, although they do not cause much harm, can look really unpleasant, and it may cause you a lot of distress to see your baby so. But remember, more often than not, there is no cause to worry! Make sure your baby is well-fed, clean, and well-rested, and the rash will disappear in no time.