Akshay Kumar Does These 8 'DAD' Things Together With His Kids & They're Adorable!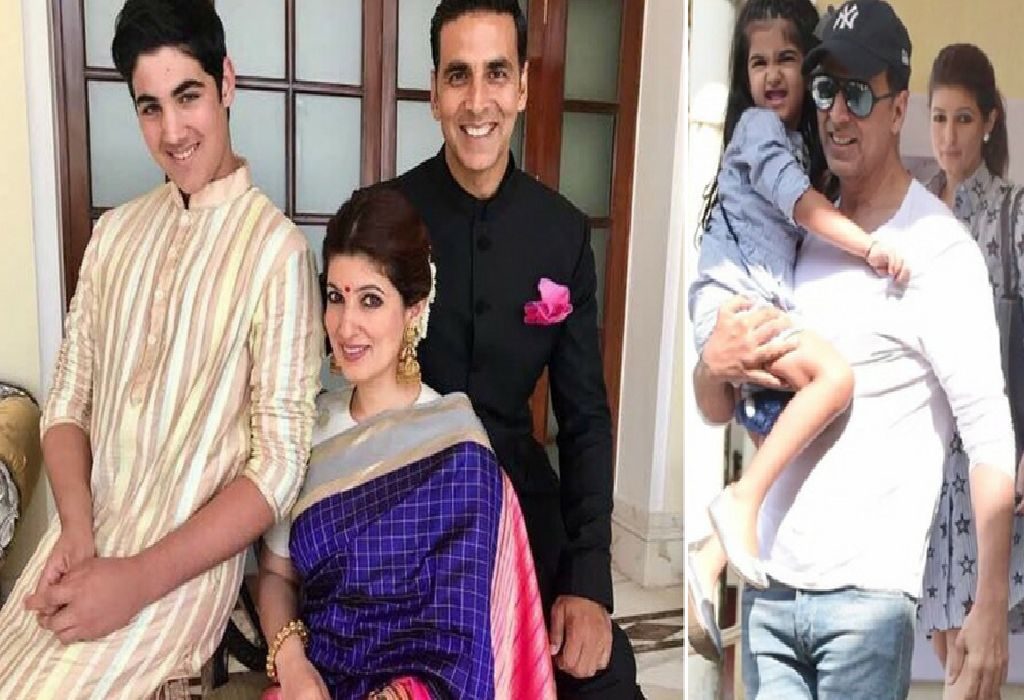 You are your child's first and best teacher. He learns the ways of life from you, the right and the wrong, the good and the bad. This is why, as parents, we should strive to teach our kids the life lessons that have shaped us. The only way to do this is by spending quality time together – and if you can add a dollop of fun to this, nothing like it! Bollywood Dad Akshay Kumar started out as a chef but today is one of the most popular stars of commercial cinema. So, how is he making sure his kids grow up into independent and strong people, just like him? Well, Akshay's secret is interesting and something we can all imbibe…
The biggest lessons that Akshay Kumar wants his kids to learn are those of independence, gratitude and self-reliance. He wants his kids to know the value of hard work. And his approach to parenting is centred on these beliefs.
"Whatever they get, they have to earn it. I want them to be responsible human beings who are also full of gratitude for what they have. They need to understand that luxuries are a result of achievements and hard work.
Here are the eight things that Akshay and his kids do together from time to time. They are simple, everyday habits but ones that help create memories and learnings for life.
1. They go on walks together, especially after a fresh rain-shower
The heavens have opened and the monsoons are already in full swing! Akshay and his kids go on walks in such weather and commune with nature. They look at the sights and sounds and observe how beautiful the rains have made everything. This special time spent outdoors invigorates them and tells them that our environment is an important part of our life.
2. He spends time reading with his kids, even if the stories are about ladybirds
Even though she is so little, Nitara is already a bookworm! She loves reading all sorts of books, from the Ramayana to books about princesses to ladybirds! Akshay makes sure they read together, learn new words, tell new stories and understand just how beautiful an experience reading can be.
3. They build doll-houses together and concoct all kinds of creative stories
In case you are wondering about the project that's ongoing here, little Nitara has a lovely explanation. According to her, the building is Lanka and the two dolls in the pink chariot are Sita and Hanuman. She sure sounds like a lover of mythology! Kids look up to us to partner in their play ideas and become their buddies. It helps them try new things, explore new horizons, and get a chance to impress Daddy. This sets an early foundation for team work and self-confidence.
4. He gets his toenails painted a bright pink whenever daughter dearest feels like it
Nothing like experimenting on your Dad, right? Akshay believes in allowing his daughter complete creative liberty, even if that means making his toenails a canvas!
"My kids are as kids should be. They play, have fun, and just be… I don't push them, I try to motivate them. But instilling right values is important, that's what my parents did, and that's how I want it for my kids. They value what they have. Everyone should be thankful for the many blessings they have."
This is terrific for Daddy-children bonding and it reinstates the fact that Daddy is, above all, their friend and confidant.
5. He spends his evenings exclusively with the kids and they share what happened during the day
For instance, recently, Twinkle Khanna was out of town for a professional assignment. Being away from home when there are young kids to look after is every mom's nightmare. But when Akshay is around, there is nothing to fear! He would return home early in the evening and spend time with the children. What did they do all day? How did they spend their time? These would be the highlights of their conversations. Not only is this a great idea to keep tabs on the kids but also make it clear to them that mom may sometimes need away time, and Daddy is also very much available for anything they need.
6. They have lots of fun in the park together, especially on Sundays
Akshay Kumar has maintained his fitness religiously and also wants his kids to do the same. This is why they never miss out on weekly trips to the park where they have tons of fun on the slides and swings. Physical exercise becomes so much more enjoyable when everyone joins in, right?
7. He takes them on vacations that are filled with little life lessons
Daddy makes sure that the kids value money and don't splurge unnecessarily. Even on vacations, they travel economy class. Lately though, his son Aarav travelled business class but this was to honour a special achievement – his black belt in martial arts! The message is simple – you have to work hard for everything. The rewards will come.
"We decided to go on a family holiday and Aarav would travel business class. He is getting to travel business class because he worked hard to get his first degree black belt (in kudo). If he hadn't got it, he would have travelled economy. He has travelled economy on many occasions without cribbing because he understands that he needs to earn it, nothing is handed to him on a platter."
8. He makes sure Mamma and the kids get their time together by sharing in the chores
Finally, he is the kind of Daddy who respects his spouse and her interests. When it's time for Twinkle to practise yoga and for little Nitara to join her, Akshay makes sure the household is functioning well and he also runs errands when needed.
"My wife (Twinkle Khanna) is the one who has brought them up so well…in fact, after our marriage, she has brought me also up really well."
This means Nitara is getting lessons both in fitness and yoga as well as in relationships and equal parenting!
Bravo, Akshay! Your approach toward parenting is so simple yet so meaningful. Indeed, it is the little things that make a world of difference. These are the things we and our kids will always hold dear and use as stepping stones in life. We are sure Aarav and Nitara will grow up to be delightful people.
"To all the fathers out there, hug your kids for as long as you can, because it's your grip that makes them so strong to stand there and face it all."