Aishwarya Rai Tells Us The #1 Reason She Loves Aaradhya So Much!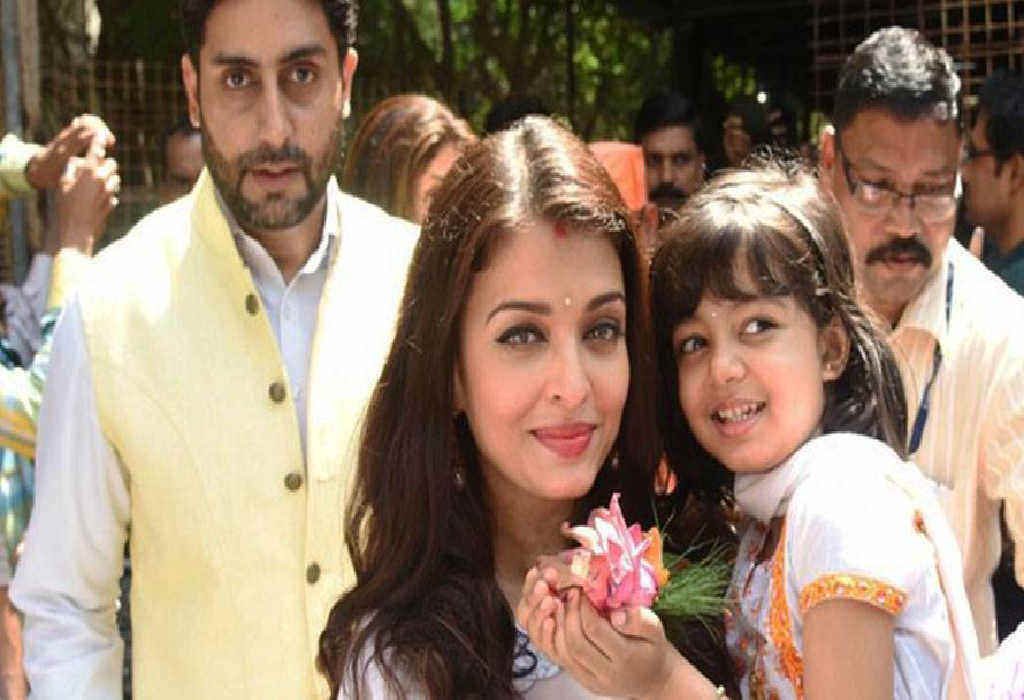 With the Durga Puja festivities all around us, and the air fragrant with prayer and happiness, the Bachchan family also ventured out pandal-hopping. Recently, the entire family, led by Amitabh Bachchan, attended the Durga Puja celebrations at the Ramakrishna Mission Hospital in Mumbai. On this joyous occasion, when the world celebrates the homecoming of Ma Durga, parents also celebrate the love they share with their children. This is why we so loved what Aishwarya said about her daughter. She gave us the top reason she loves her darling girl so much…
At the Durga Puja festival, all the adults sat in thought, seeking blessings from the Goddess. But the little princess Aaradhya was also rapt in attention and held a lotus as offering. It was the auspicious occasion of Durga Ashtami and she was with the people she loved the most. What else could the little one want? It is on occasions such as these that we truly realize and count our blessings. The gift of family is one nothing else can compare with, especially the gift of a little girl of your own.
This is why, when mommy Aishwarya was asked about her daughter, she couldn't help but tell us why she loves her so much. Here's the top reason she holds the little one closest to her heart:
"Being girlish is easy. Having a lovely little girl like Aaradhya in my life – that angel keeps the child in me alive. I will forever be grateful to God for this blessing called Aaradhya in my life.
I don't quite attribute looks to that because that is not the way I view myself for life. I mean I get it that's how it largely started and that is where the world tends to talk about me. But it is about who we are and who we become, thanks to our experiences."
Source: https://www.pinkvilla.com/
Aish couldn't have put it better. Children are indeed our best connection to our childhood – that time in life when everything was beautiful and we hadn't a care in the world. They let us relive those times and see things and people for who they are. While the experiences of the world may cloud our thinking or predispose us to feeling down and out, our kids stop us from sorrow. With them, we can be as childlike as ever!This is one mommy who knows and appreciates her gift and does everything she can to spend time with her. In our busy lives, we often have to give up on a lot. A picnic with the kids is sacrificed for a work meeting or replaced by an expensive gift. A good night kiss is foregone because the children are asleep by the time Dad is home. Even when we are all together, there is that potent source of distraction – our phones. Aishwarya, on her part, dislikes staring into her phone all the time. She hates how the phone has become the end of conversation.
"We are very quick with excuses. Work, routine, lifestyle, social media and the need to be on it 24/7, I had to say this… I have observed, we don't have time to look at another person and talk to him/her because we are so busy on our phones. People are leaning on conveniently-attributed lethargy."
This is why when Aish is with her husband and daughter, they spend time with each other – sans all technology. Instead, she is cognizant of the joy she has in her daughter and devotes time on her. Children are God's gift to us, believes Aish, and this is the reality she is living in each day.
"By far, the most precious experience has been of Aaradhya and I will be grateful to God (for this)."
We couldn't agree more with you, Aish! Our daughters are our greatest joy in life for the beautiful way in which they colour our world. With them, we become little children who love pretty dresses and music and flowers and festivals. Everything else ceases to matter but being best buddies in a world of technicolour.
One day, our daughters will grow up and have children of their own. The greatest gift that we, as their moms, can give them is the promise of constancy. Come what may, our love for them will never change. With them, we will always be childlike yet sturdy, giggling yet rock-solid enough to protect them from harm.