10 Quick and Simple Halloween Crafts for Kids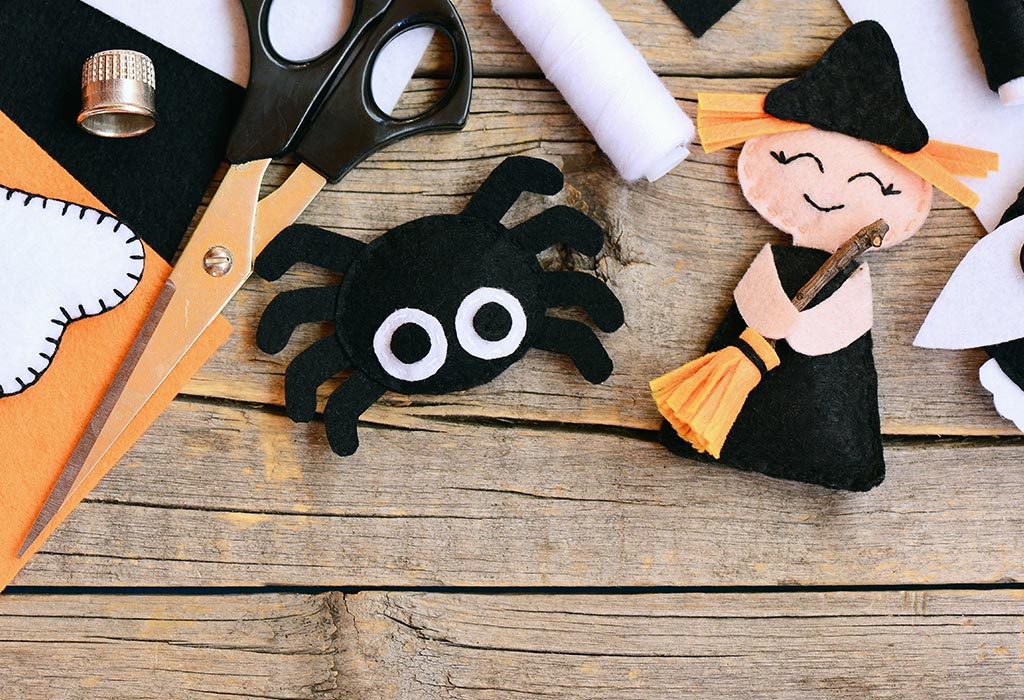 In this Article
Making Halloween crafts for kids can be a lot of fun! You can involve your kids in the craft together and simply double the fun quotient. It can be a sure-shot way to get everyone into the right Halloween spirit and celebratory mood. Plus, kids can show off their creative talent while having an enjoyable time. You can try your hand at some easy crafts so that you may pull it off sans much effort and time. Also, you may be able to do it by using things already available at your house.
10 Easy Halloween Crafts for Children
Here are some enjoyable Halloween arts for children to keep them amused and entertained for Halloween.
1. Halloween Bat
You can make this amazing DIY Halloween craft using a toilet paper roll and hang it as Halloween decorations.
What You Need:
Empty toilet paper rolls
Black paint
Black paper
Two googly eyes
How to Make:
Fold both ends of the toilet paper roll inwards.
Draw bat wings on black paper and cut out the shape.
Tape the toilet roll horizontally onto the middle of the cut-out bat wings.
Paint the toilet roll black.
Once it dries, paste two googly eyes on it.
Source: https://in.pinterest.com/practicallyf/
2. Halloween Witch Hat
A witch hat can be one of the fun Halloween paper crafts for kids which they will enjoy flaunting!
What you Need
Black chart paper
Scissors
Tape or glue
How to Make
Draw the figure of a witch hat on a black chart paper.
Also, draw some extra shapes like circles, bows, stripes, spiders on the paper.
Help your kid cut along the various shapes drawn.
Paste the cut-outs of bows, spiders, stripes on the hat with glue.
You can stick the hat on the wall as decoration or even wear it as part of Halloween accessories.
3. Egg Carton Spider
This cheap Halloween craft can be fashioned from an egg carton which is usually cast away as waste.
What you Need
Empty egg cartons
Black paint
Paintbrush
Thick black thread or wool
Coloured paper for making eyes
Glue
Scissors
How to Make
Cut out the cups from the egg carton to separate them.
Paint them black and allow them to dry.
Upon drying, punch four small holes on every side of each cup.
Pass through the black thread or wool string from one hole to the other on the opposite side to make the spider's legs.
Draw two circles on a coloured paper and cut them out.
Stick them on the cup to make spider's eyes.
4. Paper Plate Spiders
Paper plates can be employed to design spiders with ease. They make for some spooktacular Halloween decorations!
What you Need
Few small paper plates
Paint (any colour)
Googly eyes of varying sizes
Chenille stems
Paintbrush
Glue/stapler
Scissors
How to Make
Paint one side black of two paper plates and allow them to dry.
Chop four chenille stems from the middle to make 8 of them.
Curve each chenille stem a little to form a leg.
Hold the two painted paper plates together and place the chenille stem between them. Staple it down.
Similarly, staple the other legs too.
Close the remaining plates using the stapler.
Paste eight googly eyes of diverse sizes on the uppermost part of your spider.
Punch a tiny hole at the top and insert a string through it for you to hang it as desired.
5. Spider Web Craft
Kids are sure to enjoy turning out adorable spider webs. These are very easy to produce and make for delightful Halloween trinkets.
What you Need
Paint in Halloween colours
Popsicle sticks
Hot glue gun/glue
Yarn in white, black and orange
Scissors
Spider stickers (optional)
How to Make
Set two popsicle sticks in the shape of x and glue them together at the centre.
Take another popsicle stick and place it vertically. Glue the centre point.
Paint all of them black or whichever colour you prefer.
Take a long string of yarn. Tie its one end to any of the popsicle sticks.
Start wrapping the yarn around each popsicle stick.
Once the wrapping is complete, tie the loose end to any popsicle stick.
Do remember to leave a piece of yarn so that you can hang your spider web.
You can add spider stickers to your web to enhance its look.
6. Pumpkin Craft
Your little pumpkin may be superbly entertained creating this pumpkin craft with a recycled item like a toilet paper roll. You can hang it as lantern or kids may simply play with it.
What you Need
Empty toilet paper roll
Green and orange construction paper
Scotch tape/glue
Scissors
How to Make
Cut a small portion off the paper roll as this will form the pumpkin stem.
Next, wrap orange paper about the paper roll to see how much you will need to cover it.
Cut the appropriate size and stick it onto the roll using glue.
Then cut an inch broad strips which will be the pumpkin sides.
Put tiny pieces of tape on both ends of the strips and attach them to the inner side of the toilet roll.
Cut out thinner strips of the orange construction paper to fill in any gaps or openings of the pumpkin.
Be sure while sticking the strips that one side is somewhat flat around the rim so that the pumpkin can sit nicely.
Tape the part of toilet roll that was cut off initially onto the inner surface of the pumpkin.
Cut a leaf using green construction paper and paste it adjoining the stem.
7. Witch Broomsticks
Your kid is bound to get excited making these endearing broomsticks which are so apt for the occasion.
What you Need
Twigs or small sticks
Dried grass
A big stick
Rope
Scissors
How to Make
Gather twigs or small sticks along with dried grass.
Bunch them together, tying with a rope.
Take a big stick and place this bunch at one end of it.
Fasten the bunch to the stick with the rope, making a broom.
Level the ends of the broom by using scissors.
8. Hand Print Witch
This craft can work as a card or invite. You can gift it as a Halloween treat as well.
What you Need
Black, green, orange, brown construction paper
Googly eyes
White card stock
Gold glitter paper
Black sharpie or marker pen
Light brown tube cleaner
Glue stick
How to Make
Trace your kid's hand on a folded green construction paper in a way that when the card is opened the fingers may be separated.
Cut out the trace and stick it on white cardstock.
Next, cut thin strips of orange construction paper and glue it on the top of the hand.
Cut out a hat shape from black construction paper and paste it above the hair. Be sure to make the hat pointy.
Add on googly eyes. Draw a smile and pointy nose.
Stick a thin strip of gold glitter paper on the hat.
Cut slits on a strip of brown construction paper and wrap it about a pipe cleaner to make a broom.
Paste the broom next to the thumb so that it may appear that the witch is holding it.
You can add a Halloween note inside.
Halloween can be a wonderful opportunity to generate some fun time for the whole family by getting everyone to do Halloween-themed activities. Make sure everyone invests in equal involvement and participation to work up the Halloween magic. You can set inspiring family traditions for the holidays along with your kids to ensure the best time for your family.
9. Spooky Garland
You can make this cute ghost garland easily in just 5 minutes with easy-to-find materials.
What You Need:
White paper
Scissor
Clear tape
How to Make:
Fold the white paper into around 3-inch sections and make a cute ghost body with a pencil.
Make sure you make the arms, and those arms are connected to the edge of the paper.
Cut the respective shape and open the folded paper, which will now form a garland.
You can repeat the same process with more white sheets and attach the garlands with clear tape if you want a long garland.
10. Monster Halloween Rocks
Painting with kids is always fun. This Halloween, paint some rocks with your kids and give them a twist with a spooky face. You can place them on the dinner table, near the television, or anywhere in the house as a decoration piece.
What You Need:
Flat stones
Acrylic paint
Googly eyes
Glue
Black sharpie
How to Make:
Clean the flat stones with water (to remove any dirt) and let them dry in the open.
Once the stones are dry, paint them with your favourite colour. Let the stones dry.
Use a black sharpie to make to draw monster mouth and vampire teeth on all stones. You can use white paint for the teeth.
Paste uneven googly eyes to give them a funny look.
Halloween can be an excellent opportunity to generate some fun time for the whole family by getting everyone to do Halloween-themed activities. Make sure everyone invests in equal involvement and participation to work up the Halloween magic. You can set inspiring family traditions for the holidays along with your kids to ensure the best time for your family.
Also Read:
Fun & Easy Homemade Hat Craft Ideas for Kids
Plastic Bottle Craft Ideas for Children
DIY Mask Craft Ideas for Kids