15 Famous Historical Places in India to Visit With Family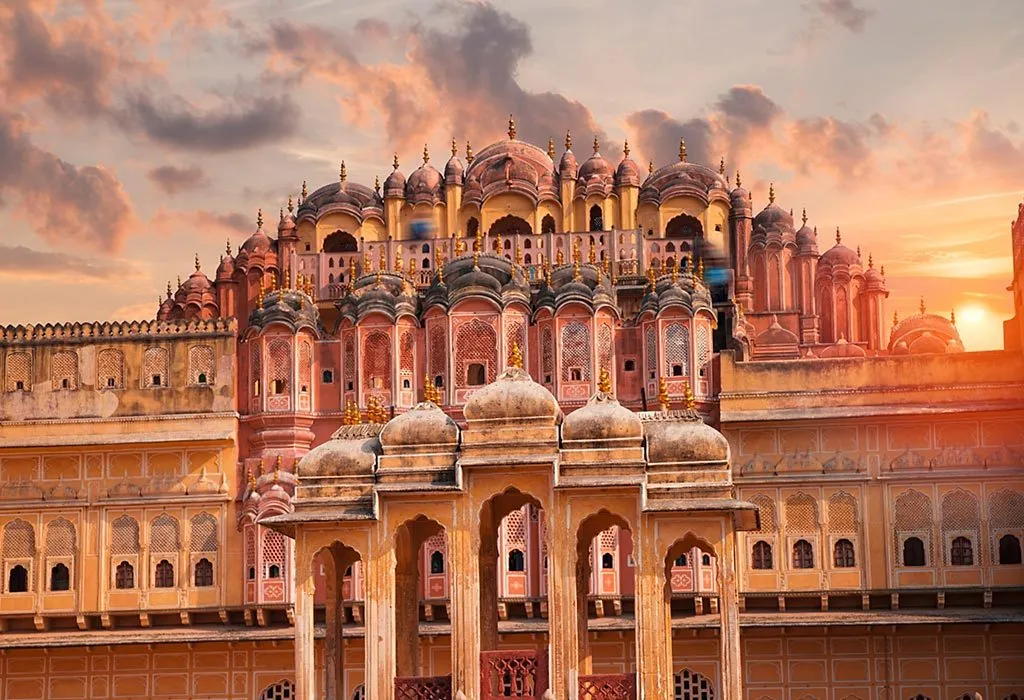 In this Article
India's rich and vibrant history is full of tales of bravery, battles, romance, and valour that have taken place in our ancient forts, opulent palaces, regal structures, and famous historical monuments. They not only reflect our splendid heritage, but also represent India's stunning craftsmanship. Be it wonders of the world like the Mahal, archaeological sites like Nalanda, the magnificent Chola Temples, and colonial architecture seen in cities like Pondicherry or Goa – all have a story to tell of grandeur and glory.
15 Top Historical Places in India You Must Visit
India's bygone era has been a melting pot of diverse rulers, religions and empires, each having left an indelible mark on its culture. Here is a list of historical places in India with information to get a taste of India's rich culture:
1. Taj Mahal
The iconic marble structure is India's crown jewel. It looms reminiscently from the banks of river Yamuna in Agra.
Interesting Facts
The Mughal emperor, Shah Jahan got the gorgeous Taj Mahal built in the memory of his third wife Mumtaz as an epitome of love. It is made using white marble which tends to gradually change its colour in the shifting light of the day. Its construction took about 16 years, starting from 1632 till 1648. According to legends, Shah Jahan ordered soldiers to cut off the hands of the workers constructed Taj Mahal to prevent the building of an identical structure in future. For a captivating experience, you may like to visit Taj Mahal during a full moon.
Entry Fee: For Indians – Rs. 40, foreigners – Rs. 1,000
Timings: 6:30 am to 9:30 pm (Fridays closed)
2. Qutub Minar
This tall minaret made of Iranian architecture and red sandstone in Delhi is a famed tourist attraction.
Interesting Facts
It was built in the 19th century by Qutub Ud-Din-Aibak. It is a UNESCO world heritage site with a height of 240 feet, rendering it as one of the loftiest ancient towers across the world. One can learn about its history by reading the engraved inscriptions in Nagari and Parso-Arabic characters. There is an iron pillar in the Qutub Minar complex which has not rusted in 2000 years.
Entry Fee: For Indians – Rs. 10, foreigners – Rs. 250
Timings: 7 am to 5 pm
3. Ajanta and Ellora Caves
The fascinating Ajanta and Ellora caves in Maharashtra are a UNESCO world heritage site. The beautiful rock-cut sculptures are the essence of ancient Indian art's beauty.
Interesting Facts
The spellbinding murals and sculptures in the 29 Ajanta caves show the lives and rebirths of Lord Buddha and epitomises various Jataka tales. The 34 Ellora caves showcase the blending of three religions: Brahmanism, Jainism, Buddhism. The existence of the caves got known in 1819. And since then, they have been a hot tourist spot. Most caves are now monasteries used for studying and praying.
Entry Fee: For Indians – Rs. 30, foreigners – Rs. 500
Timings: 8 am to 5 pm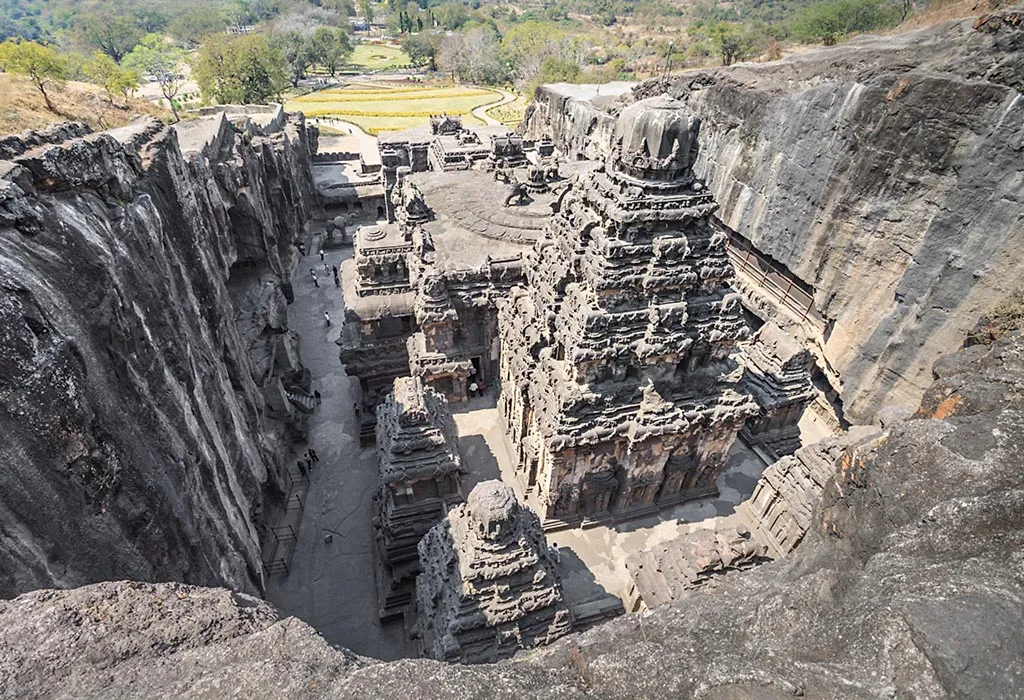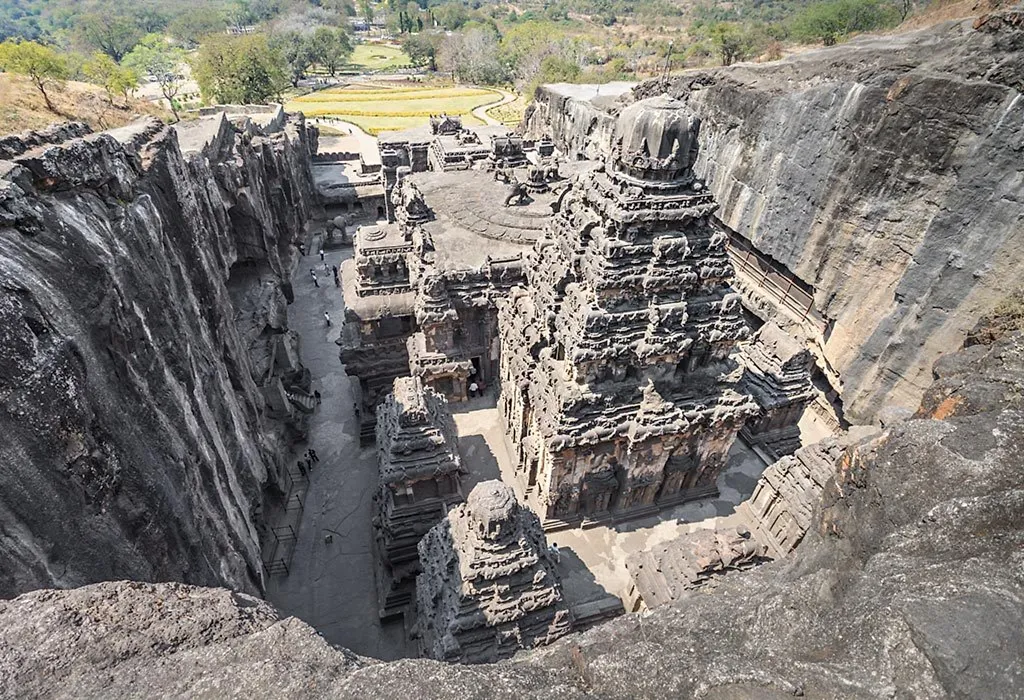 4. Red Fort
Shah Jahan got the Red Fort built when the Mughal Empire was at its peak. It got made when Shah Jahan shifted his empire's capital to Delhi from Agra. It was then called Qila-e-Mubarak.
Interesting Facts
It took close to 10 years to construct this octagonal fort. It hosts important rooms like Rang Mahal, Mumtaz Mahal, Diwan-i-Khas and so on. In today's times, the President delivers his Independence Day speech from the site. Originally the Red Fort was white as limestone was used to build it. The British coloured it red as the limestone started to chip off.
Entry Fee: For Indians – Rs. 10, Foreigners – Rs. 250
Timings: 9:30 am to 4:30 pm every day except Mondays
5. Agra Fort
The Great Mughal Emperor Akbar got the palatial Agra Fort built in 1573. The architectural masterpiece has two elaborately designed gates: the Delhi Gate and the Amar Singh Gate.
Interesting Facts
The fort is built completely of red sandstone. One has to go in via the Amar Singh Gate to discover an ancient walled city bursting with courts, gateways, passages, mosques and palaces. Also called the Red Fort of Agra, it featured in a Sherlock Holmes case called the "Sign of the Four". You can see the marvellous Taj Mahal from here as it is merely 2.5 kilometres away.
Entry Fee: For Indians – Rs. 40, Foreigners – Rs. 550
Timings: Sunrise to sunset
6. Fatehpur Sikri
The stately Fatehpur Sikri sited 40 kilometres west of Agra, was on one occasion the Mughal empire's capital during Akbar's reign. The well-planned city was full of decorated pillars, carved columns, public buildings, palaces, and mosques.
Interesting Facts
It got constructed between 1571 – 1573 AD. It was left uninhabited owing to shortage of water. It has the biggest gateway in the entire world, the Buland Darwaza. Many couples wanting to conceive come to pay their homage to Sufi saint Salim Chishti's tomb in the hope of being blessed with children.
Entry Fee: For Indians – Rs. 40, Foreigners – Rs. 510
Timings: Sunrise to sunset (Fridays closed)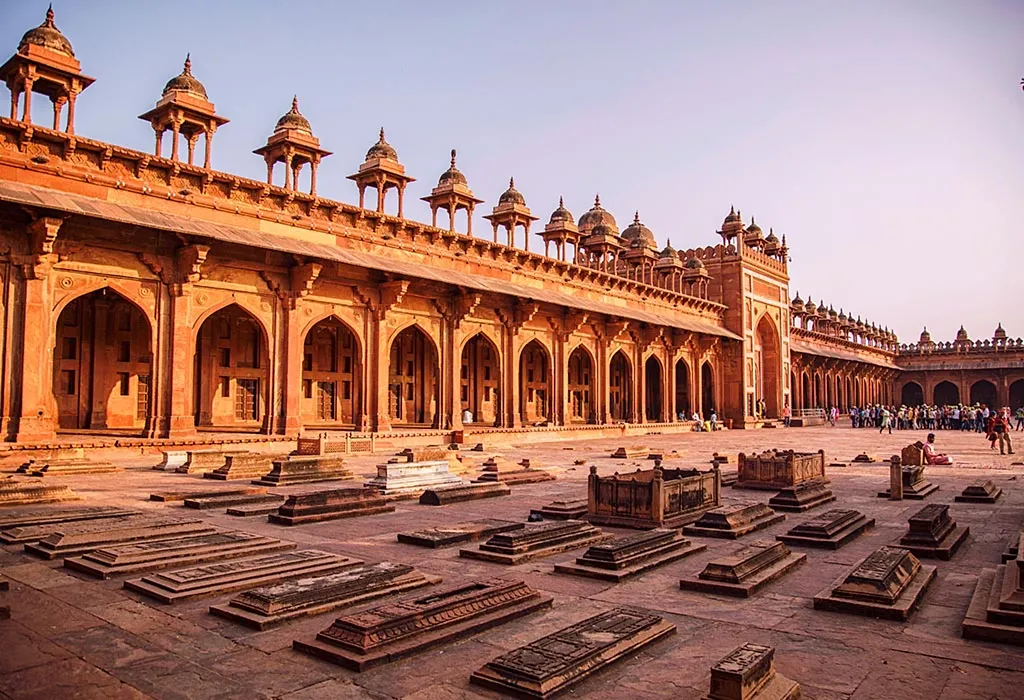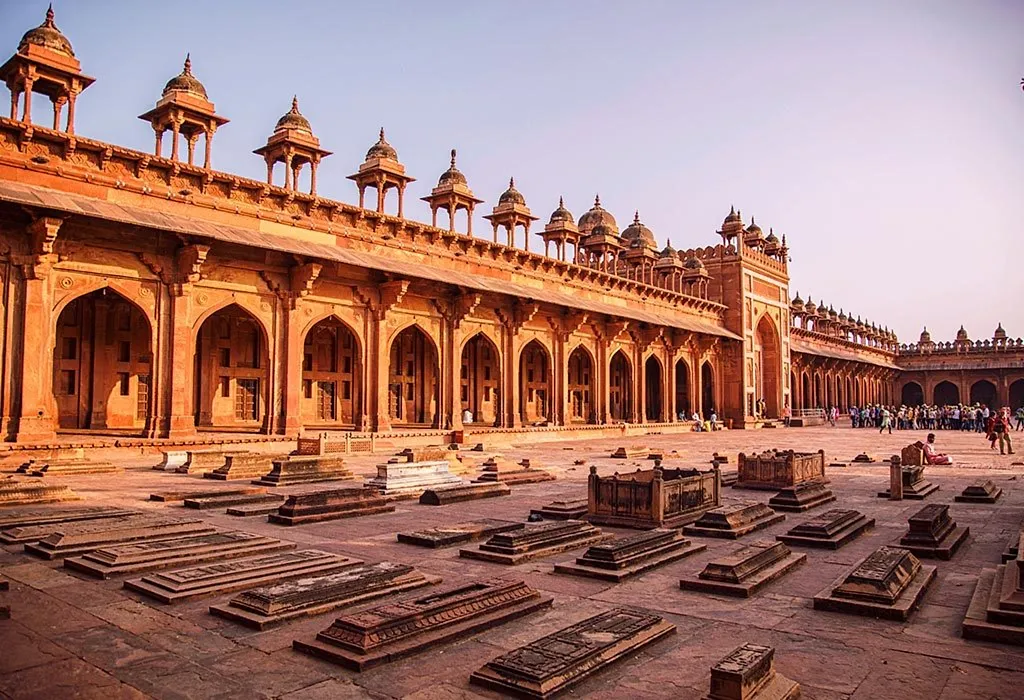 7. Hawa Mahal
Hawa Mahal or the Palace of Winds in Jaipur was planned by Lal Chand Ustad. Made out of pink and red sandstone, it gets its name because it looks similar to a beehive with 953 intricate windows.
Interesting Facts
Hawa Mahal was created more like a gallery for the royal women so that they may look outside. The intricate work on the miniature windows of the palace is amazing. The building has no foundation. It is curved yet stands firm courtesy its pyramidal shape.
Entry Fee: For Indians – Rs. 10, Foreigners – Rs. 50
Timings: 9:30 am to 4:30 pm
8. Humayun's Tomb
The wife of Humayun, Hamida Banu commissioned the construction of her husband's tomb in the 15th century. This grand monument is a delightful fusion of Persian and Indian architecture. It is teeming with beautiful domes, arched alcoves, elaborate kiosks and corridors.
Interesting Facts
Humayun's tomb was among the chief inspirations for the creation of Taj Mahal. This garden-tomb is a UNESCO world heritage site.
Entry Fee: For Indians – Rs. 40, Foreigners – Rs. 510
Timings: 7 am to 7 pm (Fridays Closed)
9. Amer Fort
The impressive Amer Fort is seated atop a hill, Cheel Ka Teela, in Jaipur fortified by the Maota Lake. Raja Man Singh, one of the generals of Akbar was responsible for its construction in 1592. The shiny marble and sandstone along with the captivating architecture make this massive fort a place truly worth visiting.
Interesting Facts
The fort is home to some mystical structures like the Diwan-i-aam, the Diwan-i-Khaas, the Sheesh Mahal. There is also a hidden tunnel which connects it to the Jaigarh Fort. You can relish an elephant ride in the direction of Suraj Pol to get a good Feel of the place.
Entry Fee: For Indians – Rs. 25, Foreigners – Rs. 200
Timings: 9:30 am to 4:30 pm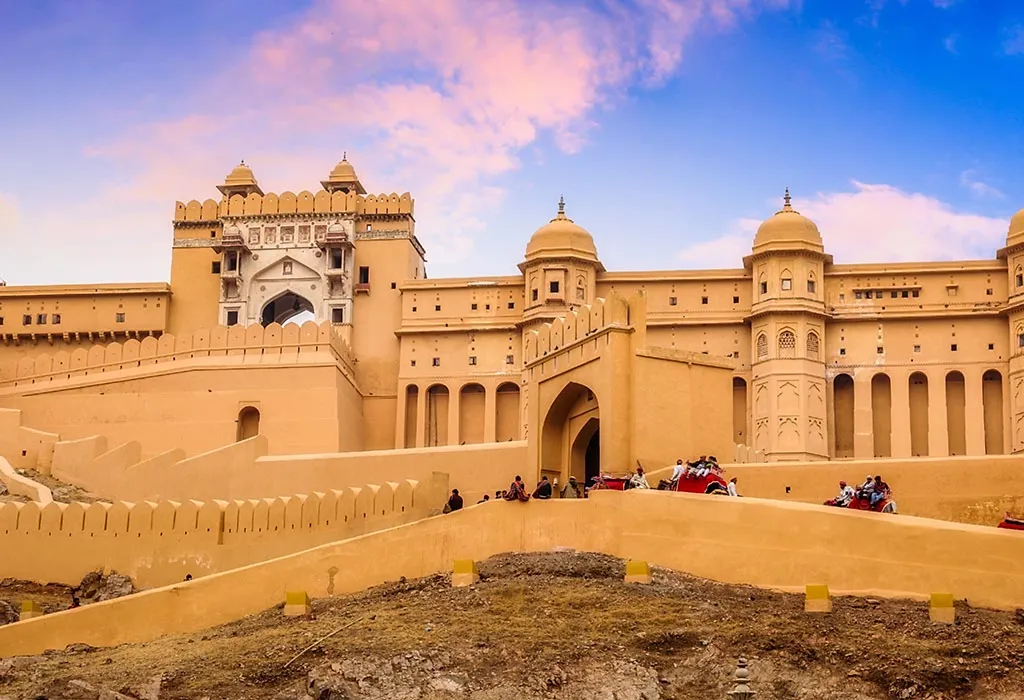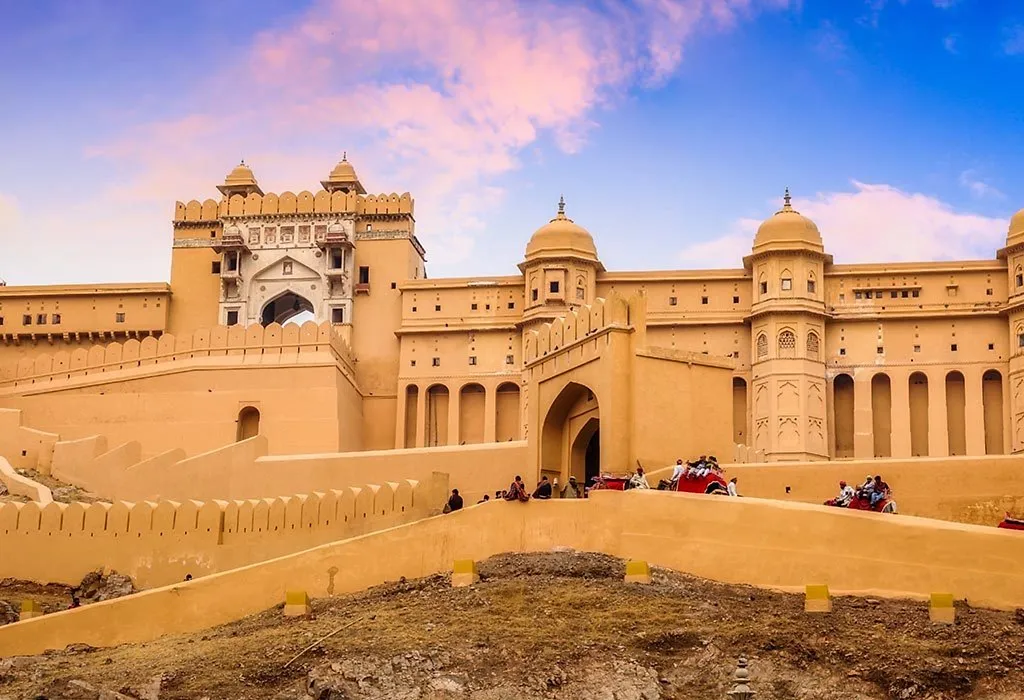 10. Jallianwala Bagh
Placed in the centre of Amritsar, a short distance from the divine Golden Temple lies the Jallianwala Bagh. The area turned into a bloodbath when peaceful protestors were mercilessly shot at on Vaisakhi day in April 1919. The tragedy unfolded when General Dyer commanded his men to fire guns on a peaceful crowd.
Interesting Facts
The horrific incident became one of the turning points of India's struggle for freedom. A memorial with an Eternal Flame of Liberty was created at Jallianwala Bagh to commemorate the occurrence. The garden walls still bear the marks of the fired bullets.
Entry Fee: Free of cost
Timings: 6:30 am to 7:30 pm daily
11. Konark Temple
The Konark Temple in Odisha is devoted to 'Surya', the Sun God. The Kalinga architecture reflects in its dazzling chariot, astounding pillars and alluring walls. The brilliant khondalite rocks further enhance the exquisiteness of the temple.
Interesting Facts
Also called the 'Black Pagoda', the UNESCO world heritage site got built by King Narasimha deva I, king of Ganga dynasty. At the entrance of the temple, you can see two lions crushing elephants along with a human body lying at the elephant's foot. The 12 wheels situated at the temple's base are sundials which accurately denote time.
Entry Fee: For Indians – Rs. 30, Foreigners – Rs. 250
Timings: 6 am to 8 am
12. Khajuraho Temples
The Khajuraho Temples of Khajuraho (Madhya Pradesh), a UNESCO world heritage site is a group of Jain and Hindu temples made by the Chandelas. It echoes the respect and acceptance of different religions in those times.
Interesting Facts
All temples except one are facing towards the east. The temples have intricately carved sculptures and statues which seem to be remnants of the antique Kamasutra culture. The town Khajuraho got its name because it was full of date palms. Date palms in Hindi are called "Khajura".
Entry Fee: For Indians – Rs. 30, Foreigners – Rs. 500
Timings: 6 am to 10 pm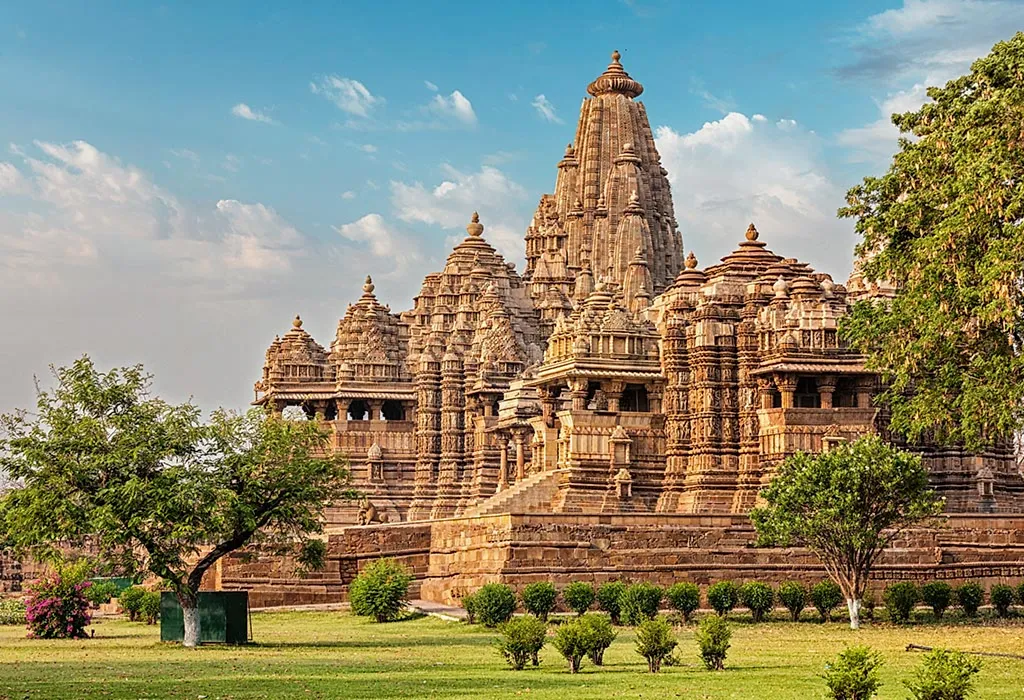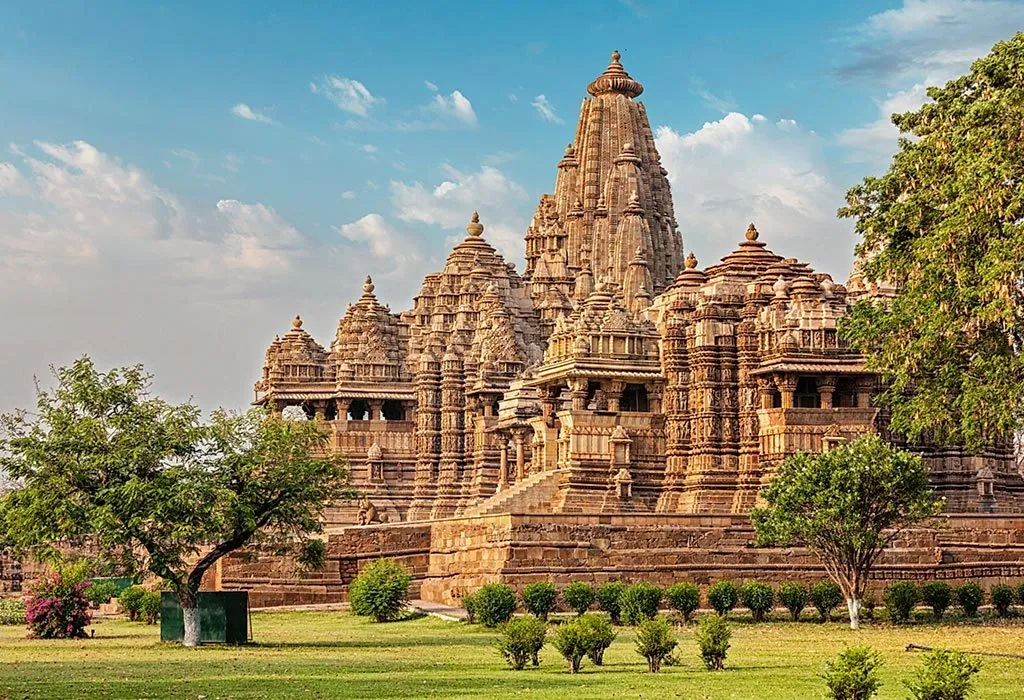 13. Sanchi Stupa
The Sanchi Stupa mirrors the majestic aura of the Buddhist architecture style. The 54 Feet tall stupa portrays Lord Buddha's relics through its mesmeric carvings. It borrows its splendour from its commissioner, the Great Ashoka of the Maurya dynasty.
Interesting Facts
The UNESCO world heritage site was a religious epicentre of Buddhism. The stupa's dome means 'the wheel of law'. Its four gateways have several scenes from Buddha's life and Jataka tales.
Entry Fee: For Indians – Rs. 20, Foreigners – Rs. 250
Timings: Sunrise to sunset
14. Mysore Palace
The Mysore Palace, built by Lord Henry Irwin, a British architect in 1912 is an architectural marvel. Sited in Mysore city, it reflects an Indo-saracenic style with intricate interiors. It got converted into a museum displaying artefacts and pictures of the Wadiyar dynasty.
Interesting Facts
In earlier times, the rulers used to sit on an impressive golden palanquin which was carried by elephants at the time of annual Dasara festivals. Goddess Durga's idol sits inside the palanquin now.
Entry Fee: For Indians – Rs. 40, Foreigners – Rs. 200
Timings: 10 am to 5.30 pm (Sundays and government holidays closed)
15. Hampi Monuments
Hampi monuments in Karnataka are one of the most breathtaking historical places in south India. You may like to visit during the annual festivals of Pampa, Virupaksha and chariot in Hampi to experience the complete glory of the place.
Interesting Facts
Hampi's chariot structures, elephant stables, gopurams, ornate halls illustrate the tale of the great Hindu Vijayanagara Empire. Legend has it that Lord Rama visited this site along with his brother in search of Sita. They received the help of Sugriva and Bali who ruled this place then.
Entry Fee: For Indians – Rs. 10, Foreigners – Rs. 250
Timings: 6 am to 6 pm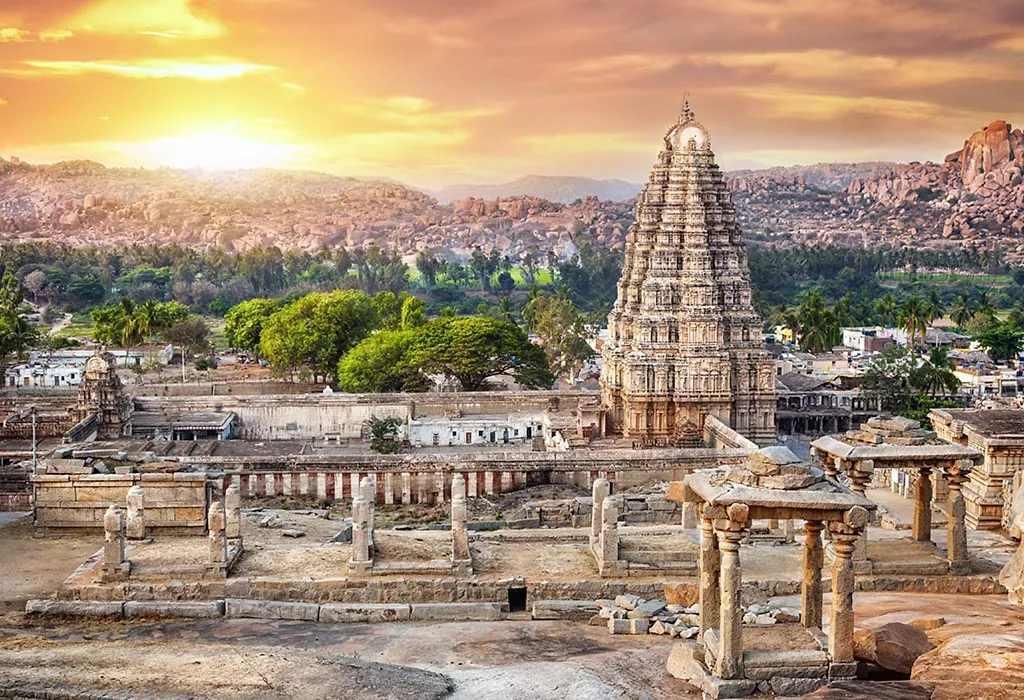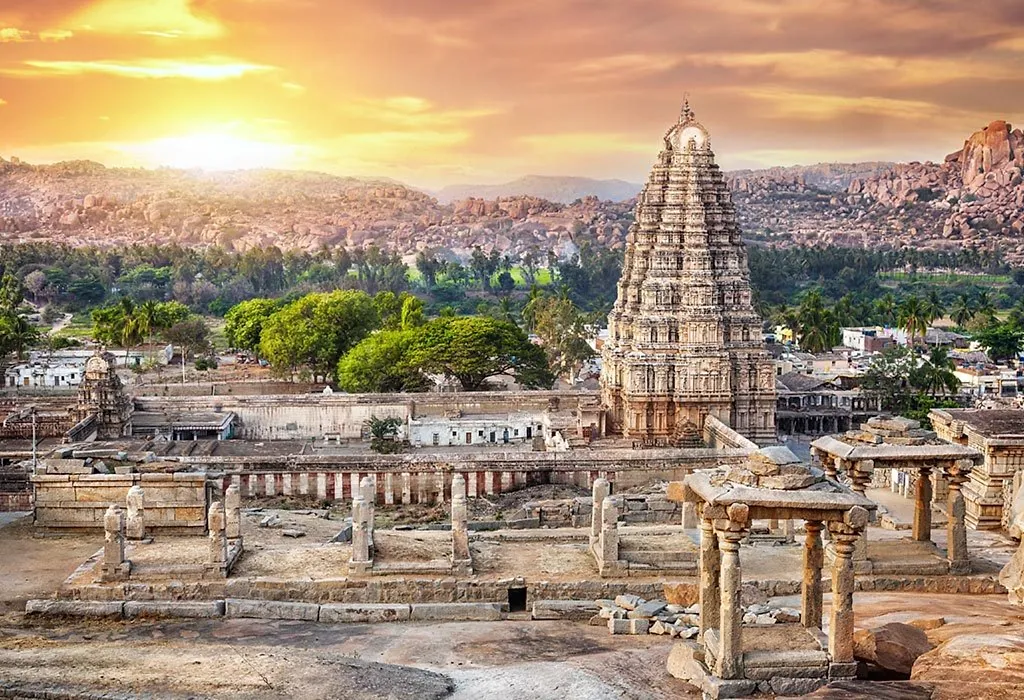 The whole length and breadth of our country is an illustration of its celebrated past and culture. Every historical monument pays a befitting tribute to it in a unique manner. They are an example of fantastic elegance and aesthetics which is bound to enthral the visitors with its beauty and provide a worthwhile experience of a lifetime.
Also Read:
Religious Places in India You Must Visit with Family
Coolest Summer Vacation Destinations in India
Ways to Find Romance While Traveling with Family