8 Must-Have Items for Potty Training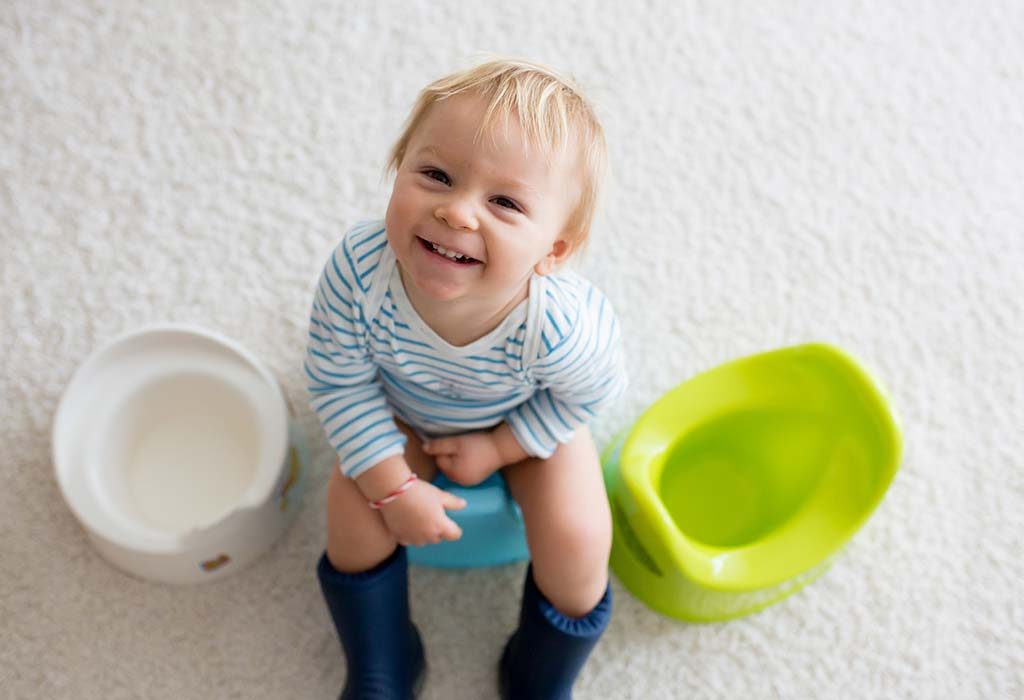 In this Article
One baby, so many different milestones; and among them, one of the most dreaded – potty training! It sounds simple enough – you're trying to train your child to use the toilet and grow out of his diapers. But what it also means is that you're relinquishing any control you've had over your baby's bladder and bowel movements, and that can be super scary. Especially when you know the trusty diaper can no longer be your backup plan! But mommies, you know that with the great powers of motherhood comes the greater responsibility of dealing with every challenge that can come your way. And potty training is no different!
8 Potty Training Essentials You Need
Rule Number 1 of potty training your child (and of course, motherhood in general) – be prepared! There are a few essential items you'll need to stock up on before embarking on this mission. Keeping these handy is going to make your life (and your baby's!) much easier – trust us on this one!
1. Potty Chair
This is the most common choice parents make when they begin potty training their babies. With its fun colours, designs, and characters, a cute potty chair can make the whole process a lot more fun for your little one, and cancel out the associated 'challenge' factor. Most potty chairs are usable from around 6 to 24 months of age. They're also portable, which makes them great in times of a 'can't hold it in' emergency!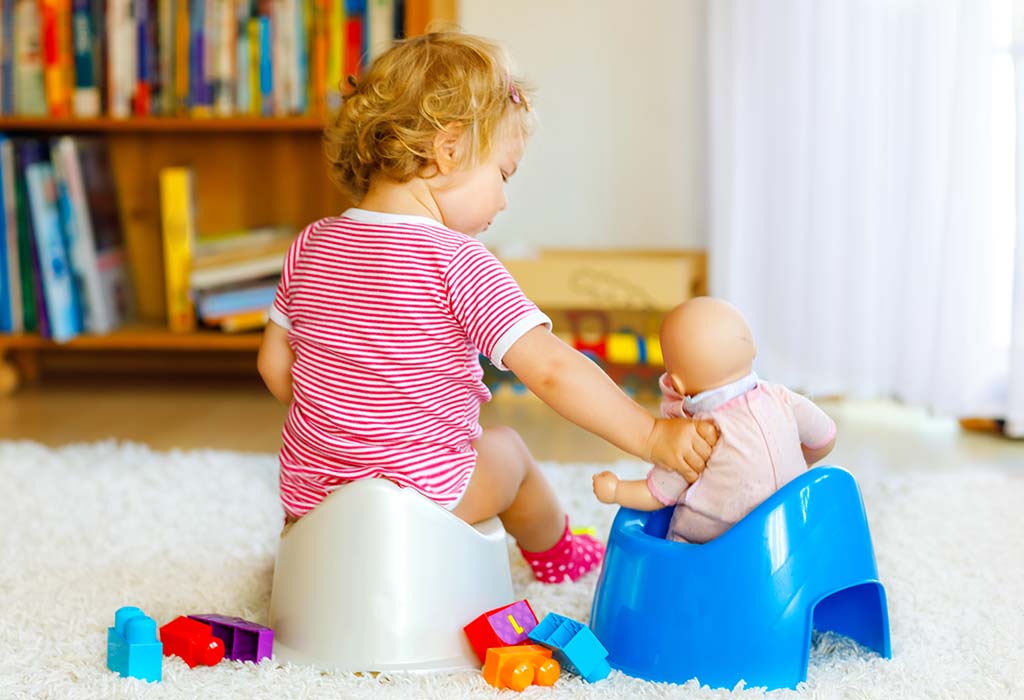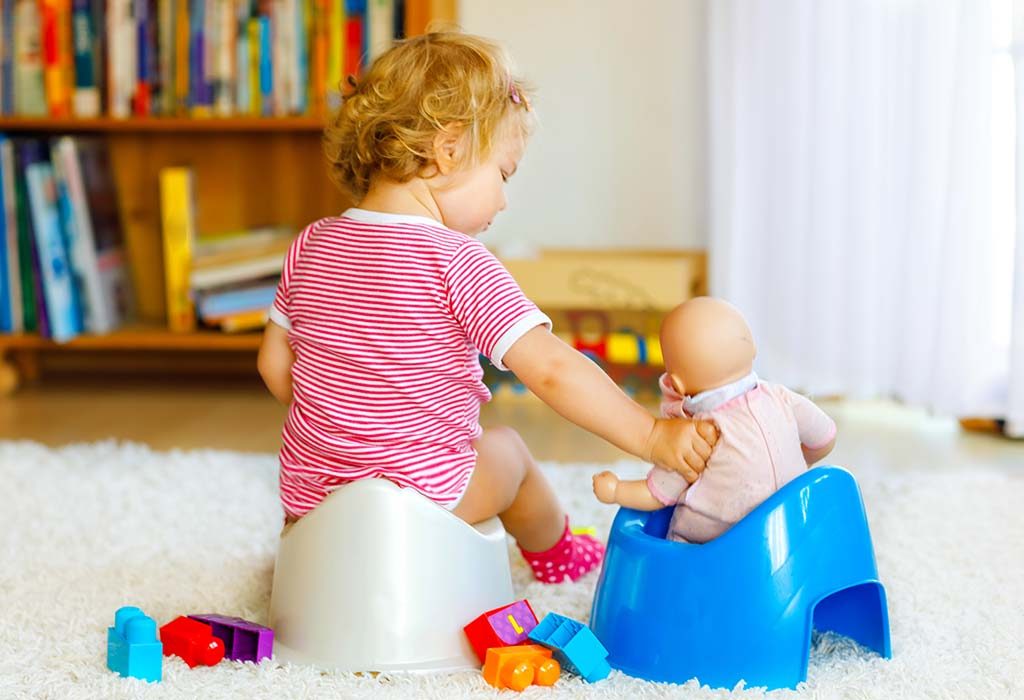 2. Potty Seat
A potty seat is a great option if you want your little one to get used to the adult toilet and not be too intimidated by it in the first go. This seat can be attached to the toilet, (making it travel-friendly as well) and is usually cushioned to provide your baby comfort. They also have handles that can help your baby balance himself, and won't tip over when he's trying to get off. To make another case for potty seats, they help your child get accustomed to the adult toilet faster, and don't require much of a transition period – plus, lesser clean-up duty is always a bonus! But this is applicable only if your baby is ready to get on a toilet without much of a fuss; if he isn't, it's always best to go through the chair-to-seat route.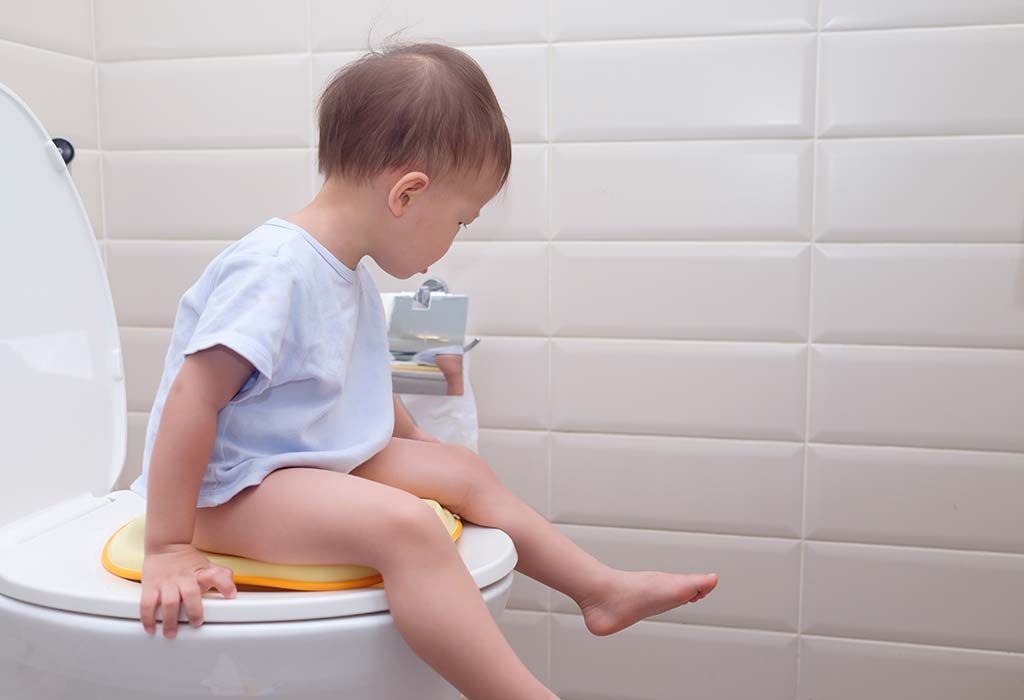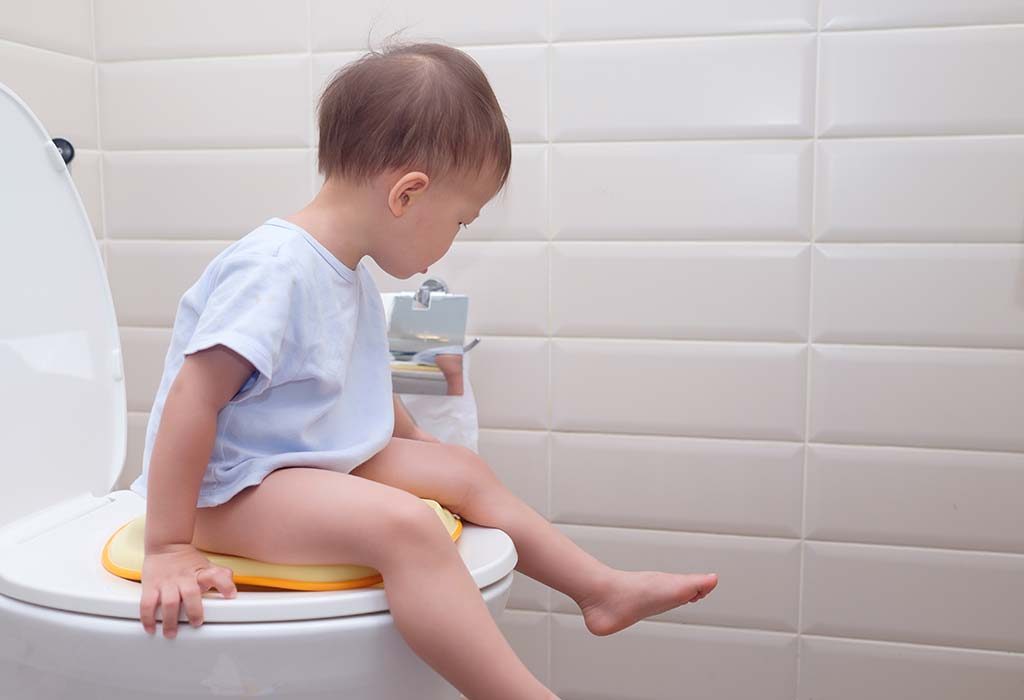 3. Step Stool
Unless your toilet is quite near ground level, your baby won't be able to get up on it if he's using a potty seat. Solution? The step stool, of course! Not only does it make it easier for your kid to reach the toilet or washbasin, but it also grants him a certain level of independence, because he doesn't have to depend on you to use the washroom. Look for an option that suits your toddler's height and has a sturdy grip to prevent any unfortunate accidents.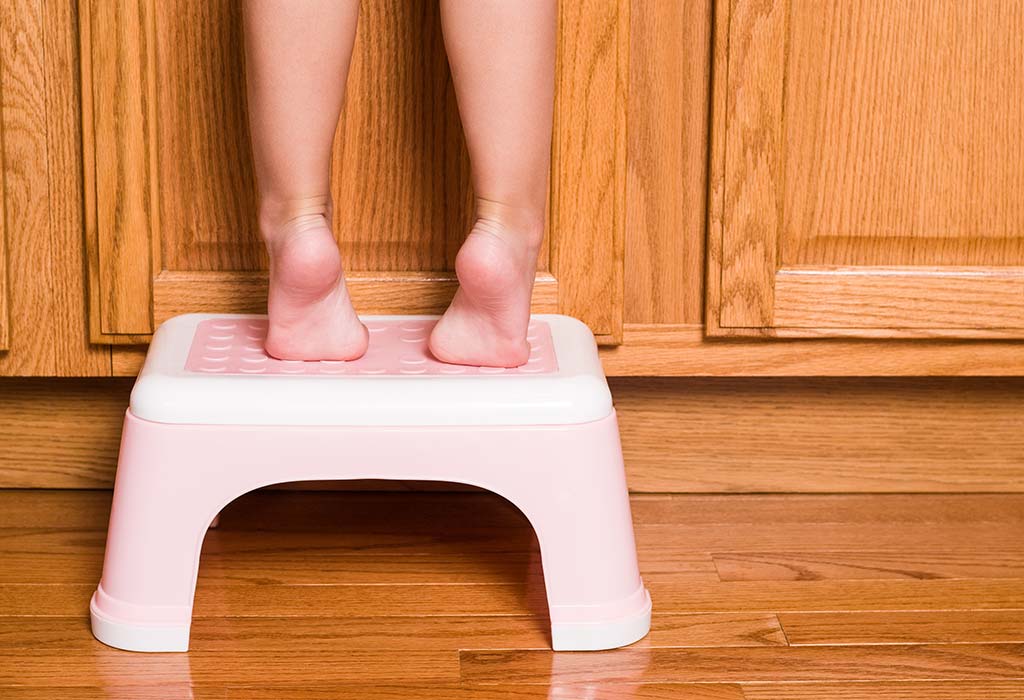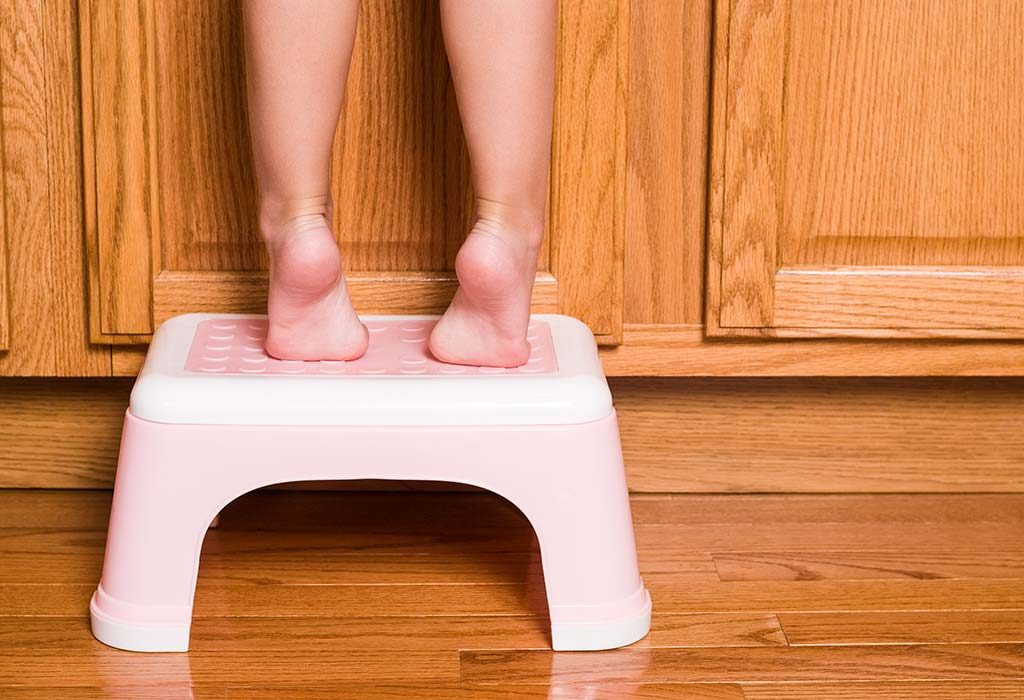 4. Baby Wipes
Let's be real – toilet training can take a while and there will be messy accidents aplenty. Your kid may not reach the potty in time to relieve himself and there's a good chance that he (and different parts of your house) will require clean-up constantly. Enter baby wipes to your rescue! This handy little product is easily going to be your best friend during your baby's potty training days. They're gentle on your little one's skin and make the clean-up process a whole lot easier, especially if you're travelling and can't stop at a restroom soon enough.
P.S – Getting scented disinfectant wipes for your floor and other surfaces is also a great idea to ensure that your house doesn't reveal your potty training struggles!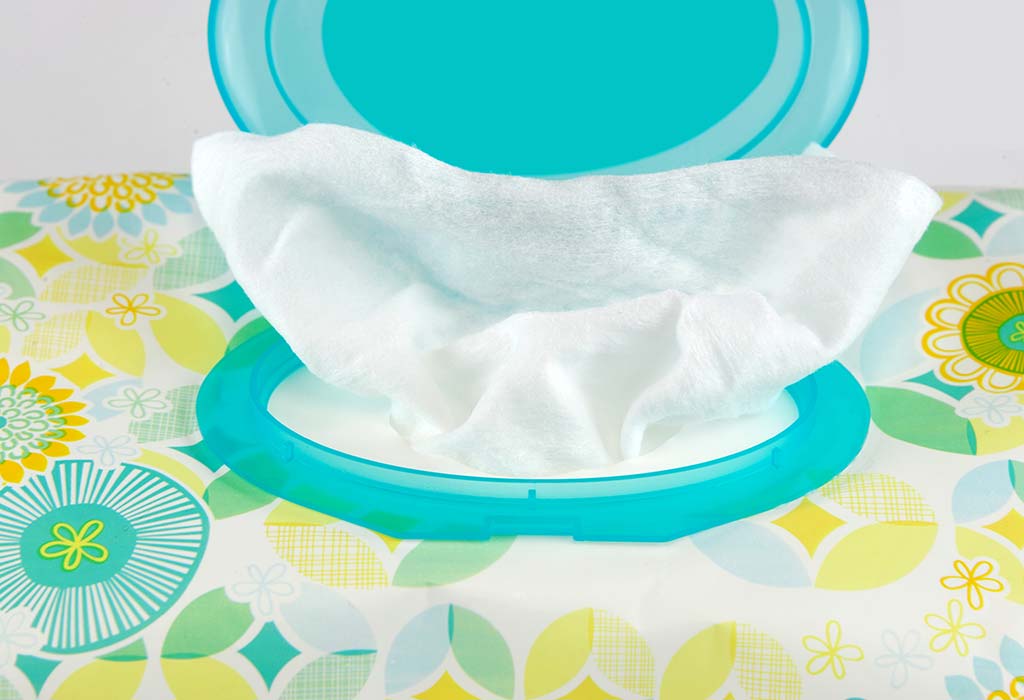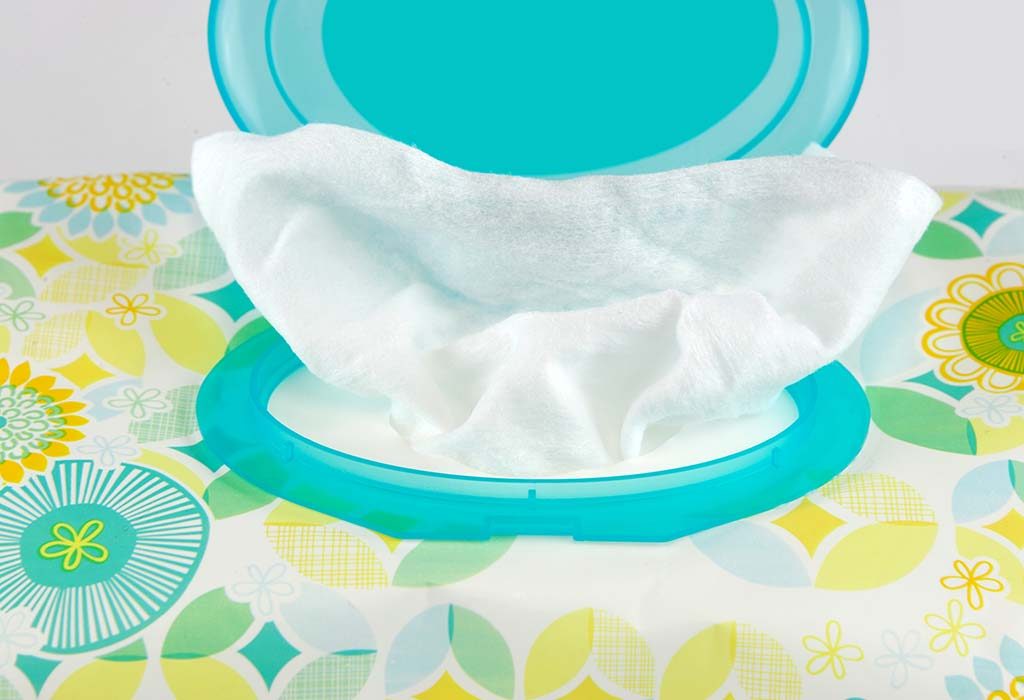 5. Training Pants
Training pants are a great 'in-between' training tool for your baby while he's potty training. They look and feel like underwear that can provide your child with a 'big kid' vibe he'll love, but also has a protective layer that ensures no messes or dribbles get past you! The only issue here is that the diaper-like feel of the training pants can confuse your little one into thinking that it's okay to pee and poop in them, which is why it's advised to let babies go pants-free during the day while potty training. However, at night, you can definitely let your baby wear these pants, till he can transition to wearing regular underwear. Additionally, clothe your child in non-fussy pants that come with a stretchy waistband, so that he can pull them down without needing to fiddle with buttons and zips!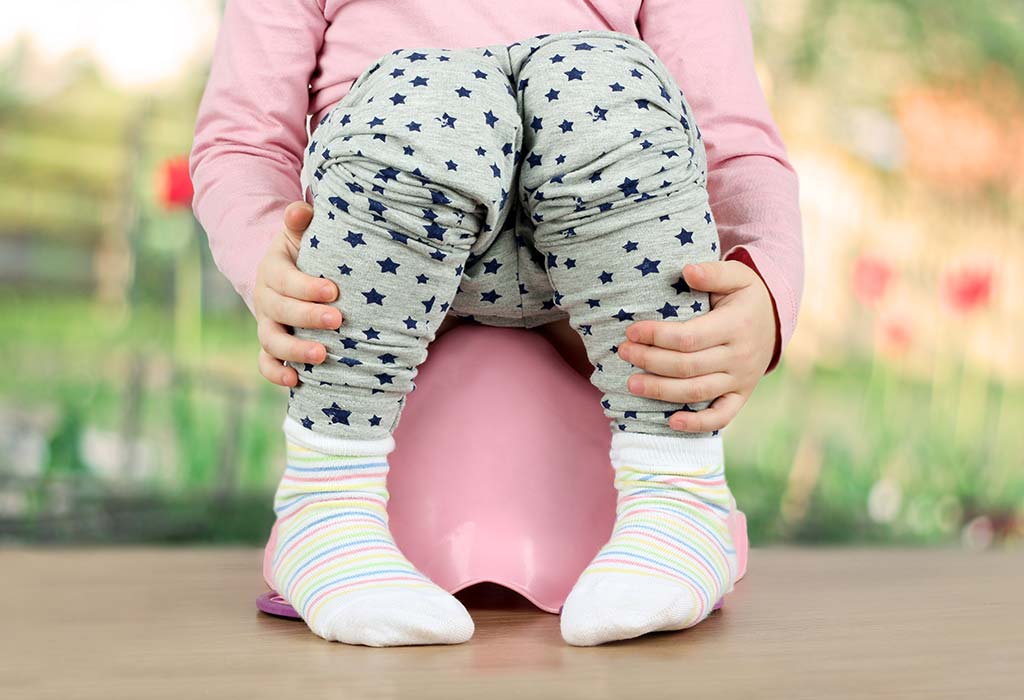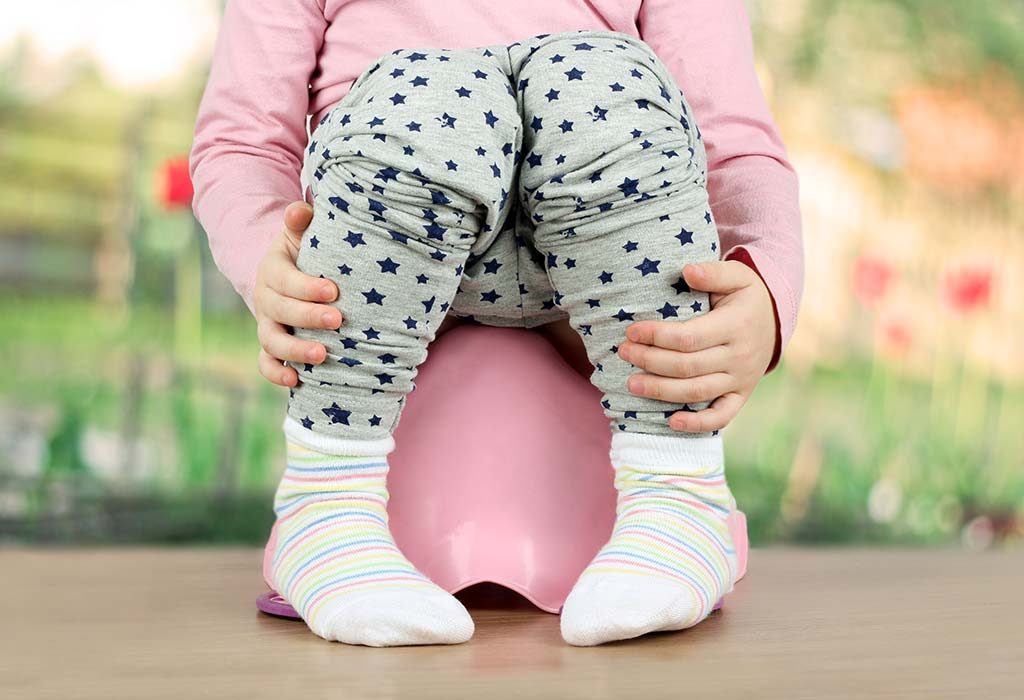 6. Mattress Protector
Your child's mattress need not get messy during his potty training days, or nights, rather. A waterproof mattress protector can keep his bed dry and stain-free, and in most cases, doubles as a changing sheet too. Get yourself a machine-washable sheet to make your job easier.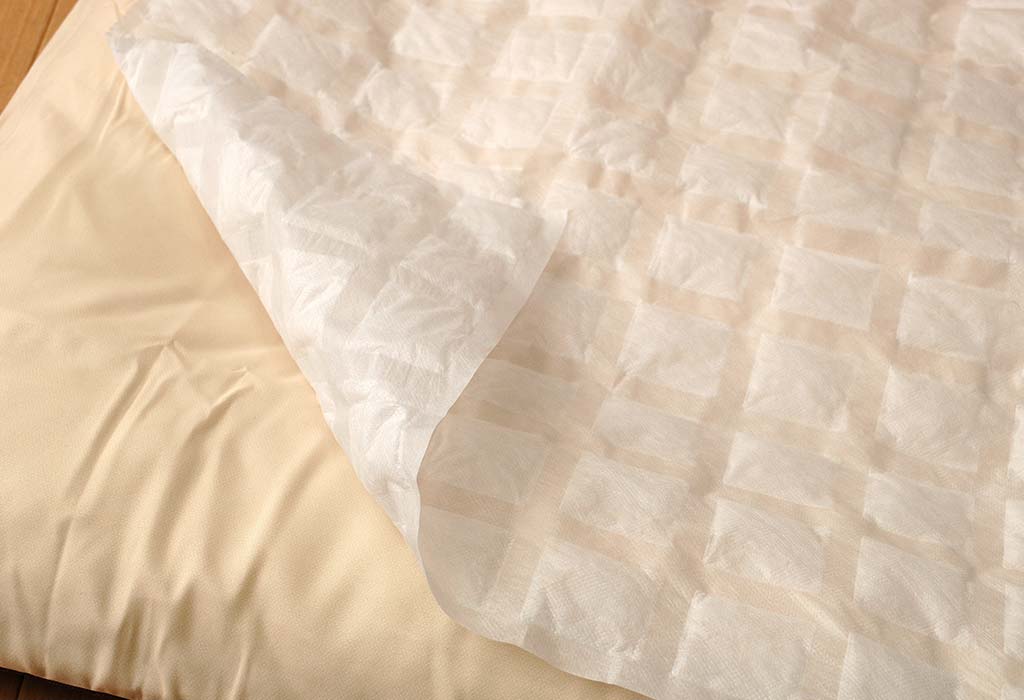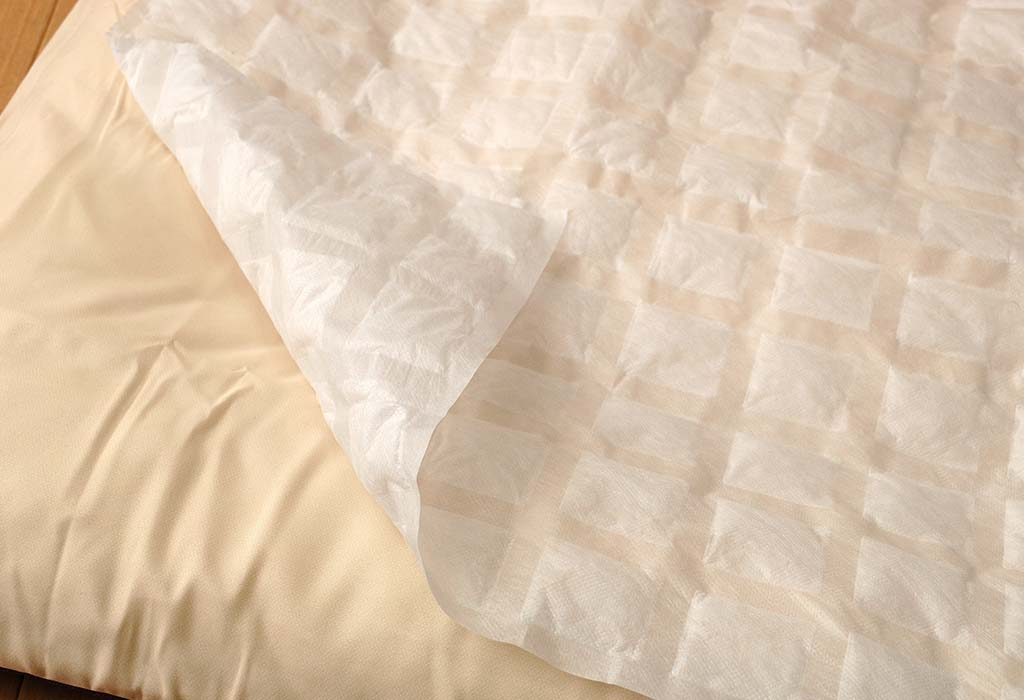 7. Potty Time Activities
Yes, these are toys and books, but those restricted to potty time alone, such that your baby has something to look forward to. It could be stories about cartoon characters using the potty and little interactive toys that keep him occupied and make the whole process less daunting. And as tempting as it may seem to bribe your baby with some screen-time, it's best to keep your smartphone away!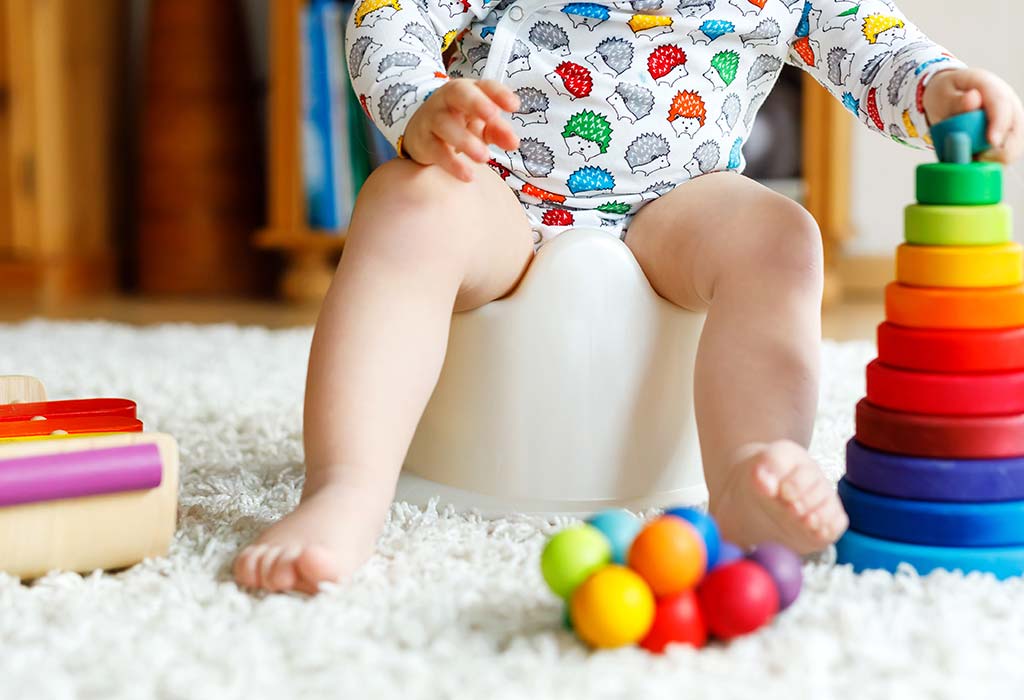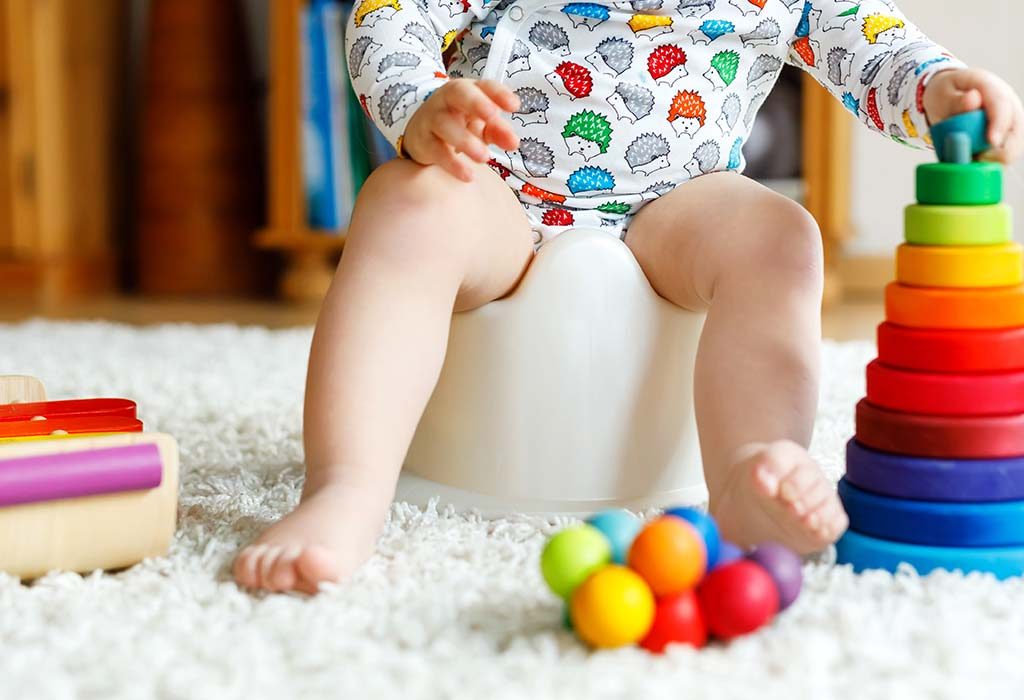 8. Tracking Chart & Rewards
We all work well with a bit of positive reinforcement, don't we? Well, you'll see the same applies to your baby during potty training. With cheers, praise, and encouragement, he's bound to feel proud of himself and cooperate with you! Design a cute little tracking chart with actions like 'I said I needed to go!', 'I washed my hands', 'I didn't wet myself today', and so on, and reward him with a star for every action he fulfils. For little ones who are too young to grasp the concept of a progress chart, little rewards like candy or inexpensive collectable toys can work well too.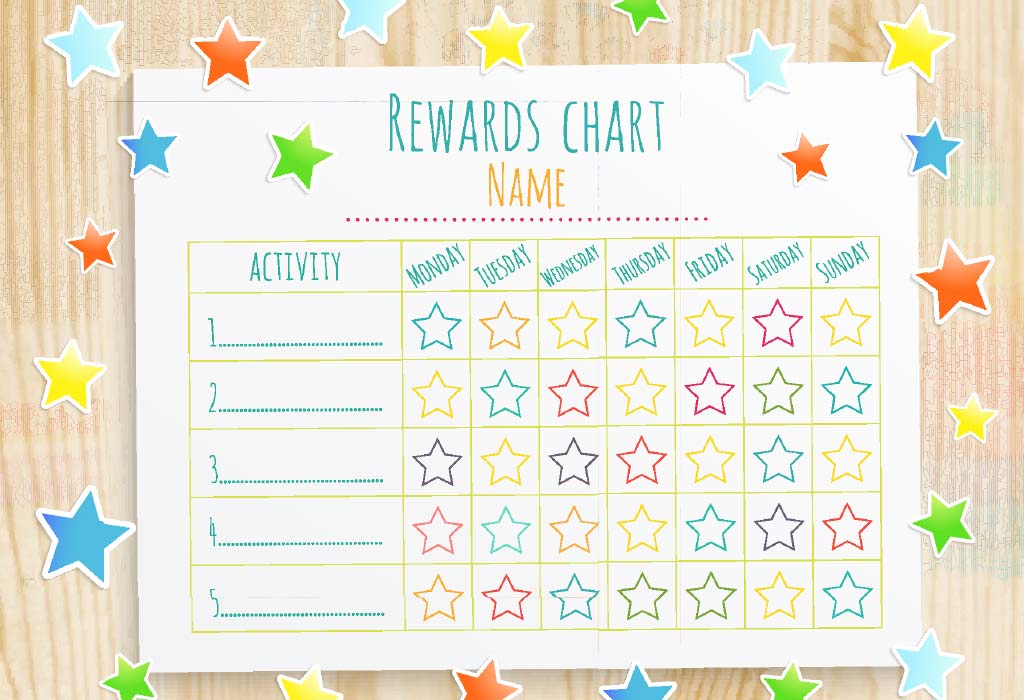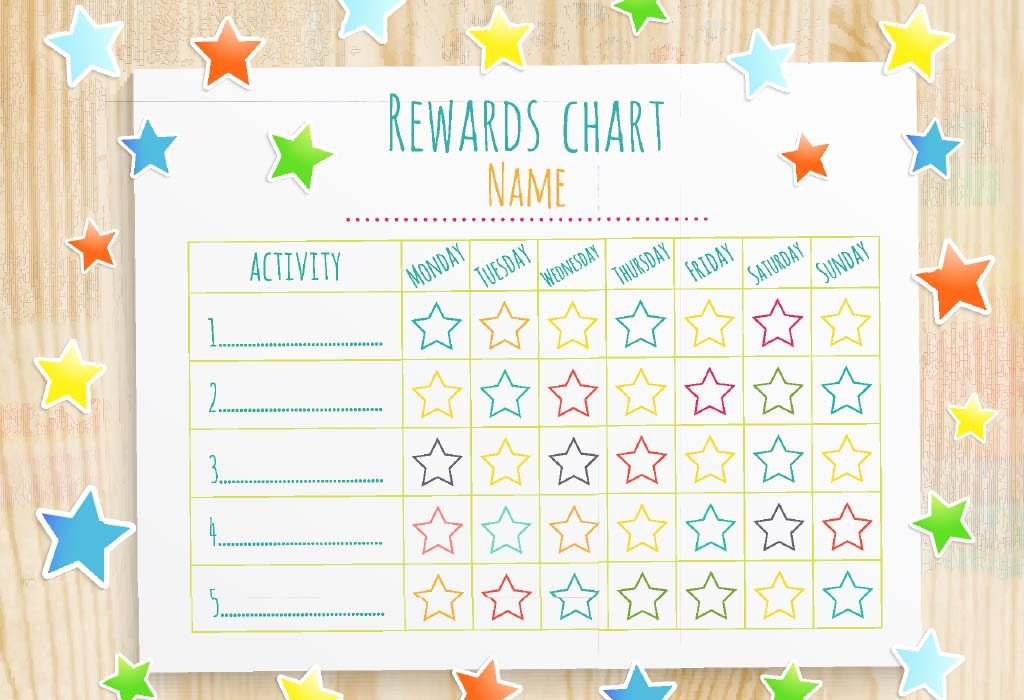 Apart from these items, there is the one essential you really cannot miss out on, and that is having truckloads of patience! Remember, kids are all different and comparing your baby's progress to that of his peers isn't going to do anything but make you worry. Some babies may potty train in 3 days, some may take up to a year – but your words of encouragement and positive techniques sure can push things along. Now, grab on to these handy helpers ASAP and let the training begin!