8 Fun Fruit And Vegetables Crafts Ideas for Kids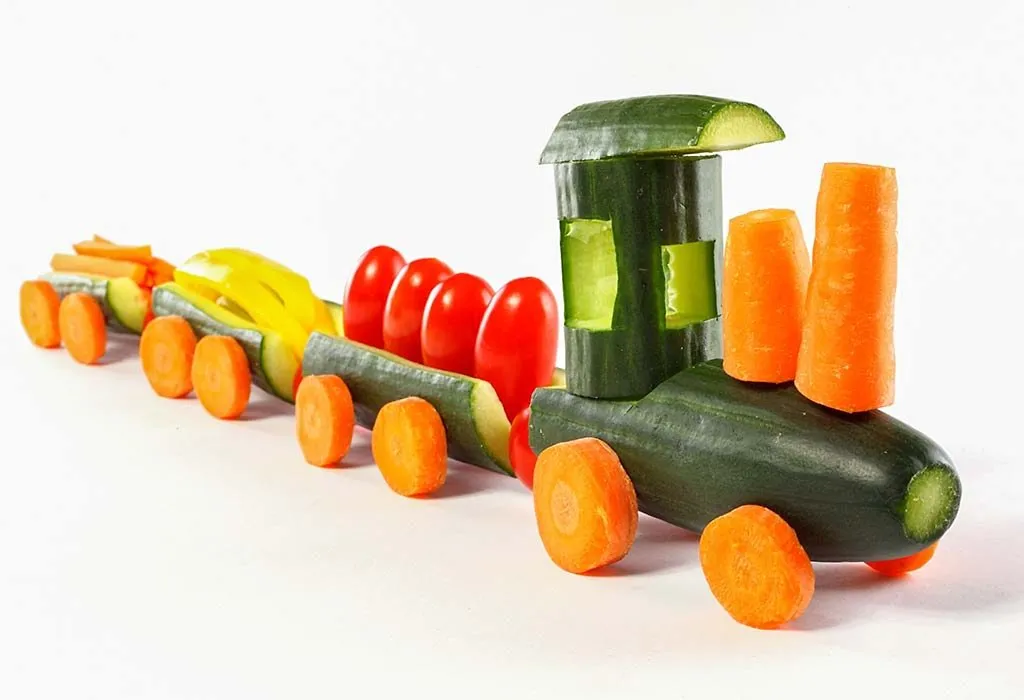 In this Article
As parents, we all want our kids to eat healthily, to stay active and fit! But is it always possible? In today's ultra-modern lifestyle, kids often tend to snack upon junk food as it's readily available everywhere. But when it comes to nutrition, they often throw tantrums to avoid fresh greens and veggies which are not as tasty as other processed alternatives. So, as parents, it's time to try a different approach and make your kids understand the importance of healthy vegetables and fruits with these fun ideas.
Fruits And Vegetables Craft Ideas for Children
Kids love to indulge in fun and creative projects, especially something that involves colours and paints. So just get them to join you in the following interesting vegetable and fruit art activities which you all can try out as a team:
1. Veggies Fabric Painting Art
Your kids will simply fall in love with this fun-filled veggie fabric painting craft idea.
Materials Required
Any fabric, you can use an apron or a kitchen towel which you use to cover your appliances.
Potato
Brussel sprouts
Fabric paint
How to Make
Cut the potato into halves and make a triangle or any shape stencil on it using a knife.
Next, help your kids slice the Brussel sprouts into half.
Neatly arrange the fabric on a table top and secure it with weights on the corner.
Help your kid pour some fabric paint onto the palette, do not mix water as it can cause blotting.
Help your kid dip the veggies into the colours, each at a time and stamp on the fabric.
Mix in more vibrant colours and make distinct shapes on the fabric. Allow it to dry, and then you can use it!
2. Fruits and Veggies Skewer Craft
This fruit skewer craft is an interesting edible fruit art for kids!
Materials Required
How to Make
Slice all the fruits into bite-sized portions so that your kids can easily eat them.
Next, take the skewers and help your kids make a creative, colourful arrangement of the fruits like banana-kiwi-apple-mango-grapes-strawberry.
Repeat this procedure until all the skewers are ready and then eat them!
3. Veggies Canvas Painting
Kids love paints and colours! So what are you waiting for get the craft supplies and start!
Materials Required
Acrylic colours
Potato
Carrot
Beans
Lady's finger
Curry leaves
How to Make
Cut the potato and carrot into half and cut out a stencil using a knife. You can try out different shapes like star, circle, square, etc.
Help your kids pour the paints onto the palette.
Now help them make a painting using these veggies.
You can use the lady's finger to make a flower and curry leaves to imprint some leaves.
Use the beans to make some little fruits in a tree and so on!
4. Decorative Fruits on Crackers
Kids tend to be more drawn towards colourful looking dishes! So here we have a nice colourful fruit art for kids.
Materials Required
Crackers or wafer baskets
Whipped cream
Apples
Strawberry
Pineapple
Pomegranate
Kiwi
Banana
How to Make
Chop all the fruits into small pieces and set aside
Help your kid set the crackers or wafer basket on the serving tray.
Ask your kid to put a dollop of cream on each of them.
Finally, help him decorate it with his favourite assortment of fruits and finish with pomegranate on top! And you're done!
5. Bubble Wrap Painting
Bubble wraps are easily available at the craft stores or readily available in case you have recently shifted!
Materials Required
Bubble wrap sheet
Paper cards
Paint
How to Make
Cut out the shape of different fruits and veggies like apple, pineapple, tomato, carrot, etc. from the card paper.
Ask your kid to paint the bubble wrap with the colour you have selected for the veggies like red goes for apple, tomato, orange for carrot and yellow for pineapple.
Paint green on the leaves covering the pineapple, apple, tomato and carrot.
Next, help your kid place the cut-out card paper on the bubble wrap and press firmly to get the desired colour.
Repeat the process for all the cutouts.
6. Veggie Basket Craft
One of the best vegetable craft ideas for pre-schoolers is this veggie basket craft!
Materials Required
Plain white paper
Paint or chalk colours
How to Make
Cut out a semi-circle shape from the paper plate using a cutter so that it forms a basket with a handle on the top.
Take a plain white paper and cut out the shapes of veggies like brinjal, tomato, potato, capsicum, carrot etc.
Ask your kid to colour the paper plate with paint or chalk colours.
Next, let him colour the veggies.
Now, help him arrange and affix the veggies into the paper plate basket using a glue.
7. Potato Man Craft
Your kids will be delighted to create and meet this potato man!
Materials Required
One large potato
Capsicum
Cherry tomatoes
Cauliflower
Carrot
Toothpicks
How to Make
Cut out thick slices of capsicum in the shape of two ears.
Now, help your kid to attach two cherry tomato eyes using the toothpicks.
Next, ask him to attach the sliced carrot as a mouth.
Use the slices of capsicum to attach as two ears using the toothpick on either side of the potato.
Finally, attach a cauliflower floret on the top like a cap.
You can now bake the potato man and serve it with ketchup.
8. Finger Painting Thank You Card
There is no better way to say a thank you than with this handmade card!
Materials Required
How to Make
Ask your kid to dip fingers into the paint and stamp onto the card.
You can make a bunch of grapes or a flower using his thumb.
Give a few final touches and write your thank you message!
We hope that you enjoy the above fun and easy craft ideas with your kids. Educate your kids more about the health benefits of fruits and vegetables and encourage them to eat more greens and veggies!
Also Read:

DIY Newspaper Craft Ideas for Kids
Unique Hat Craft Ideas for Children
Fun Clay Craft Ideas for kids