Every parent has a different logic in selecting names. These days people look for ocean-related baby names. One of the reasons being they want their child to have an all-encompassing nature like the ocean. Also, life should be as vast as an ocean, where boundaries cannot be seen. It is a prevalent belief that a child might resonate to their name. It may affect what the child grows into or how they behave. They might move towards a profession related to their name.
With all these things in mind, we have prepared a list of names for both boys and girls that signifies ocean.
Baby Girl Names That Mean Ocean
Following is the list of 30 ocean names for girls or related to it:
1. Athena
According to Greek mythology, she is the Goddess who defeated the God of Sea to decide who would look after Athens.
2. Adira
This baby girl name is one of the coolest ocean names of Hebrew origin. It means strong, powerful or noble.
3. Asherah
It is an excellent name for babies born under Pisces, Scorpio and Cancer zodiac signs. The name has an enticing meaning too! It means 'she who walks on the sea'.
4. Bloom
This exquisite name comes from the German word Blume and means 'flower'. Initially, this name was given to someone living near a grassland.
5. Beryl
The name Beryl means 'sea-green jewel' or 'a crystal of yellow or green colour'. This name is of Greek origin and will suit your angel, especially if she has green eyes!
6. Cari
The short and cute name Cari means 'one who flows like water'. It will be great to name your daughter Cari to bless her with life as smooth as the flow of water.
7. Coraline
Coraline is an English inspired name which means 'from the coral of the sea'. Corals add beauty to the sea similarly like your kids add beauty in your life.
8. Cordelia
If you are looking for stunning girl names meaning ocean or sea, your search should end up here. Belonging to Latin origin, it means 'heart; daughter of the sea'.
9. Daryah
The feel of this name is very ecstatic in itself. The name originates from Persia and means 'Sea'.
10. Doris
The elegance this name holds is genuinely incredible. It is a name of Greek origin and means 'gift of the ocean'. And which parent will not agree to it that children are indeed a gift in our lives!
11. Ezili
The name is quite quirky and will be apt for parents searching for a unique name. The meaning is appealing too. She is the 'goddess of beauty, war, and love'.
12. Firth
This name sounds so graceful and is of Scottish origin. It is an unusual water name and means 'arm of the sea'.
13. Ginevra
It is an elegant choice of name for your daughter. It is an Italian alternative for Guinevere and means 'white shadow, white wave'.
14. Gali
It is quite popular and loved name in the U.S. It is of Hebrew origin and means 'my wave'.
15. Hama
This name originates from Japan and means 'beach, seacoast, seashore'. It will be the right name for a girl born near the coast/shore.
16. Iluka
It is the name of two towns in Australia and is occasionally a name chosen by parents looking for ocean themed baby names. It means 'by the sea'.
17. Kaia
For Greeks, this name means 'pure' while for Hawaiians it is 'the sea'. What a beautiful name for your darling daughter.
18. Kaimana
This name of Hawaiian origin is truly a tribute to the ocean and the force that nature holds! It means 'power of the ocean'.
19. Kairi
It is the name of the main female lead in the popular video game series: Kingdom Hearts. It means 'sea'.
20. Lana
This name belongs to Hawaii again and it means 'afloat in calm waters'. It must be everybody's dream to lead a peaceful life! So bless your child with this beautiful name.
21. Laguna
An Italian origin name which means 'pond or lake'. It is also a famous spot in California.
22. Maree
It is a variation of name Mary and means 'ocean tides'.
23. Marissa
This sassy name is not so popular in the U.S. because of the name Melissa. It means 'of the sea'.
24. Marcelline
This name of French origin sounds so graceful, and it means 'defender of the sea'.
25. Marin
This cute name has Irish roots, and it is a supremely loved ocean name. It means 'star of the sea'.
26. Oceania
A name inspired by the ocean cannot be so perfect than this! It means 'of the ocean'.
27. Sedna
It is the name of the Goddess of the sea, aquatic animals and the underworld.
28. Thalassa
It sounds so gorgeous but is uncommon. It is of Greek origin and means 'the sea'.
29. Ula
As precious your daughter is to you, the name justifies it too! It means 'gem of the sea'.
30. Zale
This name will help your child stay rooted in challenging situations in life. With its roots in the Greek language, this name means 'power or strength of the sea'.
Baby Boy Names That Means Ocean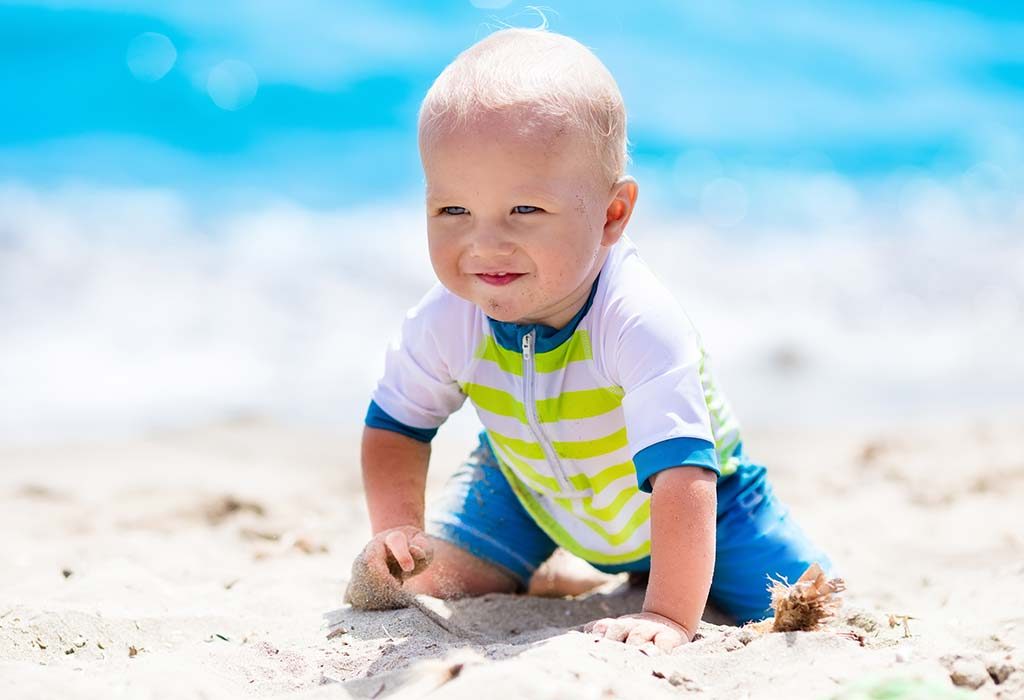 Are you looking for some ocean names for boys? Following is the compiled list for the same:
1. Arnav
It is a name of Indian origin which means 'ocean'. It is also popular in the U.S.
2. Alon
Another cool name in the ocean baby name list, this name sounds so handsome and means 'waves'.
3. Barbeau
This name is an apt choice for parents looking for an exotic name. It means 'fishermen' and is of French origin.
4. Bruce
It is such a famous name and is inspired by Bruce Lee (renowned martial artist). It means 'be like water'.
5. Beach
This is a unisex name and will be loved by parents who enjoy sand, sun, and waves.
6. Caspian
This name is probably inspired by the large salty lake between Asia and Europe. It is one of the most favoured names in the U.S.
7. Cliff
Amazed by the creativity parents possess these days, Cliff is one of the most loved ocean-inspired baby names. Cliffs are found near most water bodies.
8. Delmar
Originating from Spain, this name means 'of the sea'. It is a cross-cultural name with a fantastic maritime meaning.
9. Deniz
This quirky name is of Turkish origin and means 'sea, waves'.
10. Earwyn
How cool is this name as it means 'friend of the sea'. Also, it is a widely kept name in the U.S.
11. Fisk
It sounds like the name of a good-looking gentleman. You will want the same for your baby boy. It means 'fishermen'.
12. Fury
It looks like a name for a chubby baby, but it isn't so. Fury means 'Nothing can be more violent than the sea'
13. Havelock
This name is of Scandinavian origin and means 'sea competition'. It is also the name of a beautiful island.
14. Hector
It sounds like a royal name as there is a car by this name. But since it lies in the category of an ocean name it is 'a species of the dolphin'.
15. Irving
This is quite a popular name in the states and means 'green river, sea friend'. It is of Scottish origin and is used as a surname as well.
16. Kelby
This name means 'a place by the fountain'. Name your child Kelby and wish your child's life remain as joyful as a place near the fountain.
17. Lir
This cute little name belongs to the Irish God of the sea.
18. Marino
This serves as a first name to many as well as a surname. It is of Latin origin and means 'of the sea'.
19. Maury
This exquisite name means 'sea channel'. It has its roots in the Latin language.
20. Marvin
It is of Welsh origin and means 'sea hill'. Name your child Marvin, so that he reaches excellent heights like a hill and remains calm at the same time due to the sea.
21. Oshun
A child with this name will have a significant relation to the ocean. He is the African God of Love and sweet waters. He is also the protector of the Oshun River.
22. Pacific
It is named after the largest ocean on the planet. It is a famous name in the U.S. but has Latin origin and means 'tranquil'.
23. Pelagic
As cool as it sounds, it is quite befitting ocean baby name as well. It is the Greek word for 'ocean' and is a regal choice of name for your baby boy.
24. Rafferty
It is a fascinating name for your cute baby boy. It is of Irish origin and has multiple meanings, namely, 'abundance, prosperity, floodtide, raffish and jaunty'.
25. Solomon
It is a prominent choice of name in the U.S. and means 'underwater ridge'.
26. Tasman
This celebrated name in the U.S. is after the Tasman Sea lying between New Zealand and Australia.
27. Triton
He is the Greek God who served as the sea's messenger and was the Son of Sea God Neptune.
28. Tiger
Another ocean baby boy name which is named after the Tiger Shark.
29. Tethys
It is the name of an ancient ocean and will be apt if you are looking for some unique name for your baby boy. If we look in Greek mythology, he is considered to be the titan related to the sea.
30. Varuna
This is a common and apt name for people looking for an ocean-based name. It is the name of an Indian God associated with the sea and the sky.
Ocean and other water-bodies represent tranquillity. But at times, they can be so powerful that they can destroy anything that comes their way. We want our children to be such, calm but steady!
Hence, we at FirstCry have compiled a list of ocean baby names to choose the best one for your child. We hope this list of baby names that mean ocean helps you to find a name that suits your child today and for a lifetime! Till then, Happy Parenting!