6 Christmassy Things Your Toddler Will Love Doing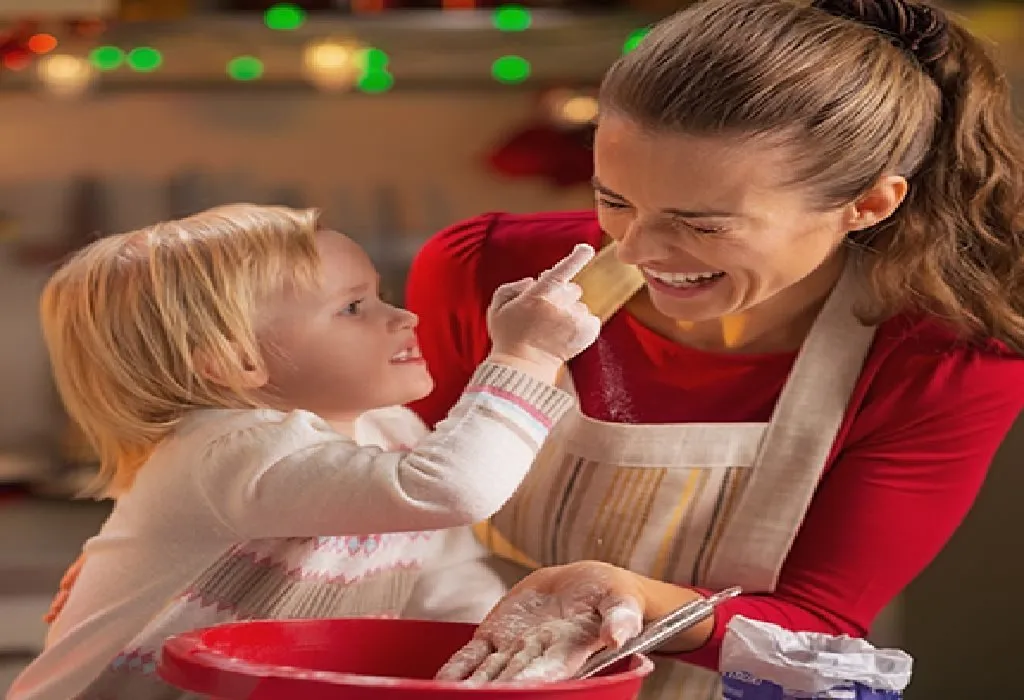 In this Article
Mothers with toddlers can find preparing for festivities hard to cope with, what with all the work and keeping an eye on the kids. However, children can be easily entertained, especially if you know of fun Christmas crafts for kids that will keep them occupied for hours.
With Christmas right around the corner, you're all set to celebrate with your friends and family. But with a toddler in tow, certain preparations need to be made. Keeping him entertained so that you and everyone else can have a good time is crucial. Find out how you can keep your toddler busy with fun Christmas activities for kids.
6 Christmas Activity Ideas for Toddlers at Home
1. Cookie-Cutter Decorations
Forget store-bought decorations – they're so mainstream! Have your toddler make them instead. All you need is a few sheets of colourful paper, some bright paint, and cookie-cutters of different shapes and sizes. Show your child how to dip the cutter in a shallow bowl full of paint, and place it over the paper firmly till he gets the shape. Repeat this with different cookie-cutters till the page is full. This is an easy Christmas craft for toddlers to make.
2. Creative Vegetable Prints
If you don't have a cookie-cutter or don't want to mess it up with paint, use the age-old method of cutting slices of potatoes or ladies fingers and using them for imprinting on the sheets of paper. You can carve your favourite designs out of them, or simply let your child dip them in colours and make his own design on the paper, using the print. This is a fun and safe Christmas craft for kids that you will enjoy supervising.
3. Get Ornamental
You will need ornaments to decorate your Christmas tree – what better way to keep your toddler occupied than involving him in the decorations? This is one of the easiest Christmas crafts for kids. Ask your child to trace the outline of the gingerbread man on cardboard using a cookie-cutter. Cut it out for him, and encourage him to colour it using his creativity. Cut out a few of them so he'll have a whale of a time painting them in different colours.
4. Garlanding Fun
A fun Christmas craft for toddlers is to make garlands out of cereal loops. Simply empty some of the cereal in a bowl and give your child a long thread. Then, teach him to take each loop and thread it, creating a little garland. Tie up the ends and make him wear it! You can also use these garlands to decorate the kitchen or your child's room.
5. Talking About Christmas
An interesting thing to do with your toddler this Christmas is spending quality time together and talking about Christmas! You can talk about Christ's birth, Santa Claus and his reindeer, and Jack Frost. Play Christmas songs and sing along together to get your child in the festive mood. You can also drive him around town to show him the many Christmas decorations other people have put out!
6. Duct Tape Christmas Tree
This is an easy Christmas craft for kids. Using duct tape, draw an outline of a Christmas tree on your floor. Then, ask your child to "decorate" the tree using his building blocks or legos. This will take up a lot of his time, as he can let his imagination take charge, leaving you with ample time to prepare for other things for the festive season.
Other than these Christmas activities for toddlers, you can come up with your own ideas depending upon your interests and that of your child. Involve him in things like baking, cleaning and decorating. It's a good way to make him understand the importance of the season and have him come to love it.