4 Brilliant Tips To Teach Your 8-Month-Old to Entertain Herself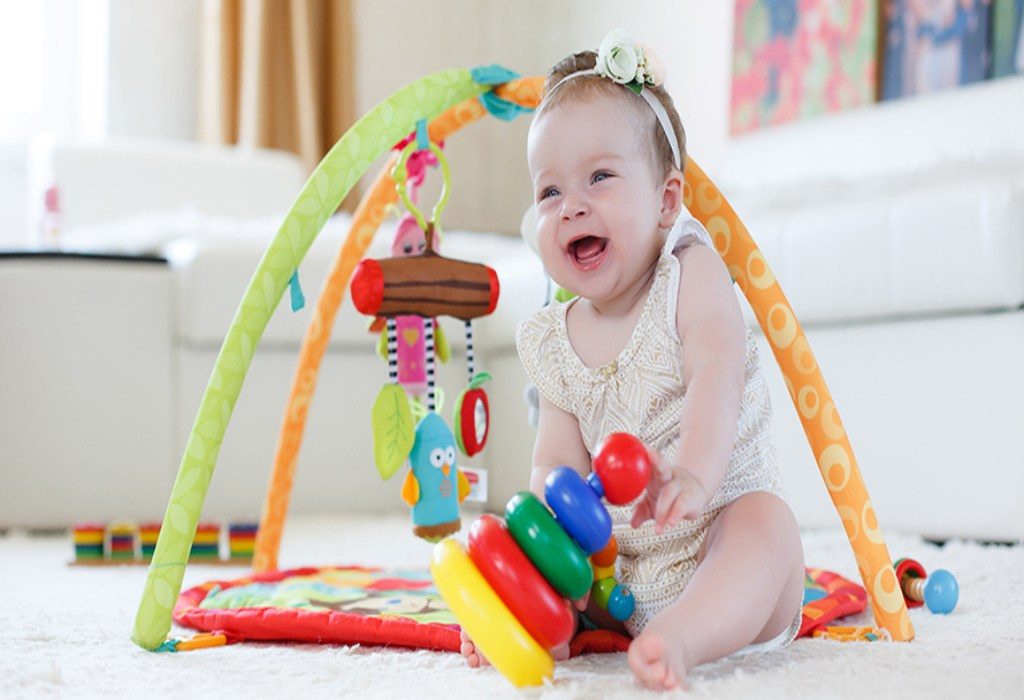 Is your 8-month-old bundle of joy happy in your arms all day long? Does your baby fuss the moment you put her down? Are you wondering if she can keep herself entertained when you are away for a while? If you answered yes to all these questions, you need to teach your dear little one how she can entertain herself when you move away from her for some time, for example, when you want to deal with your daily chores.
Read on to Find a List of Tips to Help Your Baby Entertain Herself-
1. Provide Your Baby With Fun and Engaging Toys
When you place your baby on the floor, provide her plenty of colorful and interesting toys that will attract her attention and motivate her to play with them. Give your baby a squeaking duck toy that she can hold in her hand and press again and again to hear its fun squeaking sound.
2. Introduce Baby To Tactile or Touch and Feel Board Books
Introduce your 8-month-old to the world of tactile books to trigger her curiosity and help her entertain herself as she explores the book. Tactile or touch and feel board books have tactile elements on each page that give your little one pleasant and fascinating experiences. For instance, as your baby turns to a page in the board book that has an image of a sheep, she can feel the wool as she touches the sheep as wool has been pasted on it. Similarly, she can experience a fluffy chicken, hairy horse, furry bear, and many more fascinating animals that will help her self-entertain in your absence.
3. Give Baby Pots and Pans
If you are working or dining in your kitchen and putting baby down on the kitchen floor, you can provide her household items such as empty pots, pans, boxes, bowls, spoons, and other safe objects. Your 8-month-old will be busy exploring these kitchen items, banging empty bowls on the floor or on other surfaces, and hitting the pot with a spoon while you dine or work in the kitchen. Your baby will surely find playing with pots and pans entertaining! Make sure you don't give her anything that can break or is unsafe.
4. Introduce a Baby Lovey
Another great way to help your little munchkin to self-entertain is by introducing a baby lovey. You can provide your baby a soft teddy bear, a doll, or any other soft yet safe object that your baby likes to have around. Soon, she will develop an attachment with the lovey and self-entertain herself by having and carrying it with her when you are not around. You will find your little one spending a great time with the teddy bear or any other lovey by touching its hair, hugging it, making sounds looking at it as if she is talking to it, etc.
Last but not the least, make sure you give your baby undivided attention many times a day. Activities such as tickling her tummy, stacking blocks to let her knock them over, or reading out a story from a colourful book ensure you give complete attention to your little one. If your give your little ball of energy sufficient 'mommy time', she will be will to play and entertain herself independently at other times.