30 Best Sibling Pregnancy Announcement Ideas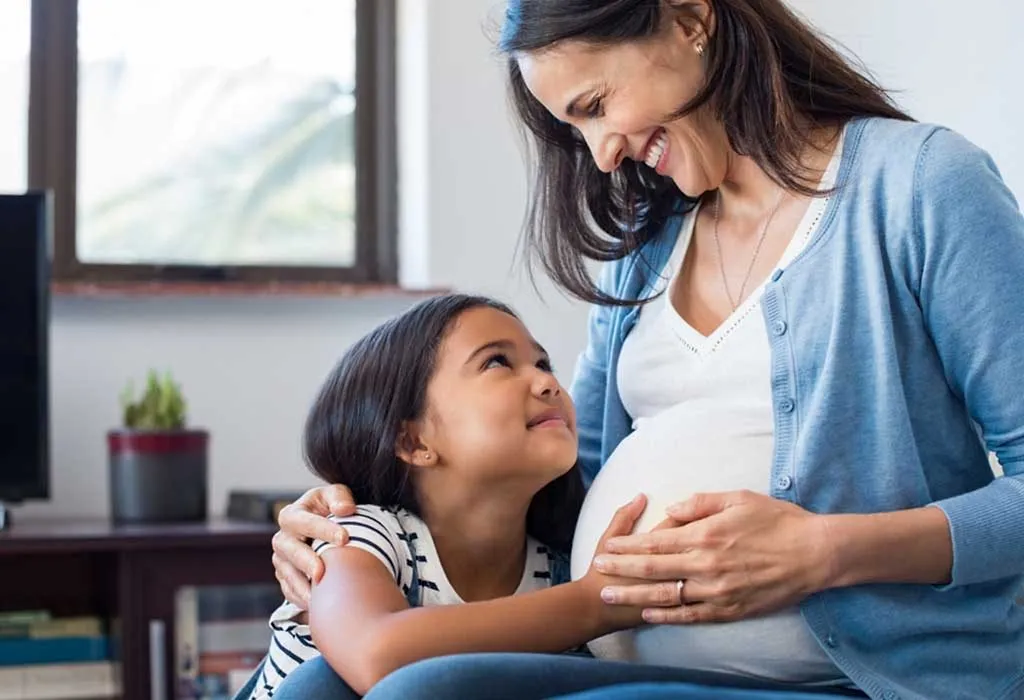 Welcoming a new member to your family is a moment of pure bliss. Especially, if you are welcoming a baby as a brother or sister of your child, it is an extraordinary occasion indeed. So, sharing this news with the siblings and others in the family is a great way to start the celebrations.
Being creative about pregnancy announcements is also important to parents these days. Even celebrities have introduced new concepts of a pregnancy announcement. Taking inspiration from the best, here is a list of creative ways to announce pregnancy to siblings.
Cute Sibling Pregnancy Announcement Ideas With To-Be Brother or Sister
1. Buy Baby Clothes
Buy cute clothes for your baby and take them home and show them to the sibling. This is the most common and easy-to-guess idea for a sibling-to-be. This way, the excitement of welcoming a new one will also be increased with all the new clothes.
2. Pin a Note
Does your kid have a notice board where you stick notes or instructions? Use that for this occasion. Write a quirky message for the sibling where you can announce the estimated date of arrival of your baby. You can also use colourful sticky notes for this idea.
3. Twin Announcement
Take creative photographs. You and your partner can stand against a wall at some gap and take a picture of that. Ask the editor to put a '+' sign between you two and then add a '= 4' to the right. That will be a creative twin announcement indeed.
4. Confetti and Smile
Confetti always signifies something big is about to happen. So, if it is big news, add some confetti fun to it. Wear a big smile and burst some confetti in front of your kid. Then announce the good news. The smile on your kid will be priceless.
5. Chalk Work on the Floor
Take refuge in art. Art is the best way to express happiness and bliss. Draw some colourful balloons on the floor of the room and announce the message. Let this pregnancy announcement for a big sister be special for her too. Make her take some photos with the announcement.
6. Baby Shoes
Baby shoes are another excellent idea in the set of exciting ideas to announce the pregnancy. Buy a pair of baby shoes and hold them out in front of the sibling-to-be. Often the reactions they give are priceless. In fact, some parents make a video of these reactions to create a fantastic announcement to the outside world.
7. Best Gift
A great gift or best gift idea is also a creative way of announcing the pregnancy. Just hold out slates with inspiring words or quotes expressing how you're about to give your kids the gift they've been asking for. Here you can reveal the expected date too.
8. Video Game Idea
If you have kids who love playing video games, make him or her sit next to a slate with the note' Player 2 Loading'. That is a wonderful idea to announce the arrival of a baby to your child. In fact, you can add the expected delivery time under the heading with Estimated Time Remaining'.
9. Shoe Picture 2.0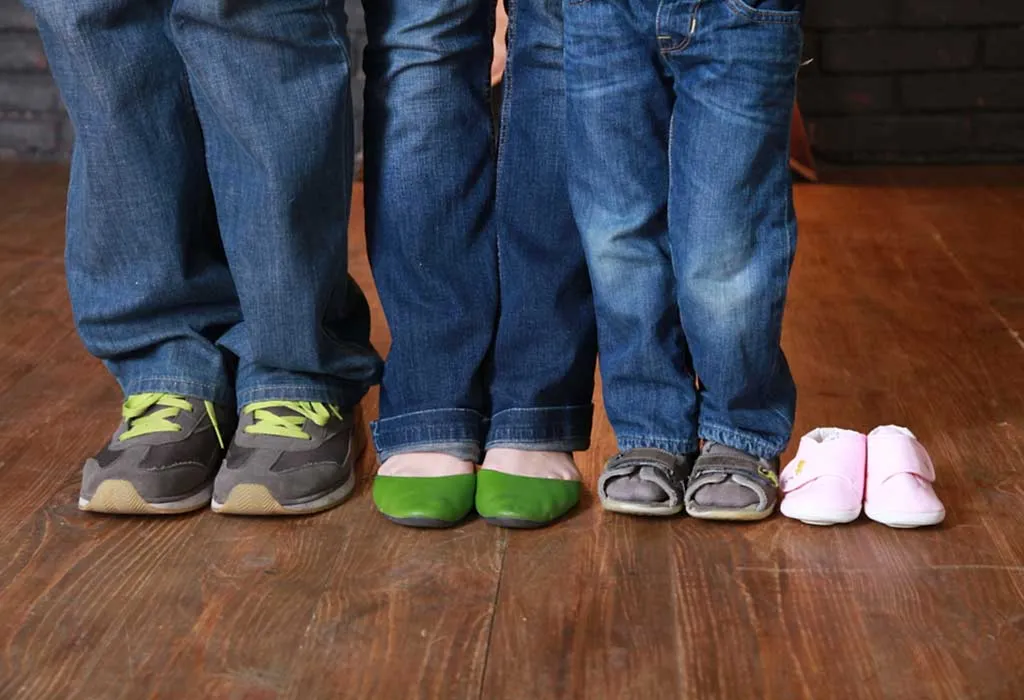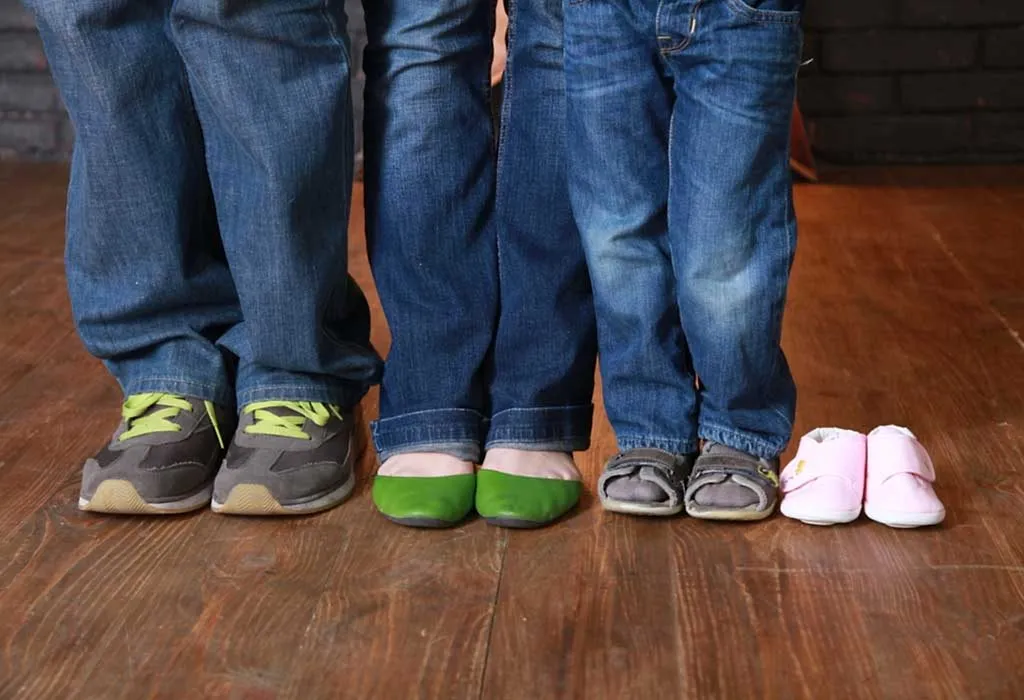 Another creative pregnancy announcement idea is to line up the shoes of the family. First, keep the shoes of the parents and then add the shoes of your kids. Then, keep the smallest shoe to announce your pregnancy. Mark the respective years when everyone was born next to each shoe and put a '?' next to the last shoe. Isn't this an excellent way of marking the presence of the newest family member?
10. Kids in a Chair
You can just flip the idea of the shoes and take it to a step ahead. Make your kids sit in a chair and keep an empty baby chair next to them. In the picture, edit and write their ages against their image and write 'expecting soon' against the empty chair. You can add your pet to the picture as well.
11. Middle Child Promotion
This is another creative idea when you are expecting a third child. Make your eldest kid stand next to a board in a teacher's position and write 'Big Sister/Brother Training Program' and make your middle child sit in front of the board.
12. Diaper Timeline
Another creative idea that is similar to the shoe idea is to hang the diapers of your kids in line. Put the birth month and year of all these kids next to their diaper, and put the expected time against the last diaper.
13. Sports Theme
The whole family can wear jerseys with your last names on them. The parents can hold the smallest jersey for the baby who's yet to make an appearance. Release the photograph with the caption: 'Team ___ will be complete.'
14. Playmate
Make your kid sit with his or her toys around. Write the message on a slate: 'Playmate expected on' with the expected month and year of the arrival of your newborn. That will be a cute sibling announcement.
15. Baby on Board Hat
An exciting way of announcing the arrival of your newborn is to photograph the parents kissing under a summer hat which bears the caption: Baby on Board. Share this picture with your kids, and don't forget to record their awesome reactions.
16. Secret to Tell
You can photograph your kids opening a note from a box, where it is written that he or she is going to be a big brother or sister. The reaction videos of this incident always create funny sibling pregnancy announcement moments.
17. Sonogram Announcement
Get the sonogram copy and place it next to your kid. That is one of the cutest pregnancy announcement photographs that a lot of parents love to share. It is a direct message, but it makes sense.
18. Big Brother/Sister Book
If your kid is growing up to be a big brother or sister, then get them a book that says 'big brother book' or 'big sister book'. Photograph your kid with that book. This is definitely a great way of announcing your pregnancy.
19. Christmas Announcement
Christmas announcements are always fun. You can ask your baby girl or boy to sit next to the Christmas tree where all the presents are kept. You can hide the pregnancy announcement in one of the gifts. You can also put a sign on the gift that says, "The more, the merrier."
20. Baby Bump Kissing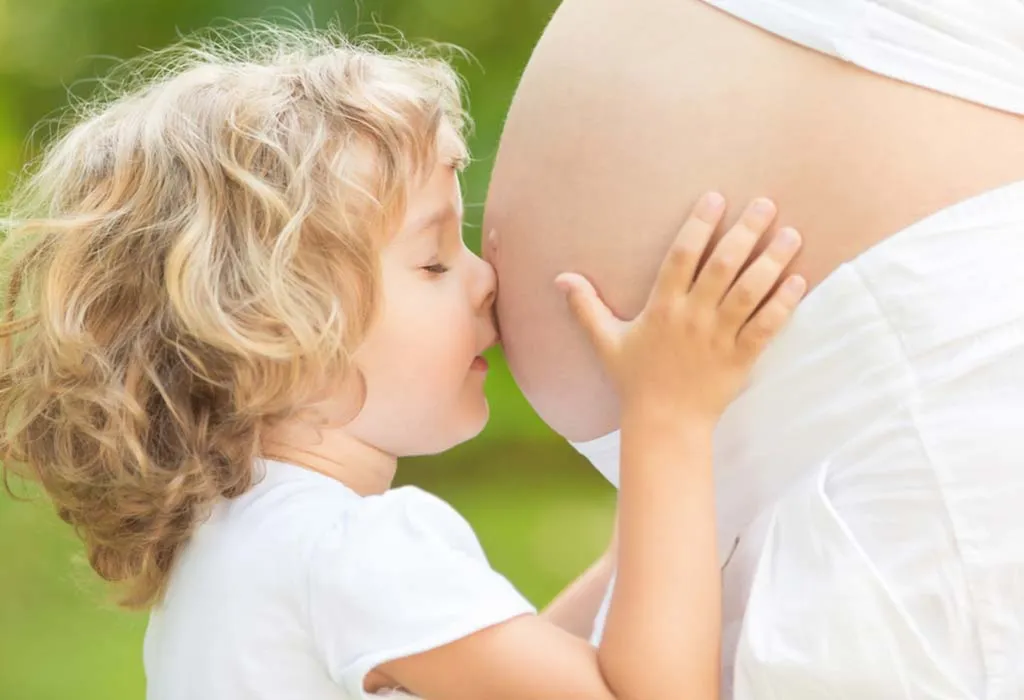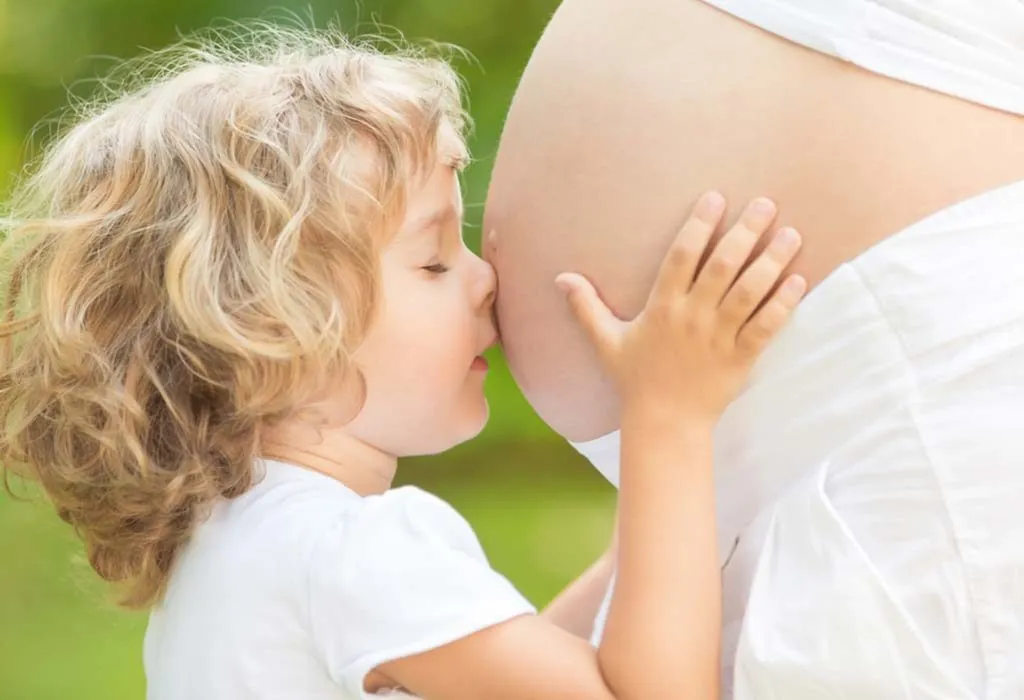 Another classic way of announcing a pregnancy is by taking a photo of your baby bump and showing it your child. Then, ask your child to kiss the baby bump and photograph the moment to create a beautiful pregnancy announcement big brother moment. Both parents can be present in this photograph.
21. Doctor's Office Baby Announcement
It is a great idea to announce a baby with a doctor's office photograph. While you go for a sonogram, make your kid stand next to the sonogram monitor and photograph them. That will make an excellent sibling announcement.
22. Relaxing Announcement
Sit on your bed. Relax. Bring your kid to your lap. Put a slate next to you and put the announcement there. You can reveal the gender also. Photograph the announcement with you and your kid. This will be a very soothing yet exciting way to share the good news with the sibling-to-be.
23. Baby Shark
Do you have a Baby Shark enthusiast in your family? Then you can use this unique idea. Make your kid dress up as the baby shark and write in the announcement – Baby Shark 2.0 due on (expected date). This is a fun way to tell your kid and the world that your kid is going to have a sibling soon.
24. Bake a Recipe
Baking is always fun, and baking a recipe for the sibling-to-be is definitely going to be a fun way of announcing the new kid's arrival. You don't need a lot of things to bake- a simple bowl and spoon and a board that will have the recipe written on it: '5 cups of kisses, 6 cups of love, and bake till (expected date)'. Make your kid the chef, and take lots of pictures!
25. Vacancy Notification
Your kids can create a workplace feel around your announcement. Write a vacancy notification on a board- 'Assistant to the Regional Manager needed- position to be filled in by (expected date).' This is a beautiful way of announcing the arrival of a younger sibling.
26. End of an Only Child Era
Mark the beginning of the end of an only child era. Make your elder kid sit next to an announcement board written: 'Only child era- from (the child's birth year) to (expected delivery date of the new child)'. Isn't this a creative idea to announce your pregnancy?
27. Superhero Sidekick
Every kid loves being a superhero, and superheroes thrive with a sidekick. Make your kid dress up as a superhero and announce the arrival of a sidekick. You can also reveal the expected month of the appearance of your new baby.
28. Order a Backup
This one is a fun idea where Dad gets to have fun with the kids. The dad can dress up like a police officer, and all the kids can dress up as his assistant police officers. The pregnancy news can come across as the police officers ordering a backup to this police force.
29. A Furry Big Brother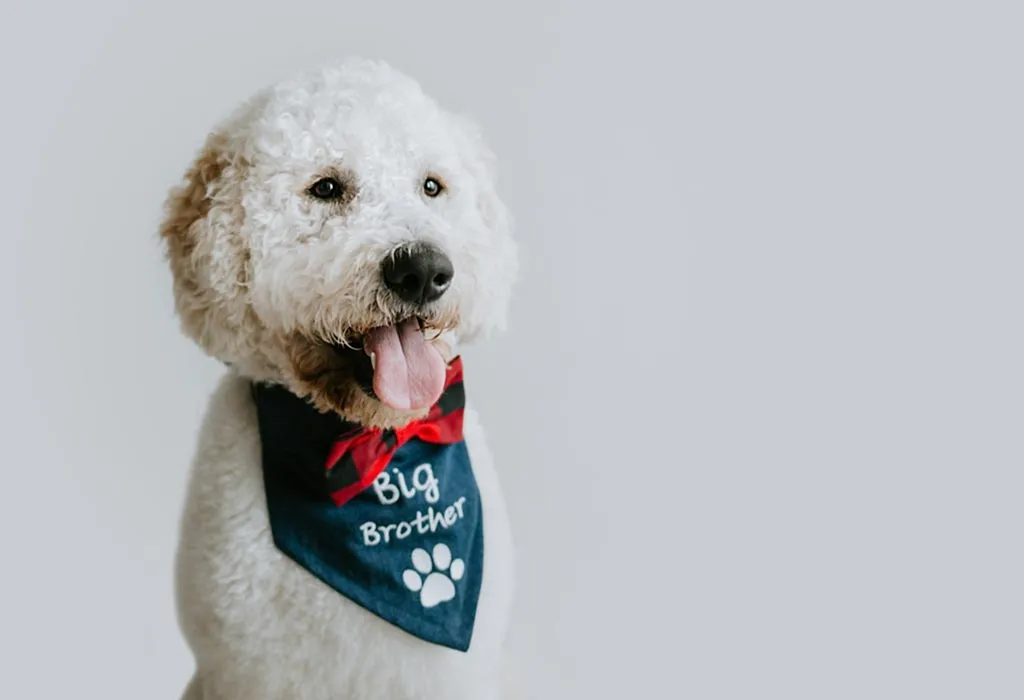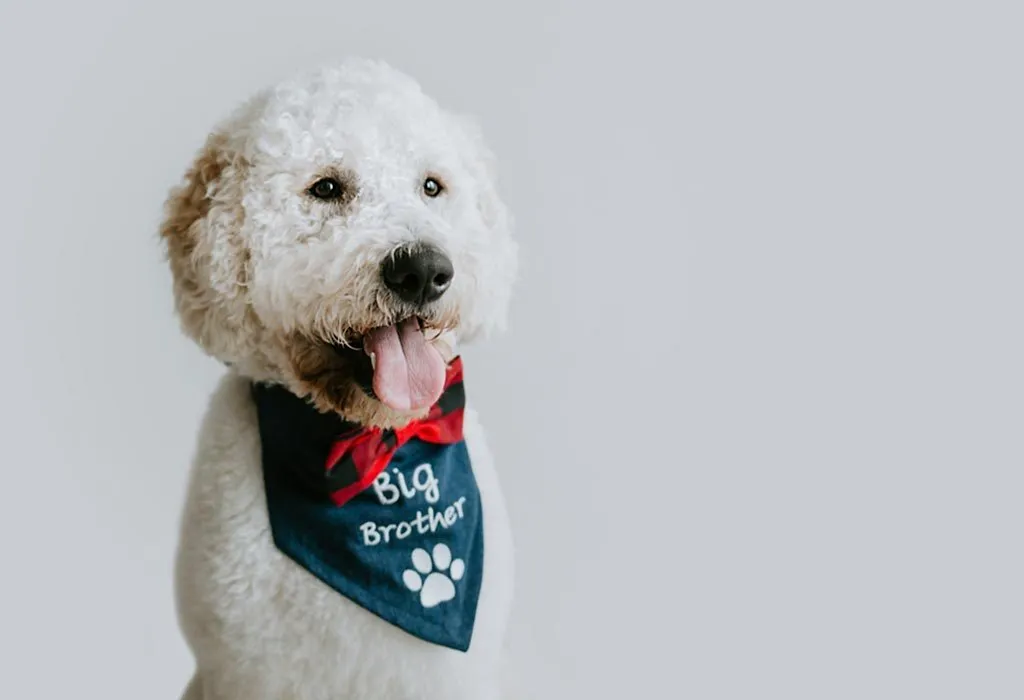 What if you're having your first baby, and you do not have a scope for sibling announcement? Don't worry- sometimes your furry kid can be a big brother to the newcomer. In fact, having your pet announcing the arrival of the baby is one of the most innovative baby reveal ideas for siblings.
30. Cutting the Ribbon to a Nursery
Set up a nursery in your house for your upcoming child. Let your kid cut the ribbon of the nursery. The grand opening of the nursery could be a grand gesture for announcing the baby's arrival.
These were some funny, crazy yet sweet, and exciting ideas to announce the arrival of a new sibling. Most of the time, older kids feel excited about the arrival of a new member of the family, and they take part in the announcement ideas with a lot of enthusiasm. These ideas are simple, and they can pluck at everyone's heartstring. You can post these announcements on Instagram or any social media. Traditional is good, but thinking out of the box and pulling off a creative baby announcement idea is always great.
Also Read:
Unique Halloween Inspired Pregnancy Announcement Ideas
When is the Right Time for Announcing Your Pregnancy
How to Announce Pregnancy at Work