27 Must Read Christmas Books for Children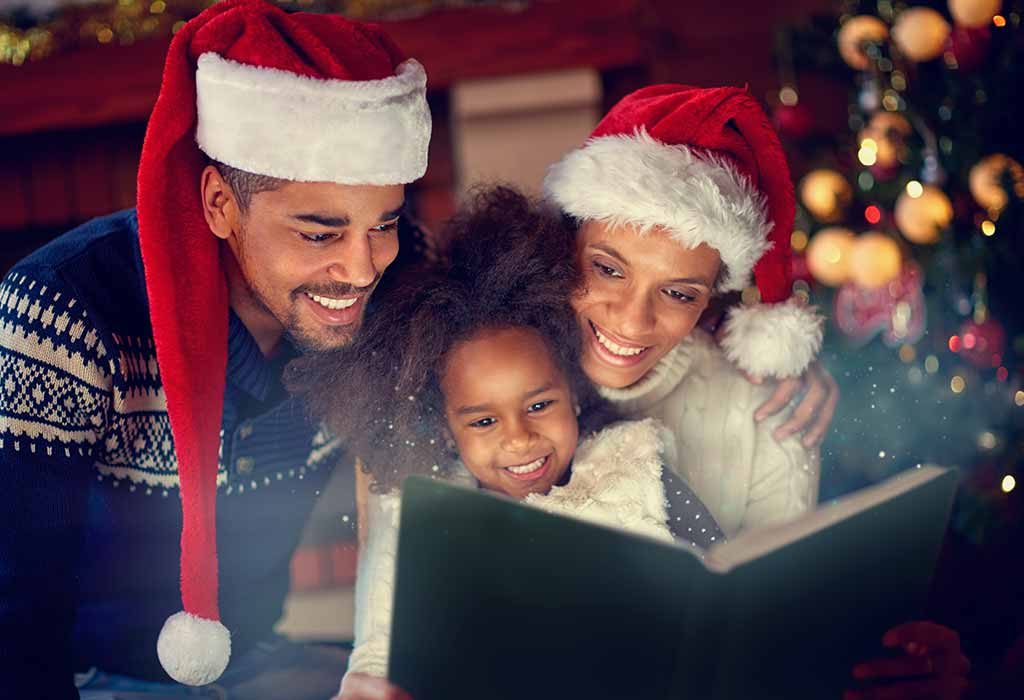 In this Article
Books are an important part of our lives, especially in the holiday season! Many of us like reading books, particularly if the habit has been instilled in us since childhood. So, why should it be different for your kids? The Christmas holidays are the best time when you can get your kids to read some interesting Christmas stories. From Christmas-themed novels, picture stories, and board books, we have recommended some classic Christmas books that are perfect for cozying up on a snowy winter night!
27 Awesome Christmas Books for Children
Christmas stories are truly enchanting that would raise the holiday spirits among kids! Here we have 27 awesome suggestions for Christmas books for kids that you can purchase this Christmas season!
Best Christmas Books for Toddlers
1. Christmas ABC
Author Name: Jannie Ho
This one is an excellent Christmas-themed book for toddlers that introduces the kids to each letter of the alphabet and words associated with the season and also helps in building their vocabulary.
2. Llama Llama Jingle Bells
Author Name: Anna Dewdney
This book is the most popular amongst preschool kids. Your kids are going to love this one! Go for the board book version if your little one is too young to read.
3. The Itsy Bitsy Reindeer
Author Name: Jeffrey Burton
If you are looking for something to the tune of nursery rhymes, then you must get this one. Sing it in the tune of "The itsy bitsy spider", but tell your toddler the story of a reindeer working in Santa's shop.
4. Five Christmas Penguins
Author Name: Steven Lenton
Check out the Five Christmas Penguins by Steven Lenton for fun and playful Christmas-themed stories for toddlers.
5. Merry Christmas Mouse
Author Name: Laura Numeroff
This perfect Christmas-themed book for toddlers will also give some counting practice in a fun and educational way.
6. Brave Little Camper Saves Christmas
Author Name: Holly Berry Byrd
A perfect Christmas picture book with cute illustrations! The story is about a brave little camper who saves Christmas when the reindeers can't fly.
7. Duck and Goose It's Time for Christmas
Author Name: Tad Hills
This oversized board book, perfect for toddlers, tells the story of Goose and Duck. Goose wants to make snowballs and go sledging, but Duck tells him that there's no time for all this. You have read the book to know what happens next.
8. Dear Santa
Author Name: Rod Campbell
A cute heavy-duty, lift-the-flap book that will engage your little one with interactive Christmas stories.
9. Where's Baby's Christmas Present?
Author Name: Karen Katz
Yet another delightful lift the flap book for toddlers that holds a special treat on each and every page of the book!
10. Spot's First Christmas
Author Name: Eric Hill
Is your little one a Spot fan? If yes, then he'll simply love this book. It's about a cute little dog named Spot and his first Christmas!
11. The Jolly Christmas Postman
Author Name: Eric Hill
This engaging book with touch-and-feel envelopes and separable letters by Erin Hill is beautifully crafted for toddlers to understand the jolly Christmas. The main character, The Jolly Postman, delivers Christmas presents and letters to popular fairy-tale characters like Little Red Riding Hood and the Big Bad Wolf.
Best Christmas Books for Preschoolers and Kids
Here are some of the best Christmas books for preschoolers and kids:
1. Maisy's Christmas Party
Author Name: Lucy Cousins
This is a beautiful tale about Maisy who is hosting a Christmas party. She sends invites to her friends, in response to which each of the invitees sends her a delightful piece of mail. Each page of the book represents an envelope with a pocket that your little one can reach into and pull out a letter with a sweet surprise!
2. Dream Snow
Author Name: Eric Carle
Here comes another cute story from the author of The Very Hungry Caterpillar! It's a tale about a farmer who dreams of having a white snowy Christmas with his animal friends on Christmas eve.
3. The Nutcracker
Author Name: E.T.A Hoffman
The book represents a simplified version of Hoffman's story into a board book with diverse illustrations. The book is a part of the beloved Penguin Bedtime Classics series!
4. You are my Merry Little Christmas
Author Name: Joyce Wan
This is a cute and enchanting board book for preschoolers that represents detailed illustrations of smiling trees, sugarplums, and sugar cookies.
5. All Aboard! The Christmas Train
Author Name: Nichole Mara
How about a unique Christmas-themed book that unfolds and unfolds until it looks like a six-compartment train? A delightful interactive read where kids can lift the flaps and follow the trail of Santa while he looks for his lost boot!
6. The Legend of Poinsettia
Author Name: Tomie dePaola
A beautiful story with a touch of religious and historical tinge, it tells the tale of how the Poinsettia plant was associated with Christmas in Mexican Culture.
7. If you Ever Want to Bring a Pirate to Meet Santa, Don't!
Author Name: Elise Parsley
How about Santa celebrating Christmas with Pirates? Unheard of, right? But not in this book!
8. The Tailor of Gloucester
Author Name: Beatrix Potter
An exciting tale about a tailor who is trying to survive a brutal winter. The tailor gets an important Christmas Day assignment, which is magically completed by his cute little furry friends when he is ill!
9. Christmas Treasury
Author Name: Jan Brett
It is a wonderful book to read while cozying up in bed after a long tiring day. The book represents Christmas-themed seven wintery tales for kids!
10. A Christmas Carol
Author Name: Charles Dickens
A classic by the renowned Charles Dickens, the book comes with detailed illustrations that complete the beautiful story.
11. Christmas in the Manger
Author Name: Nola Buck and Felicia Bond
The book represents a sweet and lyrical tell-tale of the first Christmas that's perfect for young readers. The book comes with cute and colorful illustrations and is an excellent pick to introduce your kids to the nativity.
12. I am Max
Author Name: Astrid Holm
Inspired by Dr. Seuss' quick storytelling, it is a story about a cute dog named Max! Children who loved the Grinch would definitely like this one too!
13. The Christmas Wish
Author Name: Lori Evert
An endearing tale about a cute little girl named Anja, who wishes to become one of Santa's Elves, so she gets into her snowshoes and heads off to pursue her ambition. It's a classic tale filled with love, wonder, and warmth.
14. Olivia Helps With Christmas
Author Name: Ian Falconer
Here comes an interesting story from the Olivia series! In this tale, Olivia is very busy waiting for Santa and making sure she and her parents have completed all the Christmas preparations.
15. The Snowman
Author Name: Raymond Briggs
This is an adorable Christmas-themed story of a little boy and a snowman he builds. The snowman magically comes to life, and they travel together through an incredible journey in the Winter Wonderland!
16. Little Blue Truck's Christmas
Author Name: Alice Schertle
Little Blue Truck's Christmas is a novel book for preschoolers, spreading the joy of Christmas around by delivering Christmas trees to his dear furry animal friends. This book is enough to teach your children about the snowy adventure during the time of the Christmas holidays.
We are sure that you and your little munchkins will love the above books! Just curl up with your little ones on a snowy wintery night and read one of our suggested Christmas storybooks! Happy Holidays!!
Also Read:
Amazing Christmas Gift Ideas for Children
Amazing Christmas Stories for Children
Christmas Songs & Poems for Children