22 Amazing Christmas Gift Ideas for Kids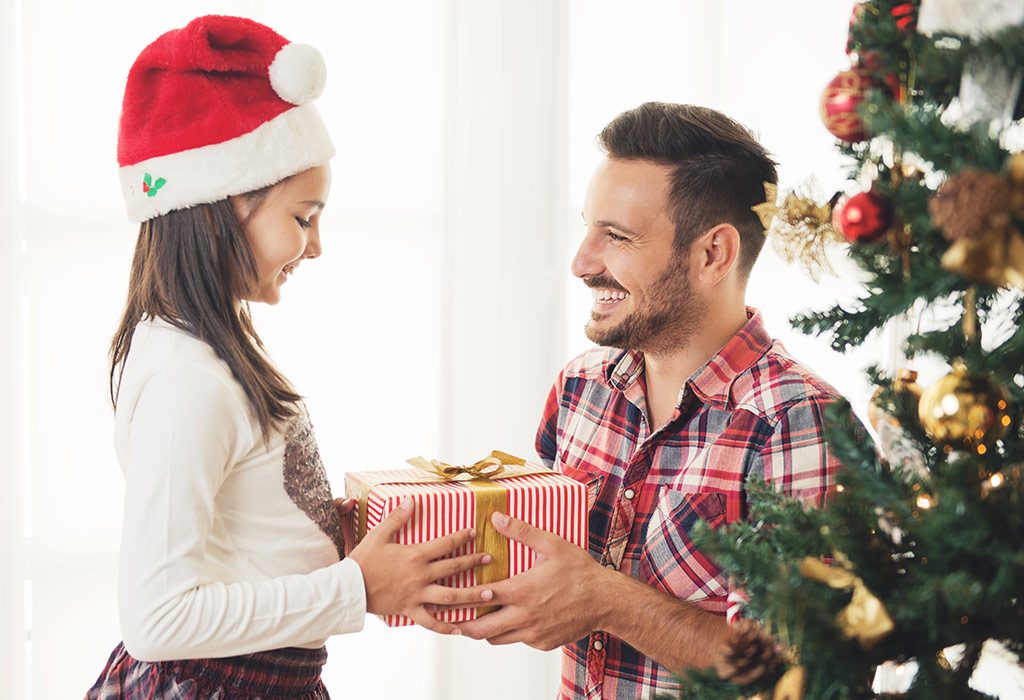 Christmas comes only once a year, and we all look forward to it, especially children. You know why? No, it's not because they get to eat Christmas cookies or decorate the Christmas tree – it is because they get Christmas gifts from Santa (or from you!). Every child deserves a Christmas present, so whether or not your child has been good throughout the year, you need to give him something special on Christmas. But we know getting gifts for kids can be difficult, especially when they demand new things every other day. So we thought of helping you out!
Video : 10 Best Christmas Gift Ideas for Kids
We have compiled a list of gifts that will help you buy the best gift for your child. Whether you have a kid who loves to spend quiet evenings colouring a book or a toddler who needs toys to break every single day, this list of Christmas gifts will definitely help you out!
Christmas Gift Ideas for Children
Watching your child grow and blossom into a teen can be a heartwarming experience. The trouble is – as he grows, he will need new and creative gifts. But worry not, we've got it covered for you. We have a wide range of Christmas gifts for boys and girls that you can choose from. From colouring books to plush toys – we have the most wonderful Christmas gift ideas for kids. So read on and get the best gift for your kiddo!
1. Colouring Books
Let your child enter the world of creativity by gifting him a coloring book. Get a kids' coloring book for your child, it will surely keep him busy and happy for hours. Colouring books can be given to kids of different age groups. They will keep your kids busy and buzzing with joy during the winter season! Pick one as per your child's age, and add a box of the child's favorite colors to complete the package.
2. Magnetic Drawing Boards
Friendly and ultra-portable, magnetic drawing boards will stir up young imaginations and are suitable for fun-filled sessions of tic-tac-toe with peers as well! Electronic magnetic drawing boards feature a stylus that is pressure-sensitive and provides fine control which makes this ideal for young artists and doodlers as well. It would make a perfect gift for school-going children. But it can be enjoyed by kids of different age-group. Make your child sit in his favorite chair with the doodle board – he will have hours of fun.
3. Stick Puppets
Go old-school and become a cool parent by entertaining your kids with this classic gem – puppets on sticks! Stick puppets are usually oversized and come in sets of two or three. Let your fingers move and the puppets do the talking for the ultimate old-school entertainment! Pick ones that are easy to clean and can be used as characters from your child's favorite stories.
4. A Play Gym
A play gym is a small play area and is a haven for kids during the cold months of winter. Play areas come in different sizes, and some of them even feature musical elements. Play gyms also come with attachable soft toys, rattles, teethers, and more. These hanging toys help a baby flex his muscles while he tries to touch them and even help build his hand-eye coordination in the process.
5. Plushies
Plushies are adorable little toys and give your munchkins their very own bundle of joy. Plushies are soft, comfortable, and perfect for being hugging buddies. Whether your child plays or sleeps with plushies clutched tight, we're sure they'll make their world blissful.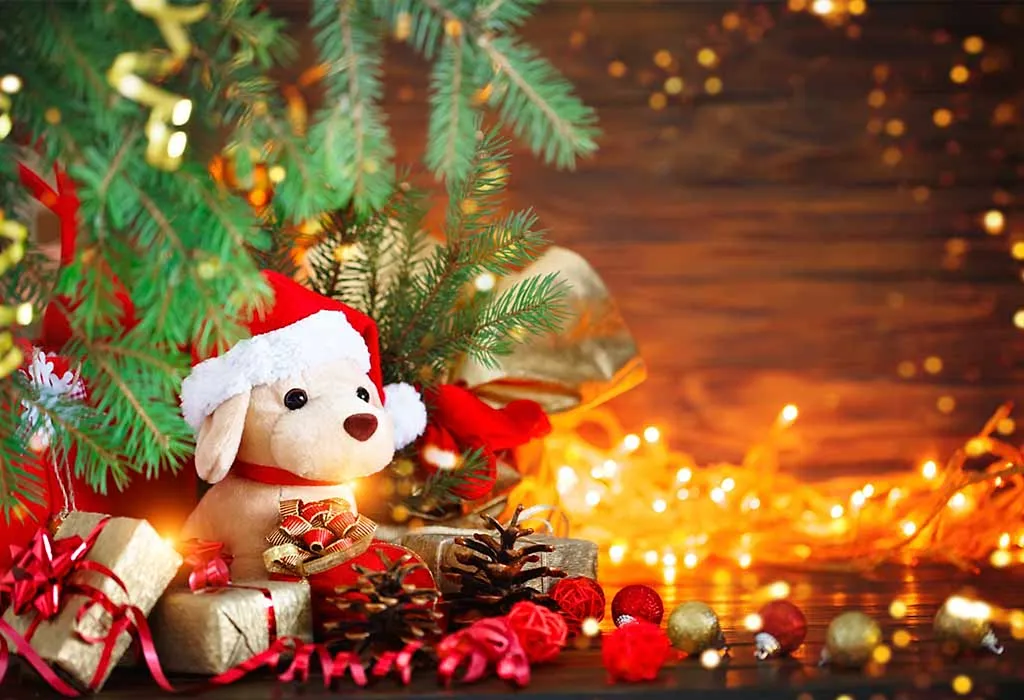 6. Doctor Sets
One of the best Christmas presents for children, doctor sets encourage young ones to explore the joys of becoming a young surgeon. These sets teach children how to use first-aid in a fun and engaging way. They are perfect for siblings who want to play together. Even you can join the fun and play doctor-doctor with your child and get a few imaginary ailments treated.
7. Gardening Sets
Instill the love for nature in your child from a young age by getting him a gardening set. These sets come with shovels and buckets. By playing with a gardening set, your child's hand-eye coordination will improve and you never know he might develop a green thumb. These sets are even suitable for playing on the beach. So get one for your child!
8. Binoculars
If your child loves sightseeing and exploring the natural wonders of the world, gifting him a binocular will open the doors to his imagination. These are made from plastic and are compact and durable. Your child will love the feeling of watching things come up close the minute they peek through these gems.
9. A Playhouse
Playhouses let your kids enjoy the nuances of living in mini-homes. Through different shapes, elements, and playful pictures, mini-houses or playhouses stimulate imaginative play and allow infants to explore every corner.
10. Remote Control Cars
As a child, you must have owned one or two remote control cars and run them around the house. So let your child play with them too. Nowadays, we also get remote control cars that feature adjustable volume and entertaining tunes. These cars come with different levels of complexity, so you may pick one which your child will find easy to use.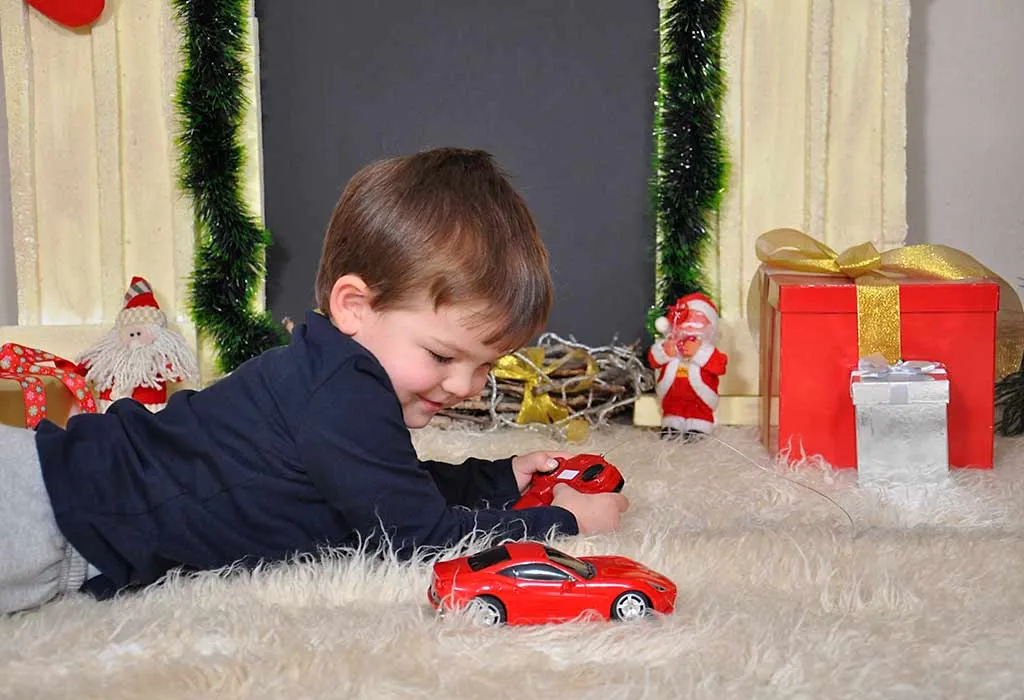 11. Basketball Set Toy With Ball
This basketball set along with the ball is an excellent toy for enhancing your kid's motor skills. As kids grow, they get bored of their toys easily and always look for new toys. With this game, your child will not only be engaged, but he will also develop cognitive and motor skills by playing basketball.
Christmas Gift Ideas for Babies and Toddlers
When buying a gift for a baby or toddler, you should remember that the gift should help in the gross or fine motor skills him plus are safe. You wouldn't want your baby to chew on toy parts, but rather have access to toys that make playtimes safe and fun. If you are wondering what the perfect gift may be, here are a few suggestions from our end.
1. A Mini Kitchen Set
Turn your kids into aspiring chefs by getting them cool mini kitchen sets. Featuring a gourmet kitchen design, these come with all the tools your kids need to have fun while doing their imaginary cooking! If you have a toddler, you can teach him the names of different kitchen utensils too through this mini kitchen set. This gift is perfect for babies and toddlers as it will help improve his hand-eye coordination.
2. A Swing and Slide Set
Keep your child happy and engaged indoors on cold winter days by bringing the joys of the playground within the comfort of your home. Get him a swing and slide set and let him slide with joy and relish in delight all in the safety of home. A swing and slide set is one of the best Christmas gifts for infants and toddlers.
3. Puzzle Games
Are you looking for a game that will help improve the problem-solving skills and logical thinking of your tot? Get puzzle games for him and watch him churn his brain while trying to solve a puzzle. As he grows up, you can increase the level of complexity! You will find a wide range of options in puzzles – choose the one you think your child would love to play with and let him have fun for hours on end. You can even get math puzzle sets for toddlers who need to crunch a few numbers for homework.
4. Ride-On Cars
One of our top gift ideas for baby's first Christmas is ride-on cars! Your child can roam around the house and have a great time while driving around the house (and safe from outdoor perils). Whether they are manual or electrically operated, these cars guarantee hours of fun!
5. A Baby Walker
Are you trying to teach your baby to walk? If yes, make the learning process fun by getting him a walker! From walkers in interesting shapes which can be converted into ride-on cars to basic wooden walkers which are all-time favorites, you are sure to find one that is just right for your child. Some of these come with block sets consisting of different shapes, sizes, and colors or musical attachments as well. If you want to purchase this gift for your baby, it is recommended to have a word with your baby's paediatrician first, as some baby walkers may be unsuitable or unsafe for use.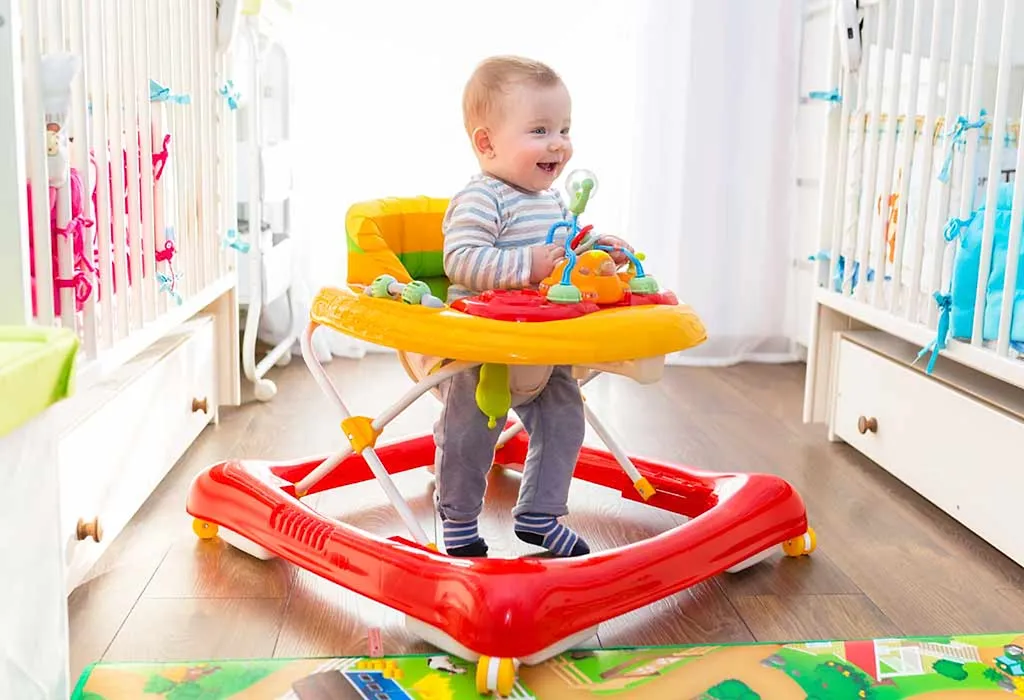 6. Hand-knitted Quilts
A perfect gift for an infant, quilts are great to cuddle your baby with warmth and style. A gorgeous quilt that is hand-knitted and custom-printed is not only useful but is also sure to be a favourite blanky or an adorable keepsake for the child when he grows older.
7. Moccasins
Your baby will begin walking soon so why not invest in a gorgeous pair of crib moccasins that will keep his tiny feet warm during the winters and provide maximum comfort! Most moccasins have an elastic and leather sole, and they make for one of the finest Christmas gifts for infants and toddlers. Moccasins are comfortable and work fine with sensitive skin types as well.
8. Building Blocks Set
All-time favourites, building block sets are classics and feature colourful pictures and playful shapes to facilitate fun and learning in one go. Pick a set with assorted blocks, or choose a set which can be used to make a specific toy. By playing with building blocks, your child will learn about different colours and objects meanwhile working on his problem-solving skills. And yes, his hand-eye coordination will improve too!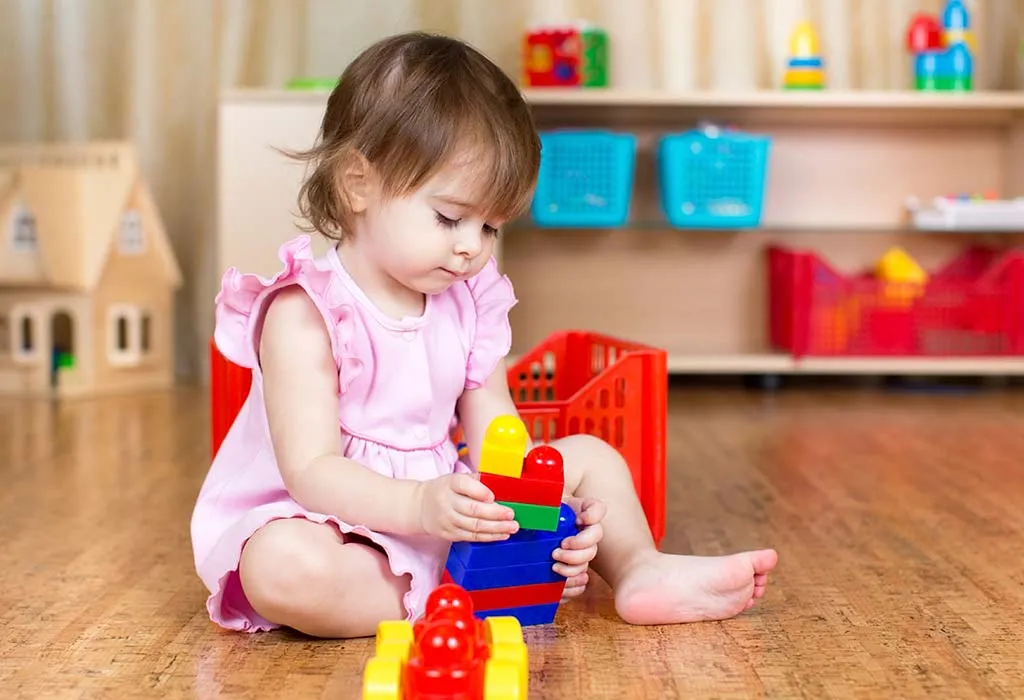 9. Push and Pull Toys
Your baby will love to play with push and pull toys. These come in bright colours and attractive shapes and have engaging sounds. From puppies with moving tails to ducks which waddle along and trains which trundle right behind your toddler, pull-along toys are endearing companions. These toys also encourage gross motor skills while strengthening a child.
10. Toy Vehicle Sets
Fun and affordable, toy vehicle sets will bring a smile on your child's face and teach him the basics of road safety. Choose from chiming trucks, rattling race cars, ringing cars, and squeaky taxis. Absolutely safe for kids and fun to play with, they come in an enviable range to pick from. What better way to keep your child busy on a cold winter night?
11. Keyboard Toy With Mic
Music has always been referred to as a beneficial instrument in a child's development. This Christmas, you can gift your toddler a beautiful keyboard toy that comes with a mic. Through this, he will learn to recognize new sounds, and with a mic, you can also record his voice. This is a perfect educational toy that will help your child with eye-hand coordination and creative imagination.
Christmas is incomplete without gifts and your child will definitely look forward to receiving some amazing gifts. Soft toys, remote-controlled cars, building block sets, and drawing boards – there's a toy for kids of all ages. So pick one or more gifts for your child from the above list, wrap it with a shiny wrapping paper and keep it under the Christmas tree. He will love whatever gift you choose for him. And have a wonderful Christmas with your kiddo and family!
Also Read:
Christmas Songs and Poems for Children
Christmas Party Games for Kids
Christmas Crafts & Activities for Kids