25 Baby Shower Poems – Magical Verses for Your Baby's Arrival
In this Article
A baby's arrival is one of the most magical and surreal experiences for a mother. Every mommy-to-be makes efforts to make everything special for her baby and it also includes celebrating her baby's arrival or 'The Baby Shower'! If you are an expectant mother and looking for some magical verses, poems, or words for your baby shower, well, we must say that you are lucky to have stumbled upon this blog! In this post, we shall be sharing some beautiful thoughts and feelings that every mommy-to-be is laden with in the form of beautiful verses!
25 Endearing Poems for a Baby Shower
Here are some delightful and adorable baby shower poems that can express a would-be-mommy's feelings and sentiments for her little bundle of joy!
Baby Shower Invitation Poems
Here some cute baby shower invitation poems that you can use to invite your family and friends:
Nibbles, savory and sweet,
Fun games to play and yummy cake to eat
With our new baby arriving very soon
Let us all gather for an afternoon!
Heavenly bliss is bestowed
Gentle smiles and tender cries
Surely soon brightens up our skies.
Placid eyes, feeble feet
An angel amiably sleeps
Small fingers, pointy nose
A tiny gift God has endowed!
That tiny baby we hold so dear
Will soon bring us joys in all the years
This tiny gift that makes us grin
Is a miracle sent from heaven!
Come join us to celebrate the arrival of our little munchkin!
The gift of life is understood and known when you are a child,
But the gift of living is understood better when you have a child!
That is why we are sending you an invite
Please come and enjoy the baby shower of our beautiful child!
Teensy-weensy toothless smiles
This baby will be so divine
Teensy-weensy hands and feet
Will be God's blissful treat.
Teensy-weensy flimsy toes
That will wear little shoes
Teensy-weensy fingers too
Will be dressed in mittens that are new.
This teensy-weensy baby so dear
Will grow so fast in the coming years
This teensy-weensy angel that is bestowed
It is a big gift heaven has endowed!
My tribe of bubbly ladies,
with mutual excitement let us meet.
To welcome my unborn precious baby,
Whom I just can't wait to greet!
With arms wide open, a baby we are ready to welcome,
We can't wait to see all the things that he will do often and seldom!
From cutting his first tooth to saying his first word,
To those first steps, he'll take, like a wobbly baby bird.
The whole world seems to await his arrival and waiting eagerly to be explored,
We wish to be with people who will always make him feel adored.
Our new baby is on the way
We'd love your presence on this special day
A baby shower will be held for our baby very soon
All the fun and frolic will make it a beautiful afternoon!
Baby Shower Poems for a Girl
Are you expecting a baby girl and wish to share your joy with your loved ones by inviting them for a shower? Well, we have some beautiful baby shower poems to welcome a baby girl:
Tiny little fingers, tiny little toes,
Little itty-bitty clothes.
Dresses, ribbons, and hair to curl
We're tickled pink because we are having a girl!
Little bittie hands and little bittie feet
Cute puckered lips that are oh so sweet
Soon to dress in pink dresses and beautiful curls
Join us for a baby shower celebrating a new baby girl
The pitter-patter of little feet
Our baby girl will have the sweetest smile
Her giggles will bring joy deep inside
Her tiny hands and tiny feet
We are eagerly waiting to meet!
This bundle of joy now rests quietly
What a precious treasure rests placidly
Our baby girl will be so cute and small
Will grow so lovely for sure
This baby we amiably adore
Felicity is sweetly outpoured
This baby that will have a physique so mild
Will bring us tons of delight!
We have always wanted a baby girl,
And our wish is coming true.
There's a bundle of dainty joy
Growing right inside of you.
A darling little girl for us to hold
And sing to and cuddle and kiss.
To bundle in blankets and rock to sleep,
And dress all in pink, if we wish.
Exactly the what we have hoped for,
A precious baby girl who'll steal our heart.
We cannot resist if we wanted to,
As soon our whole world would change for a new start!
With all the laugh and a giggle
our baby girl will be arriving soon
We laughed and cried tears of joy
and promised her the moon!
Little itty pink clothes
Tiaras, dolls, hair full of curls
You guessed it…it is going to be a girl
Baby Shower Poems For a Boy
A baby boy will bring so much excitement, joy, and adventure in your life. Here are some heart-warming verses or welcome poems to celebrate the arrival of your little baby boy:
A little boy is wonderful
A very special part
Of all the hopes, dreams and plans
We cherish in our hearts
Our baby boy is on the way
Mommy expect creepie crawlies
Football, baseball, and fire trucks
But first, let's celebrate in a special way!
A sweet baby boy we can't wait to meet
In the meantime, let us chat and eat
A celebration with lots of blue
To help mommy prepare
She'd love to see you there
There's something special about a baby boy…
Maybe it's the way he clenches his little fists
As though he'll conquer the world one day.
Maybe it's those heavy sighs he makes
As he wearily drifts off to sleep.
Perhaps it's in the way his lips randomly smile
As if he's dreaming of his mama.
Or it could be the way he thrusts out his chin
That seems so much like his father.
Whatever it is that makes a baby boy so special.
We are sure about to find out!
To show our appreciation
Of our baby boy, who is to come
Let's gather around
To celebrate this surprise
Let's celebrate, as our happiness will rise!
Baby Shower Favor Poems
Make your baby shower more memorable by writing a small shower favor or gift poem that you can write on a small card or tag and attach with the shower favors! Here are some poems that you can write:
Please accept this little token
To say the words perhaps unspoken
The words I guess you already know
Are thank-you wrapped and tied with a bow.
your gift was really kind.
You brought me your smile,
it's engraved in my mind!
With oodles of gifts and tea
But this little gift
Is from baby and me.
Just wanted to remind you,
of the fun that we had.
My baby shower turned out great,
Thanks for coming, I'm super glad!
this favor quite sweet.
It's just a little,
memorable treat.
Baby Shower Thank You Poems for the Mom-to-be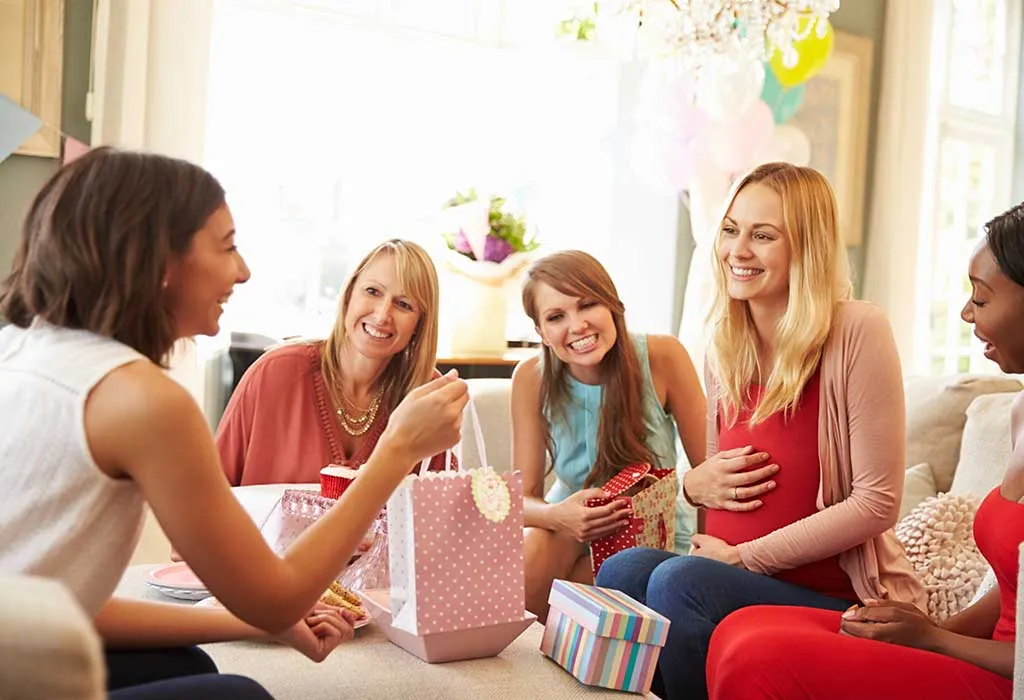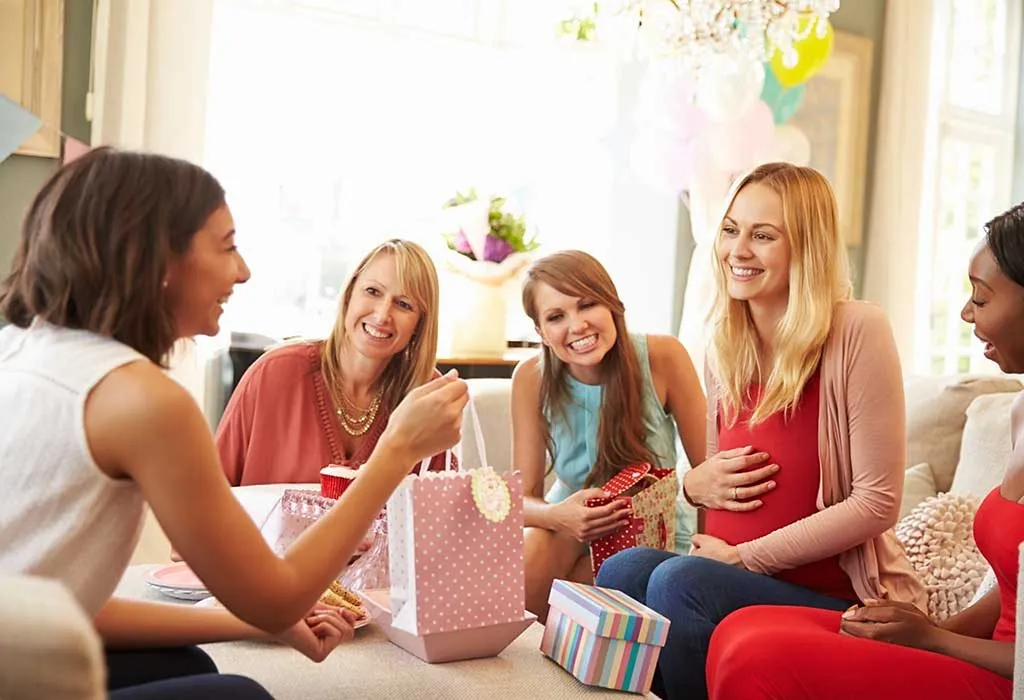 The mother needs to express her gratitude to her guests for making her special day ultra-special. So, here are some baby shower poems for cards that a would-be-mommy can use in expressing her gratitude:
What a treasure trove you brought,
With kind words and warm thought,
For a day full of joys and laughter,
Bubbling up to the rafter.
The fun we had,
The food we shared,
Makes us confident for baby's future,
With such friends to look after her.
Thank you for the memory,
And your pure generosity.
When an angel comes to earth,
It is such a happy day.
You cannot believe the little one
is finally here to stay.
A tiny little baby
brings joy to everyone.
With the cutest little smiles
and all the baby fun.
Thank you for your gift
and all good wishes too.
It will really come in handy
with all there is to do.
We never raise our children
without a little magic.
without great friends like you,
life would be so tragic.
Our baby will be here soon,
and we cannot wait to meet.
We thank you for your patience
to touch its little feet.
Your gift is very welcomed
and will help us make our start
With our little baby bundle
who is already in our hearts.
Life is very precious,
especially a life that is new
It is wonderful to share our joy
with great people like you.
I'm not sure what to say.
Will the words even have the strength…
To convey the love and appreciation
that I feel towards you right now?
Does a word exist, in any language at all,
that will explain my thankfulness, once and for all?
I may not know the answer to that,
so I hope that this will suffice,
Thank you for your support,
thanks, for being here.
The little baby doesn't have the vocabulary,
For this vital necessity,
We must express our joy and thanks,
For all the smiles and party pranks,
The kindness and love,
The presents and hugs.
We can't fully put it into words,
But the happiness that we taste
It can be read on our little baby's face.
A baby shower is certainly one of the most memorable moments for a would-be-mother as it is about celebrating a new life into this world. It is a time to share hopes, emotions, and dreams associated with the arrival of her bundle of joy and what better than some heartfelt thoughts, words, and verses!
We hope that you like our selection of adorable baby shower verses! You can add or tweak them as per your liking or requirements and make your baby shower more special and memorable with your loved ones! The idea is to provide you with a source of inspiration, if you wish to write or pen down something on your own, some of the above-mentioned verses can come handy!
Also Read:
Unique Baby Shower Theme Ideas
How To Plan A Baby Shower
Baby Shower Invitation Wordings Ideas