23 Wonderful Christening And Baptism Gifts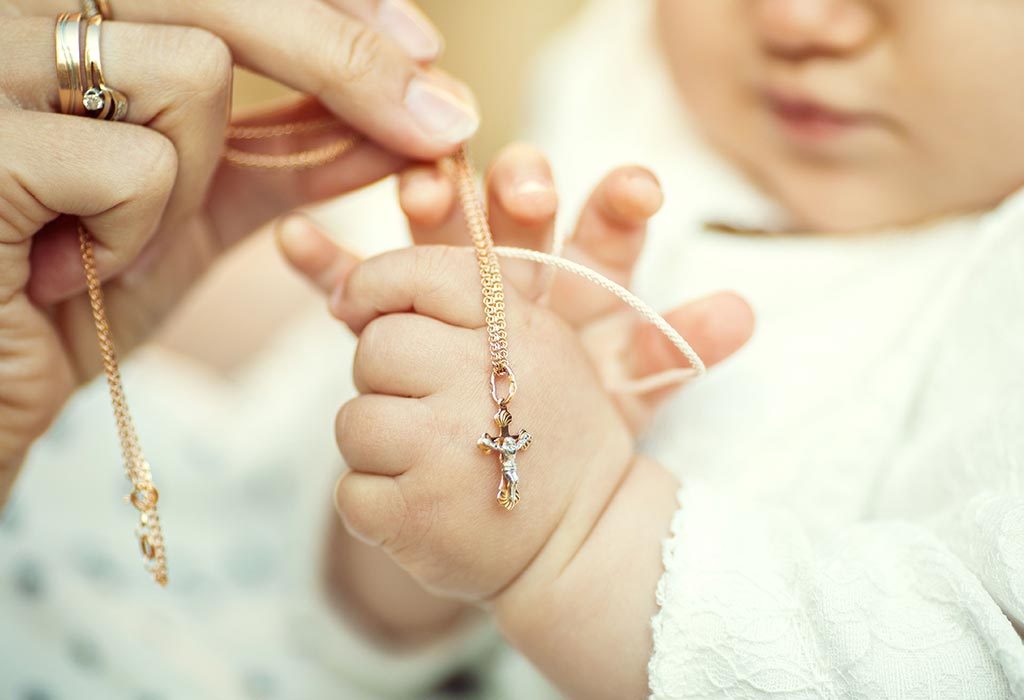 In this Article
Baptism is an introduction to the wonderful world of Christianity. It involves the christening of young children into the faith. It's a special milestone for kids, and it is a time when friends and families shower little ones with gifts. From picture books, toy rattles, LEGO sets and more, we've curated a list of appropriate christening gifts for your convenience. Take a look, and go with what you like!
Adorable Baptism and Christening Gift Ideas for Children
Whether you are looking for baptism gifts for girls, baptism gifts for boys, or unique gifts for infants for the special day, we've made sure to cover every ground for the little ones. Here's a list of original ideas for baby baptism gifts that you can use or alter to suit your benefit.
1. Personalized Fleece Blankets
Babies love things that are warm and cuddly. And if they're struggling to get a good night's sleep, consider gifting them a personalized fleece blanket. These come with logos embossed on them and unique eye-catching designs. Cartoon fleece blankets with characters like Mickey Mouse and Winnie the Pooh are huge hits.
2. Angel Figurines
If you are looking for truly exquisite baby christening gifts, try out angel figurines. They are available in different poses, but the most popular pose is the standing angel with hands clasped in prayer. You can set it on a dresser close to the crib, and it's a constant reminder that kids are the children of God.
3. Crib Sheets
Next to soft blankets, crib sheets are the second best thing when it comes to baptism gifts. You can get them in different typefaces, styles, colours, textures, and patterns. If you want to make it truly special, we recommend personalizing the gift by adding the little one's name on the sheets. This will also help those who see your baby for the first time to get acquainted with their new name more easily.
4. Baptism Picture Frame
Baptism is a special day, and if you want to cherish the moment for the years to come, it's a good idea to go shopping for a picture frame. You can get these frames in different shapes and designs, but the most popular ones that parents go for are mirrored glass and silver frames. Be sure to get your cameras ready and snap a picture or two! This is a good infant gift.
5. Children's Bible
Children's Bible picture books narrate the tales of Jesus and His miracles in an easy-to-understand way. These picture books are illustrated for kids and are brimming with pages of colours. It's a nice way to introduce your kids to the world of Christianity, and it makes for good bedtime reads, too!
6. Plate Sets
Kids love finger foods and mealtimes. If you want to make your kids look forward to mealtimes even more and turn the fussiest of eaters into the most enthusiastic ones, gift them a plate set. Kids' plate sets are available in cute designs and different sizes. Some sets can feature their names engraved on them, and can be personalized with typefaces and custom designs for a unique touch.
7. Birthstone Bracelets
If you want to truly stand out from the crowd and gift kids something unique, go for a birthstone bracelet. These bracelets are crafted using 100% natural gemstones which can offer healing benefits. You can get the ones with crystals and freshwater pearls, since they look simply stunning. Get the baby boy or girl's name engraved on these bracelets using customizable letters with silver sterling beads, and you're set!
8. Pacifier Clip
Losing a child's pacifier can be a terrible experience, and every parent knows when hell breaks loose! Do a christening favour this season by gifting a pacifier clip. Go for a sterling silver variant or a gold-toned one. You can get pacifier clips that feature designs of crosses, which make for appropriate christening gifts for kids. All pacifier clips are safe, tested and ideal for use when a baby is going through the teething phase. They will prevent the pacifier from falling off by securing it in place.
9. Christian Onesie
If you've had your prayers answers for a baby boy or girl, you can show your appreciation to the Lord by gifting your little one a Christian onesie! These have custom typefaces printed on them, and can be personalized.
10. Colouring Books
Kids have a creative streak inside them, and you can bring out their hidden talents by gifting them a gorgeous colouring book.
11. Personalized Dolls
Baby girls love playing with dolls, and if you get the chance to shop for personalized ones, don't hesitate! These have soft textures, and come with personalized printable jumpers for an added touch.
12. Cross Lockets
A heart-shaped cross locket crafted using sterling silver makes for a gift that's not only stunning, but simply beautiful.
13. Wall Art Prints
Wall art prints are designed with gorgeous typefaces and Christian quotes. It's a thoughtful gift, and it makes the Baptism day memorable.
14. Roald Dahl Books
If you have older kids getting baptized, then you may learn that they're not thrilled with traditional gifts. But older kids love to read, and Roald Dahl's books are some of the best.
15. Blessing Jar
Getting a blessing jar is a good way to count your baby's blessings. Well wishers can drop their sentiments and seal up the jar for later revisits.
16. Teddy Bear
Gift your child a teddy bear if you're running out of ideas. Look for ones in prayer poses or those that wear tees with cross designs on them.
17. Musical Globes
Snow globes make for good Christmas presents, but you can turn them into a Baptism gift by getting one that plays sweet tunes.
18. Baptism Pillowcase
Baptism pillow covers are ideal for christening gifts. These are available for toddlers and older kids with prayers imprinted on them.
19. Baptism Gift Set
Gift sets contain an assortment of different items, from plushies and storybooks to baby rattles and more. It's a good way to introduce some variety, too, while staying thoughtful!
20. Cute Socks
If your kids crawl a lot and you'd like to keep their feet comfy and warm during the winters, a pair of adorable socks with cross designs may be just what you want.
21. Personalized Wooden Chair
You can get a wooden chair and personalize it with cute letters and designs to make an useful christening gift!
22. Baby Bracelets and Rings
Go for silver-studded bracelets and sterling rings for baby christening gifts. You can also go for glossy designs.
23. Silver Cup
A gift that's classic and timeless, a sterling silver cup makes for a traditional baby christening gift.
We hope that this list has inspired you! Choose the gifts you liked, and come up with personalized gifting ideas if you need more suggestions. We're sure your kids will love these, and will look back on them as they grow up!
Also Read:
Gift Ideas for Newborn Baby
Birthday Gift Ideas for 1 Year-Old Baby Boy and Girl
Gift Ideas for Twin Babies