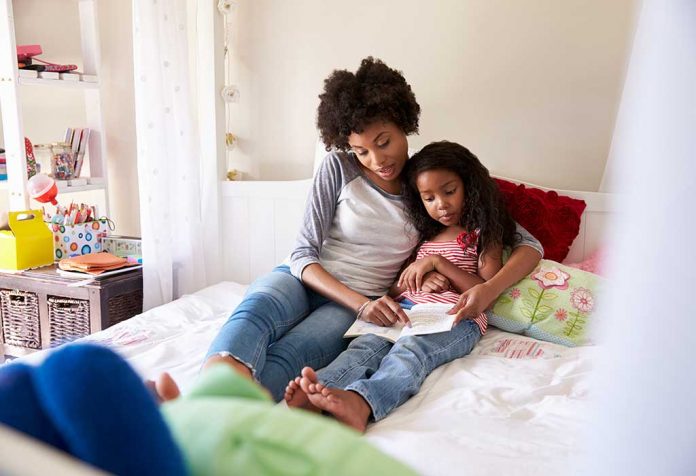 Parents read books to their kids from the time they are toddlers. Kids love to hear stories with loud and silly sounds. It makes them imagine the characters and also learn about new words. Most parents make it a habit to read a storybook to their kids at bedtime as they curl up with them. Reading aloud to the kids is also rewarding for the parents as it helps in the cognitive development of the child, grows their vocabulary and language, and induces reading and writing skills.
Top Read-Aloud Books for Toddlers and Preschoolers
Reading aloud storybooks to toddlers and preschoolers is the best gift their parents can give them. It helps in developing vocabulary, and introduces the little ones to the beautiful world of literature. The children's imagination is developed as they learn about different characters and are transported to new places. Their inner motivation to read and learn about new things gets unlocked. To inspire the kids to learn reading and new words, the parents need to focus on how they read aloud. The silly sounds, pace, and high-low tone variation along with facial expressions create a dramatic effect, and are well-loved by the kids!
Here are some of the best read-aloud books for kindergarten:
1. The Night Before Christmas
Author – Clement C. Moore
Genre – Christmas, Classic, Fiction
Why It's Great
It is a kid's book telling the classic tale of Christmas. The story is about how St. Nicholas climbs down the chimney to stuff stockings.
2. The Little House
Author – Virginia Lee Burton
Genre – Realistic Fiction, Classics
Why It's Great
The Little House is a classic book telling the simple story about a big heart and happy endings. The story is about how a country cottage is overshadowed and taken over by the big city surrounding it.
3. Diary of a Fly
Author –Doreen Cronin, illustrated by Harry Bliss
Genre –Humour, Fiction, Friendship, Bugs
Why It's Great
The story is about a young fly who dreams of being a superhero and the daily tasks of the fly along with the encounters on the way to becoming a superhero.
4. Dear Zoo
Author – Rod Campbell, illustrated by Rod Campbell
Genre – Fiction, Animals
Why It's Great
Dear Zoo is a story about a young boy who writes letters to many zookeepers to send him an animal for his pet. The books have flap pages which when lifted reveal a variety of animals that were sent by the zoo.
5. Everywhere Babies

Author –Susan Meyers

Genre – Fiction, Children

Why It's Great

This is a cute book about babies of all sizes and different shapes doing many things in everyday life. The book is perfect to read aloud to infants and toddlers.
6. A Hat for Minerva Louise

Author –Janet Morgan Stoeke

Genre – Humour, Fiction, Animals

Why It's Great

The book tells the story of a chicken, Minerva Louise, and her cute antics. She loves snow and often mistakes things for something else, like she mistook pair of mittens as hats, and wore one on her head.
7. I Went Walking
Author – Sue Williams, illustrations by Julie Vivas
Genre – Farm Animals, Realistic Fiction, Colours
Why It's Great
I Went Walking is a kid's book with catchy rhymes, which is a perfect and classic read-aloud book for kids. The book tells about things one sees when they go walking with catchy rhymes such as " I went walking/what did you see? I saw a black cat/looking at me" and many more.
8. Z Is for Moose!

Author – Kelly Bingham, illustrated by Paul O. Zelinsky

Genre – Spelling, Animals

Why It's Great

The book is a spin-off on the classic ABC tale with the center spotlight on Moose. Moose has a friend Zebra who is well organized and has well-laid alphabetic plans and Moose keeps interrupting his plans.
9. Fox Tale Soup

Author –Tony Banning, illustrations by Sally Hobson

Genre – Fairy Tales, Animals

Why It's Great

Fox Tale Soup is the charming re-telling of the classic story of sly Fox and Stone soup.
10. Peek-a-Who

Author –Nina Laden

Genre – Games, Halloween

Why It's Great

This is a cute book with colourful pictures and simple rhyming texts which make a favourite read-aloud for young kids. The book has taken inspiration from guessing games for kids and toddlers.
Best Read-Aloud Books For Kids
Parents want to inculcate the habit of reading and learning new things in their kids. To do so, parents should read out loud books to the kids, for the best activity. This involves the kids in the story and makes them learn new things. For young kids, read-aloud picture books are the best, as cute illustrations along with parents reading the story helps them to imagine more vividly.
Here are some of the best read-aloud books for kids:
1. The One and Only Ivan

Author – Katherine Applegate

Genre – Fiction, Animals, Friendship

Why It's Great

The cute book tells the story of a captive gorilla and is inspired by a true story. The book has an inspiring tale with beautiful illustrations about monkey business – literally!
2. The Adventure of Captain Underpants
Author – Dav Pilkey, illustrated by Dav Pilkey
Genre – Comedy, Action & Adventure, Humour
Why It's Great
This is the first book in the series of funny books telling the adventures of an outrageously funny character, Captain Underpants.
3. Clementine

Author – Sara Pennypacker, illustrated by Marla Frazee

Genre – Fiction, Comedy, Humour

Why It's Great

This is a funny book with cute illustrations that narrates the antics of Clementine. The antics are outrageous and crazy, but the humorous story makes both the parent and kid laugh out loud.
4. Ivy Bean

Author – Annie Barrows

Genre – Fiction, School, Friendship

Why It's Great

A lovely book for kids telling the tale of friendship between two different types of kids- Ivy and Bean. The series of books is about how Ivy and Bean who at first don't like each other but later become best friends.
5. Betsy-Tacy

Author – Maud Hart Lovelace

Genre – Fiction, Realistic Fiction, Growing Up

Why It's Great

This is a series of historical fiction books about two friends- Betsy and Tacy. The books trace the journey of the two best friends from elementary school to adulthood. The book is based on the real-life experiences of the author.
6. The Lion, the Witch, and the Wardrobe

Author – C. S. Lewis

Genre – Fiction, Fantasy

Why It's Great

This kids' book tells the story of young siblings and the events that happen when they find a wardrobe. The journey to Narnia begins when the kids are transported from the old country cottage to the magical land. There they have secret adventures and see exciting battles.
7. Molly's Pilgrim

Author – Barbara Cohen, illustrated by Daniel Mark Duffy

Genre – Historical Fiction, Thanksgiving

Why It's Great

The book teaches the kids about different kinds of Thanksgivings in the world, along with all kinds of pilgrims. It tells the story of a student who, during a Thanksgiving lesson, is teaching a class about Thanksgiving and pilgrims.
8. Yertle the Turtle and Other Stories
Author – Dr. Seuss, illustrated by Dr. Seuss
Genre – Fiction, Animals
Why It's Great
The book has many fun stories with zany illustrations and meaningful stories. The main story is about a young bird who doesn't like herself but later starts to like herself.
9. Ish

Author – Peter H. Reynolds, illustrations by Peter H. Reynolds

Genre – Realistic Fiction

Why It's Great

The book teaches an amazing freeing lesson for everybody and especially for kids that one should never stifle creativity.
10. Salsa Stories

Author – Lulu Delacre, illustrations by Lulu Delacre

Genre – Realistic Fiction, Holidays, Multicultural

Why It's Great

This book is a collection of many short stories with illustrations. The book is centered on Latin American holidays and celebrates the family warmth of storytelling.

Reading a good book to your kids is the best activity for their cognitive development. It also helps them in imagining new things and learn new words. Books with engaging stories teach them good life lessons. Reading aloud to the kid also serves as a great means for parent-child bonding.

Also Read:

Most Popular Halloween Books for Toddlers, Preschoolers and Kids
Thanksgiving Books for Toddlers, Preschoolers and Kids