16-Month-Old Baby Feeding Schedule, Recipes, and Tips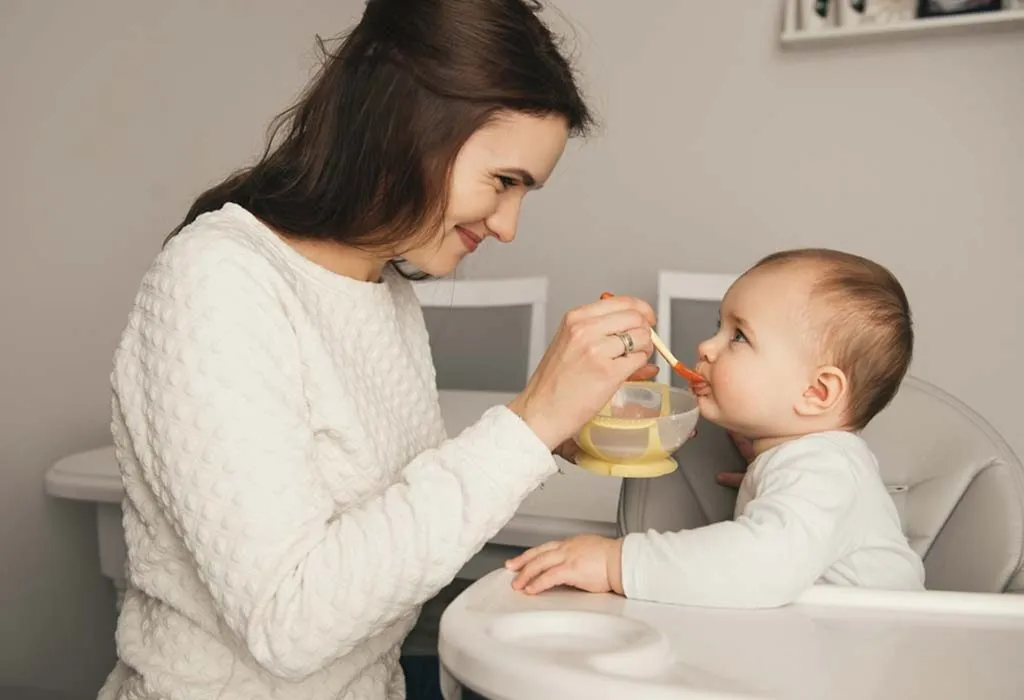 Mothers, especially first-time moms, tend to get jittery when it comes to deciding what to feed their babies. If you have a 16-month-old toddler, who relishes an apple one day and refuses to eat it the next day, you are bound to get frustrated. The trick is to introduce new foods to your toddler so that she doesn't get bored of eating the same food. Keep her diet balanced and introduce her to new tastes and food textures. If you want to know what foods you can give to a 16-month-old toddler and what kind of feeding schedule you should follow for him, then read this article. We also have some meal ideas for 16-month-old babies, which you experiment with for your little one.
What to Feed a 16-Month-Old
A toddler must have a balanced meal each day. A healthy diet that consists of all the essential nutrients is a must for toddlers for their healthy growth and development. So here is a list of food that can be given to your 16-month-old baby.
1. Fruits and Vegetables
Apples
Banana (healthy for weight gain, contains vital nutrients)
Orange (rich in vitamin c)
2. Non-Vegetarian
Chicken (shredded and boiled)
Fish
Eggs
3. Other Food Items
Rice (boiled)
Kidney beans (boiled and mashed)
Legumes
Whole wheat
Mashed fruits and vegetables
How Much Should a 16-Month-Old Eat?
At 16 months, a toddler knows quite well what she wants to eat and what she never wants to put in her mouth. Hence, forcing your baby to eat something won't do any good. But as per the nutritional food chart, you must make sure that she gets about 1000 calories approximately per day. Another good way of knowing how many calories to give to your baby is to add up to 40 calories for every inch of her height.
Feeding Schedule for a 16-Month-Old
Here is a sample feeding schedule for a 16-month-old. We have given some foods that you can include in their meals. Feel free to include other healthy foods in her diet
| | |
| --- | --- |
| Meal Time | Food Name |
| Breakfast (8:00 am – 8:30 am) | Scrambled eggs, oatmeal |
| Lunch (11:30 am -12:00 noon) | Fruits or vegetables, pasta |
| After Nap (3:00 pm -3:30 pm) | Yoghurt, cheese sticks |
| Dinner (6:30 pm -7:00 pm) | Steamed broccoli, chicken |
Drinking milk along with every meal/snack is important for a 16-month-old toddler. As it will fill her stomach and she won't ask for unhealthy snacks in between meals. Therefore, giving milk along with every meal to your little one will develop a healthy and good appetite cycle. But how much milk should a toddler take every day? According to paediatricians, a toddler should take 3-4 ounces of milk with every meal or 5-6 ounces of milk along with three main meals.
Foods to Avoid for a 16-Month-Old Toddler
Listed below are foods that you should not include in your 16-month-old's food chart.
Low-fat milk
Raw vegetables
Peanuts
Prawn
Mutton or beef
Fish with bones
Food Recipes for a 16-Months-Old Toddler
Cooking something that is nutritious as well as tasty can be quite challenging for parents. To help you with that, here are three food recipes that you can make for your 16-month-old toddler.
1. Green Veggie Fritter
Filled with the goodness of spinach and sweet corn, the tasty green veggie fritter makes for healthy and nutritious finger food for your little one.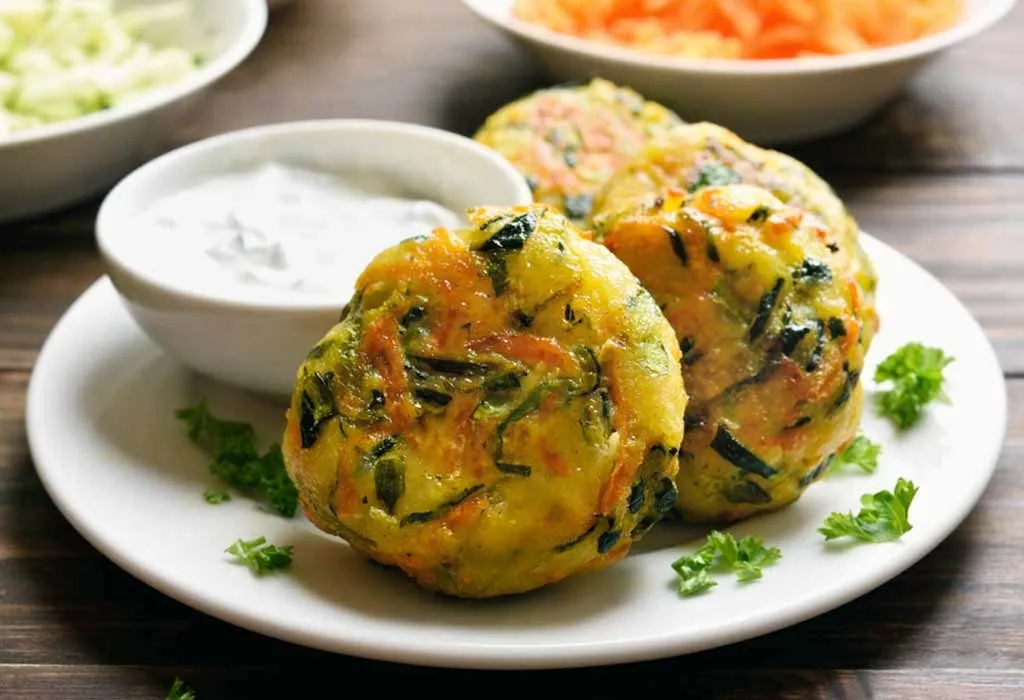 Ingredients
Sweet corn (unsalted) – 1 can
Spinach (baby leaves) – 5 – 6 no.
Garlic (crushed) – 1 clove
Spring onion (chopped) – 1
Flour (plain) – 50 g
Baking powder – ½ tsp
Egg (optional) – 1
Milk – 50 ml
Vegetable oil
How to Make
Take sweet corn, blanched spinach leaves, garlic, chopped spring onion in the food processor and pulse them until done.
Take the flour in a bowl and add the mix to it. Followed by baking powder and milk. Whisk in the egg and mix well. You will get a thick batter.
In a pan, heat some vegetable oil.
Once the oil is hot, drop spoonfuls of batter in it.
Cook for about a minute or two then flip.
Press the fritters with the spatula to cook it well. Once they turn light golden, transfer them on to a plate lined with tissue. Let the tissue absorb the excess oil.
Serve warm.
2. Mini Chicken Shepherd's Pie
The shepherd's pie is a great recipe for your little one as it will provide your baby with the much-needed protein required for his healthy growth and development.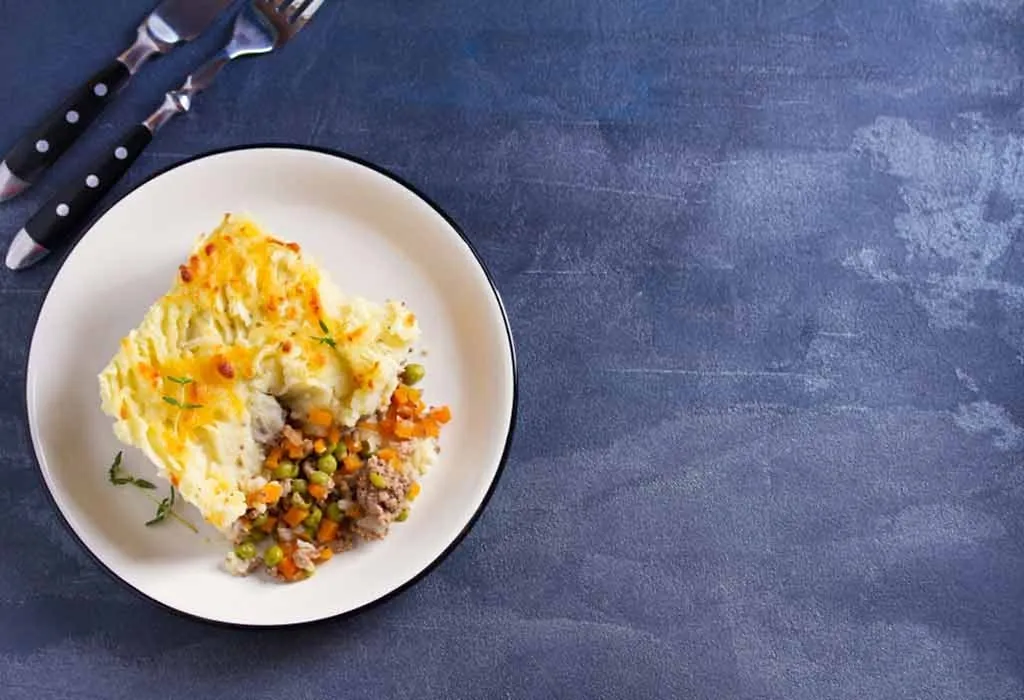 Ingredients
Chicken mince (with some fat) – 100 g
Chicken stock (low salt) – 150 ml
Lentils (rinsed and soaked in water) – 25 g
Onion (finely chopped) – 2 tbsp
Garlic (crushed) – 1 clove
Tomato puree – 1 tbsp
Celery stick (diced) – 2 tbsp
Yellow pepper (diced) – 3-4 tbsp
Potato – 300 g
Courgette (diced) – 3 – 4 tbsp
Carrot (diced) – 1 cup
Milk – 25 ml
Cumin – 1/4th tsp
Cheddar cheese (grated) – 150 g
Butter – 25 g
Vegetable oil – 1 tbsp
How to Make
Heat some vegetable oil in a saucepan.
Add in the chopped onions and fry them until cooked properly.
Then add the carrot, celery, pepper, garlic, and cumin.
Stir then allow the vegetables to cook for 2-3 minutes.
Add the chicken mince and mix it well with the vegetables.
After some time, add the courgette and tomato puree. Allow it to cook for a few minutes.
Then add the soaked lentils, pour in the chicken stock and put a lid.
Allow it to simmer in low heat for 35-40 minutes.
Keep stirring it from time to time.
Boil the potatoes until they are well cooked.
Peel the potatoes and mash them with milk and butter.
Once the chicken mince and vegetable mix are cooked, pour it in a blender and make a fine puree.
Pour the puree into the ramekins and top it with mashed potatoes and grated cheddar cheese.
Bake it for 30 minutes until the top becomes golden and starts bubbling at the sides.
Allow it to cool before serving it to your little one.
3. Apple and Carrot Oatmeal Cookies
Packed with the goodness of apple, carrot, and oatmeal, this apple and carrot oatmeal cookie is one of the healthiest snack ideas for toddlers.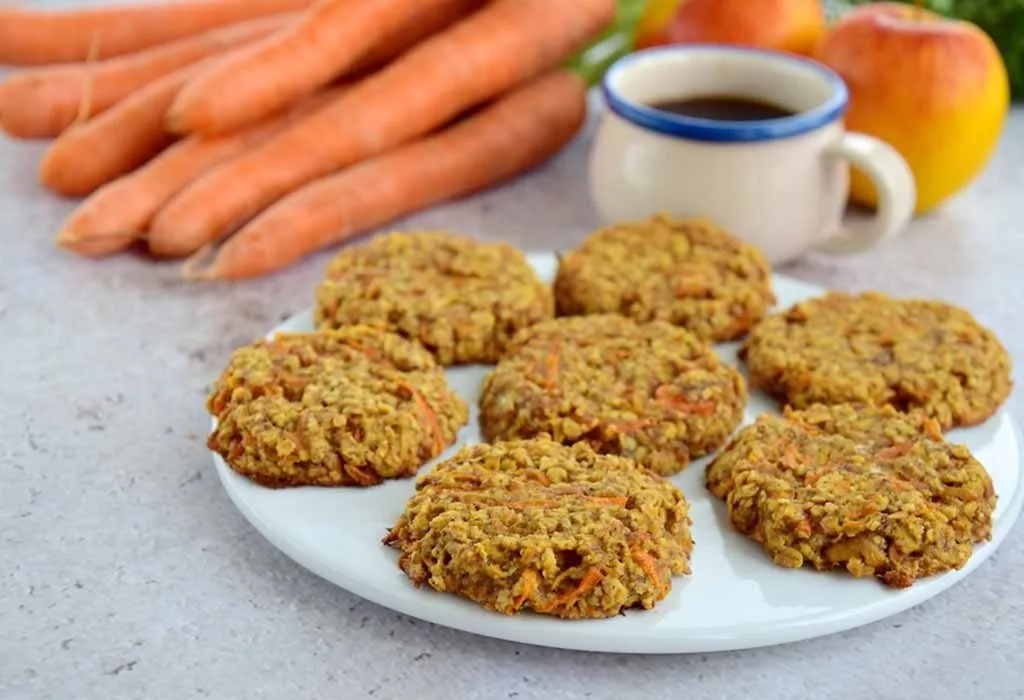 Ingredients
Flour – 1 cup
Oats – 1 cup
Carrot (grated) – ½ cup
Apples (grated) – ½ cup
Raisins (finely chopped)
Sunflower seeds (roughly crushed) – 1/4th cup
Cinnamon powder – ½ tsp
Water
How to Make
In a bowl, take the flour and add the oats, grated apple and carrot, and raisins to it.
Add in the sunflower seeds and cinnamon powder. Slowly add water to knead a dough.
Flatten the dough using a rolling pin and cut out circular shapes using a cookie cutter.
Line a baking tray with parchment paper and place the cookies on it.
Bake for 10-12 minutes at a temperature of 350 degrees Fahrenheit.
Feeding Tips for Parents
Here are some tips that you must follow when feeding your toddler.
Cut fruits and vegetables into small pieces of not more than half an inch before being giving it to your toddler.
Remove the seeds and pits in the fruits before giving them to your baby.
Toddlers should be given nuts after breaking them into small pieces.
Avoid giving fruits and vegetables that are cut into very small pieces or your baby might choke on them.
Hard foods like popcorns, potato chips or candies should not be given since as they could prove to be a choking hazard.
Chewing gum, sticky jellies, dried fruits, and marshmallows can get caught in your baby's throat and therefore, it is best to avoid them.
Nut butter if taken in dollops can be difficult to swallow for babies. Therefore, always give nut butter to your baby by spreading a thin layer on a cracker or a slice of bread. Another way is to mix them in yoghurt or apple sauce before serving them to your baby.
Treat your baby to the above-given recipes and make a sample meal plan keeping in mind the foods that should be avoided. In no time you will see your little one enjoying every meal!
Also Read:
Starters Guide on Baby Food and Nutrition
DIY Baby Food Recipes
Best Baby Foods You Should Give To Your Kid