20 Creative DIY Halloween Costume Ideas for Kids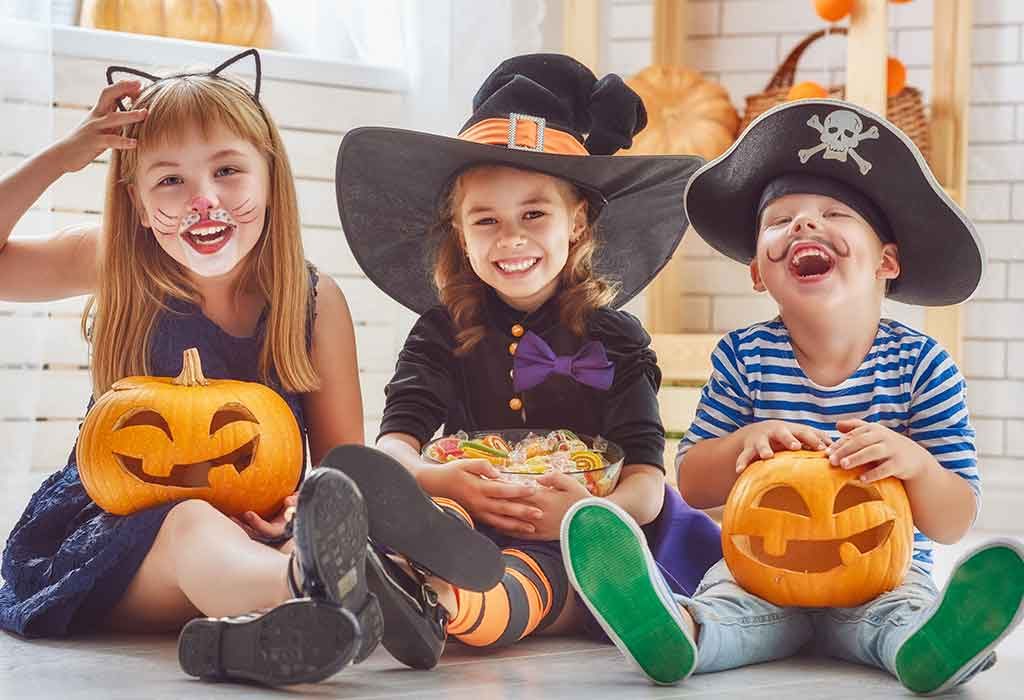 In this Article
Halloween is a treat for most children, quite literally. Dressing up in costumes and going trick-or-treating is something that is looked forward to with enthusiasm. Unfortunately, trying to find good costumes in the store is not always the best idea. They cost a lot and don't last very long either. The best way to go is to DIY Halloween costumes for children.
Simple Homemade Halloween Costume Ideas for Kids
Here we have some easy and cute DIY Halloween costumes for toddlers and children.
1. Pineapple
Pineapple is kids' favourite fruit and a popular one when thinking of dress-up. It is easy to make in the last minutes with few materials and easy to dress.
What You Need:
A yellow T-shirt
A Green chart or poster paper
Green headbands
Instructions:
Sew black upside-down Vs onto a yellow shirt. You can use black fabric paint if you don't have time to sew. The T-shirt should be large sized.
Use green chart paper to cut out different levels to resemble spiky pineapple tops. Roll this up and use some glue to stick it onto the headband.
You can accessorise this dress with a pair of shades if you want a summer vibe.
2. Spaghetti With Meatballs

Spaghetti with meatballs. Sounds delicious! Easy to wear? Yes, definitely. This dress idea is a show-stopper and will make you famous for this idea.
What You Need:
Foam balls
Beige-coloured yarn
Brown-red fabric
Glue
One old t-shirt
Instructions:
Cover small foam balls with brown-red fabric to give them the shape of meatballs. If you don't want to use fabric, you can paint the balls similar to meatballs.
For spaghetti, you will need beige yarn. Lots of it! Start glueing your spaghetti to an old T-shirt. Make sure you cover every inch of the t-shirt with the yarn, so it looks like a plate of spaghetti.
3. Witch Hat

The entire witchy outfit is pretty easy to make, and the witch's hat is the cherry on the top.
What You Need:
Witch hat
Ribbons
Black craft paper
An accessory like a brooch
Instructions:
Grab a broad headband and wrap a ribbon around it.
Take the little witch's hat that you have purchased and start decorating. If you don't have a hat, you can make one with black craft paper.
Make a bow of any coloured ribbon you like and paste it on the hat with a glue gun.
Add a brooch to make it look fancier. Glue it to the centre of the bow.
You can also cut out a cat on the black craft paper and paste it on the headband next to the hat to give it a more witchy vibe.
4. Candy Corn Costume

Candy Corn is a delicious candy loved by every kid and teen. This costume is easy to make, and you will enjoy wearing and dancing in it. It involves some sewing.
What You Need:
1/2 yard of yellow, white and orange felt
Yarn for sewing
Instructions:
You will need to sew all the strips together. Make the colours in the order of yellow, orange, and white.
With a small plate, trace out a hole to cut out the space for the
Once you have stitched the three together, fold it in half and then cut out the shape of candy corn to fit your child's body.
You will need to do the same for the piece that covers the back.
Stitch the front and back pieces together and leave holes for the arms.
5. Raining Cats and Dogs

This is one of the easiest Halloween costumes DIY for kids.
What You Need:
Craft paper/ stuffed dogs and cats
Umbrella
Raincoat
Rainboot
Instructions:
Cut silhouettes of cats and dogs out of craft paper or you want to save time, then you can also use stuffed toys.
Get an umbrella that suits your child's size.
Stick or stitch the toy/toy cut-outs on top of the umbrella.
Dress your child in a raincoat with rainboots, and you have the Halloween party outfit ready.
6. Rainbow Connection

Making this rainbow costume is relatively easy to make and one of the great last-minute Halloween costumes.
What you Need:
Cardboard
Paint colours
Yellow or gold craft paper
Instructions:
Grab two pieces of cardboard. You will need to get sizes according to how big you want the rainbow to be.
Cut out the rainbow shape.
First, paint the cardboard white; this will help to get more vibrant rainbow colours.
Draw the rainbow on the cardboard and paint the rainbow with acrylic or poster colours.
Take another cardboard piece, cut out two cloud shapes, and paint those with white colour.
You can use hot glue to stick them to the ends of each rainbow.
Join the front and back pieces together by using a red ribbon.
Make the crown out of yellow or gold craft paper.
Cut the shape out and secure it onto a headband so that it stands still and doesn't come off easily.
7. Lego Blocks Costume

If your kids love Lego, then this costume idea is perfect for you!
What you Need:
Two big cardboard boxes (preferably one square and one rectangle)
Plastic cups
Paint Colours
Instructions:
Remove any stickers, etc., from the boxes.
Cut round holes in the square box. You should cut a hole at the bottom the size of your child's head. This will be the headpiece.
Glue four plastic drinking cups onto the top of the box.
On the rectangular box, cut a hole for the head to go through. Make the armholes here as well.
Glue some solo cups on the front side of the rectangular
Once everything has been cut and glued, paint the boxes of the Lego colour your kid likes.
8. Pac Man

Little gamer children who want to stand out will love getting dressed as PAC Man.
What You Need:
Cardboard cutouts
Acrylic paint
Scissor
Glue
Instructions:
Use a hula hoop to draw your large circle out on two pieces of cardboard.
Find out where the centre of the circle is and then make a mouth for your PAC Man by forming a triangle.
Make appropriate arm hole sizes on each side of your PAC Man.
You will need to measure your child's shoulder width, so as to cut out the thickness of the PAC Man.
You will need more cardboard cutouts to glue both the side pieces together.
For the gaping mouth, your cardboard cuts should be of thicker quality.
Once you have cut and taped everything together, you can start painting your PAC Man.
9. Octopus Costume

For a little under the sea fun, you can make this simple octopus Halloween costume. It is effortless and does not involve any sewing.
What You Need:
Four pairs of tights – Blue colour
Cotton (for stuffing)
Hat
Black and white paper
Instructions:
You will need four pairs of tights the size of your child. Stuff three of them with cotton stuffing. Stuff them until just above the crotch area.
Lay a belt down flat and wrap the top of each pair of stuffed tights around the belt. You can keep them in place by using safety pins.
Get a hat that matches the tights. Cut out some eyes to stick onto the hat. Use white and black paper.
Get a matching shirt to go along with the four tights to look the same colour-
Once your child has worn the shirt and last pair of tights, you can fasten the belt around the waist.
Once the hat is on, you have your cute little octopus ready to go trick.
10. Snowball

A beloved costume among girls, this Snowball dress is an easy DIY.
What You Need:
An oversized light sweatshirt – Light blue colour
A winter hat – Light blue colour
Styrofoam/cotton balls
Instructions:
Take the Styrofoam balls and glue them on a light blue sweatshirt and matching hat.
Accessorize with matching blue shoes and white stockings.
11. Chimney Sweep

This one is a classic, and your little one will look quite charming as a chimney sweep.
What You Need:
Wooden dowel
Pipe cleaners
Black trouser
White Shirt
Black suspender
Newsboy cap
Black eye shadow
Instructions:
You will need a wooden dowel and some pipe cleaners.
Stick the pipe cleaners on one end of the dowel in an X shape.
Keep repeating this process but by sticking each cross on the other way.
Once you are done glueing the pipe cleaners, you should glue a black felt on the centre so that all the glue is not seen.
Spray paint the dowel in
Clothe your little one in black trousers, a white shirt with black suspenders, a newsboy cap and smudge some black eye shadow on the face to make it look like a soot-covered face.
12. Peter Pan's Shadow

Peter Pan is a popular fictional character loved by children of all ages. Many people adorn Peter Pan's character, but what about his shadow?
What You Need:
Black felt
Black feather
Black cardboard
Black scarf
Black tights and top
Instructions:
You will need to make the tunic with some black felt material.
Measure your child so you have a rough idea of the measurements you need.
Cut the neck area and feather out the sleeves and bottom to resemble Peter Pan's tunic.
When you put it on your child, use a black sash to hold it together.
You can make the hat yourself by cutting out two triangles and glueing them together. Fold the edges and attach a black feather.
13. Olaf

This Olaf costume is an excellent pick for the fans of the Disney movie – Frozen. It is easy to make if you run out of time to arrange a costume.
What You Need:
White Sweatshirt
White and black felt
Scissor
Glue
Instructions:
Use some black felt material to cut out Olaf's eyebrows.
Cut out large and small black circles with black felt and a white circle to go between the two black circles for the eyes.
Cut out the buttons with black felt and glue them on the sweatshirt.
Make Olaf's hair with five pipe cleaners.
The nose can be made simply with orange craft paper, or you can use orange felt stuffed with cotton.
14. Hot-Air Balloon

Colourful hot-air balloons never fail to cheer up people. At this Halloween party, you can wear a unique and vibrant costume that will grab everyone's attention.
What You Need:
One big cardboard
4-5 grocery paper bags
Colourful helium balloons – 10
Scissor
Acrylic Paint
Ribbon – 2 metres, wide
Dowel rods – 4
Instructions:
Cut the cardboard box's top and bottom flaps. Make four-inch holes on the bottom of the box using a scissor or knife.
Paint the exterior of the box with a light brown colour and let it dry. After the first paint is dry, paint small boxes on the box using a different shade other than light brown. It should look like a woven basket.
Stick four dowel rods on each end of the box using wood glue.
Using another cardboard, make the top of the board and glue it to dowel rods on the upper side.
Poke two holes in the upper front of the box. Tie each end of the ribbon so that it makes a U shape that you can wear.
Using a wide black marker, write SAND on the four brown paper bags and stuff them with anything light or scrap paper.
Tie the bags with yarn or string and hang them using another string through the holes on the bottom of the box you made earlier.
Take around ten coloured helium balloons and tie them to the upper trim of the box.
15. Statue of Liberty

The Statue of Liberty is America's pride attraction, which every traveller likes to visit when in the USA. This last-minute Halloween costume is easy to arrange.
What You Need:
Foam chair pad – 2 inch
Green Styrofoam cone
Green fabric – 2 yards
Marker
Scissor
A book – any
Flashlight
Instructions:
Using a headband, draw and cut out a circle at the bottom centre of the foam.
Around the cut-out circle, draw the crown of the Statue of Liberty and cut out the desired shape. You can make more detailed enhancements as much as you want.
To make the torch of the statue, take the styrofoam cone and cut a hole in the top using any pointed tool. Simply insert the flashlight in the hole.
Wrap around the green fabric and tie the ends at one shoulder. For arms, cut an opening on the other side of the fabric for the arm to come through.
Give a book in your kid's hand, slip the crown on the head, and voila, you are ready to go.
16. Lightning Bolt
Both girls and boys, alike love this costume idea. The concept is very different from all other costume ideas and children can strike a conversation with each other on this stylish costume.
What You Need:
Cardboard/foam board
Stapler
Silver material
Scissor
Instructions:
Cut the lightning bold shapes out of the cardboard or foam boards. You can make as many or as few as possible.
You will need silver material to cover all the lightning bolts. The material can be stapled to foam boards or cardboard, so don't worry if you don't have sewing skills.
You can then staple these lightning bolts to a plain all-black outfit, so they stand out.
17. Static Electricity
If you have a glue gun at home, you will find that this is one of the quick Halloween costumes for kids.
What You Need:
Glue gun
Laundry basket
Hair gel
Random clothing items
Instructions:
Grab an outfit you don't mind ruining and glue some random clothing items to it in random places.
The clothing can be colourful socks, tank tops, baby clothes. Using some good hair gel, spike your child's hair up as though they have been shocked by electricity.
Instead of a bag, you can use a laundry basket for collecting treats.
18. Jellyfish
Jellyfish are mesmerizing creatures of the sea, and your child can become one with this DIY costume.
What You Need:
A clear umbrella
Long strips of light-colored fabric (e.g., tulle or cellophane)
String or fishing line
Adhesive googly eyes
Safety pins or hot glue
Instructions:
Remove the fabric from the umbrella frame, leaving just the frame intact.
Attach the long fabric strips to the edges of the umbrella frame using safety pins or hot glue, allowing them to hang down like tentacles.
Stick adhesive googly eyes onto the fabric to create the jellyfish's eyes.
Secure the umbrella to your child's shoulder using string or fishing line, so they can carry it like a backpack. Make sure it's comfortable for them to wear and walk around in.
19. Mermaid
What You Need:
A long, shimmery skirt or leggings in a mermaid scale pattern or a teal color
A seashell or starfish-shaped bikini top or a shimmery tank top
A long wig in a sea-inspired color like aqua or purple (optional)
Sequins, pearls, and other embellishments (optional)
Craft foam or cardboard for a mermaid crown
Seashell accessories (optional)
Instructions:
Dress your child in the mermaid skirt or leggings and the seashell-shaped top.
If desired, embellish the costume with sequins, pearls, or other sea-themed decorations.
Create a mermaid crown by cutting out a crown shape from craft foam or cardboard and decorating it with seashell shapes.
If your child doesn't have long, flowing hair, consider using a wig in a sea-inspired color.
Accessorise with seashell jewellery or other ocean-themed accessories to complete the look.
20. Mummy
Give your child a classic and spooky mummy makeover with this DIY costume.
What You Need:
An old white sheet or strips of white fabric
White clothes for your child to wear underneath
Safety pins or hot glue
Face paint or makeup for a mummy's face
Instructions:
Cut the white sheet or fabric into long strips.
Dress your child in the white clothes.
Wrap the strips of fabric around your child, securing them with safety pins or hot glue to create the mummy's bandages.
Leave gaps for your child's eyes and mouth to see and breathe.
Use face paint or makeup to create a mummy-like face, with pale skin and dark circles around the eyes.
The above-mentioned Halloween dress up ideas for kids are super easy and fun to make. Some of the costume ideas are such that you can involve your kids in the making process. This will give them a head start for creativity. Instead of buying from the store, create memories of homemade costumes and teach your kids to be creative and innovative.
Also Read:
Halloween Makeup Ideas for Children
Halloween Party Games Ideas for Children
Best Halloween Movies for Children
?>