15 Best Pregnancy Halloween Costumes Ideas for the Fright Night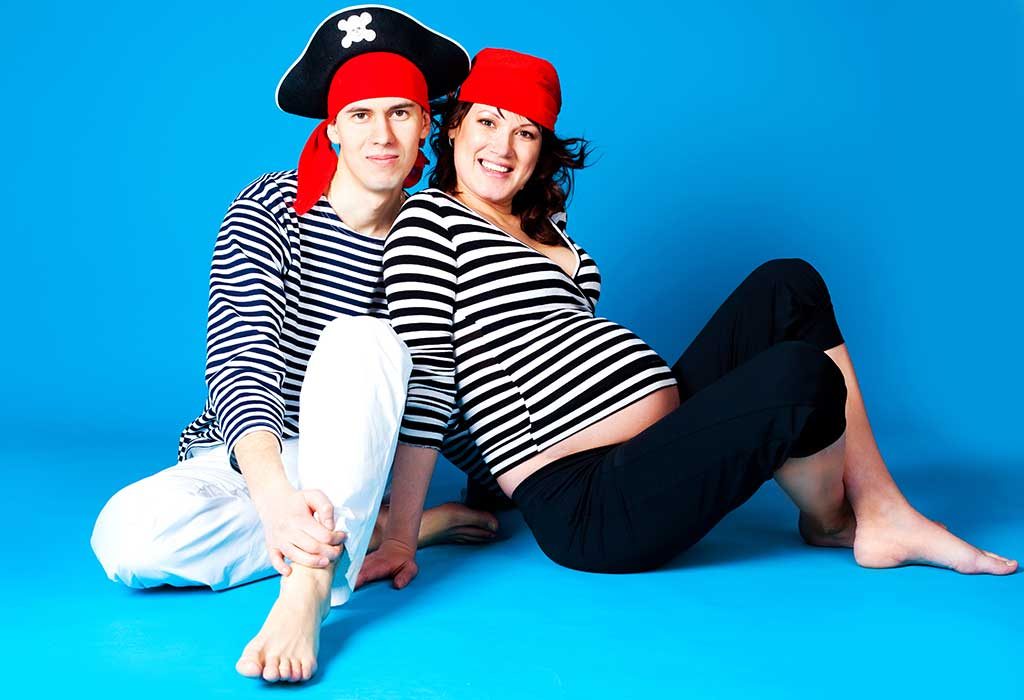 In this Article
Come October and everybody is running around trying to find the perfect pumpkins, costumes and decorations to make sure their Halloween is the best one they've had yet. Although, sometimes, life can get in the way and you might find yourself expecting a new addition to the family. However, being pregnant shouldn't be an obstacle in your journey to have fun during Halloween. Here is our list of pregnant Halloween costumes that will be perfect for "The Fright Night".
Creative Halloween Costumes Ideas for Pregnancy
Thinking of creative costumes for Halloween is one of the most fun parts of the holiday. It might require some thinking, but once you have nailed down that costume, your night will be filled with compliments. Pregnancy adds a new, fun challenge to the equation and you can use it to your advantage by being extra creative so that your baby belly is incorporated uniquely and perfectly in your ensemble for the evening. Here are some creative costume ideas that might help out those who are pregnant on this holiday.
1. Pumpkin Costume
Pumpkins are a universal favourite during Halloween and are a cute way to incorporate into your costume. Dressing in orange from top to down with the "carving" on your stomach is one of the easier DIY pregnant Halloween costumes that you can put together for the upcoming holiday!
2. Avocado Costume
An Avocado costume is very cute considering you can use your baby belly as the pit of the Avocado. All you need to do is cut out a chart paper in the shape of an Avocado with a hole in the middle that is enough to snugly fit the paper around.
3. Baseball Costume
This costume is one of the easier DIY pregnant Halloween costumes because it needs items that most people have lying around at home. A simple baseball tee and a hat go a long way. Tie up a white cloth or t-shirt around your baby bump and paint the stitches on the "ball" and you're ready to go!
4. Emoji Costume
Emojis have taken over the digital world, and there are a plethora of options to choose from and incorporate in your Halloween costume!
5. Superhero Costume
It's tough to go wrong with Superhero costumes, and it's also a great way to get your hubby involved as well. Superheros are ideal for cute pregnant Halloween costume ideas for couples.
6. Construction Costume
Construction costumes can be very creative, depending on how you can incorporate your baby belly. For example, you and your hubby can have caution signs that include "baby under construction" or "Caution! Bump ahead!" just to make the holiday more lighthearted.
7. X-Ray Costume
Costumes involving science can be a lot of fun because they can be layered. An X-Ray costume helps add the results directly into your ensemble and makes it a lot more fun than a usual X-Ray costume. This doubles up as a simple Halloween pregnancy announcement costume as well.
8. Snowman Costume
Everybody loves a good Snowman, and you can integrate one with your costume by making the torso of the snowman your baby bump.
9. Harry Potter Costume
A universal favourite, Harry Potter costumes are very popular. However, you can create your own twist by disguising your baby bump as a quidditch ball! Your hubby can play the role of Harry Potter and you have an instant costume hit!
10. Egg Costume
This is a fun costume because there are multiple ways to incorporate an egg with your baby bump. However, the cutest costume that we have is that of a simple sunny side up with the "sunny" part being your baby bump!
11. Bun-in-the-Oven Costume
This costume might take a bit of an effort to put together, but it is totally worth it. All you have to do is use cardboard, and foil and create an "Oven" around yourself and you'll have a "bun in the oven". Add extra signages on the oven to make it hilarious!
12. Monsters Inc. Costume
Monsters Inc. is a movie that is loved by kids and adults alike. Mike Wazowski is a fan favourite, and he can act as the face of your belly since you're carrying a little "monster" inside you. We're just kidding, of course!
13. Fortune Teller Costume
Dressing up as a medium and using your baby belly as a crystal ball is a genius idea for a costume!
14. Zombie Costume
This is one of the scary pregnant Halloween costumes and requires parts of a doll seeming like it's coming out of your stomach. Very scary but perfect for the occasion.
15. Kangaroo Costume
Making your baby bump appear as a pouch for your little "Joey" is an absolutely adorable costume for this Halloween!
Ensuring that the mother and unborn baby are safe is of utmost priority, but one can still enjoy during this time. This list should ensure that you have some ideas to work with for your Halloween costume this year that can accommodate your growing belly, too.