11 Bollywood Moms Share Their Breastfeeding Stories – and They are Beautiful!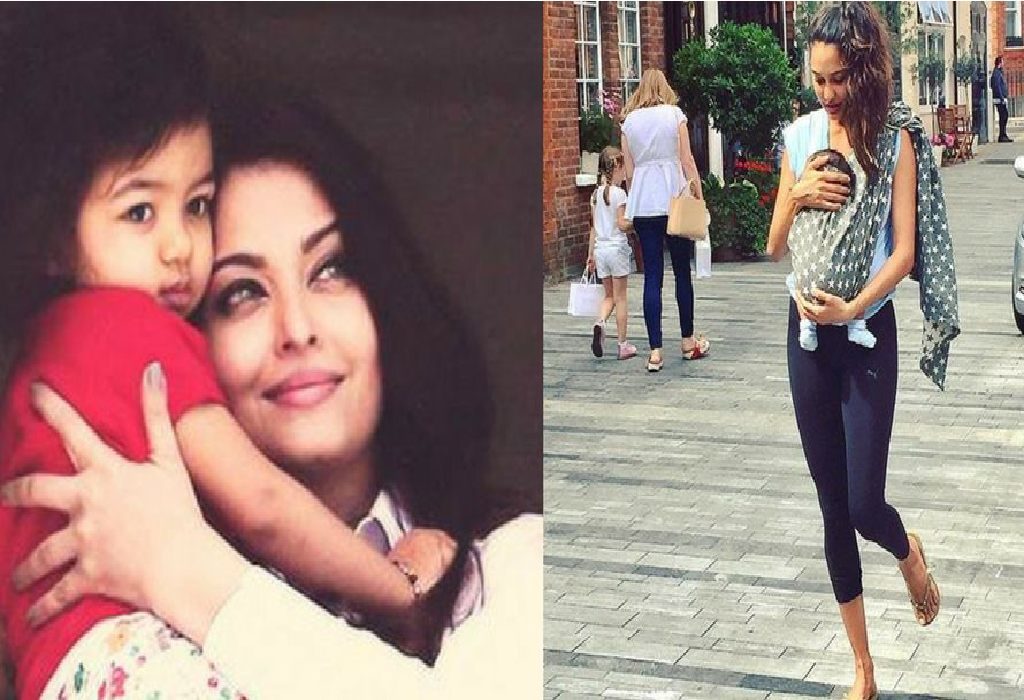 In this Article
There is the moment when you first hold your baby in your arms. And then, in an instant, there is the moment when you let go of his hand and let him run ahead, charting his own path in life. Our life is very fleeting and the good times seem to gallop away overnight. Remember those days when you were breastfeeding your baby? There were challenges, you were worried whether your infant was well-fed, and there were a million things your family and friends recommended. But what eventually kept you sane was the love you two share. For some of our favourite Bollywood moms too, the motherhood experience has been full of learnings and wonder…
Bollywood Actresses and Breastfeeding
1. Aishwarya Rai
Aish's little daughter Aaradhya is already almost five years old but it seems only the other day when she was born! This mom, always renowned for her stunning beauty and fitness, had a difficult time right after childbirth especially as she became the target of the 'weight-watchers'. These people felt and commented, totally unnecessarily, that she had put on too much weight and didn't look as ravishing anymore. But all this didn't stop Aishwarya from focusing completely on her child.
As per reports, she continued breastfeeding for a long time and made sure she got the correct nutrition both for herself and for her daughter. If that meant eating for two and gorging on goondh ke laddoo, she did it all! In fact, the way Aish stayed away from worrying about sagging breasts or trying to get into shape overnight inspired a lot of others. Here's what blogger Shobha De said about this:
"Ash has chosen to invest in her daughter, rather than hit the gym neurotically or starve herself to fit into those old jeans. Ash has her priorities in place – her mommie-time with the baby could well be the best decision of her life. Besides, the glow of motherhood is the best cosmetic in the world…"
2. Lara Dutta
Lara's daughter also seems to be growing up super-fast. Saira is four years old now and together with her gorgeous mom, makes an adorable picture! After Saira was born, Lara would regularly and consistently breastfeed her. She found that this helped build Saira's immunity. Over time, it also helped Lara tone her body and lose the extra kilos she had put on during pregnancy!
Today, Lara is an active supporter of breastfeeding and always encourages young moms to breastfeed their babies. She strongly believes that nursing is an excellent way to not only bond with your child but also to get back in shape.
"Being a mother is the most beautiful aspect of a woman's life. It is also a great responsibility. As a mother I want to help all new and expectant mothers understand the importance of breastfeeding. Apart from exercising and dieting, breastfeeding helped me to tone my body up to get back to acting."
3. Karishma Kapoor
This mom's story is a delicious one – it is all about food! When Karishma became a mom, she was very careful to not give in to the pressures of dieting or strenuous workouts. But what she definitely did was eat healthy. Her postnatal meal included dairy products, soups and salads, and lots of protein. At this stage, protein plays a critical role for your body. This is why Karishma ate a lot of fish and chicken – yum!
"Women often have various notions about some foods which should or shouldn't be eaten when they are pregnant. And when it is about shedding kilos after pregnancy, it becomes even more crucial to lose weight in a safe manner without depriving your body of the essential nutrients. After all, you need to breastfeed your baby and manage other tasks as well and not eating right will only harm your body."
4. Sonali Bendre
After Sonali became a mom, she tried to follow recommendations by her family members and experts. But with time, she found that a lot of these things didn't work out for her. In fact, when she tried to create a time table for breastfeeding and weaning, that didn't work out either! She understood eventually how all babies are different and mummying is an ongoing lesson for life…
"While baby books typically prescribe a regimental chart of how and when to wean babies off breast milk, that approach just didn't work for me. For everything that new mothers are told and taught, every child is different and sometimes you need to try different things. There's no hard and fast rule."
sonali has even documented her experiences in a book titled "A Modern Gurukul". Here she has penned down her journey as mother, her struggles and experiences. Now this is one mommy taking storytelling and memory-making to a whole new level!
5. Raveena Tandon
This Bollywood mom also faced her fair share of media pressure after she delivered her child. In the society we live in, there is tremendous pressure to bounce back right after childbirth. Raveena, however, stayed away from all this. She stayed fit but steered clear of dieting. And guess what, she also experienced nature's very own miracle – weight loss through breastfeeding.
"Breastfeed for at least 6 months. Don't give in to the pressure of getting back in shape in an insanely short time. It's neither good for you, nor your newborn. Check with your gynae what foods you should be consuming. Strict dieting at this time is a no-no. And yes, breastfeeding can actually help you burn calories!"
6. Renuka Shahane
Renuka's story helps us understand that breastfeeding isn't something you can generalise. How your first baby fed may be very different from what your second one now does. When Renuka became a mother, she would observe her child very carefully. Sometimes, he would be crying and she thought it was time for a feeding. But sometimes, he would still be crying after feeding! That's when she understood that hunger isn't always the reason babies are cranky.
"It's very simple to understand that when a child is hungry, he will ask for a feed. And if he is still crying after being fed, than perhaps it is something that is making him uncomfortable. New mothers should stick to demand feeding. It also helps in boosting the milk supply.
My younger one took to breastfeeding so well that I breastfed him for almost two years. There are no set rules as every baby is different. A mother must cater to the child's needs, his nature and what he likes."
Well said, Renuka! Only a mother can understand her baby so well and the act of breastfeeding sets a wonderful foundation stone for a lifetime of love.
7. Shobhaa De
On your journey as a mom, you need care, nutrition – and lots of support! Shobhaa's story is very reassuring and proves that when other moms try and understand what you are going through and don't judge you for your choices, that's when you feel truly happy. During Aishwarya's weight-watcher criticism, Shobhaa went out of her way to extend her support both to the new mommy and to breastfeeding. Nursing, she feels, is a beautiful part of motherhood and something that must be cherished, everything else notwithstanding.
"We are being brainwashed into feverishly 'getting into shape', even before the baby is weaned. There are young mothers who refuse to breast feed their kids for fear of losing their curves and 'sagging'! There are others who go so far as to say they don't want to 'spoil' their figures by having a baby in the first place.
Motherhood is a time to make the most of those magical months when an innocent, entirely dependent new life thrives on and flowers with the mother's unconditional love, attention and care."
8. Twinkle Khanna
Finally, Twinkle's breastfeeding story is the perfect balance of witty and sensible. When she was nursing, it seems, hubby Akshay Kumar would ensure she had her space and relaxation, even when there were guests at home. We also think he made sure she was pampered a lot. Now, this is not just romantic and supportive but actually mandatory! Your husband's support can make a world of difference at this time.
Twinkle's experience, in fact, seems to be a standing joke in the household. Here's what she blogged about recently:
"'Mom it's nice but a little dull, add some jokes like you always do, how about the one you tease dad with?'
At my perplexed expression, he continues, 'You keep saying that when I was a baby and you were breastfeeding me, guests came to see you and dad told everyone to wait because you were milking! Add that joke!'"
That aside, Twinkle also advises moms to take care of their health and go in for regular self-examination to make sure their breasts are healthy. The incidence of breast-related problems is on the rise and moms need to be very careful. Well said, Twinkle!
9. Celina Jaitley
Former Femina Miss India and Bollywood actress, Celina is a mother to three young boys. Unfortunately, while she did give birth to two sets of twins, the latest set having been born in 2017, one child did not survive due to a heart defect.When it comes to breastfeeding, Celina is all for the cause.
"Breastfeeding is very important for your baby and the mother. According to new research, it protects a mother from cervical cancer and has tremendous health benefits. I breastfed for six months and I intend to do the same too. The antibodies and immunity that you build lasts for a lifetime."
Celina prefers going the old-school way and reading up tonnes of books related to pregnancy, to know what to expect. She is also vocal about asking for help from her's and her husband's family during the pregnancies, and is strongly against the body shaming that new mothers are subjected to.
10. Lisa Haydon
Former Femina Miss India and Bollywood actress, Celina is a mother to three young boys. One of the latest mommies on the block, Lisa Haydon has been incredibly vocal about the need to breastfeed newborns, and credits her weight loss and fitness to breastfeeding. Having embraced motherhood in May last year, Lisa was seen uploading a picture of herself on Instagram breastfeeding her son, Zack, during World Breastfeeding Week 2017, with the following caption:
"I've gotten loads of posts asking about life after having my son… esp to do with weight and fitness. Seeing as it's World Breastfeeding Week- time to give some credit where credit is due. Breastfeeding has played such a big part in getting back into shape after giving birth to my baby. Breastfeeding has been challenging+time consuming (literally hours spent everyday trying to stimulate milk supply) but it's such a beautiful way to bond and connect with your child plus all the nutritional benefits that your child gets from your milk…"
11. Shveta Salve
An Indian actress and model, Shveta Salve gave birth to her little girl in 2016. It can be seen that she advocates for breastfeeding with a picture that she posted on her Instagram account. She is seen breastfeeding her baby in the said picture with the following caption:
"My Sanctum My Haven #mommynbaby #pure #bonding #breastfeeding #liquidgold #mommybabytime"
These sweet and inspiring stories from our very own Bollywood moms have surely left us feeling all charged up, how about you? After all, becoming a mom and being able to feed our child is our very own superpower – something that is founded in love and affection! So don't let anyone interfere with your experience of nursing and do what suits the two of you the best.