Easy Style Fixes for your Post-Pregnancy Wardrobe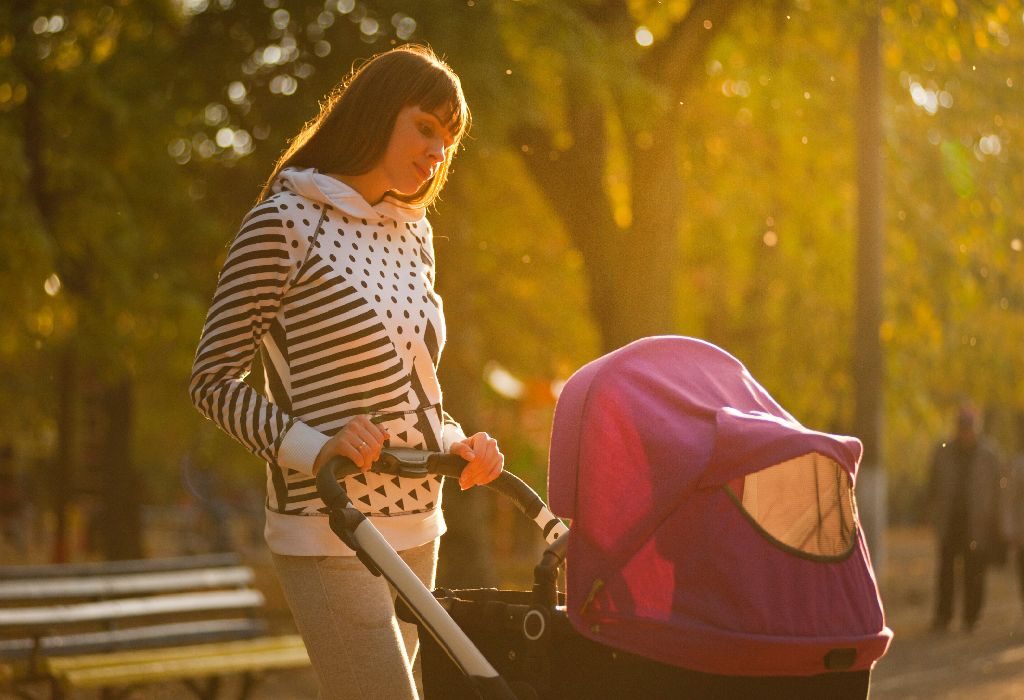 In this Article
Post-baby fashion can be challenging as your body changes constantly and your demanding baby ensures you have to be ready in a jiffy! Why not let some dressing style tips post maternity help you transform into a fashionable mommy?
With your little bundle of joy in your arms and life settling into a routine, you may start considering shedding those extra kilos gained during pregnancy. It'll take time but with determination, you can do it. In the meanwhile, you don't have to stick to yoga pants and pajamas. With subtle tricks and smart fashion choices, you can look fabulous no matter what size you are!
How to Avoid Post Pregnancy Fashion Mistakes
1. The Magic of Neutral Tones
You can never go wrong with black. Whether for a top or a pair of bottoms, wear it to look instantly slimmer. Neutral colours like grey are fine too, but mix them with prints to keep from looking drab. Navy and black are a chic combination especially for the office. Get yourself a smart black blazer to throw on over dresses and loose-fitted tops.
2. Avoid Bulky and Heavy Fabrics
After childbirth, even if you have started exercising, you may still be heavier than you were pre-pregnancy. Avoid bulky, heavy and tightly woven fabrics and opt for cotton blends, silk jersey and lightly woven material. This will fall smoothly over your body, making you look trimmer. Also avoid too many ruffles, pleats and frills.
3. Revamp Your Baggy Pants
We know how much you love your baggy jeans, but that doesn't mean you should wear them forever! Get them fitted according to your body to look super-stylish. You can also roll up the bottoms and turn them into cropped jeans. If you don't feel like getting them resized, team them with semi-fitted tops or longish shirts to look slimmer.
4. Wear Shorter Dresses and Skirts
A common mom style problem that even slim mothers have is only long dresses and skirts in the closet, and this is the single-most important piece of advice we can give you on maternity fashion tips! Try shorter clothes and if you don't feel so confident, go for trendy accessorizing. Get yourself a belt and cinch your waist or add a denim shirt as a cute layer. When it comes to skirts, knee-lengths are a big hit and look great when teamed with soft fabric tops.
5. Slip into Fashionable Heels
It's time to ditch those flat shoes for a pair of killer heels.They will instantly glam you up, making you look slimmer and taller. In fact there are a lot of trendy maternity footwear styles you can try; for example, you can go for wedges. They make a lovely match with both traditional and contemporary outfits. Don't miss out on kitten heels which are comfortably low yet chic.
6. Buy New Lingerie
The wrong bra will make you look and feel uncomfortable. So before you go shopping for flattering postpartum clothes, make sure you head to the lingerie section! Get yourself the right size bra and panty and forget trying to squeeze into your old ones until your old weight is back. For now, try fuller coverage bras, hipsters and bikini panties.
You're a mum now but you're also still a sexy woman. Postnatal fashion does not necessarily have to be boring. never forget that! Don't try to fit into your pre-baby clothes at once as this will only frustrate you. Instead, buy new clothes that flatter your figure and follow dressing style tips post-maternity to avoid making disastrous fashion mistakes!