150 Awesome True or False Questions for Kids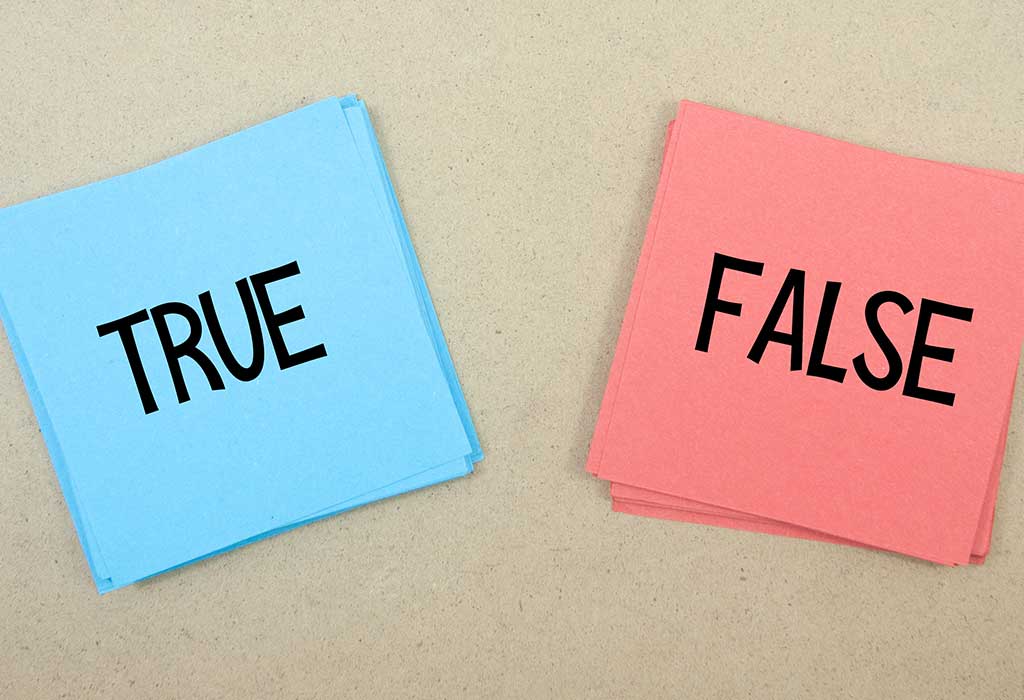 A true or false quiz is a fun, educational activity for children. It serves as a great icebreaker activity for kids and helps them connect like no other game! Children learn about different topics, from science to geography to arts, all by means of exciting questions. These activities work as excellent stimuli for kids and their brain development. True and false or trivia games are fun to educate your child and refresh their minds. Now, if you're looking for easy true or false questions for kids for birthday parties to keep him and his friends happily engaged, we've got you covered!
What Are True and False Questions?
True and false questions, often referred to as "T/F questions," are a type of closed-ended question used to test someone's knowledge or understanding of a statement or proposition. The format is simple: a statement is presented, and the respondent must indicate whether it is "true" or "false" based on their knowledge or judgment.
True and false questions are commonly used in quizzes, exams, and surveys to assess a person's grasp of specific facts, concepts, or information. They are typically easy to grade or analyse since the responses are binary, making them a straightforward way to test knowledge or understanding.
Benefits of True and False Questions for Kids
True and false questions can be a valuable educational tool for kids. They are often used in various learning environments to reinforce concepts, promote critical thinking, and assess comprehension. Here are several benefits of using authentic and false questions for kids:
Simplicity: True and false questions are straightforward and easy to understand, making them suitable for young learners.
Quick Assessment: They provide a quick way for teachers to gauge a child's grasp of specific topics or lessons.
Critical Thinking: True and false questions encourage children to think critically and evaluate the accuracy of statements.
Immediate Feedback: Kids receive immediate feedback on their answers, allowing them to correct misconceptions and learn from their mistakes.
Engagement: These questions can be interactive and engaging, promoting active participation in the learning process.
Retention: True and false questions can help reinforce knowledge and aid in retaining information through repetition and reinforcement.
Using this question format appropriately can enhance the learning experience for children by reinforcing key concepts and encouraging analytical thinking.
How Can You Use True or False With Your Children?
Using true or false questions with your children effectively engages them in learning and encourages critical thinking. Whether you're a parent or caregiver, incorporating this format into educational activities can be fun and instructive. Here are some ideas on how to use true or false questions with your children:
Create quiz-style games with true or false questions about their school subjects or areas of interest.

Use true or false questions during storytime to check comprehension by making statements about the plot.

While exploring the outdoors, ask true or false questions about nature and science, like, "Is the sun a planet? True or False?"

Explore historical events with statements like, "The American Revolution took place in the 19th century: True or False?"

Engage during meals with statements about food and nutrition. For example, "Carrots are a good source of vitamin C: True or False?"

Utilise educational apps and websites that offer true or false quizzes and games to make learning more interactive.
Ways to Ask Your Child True or False Questions
Engaging your child with true or false questions can be an enjoyable and educational experience. It's an effective way to promote critical thinking and assess their knowledge on various topics. Here are some creative ways to ask your child true or false questions:
1. Storytelling
While reading a storybook, pause and ask, "The main character is a cat: True or False?"
2. Outdoor Adventures
During a nature walk, inquire, "Trees always have green leaves: True or False?"
3. Kitchen Quiz
Involve them in cooking and ask, "Salt makes everything taste sweet: True or False?"
4. Historical Mysteries
When discussing history, ask, "George Washington was the first U.S. president: True or False?"
5. Movie Night
After watching a movie, test their comprehension with statements like, "Superman can fly: True or False?"
6. Bedtime Brain Teasers
As part of a bedtime routine, present questions about the day's events, such as, "We had pizza for dinner today: True or False?"
A Collection of Easy and Difficult 'True or False' Quiz for Children With Answers
Some of the easiest and fun true or false questions that your children can be aware of :
1. Is Australia the largest producer of wool in the world?
True
2. Do camels have three sets of eyelids?
True
3. Is China the largest country in the world?
False
4. Is Venus the closest planet to the Sun?
False
5. Spiders have 6 legs. Is it true or false?
False
6. The minimum time taken by a sloth to digest food is 2 weeks.
True
7. World War I took place on 28th July 1945.
False
8. Is it possible to sneeze while asleep?
False
9. 5+9 = 14
True
10. Watching horror movies doesn't cause any reaction in your body.
False
11. Zeus is known as the king of Gods.
True
12. Every 7 days, a new layer of epidermis appears on your skin.
False
13. Bats always turn left when they are exiting the caves. True or false?
False
14. A slug has four noses in total.
True
15. You won't find any hair on a rhinoceros' nose.
False
16. Honeybees are the fastest flying insect.
False
17. Eczema is not a skin disease. True or false?
False
18. Australia is both a country and a continent.
True
19. Do shrimps have a unique feature, where their heart can be found in their head?
True
20. The highest number of shopping malls can be found in New Jersey.
True
21. The number of olfactory cells, which are also known as receptor smell cells, is 12 million, 100 million, and 4 billion in humans, rabbits, and bloodhounds, respectively?
True
22. There is no railway system in Iceland.
True
23. Meat is consumed by herbivore animals.
False
24. The longest and strongest bone in the human body is the thighbone.
True
25. Humans have 4 senses.
False
26. There are 184 countries in the world.
False
27. Archimedes is considered as the father of History.
False
28. It is normal to lose a minimum of 50-100 strands a day from your scalp, no matter how healthy it is.
True
29. Mammals that are considered to be more or less hairless, include walruses, whales, naked mole rats, pigs, elephants, rhinoceroses, and hippopotamuses.
True
30. A group of crows is called a 'murder'.
True
31. Do you need oxygen for breathing?
True
32. The full form of CVD is cardiovascular disease?
True
33. An increase in RBCs has nothing to do with the onset of anaemia.
True
34. Robert Brown discovered the cell nucleus.
True
35. Stapes is the smallest bone in the human body.
True
36. The national flag of America has stars and stripes on it.
True
37. Seahorses only have intestines, there is no sign of stomachs in them for nutrient absorption from food.
True
38. Scallops have close to 100 simple eyes, and they are said to be of a blue hue?
True
39. Does the moon cover a mere 1.2% of the total mass of the Earth?
True
40. Apes can laugh when they are tickled.
True
41. Do we find terminal hair on our heads?
True
42. In Japan, people are more likely to see a 'rabbit on the moon' and not a 'man on the moon'?
True
43. The quills on porcupines in Africa are as long as 3 pencils together.
True
44. Throwing phones is a world championship phenomenon.
True
45. A double rainbow is simply a product of the first rainbow in the form of a mirror image.
True
46. There is a blind spot present in human eyes, also the location where the optic nerve mostly glides through the retina.
True
47. In the Harry Potter Series, Harry Potter uses the invisibility cloak to become invisible.
True
48. Does the banana have a unique feature of growing upside-down?
True
49. Vatican City is the largest city in the world.
False
50. Baby panda is bigger than a mouse after being born.
False
51. Pneumonia is a kind of infection that affects the lungs.
True
52. Meat and vegetables are consumed by omnivores.
True
53. An adult dog has 42 teeth in total.
True
54. Penguins are considered to be flightless birds.
True
55. The outer region of the nose is called the pinna.
False
56. Do peanuts come under the category of legumes.
True
57. The smallest particle of an element is the molecule.
False
58. Anything that has a certain mass and occupies space is called an atom.
False
59. On August 6, 1945, the United States dropped an atomic bomb on Hiroshima.
True
60. The size of our hands is not equivalent to our heart.
True
61. The sense of touch is activated by the eyes.
False
62. The capital of Spain is Madrid.
True
63. The letter H is interspersed between the letters G and J on the keyboard.
True
64. As much as 3% of the ice that is present in the glaciers of Antarctica is nothing but penguin urine.
True
65. Does a snail sleep up to 3 years?
True
66. 80% of what you taste is decided by what you are smelling in the first place.
True
67. The bent joint in a flamingo's legs is its ankles.
True
68. Does a goat have a rectangular-shaped pupil?
True
69. Mucus production doubles when you are sick because it contains chemicals that keep you healthy.
True
70. New York is also known as 'The Big Apple'.
True
71. You use your eyes to see.
True
72. You use your ears to smell.
False
73. The sun is too hot to be touched.
True
74. One hundred thousand consists of five zeroes.
True
75. Our nose products around one litre of mucus daily.
True
76. A is the first letter in the range of alphabet order?
True
77. Sheep don't have wings to fly.
True
78. A dog has 20 legs.
False
79. Mercury is the hottest planet in the solar system.
True
80. Violet is a colour.
True
81. Cherries are red.
True
82. Does the rainbow have 7 colours?
True
83. The fear of height is called acrophobia.
True
84. Eleanor Roosevelt went on a joyride by sneaking out of a white house event.
True
85. The region of the human body which experiences the fastest growth of hair is facial hair?
True
86. Charlie Chaplin participated and won the 20th position in a competition of Charlie Chaplin look-alike, and that too when he was at the peak of his stardom?
True
87. Smack is the word used to address a group of jellyfish?
True
88. A frog is most likely to vomit an entire stomach if it has to.
True
89. Up is not the opposite for down?
False
90. 3+4 = 7.
True
91. Washington DC is the capital of France.
False
92. Spaghetto is the term used for a single strand of spaghetti.
True
93. Fear of cats is known as mysophobia.
False
94. Power is not the ability to do work.
True
95. Rosa Indica is the scientific name of the rose.
True
96. The hardest natural mineral is not diamond.
False
97. Light common multiple is the full form of LCM.
False
98. A butterfly is not a bird.
True
99. Penguins are not birds.
False
100. 1 kg is equal to 1000 grams.
True
101. Penguins can fly.
False
102. The moon is made of cheese.
False
103. A group of lions is called a herd.
False
104. Watermelons are vegetables.
False
105. Alligators live in the Amazon rainforest.
False
106. Lightning never strikes the same place twice.
False
107. Bees make honey.
True
108. The Earth is flat.
False
109. There are 365 days in a year.
True
110. Spiders are insects.
False
111. Snakes are reptiles.
True
112. Cows can fly.
False
113. The Great Wall of China can be seen from space.
False
114. There are 7 continents on Earth.
True
115. Octopuses have three hearts.
True
116. Bananas are berries.
True
117. The Eiffel Tower is in London.
False
118. Trees make their wind.
False
119. There are 28 days in February, even in leap years.
True
120. Kangaroos are native to Africa.
False
121. You can hear sound in space.
False
122. Bees can see all colours except red.
True
123. The Sahara Desert is the largest in the world.
True
124. Butterflies live for only one day.
False
125. Dolphins are fish.
False
126. The Earth is closest to the Sun in summer.
False
127. The fastest land animal is the cheetah.
True
128. The Titanic was a fictional ship.
False
129. A triangle has four sides.
False
130. There are 50 U.S. states.
True
131. Lightning is a form of electricity.
True
132. The capital of France is Paris.
True
133. Giraffes have the same number of neck vertebrae as humans.
True
134. Spiders are insects.
False
135. The Sun orbits the Earth.
False
136. The Statue of Liberty was a gift from France to the U.S.
True
137. There are 24 hours in a day.
True
138. Dinosaurs still exist today.
False
139. The first human to land on the Moon was Neil Armstrong.
True
140. Water boils at 100 degrees Celsius.
True
141. All snowflakes are unique.
True
142. Bees make honey from nectar.
True
143. Mount Everest is the tallest mountain in the world.
True
144. The Earth's core is made of solid gold.
False
145. Pluto is considered a planet.
False
146. All fish can breathe underwater.
True
147. Whales are fish.
False
148. The Great Barrier Reef is the largest coral reef in the world.
True
149. Tigers are the most giant cats in the world.
True
150. Birds can see more colours than humans.
True
Tips for Creating True and False Questions for Children
Creating practical true and false questions for children requires careful consideration to ensure they are engaging and educational. Here are some tips for crafting these questions:
Ensure the statement is clear, concise, and age-appropriate for the child's understanding.

Use true and false questions to reinforce essential concepts from their learning materials.

Statements should be unambiguous and not open to interpretation to prevent confusion.

Formulate questions that encourage reasoning and critical thinking rather than rote memorisation.

Incorporate a variety of topics to keep the learning experience exciting and diverse.
Following these tips can create true and false questions that test your child's knowledge and stimulate their intellectual curiosity.
FAQs
1. Which Topics Are Suitable for True or False Questions for Children?
True or False questions for children can cover topics such as animals, history, geography, science, and general knowledge. Here are some examples:
Elephants can fly.

The sun is a star.

Water boils at room temperature.
2. What Are the Possible Drawbacks of Using True or False Questions With Kids?
While True or False questions can be a valuable educational tool for children, there are some potential drawbacks:
Limited critical thinking:

True or False questions may not encourage critical thinking or in-depth understanding.

Guessing:

Children might guess the answer, especially if unsure, which doesn't promote authentic learning.

Lack of context:

True or False questions often lack context, making it challenging to grasp the why or how of a statement.

Overreliance on memorisation:

They can lead to rote memorisation without a deeper understanding of the subject matter.
These were some easy (and some not-so-easy) true or false questions. We hope your child and his friends enjoy this true or false quiz.
Also Read:
Top Never Have I Ever Questions for Children
Best General Knowledge Questions for Kids
Exciting Would You Rather Questions for Children