100 Awesome True or False Questions for Kids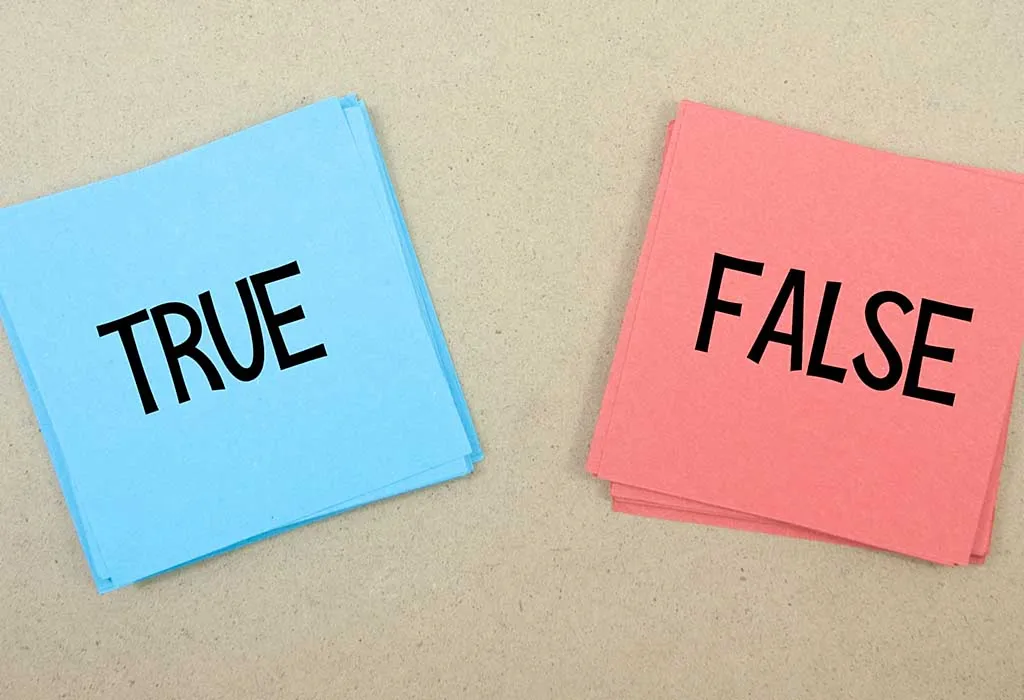 A true or false quiz is a fun, educational activity for children. It serves as a great ice breaker activity for kids, and helps them connect like no other game! Children learn about different topics, from science to geography to arts, all by means of interesting questions. Now if you're looking for some easy true or false questions for your child's birthday party to keep him and his friends happily engaged, we've got you covered!
A Collection of Easy and Difficult 'True or False' Quiz for Children With Answers
Some of the easiest and fun true or false questions that your children can be aware of :
Is Australia the largest producer of wool in the world?
True
2. Do camels have three sets of eyelids?
True
3. Is China the largest country in the world?
False
4. Is Venus the closest planet to the Sun?
False
5. Spiders have 6 legs. Is it true or false?
False
6. The minimum time taken by a sloth to digest food is 2 weeks.
True
7. World War I took place on 28th July 1945.
False
8. Is it possible to sneeze while asleep?
False
9. 5+9 = 14
True
10. Watching horror movies doesn't cause any reaction in your body.
False
11. Zeus is known as the king of Gods.
True
12. Every 7 days, a new layer of epidermis appears on your skin.
False
13. Bats always turn left when they are exiting the caves. True or false?
False
14. A slug has four noses in total.
True
15. You won't find any hair on a rhinoceros' nose.
False
16. Honeybees are the fastest flying insect.
False
17. Eczema is not a skin disease. True or false?
False
18. Australia is both a country and a continent.
True
19. Do shrimps have a unique feature, where their heart can be found in their head?
True
20. The highest number of shopping malls can be found in New Jersey.
True
21. The number of olfactory cells, which are also known as receptor smell cells, is 12 million, 100 million, and 4 billion in humans, rabbits, and bloodhounds, respectively?
True
22. There is no railway system in Iceland.
True
23. Meat is consumed by herbivore animals.
False
24. The longest and strongest bone in the human body is the thighbone.
True
25. Humans have 4 senses.
False
26. There are 184 countries in the world.
False
27. Archimedes is considered as the father of History.
False
28. It is normal to lose a minimum of 50-100 strands a day from your scalp, no matter how healthy it is.
True
29. Mammals that are considered to be more or less hairless, include walruses, whales, naked mole rats, pigs, elephants, rhinoceroses, and hippopotamuses.
True
30. A group of crows is called a 'murder'.
True
31. Do you need oxygen for breathing?
True
32. The full form of CVD is cardiovascular disease?
True
33. An increase in RBCs has nothing to do with the onset of anaemia.
True
34. Robert Brown discovered the cell nucleus.
True
35. Stapes is the smallest bone in the human body.
True
36. The national flag of America has stars and stripes on it.
True
37. Seahorses only have intestines, there is no sign of stomachs in them for nutrient absorption from food.
True
38. Scallops have close to 100 simple eyes, and they are said to be of a blue hue?
True
39. Does the moon cover a mere 1.2% of the total mass of the Earth?
True
40. Apes can laugh when they are tickled.
True
41. Do we find terminal hair on our heads?
True
42. In Japan, people are more likely to see a 'rabbit on the moon' and not a 'man on the moon'?
True
43. The quills on porcupines in Africa are as long as 3 pencils together.
True
44. Throwing phones is a world championship phenomenon.
True
45. A double rainbow is simply a product of the first rainbow in the form of a mirror image.
True
46. There is a blind spot present in human eyes, also the location where the optic nerve mostly glides through the retina.
True
47. In the Harry Potter Series, Harry Potter uses the invisibility cloak to become invisible.
True
48. Does the banana have a unique feature of growing upside-down?
True
49. Vatican City is the largest city in the world.
False
50. Baby panda is bigger than a mouse after being born.
False
51. Pneumonia is a kind of infection that affects the lungs.
True
52. Meat and vegetables are consumed by omnivores.
True
53. An adult dog has 42 teeth in total.
True
54. Penguins are considered to be flightless birds.
True
55. The outer region of the nose is called the pinna.
False
56. Do peanuts come under the category of legumes.
True
57. The smallest particle of an element is the molecule.
False
58. Anything that has a certain mass and occupies space is called an atom.
False
59. On August 6, 1945, the United States dropped an atomic bomb on Hiroshima.
True
60. The size of our hands is not equivalent to our heart.
True
61. The sense of touch is activated by the eyes.
False
62. The capital of Spain is Madrid.
True
63. The letter H is interspersed between the letters G and J on the keyboard.
True
64. As much as 3% of the ice that is present in the glaciers of Antarctica is nothing but penguin urine.
True
65. Does a snail sleep up to 3 years?
True
66. 80% of what you taste is decided by what you are smelling in the first place.
True
67. The bent joint in a flamingo's legs is its ankles.
True
68. Does a goat have a rectangular-shaped pupil?
True
69. Mucus production doubles when you are sick because it contains chemicals that keep you healthy.
True
70. New York is also known as 'The Big Apple'.
True
71. You use your eyes to see.
True
72. You use your ears to smell.
False
73. The sun is too hot to be touched.
True
74. One hundred thousand consists of five zeroes.
True
75. Our nose products around one litre of mucus daily.
True
76. A is the first letter in the range of alphabet order?
True
77. Sheep don't have wings to fly.
True
78. A dog has 20 legs.
False
79. Mercury is the hottest planet in the solar system.
True
80. Violet is a colour.
True
81. Cherries are red.
True
82. Does the rainbow have 7 colours?
True
83. The fear of height is called acrophobia.
True
84. Eleanor Roosevelt went on a joyride by sneaking out of a white house event.
True
85. The region of the human body which experiences the fastest growth of hair is facial hair?
True
86. Charlie Chaplin participated and won the 20th position in a competition of Charlie Chaplin look-alike, and that too when he was at the peak of his stardom?
True
87. Smack is the word used to address a group of jellyfish?
True
88. A frog is most likely to vomit an entire stomach if it has to.
True
89. Up is not the opposite for down?
False
90. 3+4 = 7.
True
91. Washington DC is the capital of France.
False
92. Spaghetto is the term used for a single strand of spaghetti.
True
93. Fear of cats is known as mysophobia.
False
94. Power is not the ability to do work.
True
95. Rosa Indica is the scientific name of the rose.
True
96. The hardest natural mineral is not diamond.
False
97. Light common multiple is the full form of LCM.
False
98. A butterfly is not a bird.
True
99. Penguins are not birds.
False
100. 1 kg is equal to 1000 grams.
True
These were some easy (and some not-so-easy) true or false questions. We hope your child and his friends enjoy this true or false quiz.
Also Read:
Top Never Have I Ever Questions for Children
Best General Knowledge Questions for Children
100 Exciting Would You Rather Questions for Children