10 Simple Beach Craft Ideas for Kids to Make This Summer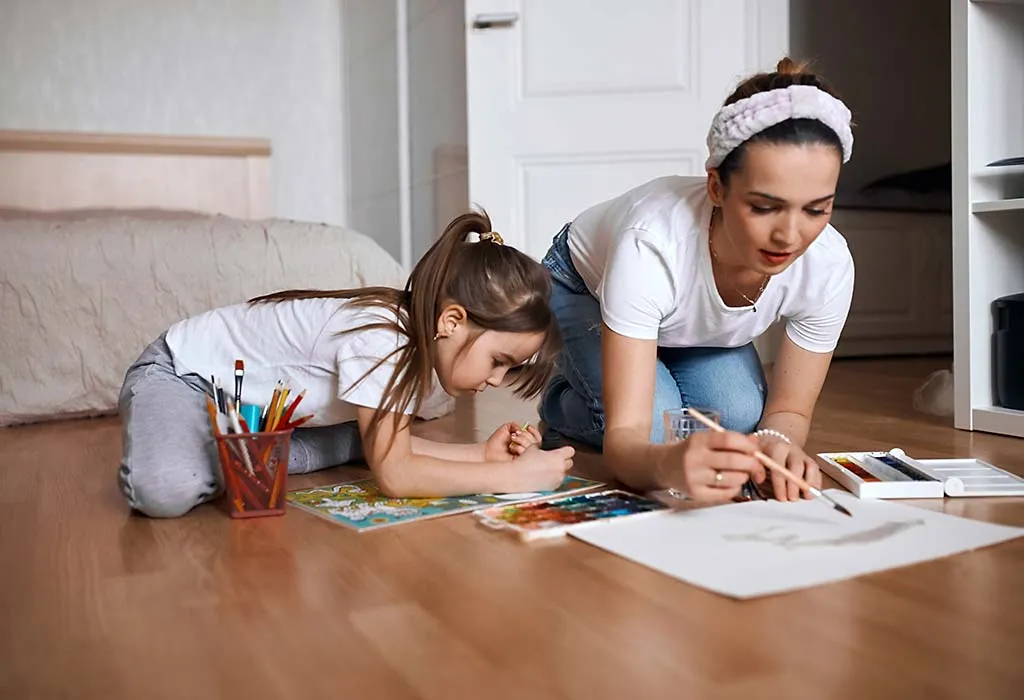 In this Article
No matter how messy it is to be at the beach, beach trips are the best. Ask anyone, and they'll agree. And if you are with kids, their thrill will add more fun to the trip. The excitement of playing with the sand, soaking in the sun, and jumping in the waves is something beyond comparison. Gazing at the vast ocean and its beauty for hours is therapeutic. One of the best beach activities is witnessing the sunrise and sunset at the beach.
Want to relive a family vacation? Try out our beach-themed crafts that will let you and your kids relive those moments. Also, it's summer, and just because you can't be at the beach doesn't mean you can't have a fun beach day at home by trying out these crafts!
Unique and Easy Beach Craft Ideas for Children
The ocean is a different world altogether. There is so much to explore and learn while you and your kids are on the beach near the vast ocean. The different creatures you see, the adorable seashells, beach stones, and driftwood are so exciting! Why not make some beautiful beach-inspired crafts and engage your child in a fun learning experience? Let's do it.
1. Cupcake Liner Fish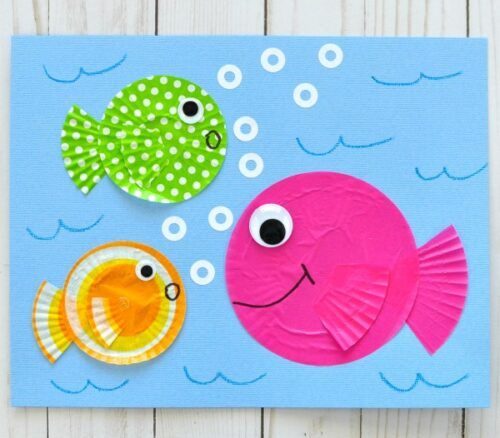 Cupcakes are everybody's favourite. Kids drool over it. But did you know you can use the cupcake liners to create beautiful fish? It would be best if you have the patterned or solid coloured liners with you. The size of the liner does not matter; it could be regular or mini. Let's start making an ocean fish scene from pretty cupcake liners!
Materials Required
Blue cardstock paper
Varying sizes of cupcake liners
Craft sheets in varying colours
Glue
Blue crayon
Black marker
White paint for bubbles
Paintbrush
Googly eyes
Instructions
Cut triangles from craft sheets to make fishtails. Adjust the size and colour according to the liner.
Arrange the liners and tails on the cardstock according to the scene you want to create.
Now, stick the fish with the glue.
Next, stick a googly eye on each fish and use the black marker to draw the mouth.
Take a paintbrush. Dip it in white paint and make small circles to make bubbles in front of each fish.
To give it a more realistic look, draw water squiggles with the blue crayon on the cardstock. You can also use other crayons to draw plants and other sea elements.
Once you're done adding all the details, your ocean scene is ready!
2. Starfish Dough
Starfish are cute and vibrant aquatic animals. Let's make them with some refined flour dough. This amazing activity not only engages your child, but also has countless advantages. This is because playing with the dough helps in calming the kids, develops their fine motor skills, encourages creativity, improves hand-eye coordination, and offers many more benefits. Let us make some starfish!
Materials Required
Refined flour – 2 cups
Salt – 2 cups
Water – As required
Instructions
Mix the salt and flour in a bowl.
Next, add water to make a soft dough.
Keep kneading until the dough becomes soft.
Take a dough ball and flatten it. Then, gently place 5 blobs equally spaced from the flattened dough ball in the centre to form the arms. Try to keep the arms equal in thickness and length.
There are different shapes of starfish, and you can find their pictures n the internet. Make as many types as you want.
In some of the starfish, you can make holes with a pencil's tip to give it a more realistic look.
In one starfish, you can add small dough balls over the body to give it a bumpy surface, just like tropical starfish.
Once all the starfish are ready, let them dry, or you can bake them.
3. Beach Ball Paper Plate Craft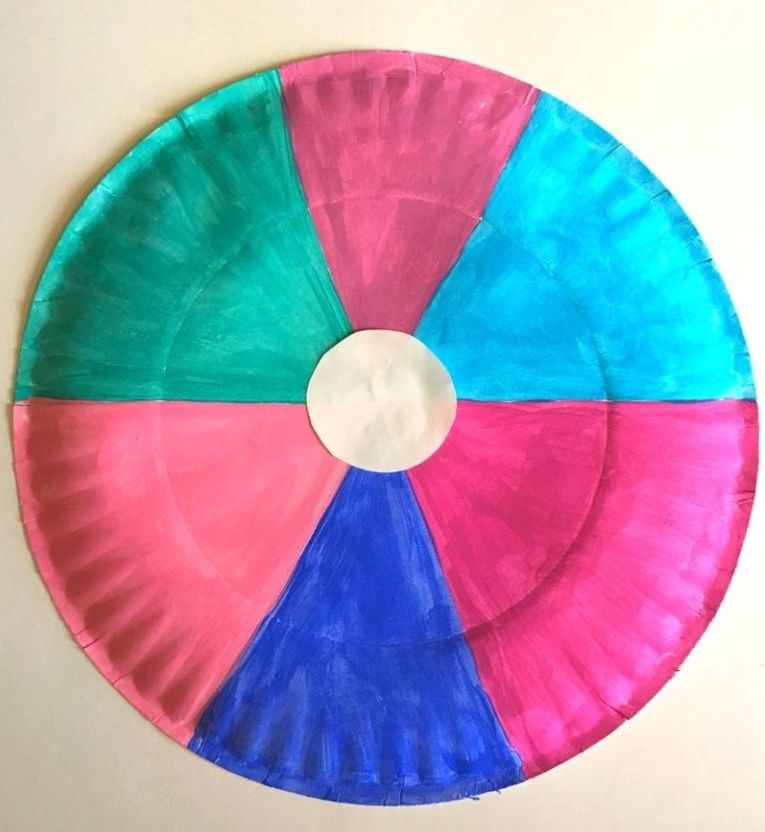 This simple craft is perfect for kids who are learning to colour and want to create something that includes colouring. This beach ball craft will teach the child to colour within the lines and have a fun time creating something out of it. You can also use various colouring techniques if you want. Let's go!
Materials Required
Poster colours
Paintbrush
Black marker
Instructions
Flip the paper plate, and make a small circle a little bit far from the centre.
Now, start making curvy lines from the circle to the edge of the plate to make it look like a ball.
Colour the parts of the ball with different poster colours to make it look vibrant.
On another plate, you can ask your child to use thumbprints to colour the paper plate beach ball as well.
You too can join the colouring fun and making some beach balls for yourself!
4. Sea Glass Planter
Did you find some sea glasses on your last beach trip? If yes, you can create a beautiful planter out of it. If don't have one, you can still create a planter by purchasing them from a shop near you. Out of all the beach glass crafts, this one is the best because it works on your child's creativity, fine motor skills, and imagination! And the output can be used as a planter in your house.
Materials Required
White outdoor paint
Terra cotta pot
Sea glass
Glue
Air-dry clay
Paintbrush
Instructions
First, paint the pot white both inside and outside. Use several coats and let it dry.
Stick the sea glass with glue to the pot. Use your own creativity and keep on sticking till the whole pot is covered.
Make long snakes from the air-dry clay by using your hand.
Add these clay snakes in between the sea glasses.
Press the clay and smoothen it out throughout the pot.
Allow the clay to dry, and your pot is ready.
5. Paper Roll Seahorse
Seahorses are tiny cute fish that somewhat look like a horse. Let's create seahorse puppets out of paper rolls present in your house. These can act as your child's DIY toy and can be used in an imaginative role-play with kids. Let's do this!
Materials Required
Paper roll painted (one for every seahorse)8
Googly eyes
Long and straight stick or wooden dowel rod
Acrylic paint
Craft glue
Hot glue gun
Sea horse template
Craft knife
Instructions
Flatten the paper roll.
Print the seahorse template and trace it over the roll.
Cut the traced shapes. You will get the head, body, and fin.
Make a small slit in the back above the tail to fit the fin inside. Glue the fin inside.
Stick the head at an angle with the glue.
Decorate the body with paint and googly eyes.
Using the hot glue gun stick a wooden rod or dowel inside the seahorse.
6. Paper Roll Octopus
Let us again make use of paper rolls to make an octopus and learn about a new sea animal. The activity will work on the child's multiple senses. It lets the child paint, cut, stick, learn and have some fun!
Materials Required
Paper roll
Googly eyes
Black marker
Scissors
Earbud or paintbrush
Poster colours
Glue
Instructions
Paint an empty paper roll with any colour of your choice.
Stick the googly eyes with the help of glue.
Use the black marker to draw the mouth.
Cut slits at the bottom to make 8 arms.
Dip a paintbrush or earbud in white paint to create spots on the octopus's arms.
7. Newspaper Shark Craft
This craft idea is simple to create and will suit kids of all ages. Also, the materials required for this craft are readily available in your house. Once the shark gets ready, you can use it as a decoration piece in your child's room.
Materials Required
Cardstock paper in dark blue, light blue, white, and black colour
Googly eyes
Scissors
Glue
Instructions
Cut the shark's face from an old newspaper according to your liking.
Now, cut ocean waves from the dark blue cardstock paper. Stick it at the bottom of your light blue cardstock.
Cut a semicircle from black cardstock for the shark's mouth.
Cut small triangles from white cardstock for shark's teeth.
Now, paste the googly eyes, mouth, and teeth on the shark's face. It's ready!
8. Paper Bowl Jelly Fish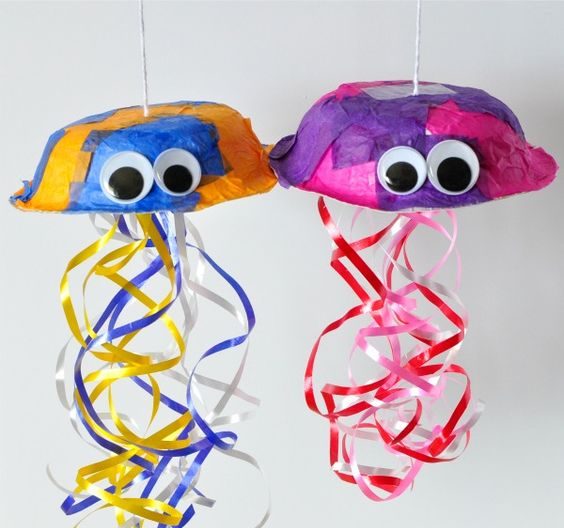 Let us put some spare paper bowls to use. Create these adorable jellyfish and engage your kids for a long time with this interesting activity.
Materials Required
Small paper bowl
Tissue papers
Curly gift bow with self-adhesive
Googly eyes
Glue
Any sturdy tape
White string
Scissors
Instructions
Cut the tissue paper into square pieces. Use different colours of tissue papers to make it more attractive.
Apply glue on the backside of the bowl. Stick the square cut-outs over the glue. Let it dry.
Poke a small hole at the centre of the paper bowl base. Push a white string inside the hole and tie a knot.
Now, remove the adhesive of the curly strings and start attaching to the inside of the bowl.
Your cute adorable jellyfish is ready!
9. Seashell Art
Now, let's be creative with some seashells collected from the beach!
Materials Required
Seashells
Shaving cream
Food colouring
Bamboo skewers
Craft trays
Paper towels
Instructions
Take a clean and dry shell without any coating.
Fill the tray with shaving cream. Squeeze different colours over it.
Make a marbled pattern by moving the tip of a bamboo skewer over the shaving cream.
Dip the seashell in the cream.
Now, wipe off the cream using a paper towel to see a beautiful pattern on the seashell.
Let the shell dry by keeping it over paper towels.
Mix different colours to create different shells.
10. Quilling Turtle
Beach cross stitch art looks aesthetically pleasing but can be a tedious task for kids. However, we can start with quilling art for kids. Let's learn how to make a quilling turtle.
Materials Required
Craft sheets
Paper cutter
Scissors
White glue
Craft stick
Marker
Instructions
Take a green sheet of paper and cut 4 legs, 1 head, and 1 tail for your turtle.
Take a blue craft sheet and make a circle for the turtle's body.
Stick the head, tail, and legs over the circle using glue.
Cut a thick rectangular strip from a green sheet that is equal to the perimeter of the circle drawn.
Stick the rectangular strip over the head, legs, and tail.
Now, cut multiple rectangular strips of green and yellow colour.
Start quilling the strips using a craft stick. Hold it tight.
Dip it in glue and place it inside the turtle shell.
Keep quilling and sticking until the turtle shell is full.
Let it dry, and then use a marker to make the turtle's face.
You can create a complete turtle family in the same way!
We hope these 10 amazing craft ideas instil creativity in your child, and you have a fun time making these with them. Happy beach day!
Also Read:
Jellyfish Crafts for Children
Back to School Crafts for Children
Easy Animal Craft for Children