10 Fun Sensory Activities for Babies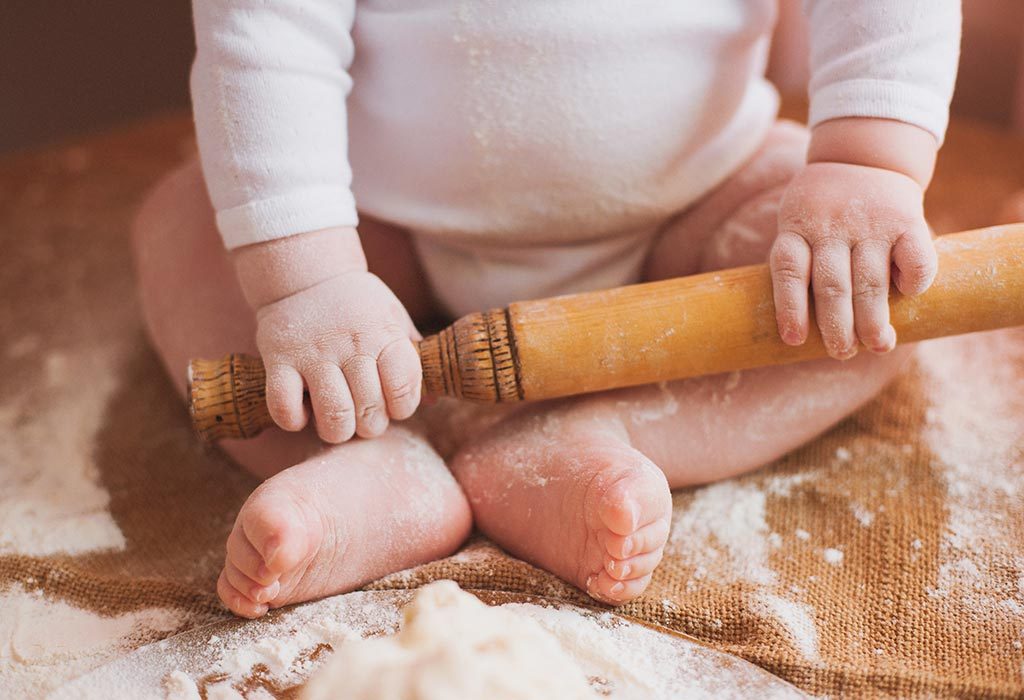 Babies require constant attention, and keeping an eye on them at all times can get quite hard for mothers, especially when they have a number of chores to do throughout the day. Babies get bored quite often, and need something new for entertainment. Sensory activities are an amazing way to keep them occupied, while also helping them develop important life-skills.
Why are Sensory Activities Important for Babies?
Sensory play is the best way for your child to get get a boost in so many different skills. The advantage to this activity is that it encourages many scientific processes, as it involves solving problems using all five senses.
Stimulating these senses help to develop creativity, with enhanced social and linguistic skills. This leads to better brain development, as exposure to different senses create neural pathways that assist babies with further learning.
Sensory Play Activities for Babies
As a parent, one of the most essential things you do would be to help your kids learn new skills. Here are some fun sensory activities for babies under 12 months of age.
1. Coloured Bread Crumbs
This is a sensory play idea that is safe for babies.
What You Will Need
Loaves of bread (preferably two)
Milk
Food colouring
Food processor
Method
Start by toasting your bread lightly. Make it a little firm, so that the bread does not become squishy because of the milk.
Take 1/6th amount of your bread in the food processor. You should separate it this way to get equal amounts of the different colours that are available.
Add 2-3 drops of food colouring to two tablespoons of milk,should be added. Follow the same steps for every colour.
This coloured milk should be added to the bread crumbs, and they must be blended.
You can either let it air-dry by keeping in an open bag, or you can lightly toast your breadcrumbs.
Repeat this for every colour after rinsing the food processor.
Finally, place the bread crumbs in a pan or a bin.
2. An Indoor Sandbox
You can set up this easy-to-make, edible indoor sandbox for your children. Your kids will find this sandbox very interesting.
What You Will Need
A tub
Anything from the pantry (you can try rice, oatmeal, broken pieces of biscuits)
Measuring Cups
A Spoon
Method
First, choose what ingredients you are going to use based on what your kids love.
If they are larger items like biscuits, break them down to small pieces.
Every time you add an ingredient to the tub, mix well.
You can then keep small scoops, sieves, cutlery, tubes, small pots, etc. so that your child can scoop, pour and transfer the items from one container to another and play with them.
This way, you will not have to worry about your kid eating them, as they are edible. Moreover, this will keep him occupied for some time.
3. Non-Toxic Bath Crayons
Kids are usually drawn to activities that involve water.
What You Will Need
Melted soup
Food Dye
Grape seed oil
Glass jar (required for storage)
Silicon Mold
Method
Start the process by melting the soap. You should melt it according to the size of your mould and then pour the melted soap halfway into the mould.
Add a small amount of grapeseed oil on top of the mould on every section. It is best to use grapeseed oil because it is good for children with dry skin.
The remaining parts can be filled with the leftover soap.
You can then add various colours to every section and give the colours a swirl using a toothpick.
After the colours are mixed well, leave the mould till the soap hardens. You can also store it in the fridge to speed up this process.
Since the colour is present throughout the soap, the tie-dye look will not affect the ability to colour anything.
You can then store all of these crayons in a large jar. Also note that if they are put in the tub, they will melt.
4. Taste Safe Moon Sand Recipe
A little sticky sand is moon sand, and this makes it easy to make various shapes.
What You Will Need
Organic flour (2 cups)
Oil (1/4 cup)
Natural decorating colours
Matcha powder (1/4 cup for green moon sand)
Bowls
Plastic bin
Tiny toys
Scoopers
A motor tool set
Method
For each colour, you can take a bowl. Start by making four at once.
To each bowl, add some flour, and then some oil. Mix this mixture well with a fork.
Add some natural food colour to the flour and mix well with a fork. You can add about ¼ of the colour bottle, but this is up to you.
If you are using matcha powder instead of colour, then add that to the bowl and mix them well.
Mix the contents in the bowl well, until the flour has been well coloured. For a darker tone, you can add more colour.
After all of it is mixed well, put the contents in a large plastic bin. You can put the colours in patterns, but this will not last long, once your child starts playing with it.
5. Snow Globe
Make a snow globe of your child's favourite tv show, movie, or nursery rhyme character.
What You Will Need
Glass jars
A figurine of your child's favourite character
Clear glue (1/2 bottle)
Snowflake foil confetti
Pipe cleaners
Warm water
Glue gun
Styrofoam ball
Method
Use the Styrofoam ball to raise the figurine. You can do this by cutting the ball in half and then glue it to half of the ball and the inner side of the lid.
Put glue on the feet on the figurine and glue it to the top of the ball. To withstand a lot of shaking, put glue around its feet after it is glued on the Styrofoam ball.
You can also create decorations for the background and glue them behind the figurine.
To make a clear mixture for the glitter to move slower, mix some clear glue in warm water and mix it well with a spoon for some time.
Take the foil confetti and glitter and add it to the glue-water mixture. Add as much as glitter you want.
After you are done adding the shiny things, add some more water to the jar till the jar is filled. You can then screw the lid back.
6. Natural Play Dough
This is not very easy to make, but your kids will have a lot of fun with it.
What You Will Need
Natural decorating colours
Organic flour (1 cup)
A cup of water
Organic cornstarch (1 cup)
Ziplock bags
Cream of tartar (1 tbsp)
2 tbsp salt
Method
Mix the cream of tartar, salt, and dry flour together in a bag. For each colour, you can make one bag of these ingredients. So, for 3 colours, you will need 3 separate bags.
Boil a cup of water over medium heat and add the food dye. You can start by adding the colour, little by little, until you have the desired colour density.
Transfer this mixture of liquid into the bag in which the dry mixture is held, and seal the bag. Set aside until it is cool.
For each colour, repeat the steps.
Remove the mixture after it cools. It might probably be sticky. Add one cup of cornstarch to the mixture and mix it.
Add the cornstarch slowly, until the dough does not feel sticky.
Flour can also be used, but the dough will be softer when cornstarch is used. Do this for each colour and let your kids play with it.
7. Edible Painting
This is another good idea you can try, and it is very easy to make.
What you will need
Yyoghurt
Food colouring
Water
Bowls and spoons
Method
Take some yoghurt in a bowl. If your baby is allergic to yoghurt, baby rice cereal is a good alternative.
Add lots of water to the bowl and mx them well until you get a smooth consistency.
You can then add some food colouring to the mixture. You can add as much colour as you want, according to the colour density.
For each colour, you will need to follow the same steps.
Once done, you can lay a mat down and let your kid have fun with it.
8. Water Bead Sensory Window Bag
This idea will need a window with lots of light coming in.
What You Will Need
Sandwich bag
Clear water beads
White vinegar
Gel food dye
Water
Heavy duty tape
Window squeegee
Method
First, fill the container with some water, according to the number of colours you want. You can then add the food dye to each bowl.
Your water will have some clumps of colour in it, as gel dyes are oil-based. To fix this problem, you can add some white vinegar to the water. Add only a splash to avoid a strong vinegar smell.
You can then put the water beads into the coloured water. The beads will absorb the coloured water when they expand.
Now, you have to clean your window properly and fill the sandwich bag with these coloured water beads. Seal it after the air is pressed out.
Finally, you can use the squeegee to hold the beads out of the way when you tape the four sides.
9. Magnetic Discovery Bottles
Magnets can be really fun to play with, and your child will be over the moon when playing with it. It will only take you 10 minutes to create this fun idea.
What You Will Need
3 clear water bottles
Pipe cleaners
Paper clips
Magnetic chips (optional)
Small jingle bells
Hot glue gun (optional)
1-2 magnets wands and other types of magnets
Water (optional)
A large container (optional)
Method
You can start by cutting the pipe cleaners into small pieces. Place all of the pieces in a bottle. The other two jars can be filled with lots of paper clips and jingle bells.
You could also use magnetic chips if desired.
Since your kids are very young, hot glue the lids of each bottle so that they cannot open it. This will make sure that your kids do not put any of the contents into their mouths.
Slide a magnetic wand up and down the bottle, and it will attract the items in the bottle. You can give them other magnets like a horseshoe magnet and another bar magnets to make it more fun!
If you wish, you can add water into the bottle for a change. It is also fun when you combine the pipe cleaners, bells, and paper clips together in a single bottle. Also add some glitter for extra fun.
10. Sensory Book
This one is straightforward to make, and all you need are various supplies with varying textures. Your baby will fall in love with this. This is one of the best sensory simulation activities for infants.
What You Will Need
CD sleeves
Reinforcement labels
1" album rings
Punching machine
Tape (double sided)
For varying textures you can use:
Silk fabric
Leather straps
Bumpy-snakeskin scrapbook paper
Crinkly plastic (you can remove them from CD sleeves)
Furry textured sheet
Foamy sheets
Scratchy or glittery sheet
Rough sheet (cardboard)
Method
Start the process by carefully removing the plastic from the CD sleeves. You may find this a bit hard because the paper might rip off easily.
After the plastic is properly removed, make a few holes, preferably three, on the side of all the sleeves. You can then put some reinforcement stickers above these holes.
After this, you can cut each of the different texture materials to any size you need, so that they fit into the sleeve. Then, put pieces of double-sided tape on the back of every material you slid into each CD sleeve. You can then take some clear packing tape and close the flap.
After you are done with all the CD sleeves, you can put all of them together with some album rings. In the front sleeve, print a label. You could also give a title of what each texture.
Your child will have loads of fun discovering the different textures.
If you're still on the hunt for new and interesting ways to keep your baby occupied with activities that are fun, yet promote development, try out an activity box. Equipped with worksheets, DIY activities, storybooks, and much more, the Intellikit is the best activity box subscription for children, which develops all 8 forms of intelligence through fun learning. Choose the duration of your subscription and age of your child, and you'll have a box delivered to your doorstep every month, packed with activities based on a unique theme. The first of its kind, Intellikit keeps your baby engaged and even gives you and your little one some bonding time. You can also buy a trial box to get a taste of what Intellikit is about, before you finalise a subscription.
Try out all these amazing ideas and don't hesitate to make a mess! This is a wonderful way to bond with your child and make some fun memories.
?>