Toys To Boost Body Part Naming in Tots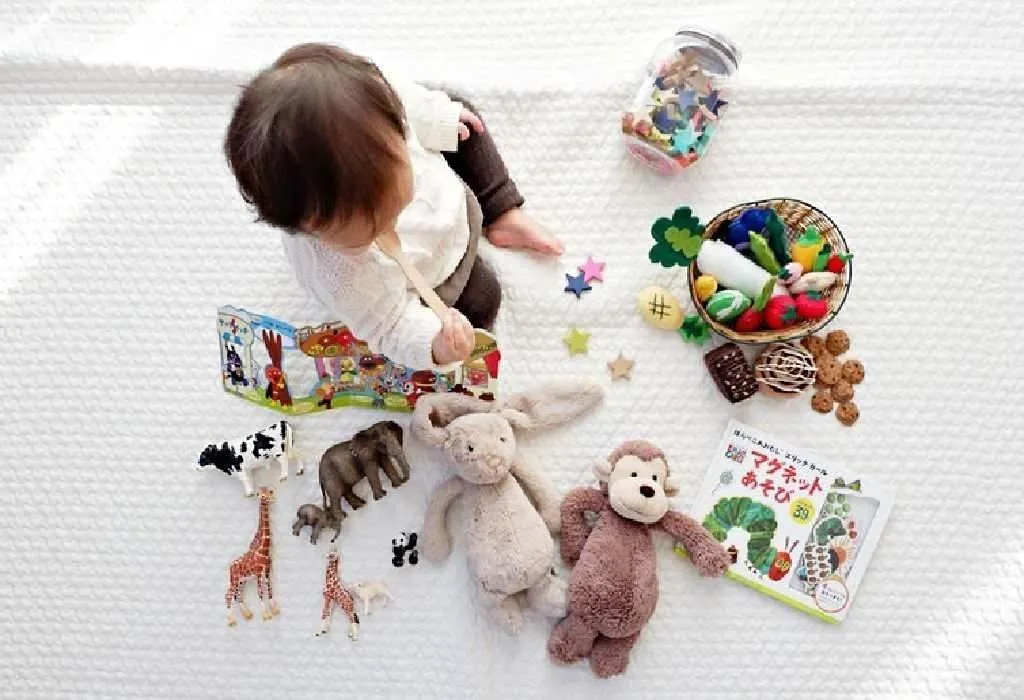 In this Article
Looking for proven ways of teaching toddlers about body parts using toys? The right ones prove to be very helpful for toddlers. These child-friendly toys will help them learn and remember the names of different body parts. Even the complicated ones like knees, ankles, shoulders, and more!
Tired of crooning "One little, two little, three little fingers?" Nursery rhymes and songs are surely helpful in introducing the names of different body parts, but then, they aren't enough. Bring in bright, easy-to-play toys, which teach the names and functions of various body parts. Along with enjoying the whole process, your little one will learn the human body vocabulary much faster. Here are the most favoured toddler toys for naming body parts.
Toys that Help 21-Months-Old to Learn about Body Parts
A Winding Doll:

Little kids love playing with dolls, especially the ones that move. Toddlers are best educated about the human anatomy with the help of dolls. So, get that winding doll that walks and says a few words. With a doll as a teaching aid, you will find it easy to show how 'legs' are useful for walking, or why 'eyes' turn when the 'head' moves left or right. Similarly, if your kid's play pen has a boy-doll that starts drumming after being wound or activated with a play button, use it to show how 'hands' are needed for drumming, or 'fingers' make it possible to hold the sticks firmly.

Wooden Body Puzzles:

One good way of teaching toddlers about body parts using toys is through puzzles. These educational toys are much loved because of their child-friendly designs and catchy colours. Such puzzles are available in both anatomies- a girl's and even a boy's. So, to begin with, pick the one that matches your child's gender and go ahead with explaining that to avoid any confusion.

Plush Toys:

Get cuddly and colourful plush toys in the shape of hands, heart or eye balls. Tots will love to compare their own body parts with their plushies. Besides, the touch and feel of this toy will make it impossible for the child to forget that particular body part.

Sound Books:

These oft-purchased toy books have sound panels installed in them. Upon being touched at the right spot, they make specific noises to help your child relate. For example, there are snoring sounds, sneezing sounds, yawn sounds etc. With the help of these sound based books, parents can help their kids learn more about the names of various body parts and their specific functions and sounds.

Anatomy Board Games:

Buy an anatomy board game and encourage your little one to play with you or her older siblings. She might not get the hang of it at the very onset, but once familiar, she is bound to participate actively and begin rattling off the names of various parts of the human body.
Once toddlers learn the names of human body parts, you will find them standing solo in front of the mirror, busy discovering their own body parts- especially the ones that they have learnt recently. Such is the strong association between toys and body parts naming!