15 Best Ways to Announce Your Pregnancy on Thanksgiving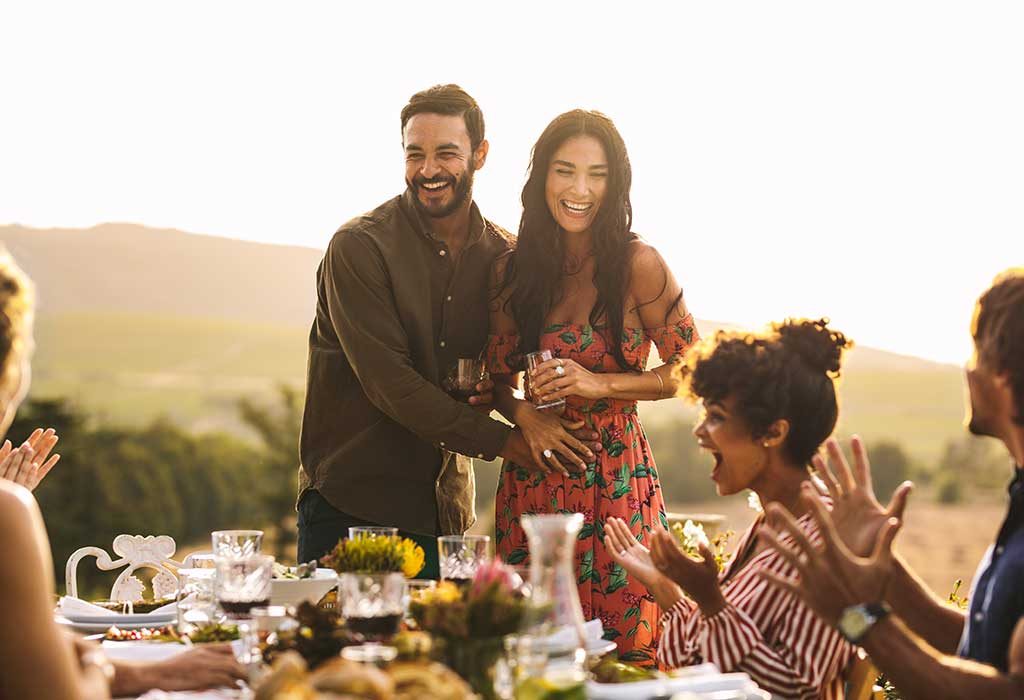 In this Article
Announcing your pregnancy to your family on the happy occasion of Thanksgiving can be so much fun! We know that keeping this a secret even for a while can be really challenging, but trust us, when you get to see the overwhelmed expressions, smiles, and blessings on the big day, it will be worth the wait. Read on to get some interesting Thanksgiving pregnancy announcement ideas!
Creative Thanksgiving Pregnancy Announcement Ideas
Some ideas to get more creative while making the Thanksgiving baby reveal!
1. Writing a Thankful Chit
Keep a pen and a small note card next to everyone's plate and ask each one of your family members to write down one single thing they are thankful for. Collect all the note cards, shuffle them, and get the eldest or the youngest family member to read out each one's note. Don't forget to include your note with the pregnancy announcement written on it! You can make it funny, mysterious, or creative with the words you choose to express your excitement.
2. Turkey Pregnancy Announcement
Source: Pinterest
One of the cutest ways of announcing your pregnancy is the turkey pregnancy announcement. You can get creative with this one too. Make cute notecards with some excellent one-liners on it. For instance, 'We are excited to announce that our little turkey is on the way!' or 'Our little turkey is expected in October 2022!' If you have another kid, then an interesting way is to involve him in a DIY Turkey Thanksgiving birth announcement. You can start with a little craft idea with two or three turkeys drawn on a card paper depending upon the number of kids you have! The kids can paint the turkey, affix a googly eye, and stick some colourful feathers on the wings. Now, make sure that you write the name of your kids on the body of the turkey and keep this DIY as a part of the living room decorations where everyone can see it!
3. Hanging the Ultrasound Picture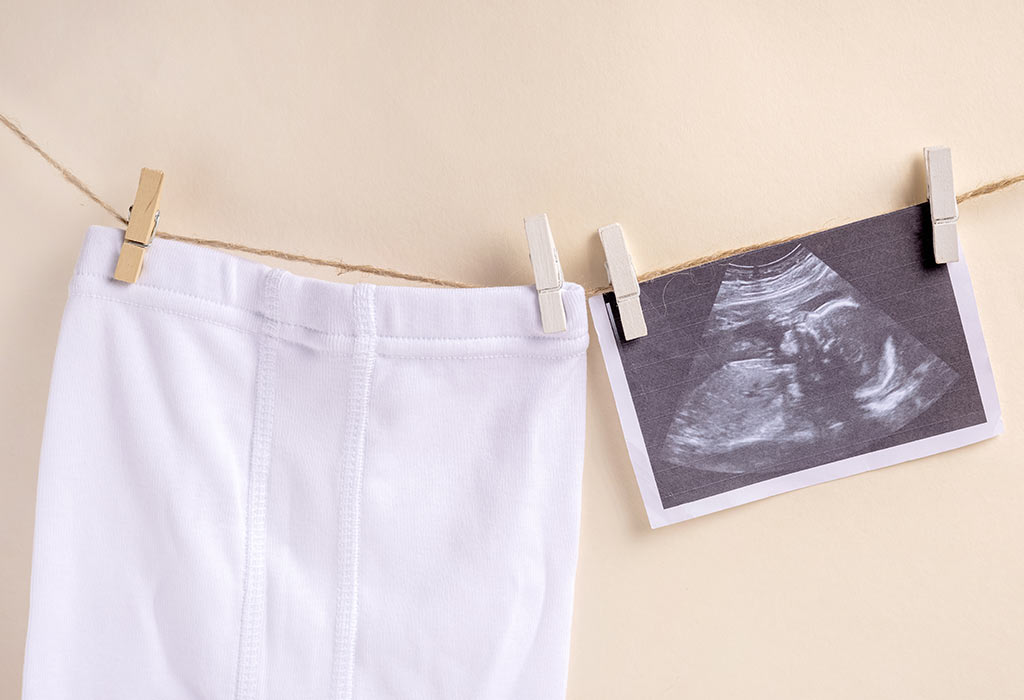 Get a copy of your first ultrasound picture and hang it somewhere easily visible in the kitchen and request someone to fetch something for you. Brace yourself as we're sure that you'll hear a shrieking sound from the kitchen.
4. Wear a Quoted T-shirt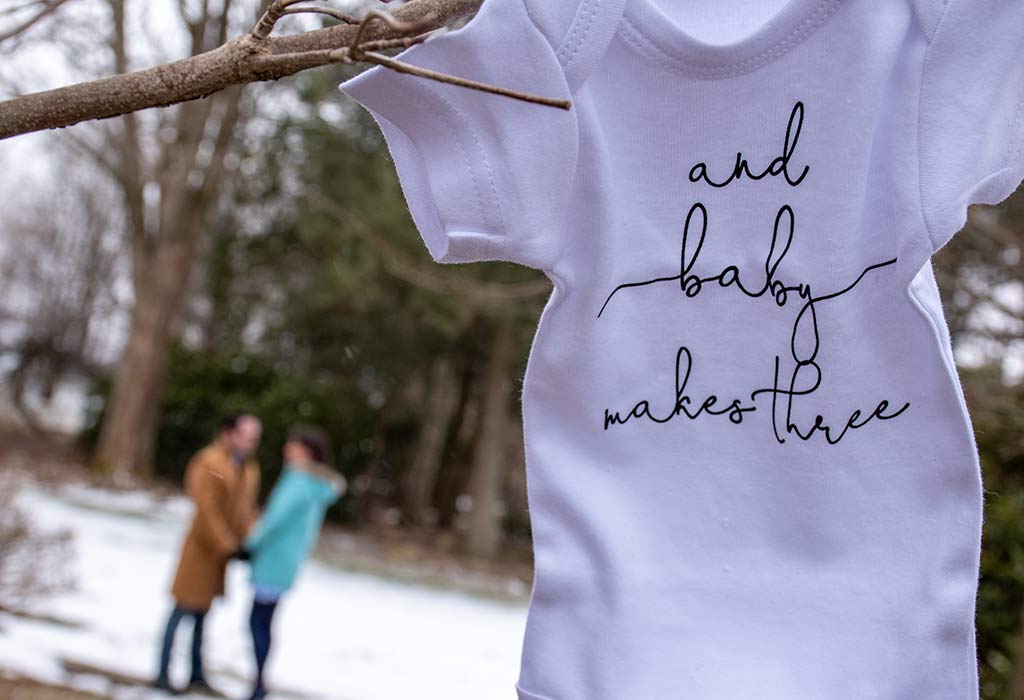 Quoted t-shirts are very common these days! Make your announcement with a funny quoted t-shirt about the baby, pregnancy, or motherhood! In fact, these days you can even get a pair of t-shirts for both the mom-to-be and dad-to-be with cute and funny quotes about the pregnancy. This way, you would be saved from actually saying anything to anyone.
5. Customised Wine Bottle
Thanksgiving is simply incomplete without a bottle of wine. So, why not make a customised wine bottle by writing a sweet message coupled with the announcement on this wine bottle with which you'll be serving wine to your guests. You can get creative and funny with the announcement. Also, make sure that you do not have a wine glass in front of you, to make it clear that you're the one expecting.
6. Interesting Chalkboard Signs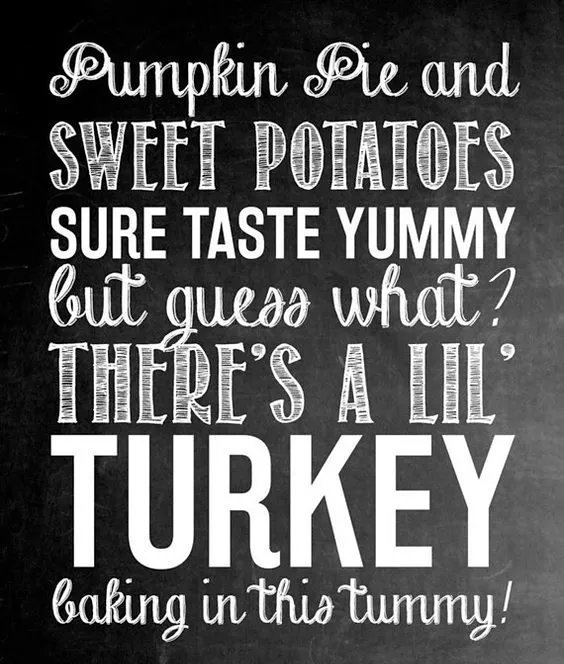 Source: Pinterest
Another fantastic way to break your news is by writing it on the chalkboard. Most of us prefer to keep a chalkboard with the menu for the party, and you can include your announcement in a creative way with this one! You can write quirky one-liners like, 'Eating for two' or 'Cinnamon rolls and sweet potatoes sure taste yummy, but guess what? There's a little turkey baking in this tummy!'
7. Baby Bottle Servings
Have all the condiments transferred to a baby feeding bottle and place it on the dinner table. Just fill up each bottle with sugar, salt, pepper, and pierce small holes in the nipple. During the dinner, surely everyone would notice and wait for someone to ask something, and once they do, just break your news. Surprise! Don't worry if they just ignore the bottles, in that case, you can loudly ask to pass the baby bottle with sugar, and this time everyone will definitely notice.
8. Extra Chair on the Dinner Table
While setting the dining table for dinner, make sure that you set an extra chair. It can be a decorated chair or a high chair for babies. For making it extra special, you can write a sweet message card with the announcement and affix it on the chair! During the dinner, let someone ask about it, and you can say that a new guest is expected soon!
9. Memorable Baby Heartbeat Bear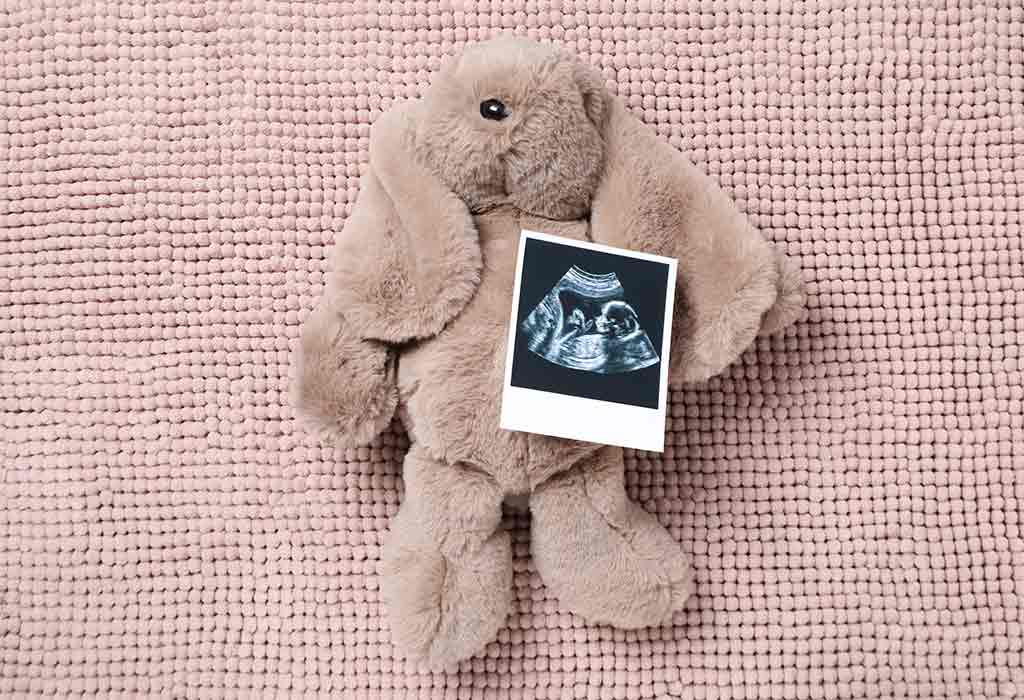 Listening to your baby's heartbeat for the first time is the most amazing feeling! Why not share this with your family too? Get a cute baby bear soft toy, record your baby's heartbeat, and include it in the living room as a part of your holiday decorations. Wait till someone asks about it during dinner, and when they do tell them it's a special addition to the family that will be joining the table next year! If nobody asks, then towards the end of the party, you can grab the bear and make an announcement saying, 'the pie is definitely sweet, but the sound they are about to hear is the sweetest!'
10. Bun in the Oven Announcement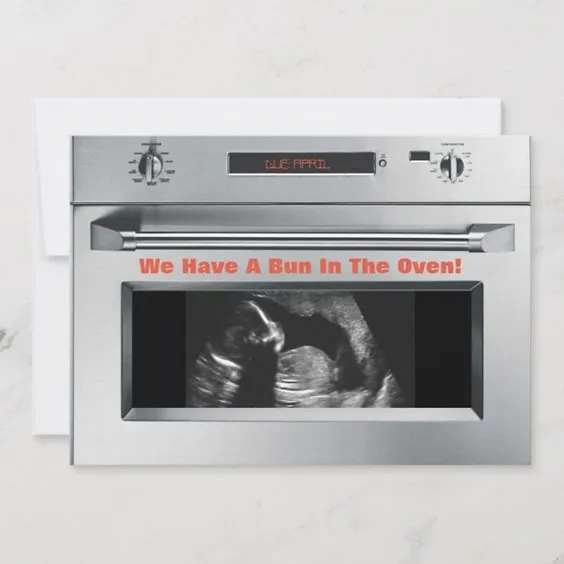 Source: Pinterest
The most beautiful and funny way of the announcement is probably the bun in the oven announcement! Thanksgiving will involve a lot of baking and food dishes, and this way, you can include your special announcement too. When everything is ready and set on the table, you can say that you forgot something in the oven and ask someone to fetch it for you from the oven. Make sure that you keep only a single bun, like a cinnamon roll or a dinner roll in the oven. At this point, they will not fully understand but surely ask, 'why is there a bun in the oven?' At this, everyone will start laughing, and you can repeat, 'There is indeed a bun in the oven!'.
11. Say It With a Pumpkin
Thanksgiving comes in the fall. And, what's the best way to announce your pregnancy with a pumpkin, right? Make your pumpkin family and very subtly announce the arrival of a new one with a baby pumpkin inside the mommy pumpkin.
12. Thanksgiving Riddle
This involves crafting a puzzle or riddle related to Thanksgiving that subtly hints at the pregnancy announcement. It adds an element of intrigue and surprise for your family and friends to decipher.
13. Baby Onesie Bunting
Hang up a string of baby onesies, each bearing a Thanksgiving-themed message. This allows your family to read between the lines, gradually discovering the exciting news of your pregnancy.
14. Thanksgiving Storybook
Create a personalized storybook with a Thanksgiving theme. The book narrates the journey of your pregnancy, concluding with the joyful revelation of your upcoming addition. It's a unique and heartwarming way to share the news.
15. Autumn Leaves Announcement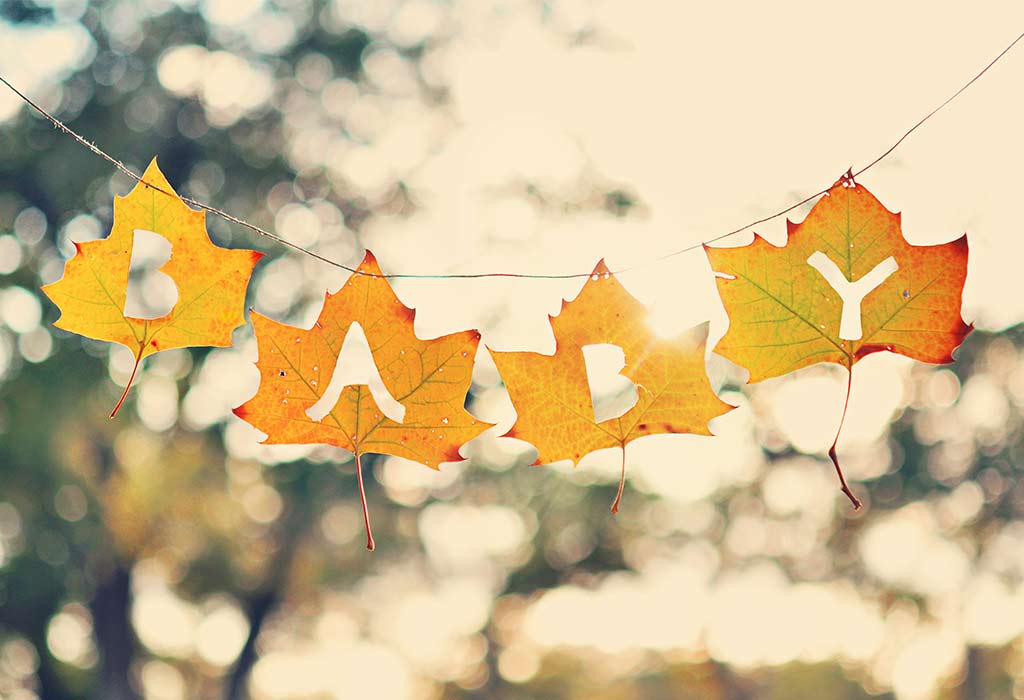 Write your pregnancy announcement on a set of fall leaves. During the Thanksgiving dinner, ask your guests to read them aloud. This adds a natural and festive touch to the announcement.
We wish you all the luck with your Thanksgiving-themed pregnancy announcement. Sharing this delightful news with your friends and family is so much fun, so make sure that you make it memorable for everyone.
Also Read:
Unique Halloween Inspired Pregnancy Announcement Ideas
Amazing Christmas Pregnancy Announcement Ideas
When Is The Right Time For Announcing Your Pregnancy