Wheat Pancakes Recipe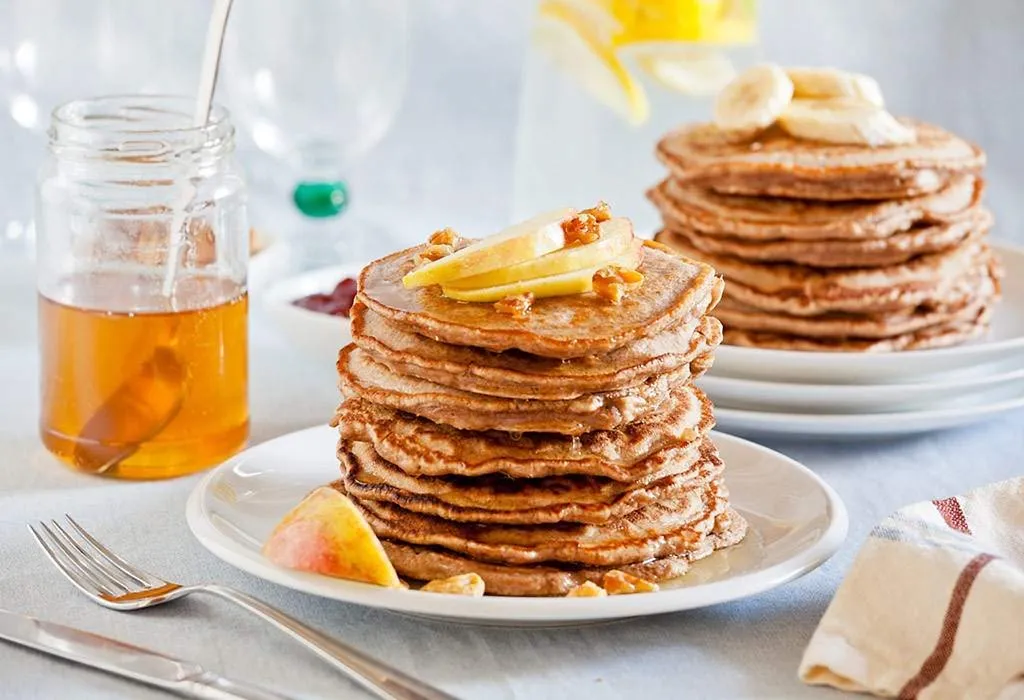 Are you looking for some fun and interesting way to add wheat in your baby's diet, well, you can try this easy to make wheat pancake recipe that comes with a little Indian twist. This dish is sans baking powder or eggs and makes this wheat pancake recipe super easy to make. Read for this simple wheat pancake recipe!
Video : Healthy Wheat Pancakes Recipe for Toddlers and Kids
Cooking Time
Here's how much time you need at hand to whip this yummy delight for your baby!
| | |
| --- | --- |
| Type | Time |
| Preparation Time | 00:10:00 |
| Cook Time | 00:15:00 |
| Total Time | 00:25:00 |
Cooking Method
Gas
Type of Meal
Vegetarian
Suitable For
Any Toddler above 14 months of age.
Meal Schedule
Breakfast
Recipe Type
Main Dishes
Ingredients
Grab the following ingredients to make homemade Wheat Pancakes baby food recipe:
| | |
| --- | --- |
| Type | Quantity/ volume |
| Whole wheat flour | 1 cup |
| Banana, mashed | 1 small-sized |
| Jaggery | ½ cup |
| Coconut scraped | 1-2 tablespoons |
| Cardamom powder | ½ teaspoon |
| Salt | A pinch |
| Water | 2 cups |
| Ghee or oil, for frying | As required |
Instructions
Follow these step by step instructions to make these yummy and delicious wheat pancakes for your baby:
Heat water in a pan and take it off the flame.
Add jaggery in the hot water and mix well to dissolve it.
Once the jaggery and water mixture cools down, add wheat flour slowly as you keep mixing the batter gently.
Add scraped coconut, salt, and cardamom powder to the mixture. Give it a thorough mix.
At this juncture, add mashed banana to the mixture and beat well.
Heat ghee in a pan.
Scoop out the pancake mix using a ladle and pour it on the pan. Cook on both sides until the pancakes turn light brown. Cook all the pancakes in the same way.
Serve these yummy wheat pancakes at room temperature!
Recipe Tips
Now that you know how to make wheat pancakes, you can add some twists or enhance the flavour using some of the following tips:
For younger babies, you can skip adding scraped coconut.
You can other fruits such as grated apples, pureed peaches, etc for adding your twist to the recipe.
You may adjust the sweetness by adding or reducing the quantity of jaggery. If jaggery is not available, you can use brown sugar, palm sugar, and other natural sweeteners.
Do not spread the pancake too thinly on the pan as it may stick to the pan.
You can add rice powder or semolina to make crispier and crunchier pancakes.
You can substitute water with milk for tastier and softer pancakes.
Nutrition Information (Serving Per 100 Grams)
The table below shows a tentative amount of nutritional content present in 100 grams of wheat pancake:
| | |
| --- | --- |
| Type | Value |
| Energy | 170 calories |
| Carbohydrates | 20 grams |
| Protein | 4.5 grams |
| Fat | 8 grams |
| Sodium | 160 milligrams |
| Sugar | 6 grams |
| Fiber | 2.5 grams |
| Cholesterol | 20 milligrams |
Table source: https://www.superhealthykids.com/recipes/whole-wheat-pancakes/
The actual nutritional content may vary. The above-mentioned values are only for reference purposes.
Health Benefits
Here are some of the many benefits of wheat pancakes for toddlers:
Wheat pancakes are loaded with calcium and it is an important nutrient that is required for optimal growth and development of bones and teeth in babies.
Wheat pancakes are a great source of carbohydrates that will turn into glucose. Glucose will not only help your baby to keep feeling more energized but also satiated for longer.
Whole wheat is also a good source of fibre, which aids proper digestion in babies and keep digestive issues at bay.
Iron is an essential nutrient present in whole wheat pancakes that helps in energizing the tissues and aiding the functions of immune cells.
Buying Guide
Follow these simple tips when buying ingredients to make wheat pancake for your baby:
Buy organic whole wheat flour to make more nutritious pancakes for your baby.
Never buy jaggery from local a street vendor that is displayed in open. Buy packed jaggery, preferably of a renowned food grade brand.
When picking up fruits to add a nutritional punch to the pancake recipe, make sure you buy fruits that are in season. Refrain from picking up frozen, tinned, or non-seasonal fruits as they usually have very little nutrition present in them.
Next time you are thinking some making something fairly simple and easy to make for your munchkin, try making this yummy wheat pancake recipe. You can add ingredients or skip them as per the availability or choice of your baby.